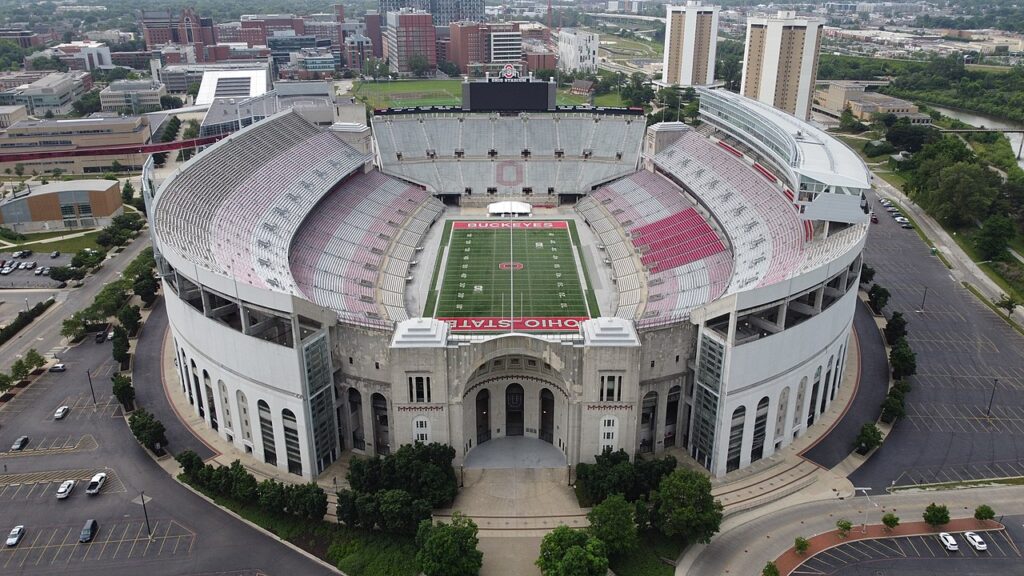 Ohio State, a winner of seven consecutive games, and Purdue, already with two wins over Associated Press Top 5-ranked teams this year, meet at 3:30 p.m. Saturday at Ohio Stadium.
Ohio State is alone on top of the Big Ten East Division standings with a 6-0 record with Michigan State (5-1) and Michigan (5-1) right behind and looming as the next two opponents.
Purdue has won three of its last four games and is tied with three schools – Wisconsin, Minnesota and Iowa – for the lead in the Big Ten West, all with 4-2 conference records.
Purdue at No. 6 Ohio State • Saturday, Nov. 13 • When: 3:30 p.m. • Where: Ohio Stadium • TV: ABC
• Radio: 97.1 The Fan
QUICK HITTERS
Ryan Day is 31-3 as a head coach and his teams have had win streaks of 16 games, seven games and are on a current seven-game streak.
Day's teams are 21-0 in Big Ten Conference games plus they are 2-0 in Big Ten championship games.
Ohio State is second nationally in total offense averaging 542.2 yards per game, but the team has been limited to 481.0 ypg the last two games.\
The Buckeyes do score points, to the tune of 44.9 ppg (2nd nationally) and with a 95 pct. red zone rate (36 of 38 with 25 TDs) that ranks fourth nationally.
Defensively, Ohio State continues to improve and has climbed to NCAA rankings of No. 15 against the run (107.6 ypg), No. 35 in pass e fficiency defense (123.18) and No. 47 in total defense (354.8 ypg).
The defense held Nebraska's offense to its fewest yards this season, 361, which was 109 yards below its average coming into the game.
NOTES TO KNOW
RECORD SETTING RECEIVER JAXON SMITH NJIGBA
Jaxon Smith-Njigba, a true sophomore from Rockwall, Texas, and Rockwall High School, set the Ohio State school record with 15 receptions in Saturday's win over Nebraska, breaking David Boston's 1997 mark of 14 set at Penn State.
Smith-Njigba just missed Terry Glenn's 1995 record of 253 receiving yards (vs. Pitt), finishing with 240 yards, the second-highest total in school history.
SPLITTING THE UPRIGHTS
Noah Ruggles has converted on a nation's best 17 consecutive field goal attempts. He hit his final two attempts in 2019 at North Carolina and is 15-of-15 as a Buckeye.
Ruggles has also converted on 24 consecutive FGAs inside of 50 yards. He is 34- of-42 for his career in FGs; 97-of-97 in extra point attempts.
OLAVE NEARING TOP 5 STATUS
Chris Olave needs two receptions to pass Gary Williams (154 from 1979-82) and move into the Top 5 all-time at Ohio State.
Olave needs 106 receiving yards to pass Devin Smith (2,503; 2011-14) and move into Ohio State's yardage Top 5.
Olave enters the Purdue game with 153 receptions for 2,398 yards and 32 TDs
TYREKE HAS BEEN TERRIFIC
Tyreke Smith has gone on a rampage since missing three games via injury.
He has at least one TFL in four consecutive games and a QB sack in three consecutive.
He is coming off back-to-back career-high performances with five tackles vs. Penn State and five vs. Nebraska.
BY THE NUMBERS
24
Since losing that 2018 game against Purdue at Ross-Ade Stadium in West Lafayette, Ind., Ohio State has won 24 consecutive Big Ten Conference games (13 on the road; 11 at Ohio Stadium).
.153
Ohio State held Nebraska and its 44 pct. third-down conversion rate to just 15 pct. (2 of 13), a season low for the defense and the fewest conversions since allowing Illinois just one (of 12) in 2017.
1st
Ruggles is the first Ohio State kicker to make four field goals in consecutive games, and every one was needed in the wins over Penn State (33-24) and Nebraska (26-17).
34
Led by its defensive line (29.5 quarterback sacks with defensive tackles recording 15.5 and ends 14), Ohio State is tied for first nationally with 34 quarter-back sacks (3.78 per game) for 230 yards in losses.
.966
Ohio State's offense is No. 6 nationally in the red zone having converted on 28 of 29 attempts, including 26 consecutive, with 23 touchdowns scored (12 rushing TDs and 11 passing TDs).
PURDUE PREVIEW
GIANT SLAYERS
Purdue already has two wins over Associated Press Top 5-ranked teams this year, convincing victories over then-No. 2 Iowa, 24-7 in Iowa City, and last weekend over No. 5 Michigan State, 40-29.
An unranked Purdue squad also holds a convincing victory over a No. 2-ranked Ohio State team in the last meeting between the schools: 49-20 in West Lafayette on Oct. 20, 2018. It was the only loss in OSU's 13-1 season.
THIS BUCKS / BOILERS MATCHUP
This will be just the fourth meeting between Ohio State and Purdue in the last 10 years and it will be Purdue's first game at Ohio Stadium since 2012 … the "Kenny Guiton" game.
Guiton, the back-up to star QB Braxton Miller, preserved Ohio State's unbeaten 2012 season by coming off the bench for an injured Miller to lead TD drives in the final minute of the game and then in overtime for a 29-22 victory.
In the two meetings since that 2012 game, each team has lambasted the other: Ohio State winning 56-0 in 2013 and Purdue winning 49-20 in 2018.
Purdue's win in 2018 snapped a 12-game Ohio State winning streak and kept a 12-1, Big Ten champion Ohio State team out of the College Football Playoffs.
Ohio State leads the all-time series with Purdue, which started in 1919, 39-15-2.
Ohio State is 26-5-2 vs. Purdue in Ohio Stadium and has won eight consecutive games at home in the series dating to a
31- 26 Purdue win in 1988.
THE PURDUE BOILERMAKERS
The Boilermakers already have three road wins – at UCONN, Iowa and Nebraska –and they are seeking four road victories in a season for the fi rst time since 1943.
The duo of QBs Aidan O'Connell and Jack Plummer has Purdue ranked 8th nationally in passing yards at 332.4 per game.
Purdue QBs are completing 70.5 pct. of their passes.
Eight receivers have at least 15 receptions and 100 receiving yards, led by David Bell's 64 for 1,003. TE Payne Durham, WR Milton Wright and WR Jackson Anthrop have 36, 36 and 34 catches, respectively.
Purdue's defense is terrific, ranking 27th nationally in total defense (329.8), 15th in passing yards allowed (185.3), 16th in scoring (18.4) and 14th in red zone stops (72.4 pct.).
LB Jaylan Alexander leads with 68 total tackles while DE George Karlaftis has 7.5 TFLs and eight QB hurries.
COURTESY OSU ATHLETIC COMMUNICATIONS