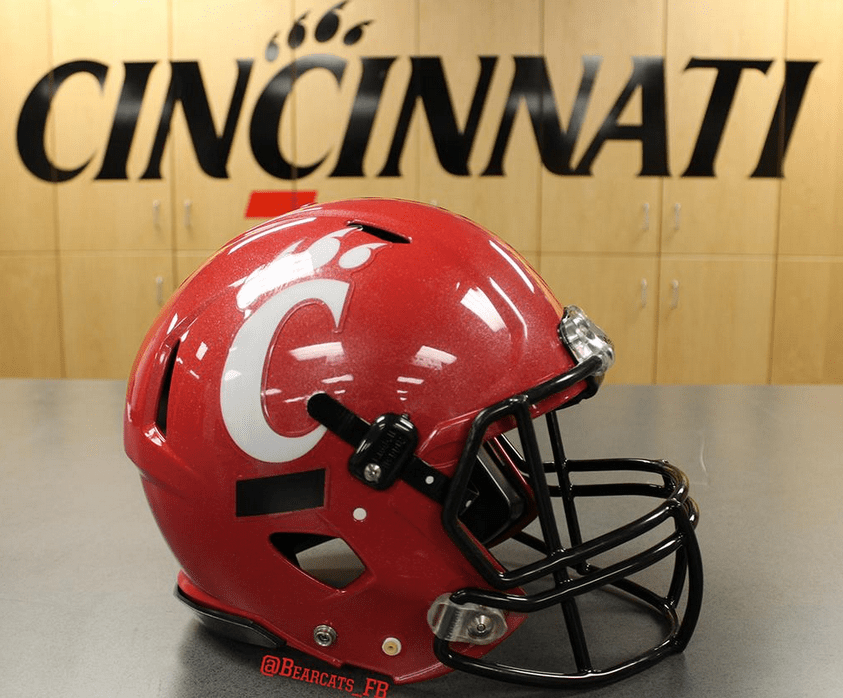 SCORING SUMMARY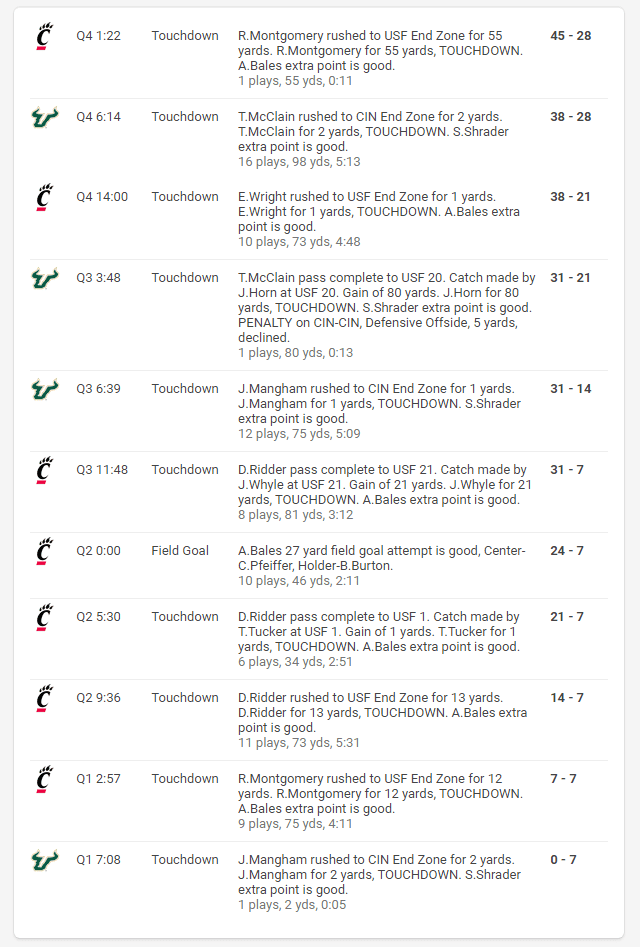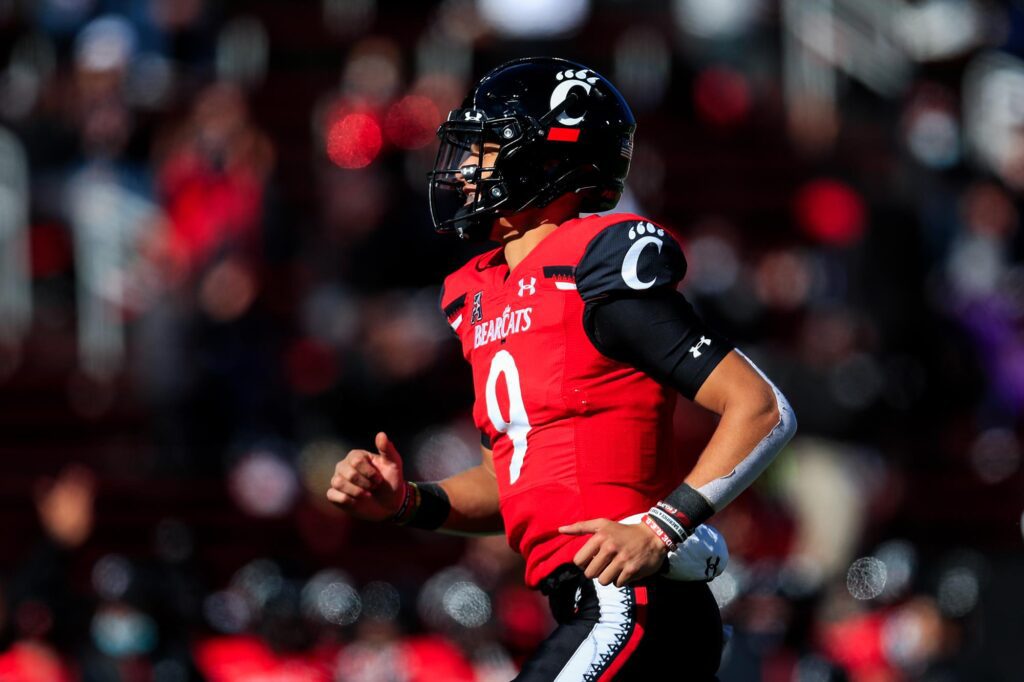 November 12, 2021
TAMPA, Fla. – Cincinnati redshirt senior quarterback Desmond Ridder set a new school record for career touchdown passes as the No. 2-ranked Bearcats routed USF, 45-28, on Friday night at Raymond James Stadium.
Cincinnati moved to 10-0 for just the second time in school history and 6-0 in the American Athletic Conference, while USF dropped to 2-8 and 1-5 in the AAC.
Ridder floated a perfect 21-yard pass to streaking tight end Josh Whyle at 11:48 in the third quarter for a 21-yard touchdown, the 79th of his career, to break current quarterbacks coach and passing game coordinator Gino Guidugli's 17-year record (78 touchdowns, 2001-04).

"It's a pretty special moment, when you're out there on the field and it happens, there's stars and fireworks, and if this was the very last touchdown of the season it would mean that much more, but there's still many more to go," Ridder said. "There's still a lot of work that we can improve on still, a lot of things I can get better at."
The touchdown pass put the Bearcats in front 31-7 just under three minutes into the second half.
Ridder finished 31-for-39 for 304 yards and two touchdowns. He also rushed for a season-high 65 yards on the ground and another score.
USF scored twice in the third quarter, including on an 80-yard catch-and-run by freshman receiver Jimmy Horn, Jr. to close UC's lead to 10, 31-21, entering the fourth quarter.
However, the Bearcats answered on Ethan Wright's 1-yard touchdown rush extending the Cincinnati lead to 38-21 with 14 minutes left.
USF scored first in the game on a two-yard touchdown run by running back Jaren Mangham at the 7:08 mark in the first quarter after Ridder's second pass was intercepted and returned 61 yards by Bulls' cornerback Christian Williams.
After that, it was all Ridder's arm and legs as Cincinnati scored the next 31 points. He completed 13 straight passes after throwing the rare pick and led four consecutive scoring drives to close out the half.
Junior running back Ryan Montgomery scored a 12-yard touchdown to tie the game 7-7 with three minutes left in the first quarter, capping a nine-play, 75-yard drive in which Ridder was 7-for-7.
Junior cornerback Ahmad Gardner sacked USF quarterback Timmy McClain on the ensuing possession, forcing a fumble for the first time in his career. USF recovered but lost 10 yards and was forced to punt.
Ridder put the Bearcats ahead, 14-7, on a 13-yard touchdown run which was set up by junior cornerback Ahmad "Sauce" Gardner's tremendous strip sack, which USF recovered but lost 10 yards on and was forced to punt.
Gardner picked off McClain on USF's next possession to set up UC's next score.
Ridder tied Guidugli's touchdown record at the 5:30 mark in the second quarter on a 1-yard pop pass to junior wide receiver Tre Tucker on a jet sweep to make the score 21-7.
The senior signal caller capped the first half by leading UC to a field goal during a two-minute drill to end the half, giving Cincinnati a 24-7 lead at the intermission.
Mangham scored his second touchdown for USF to make the score 31-14 at 6:39 in the third quarter.
USF freshman receiver Jimmy Horn Jr. took a short pass 80 yards for a touchdown to cut Cincinnati's lead to 31-21 with four minutes left in the third quarter.
UC was without starting center Jake Renfro and starting running back Jerome Ford due to injuries, but still amassed one its best offensive performances of the season.

"They're not satisfied," head coach Luke Fickell said. "And I think that's the great thing about being around these guys and these seniors, coming from where they came from five years ago, a lot of those guys were there. So, they're not satisfied, and they'll get hard on themselves, and they'll look at it and find ways to get better. They're learning from winning because if you don't, the alternative is not nearly as good. I don't want to take anything away because this was a good complimentary football game that we played tonight. We would all like to close it out early in the second half there, but we just had to play a little more and show a little more."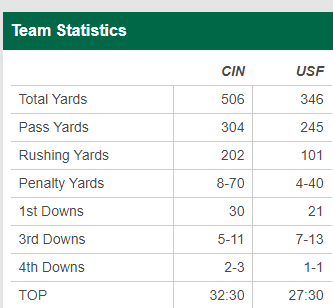 UP NEXT
Cincinnati welcomes SMU for Senior Day at Nippert Stadium on Saturday, Nov. 20. The game time has not been announced yet.
FOLLOW THE BEARCATS
For all the latest information on Cincinnati athletics, please visit GoBEARCATS.com. For up-to-the-minute updates, follow Cincinnati Athletics on Twitter, Instagram and Facebook.
GAME RECAP COURTESY CINCINNATI ATHLETIC COMMUNICATIONS
GRAPHICS COURTESY USF ATHLETIC COMMUNICATIONS