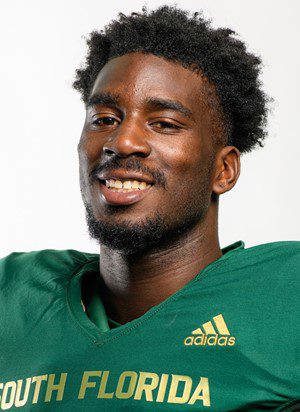 TAMPA, FLA., NOV. 6, 2021– The USF football team (2-7; 1-4 American) got electric plays from several players that had Raymond James Stadium roaring, but ultimately fell in a 54-42 shootout with first-place and No. 20-ranked Houston (8-1; 6-0 American) on homecoming.
 
The Bulls opened the game with a lightning bolt from freshman Brian Battie who caught the opening kickoff at the goal line and raced 100-yards for a touchdown. He would go on to tie an NCAA record by doing it again in the second quarter, this time racing by Cougars to give USF a 28-26 halftime lead. He joined Utah's Reggie Dunn as the only two players to post a pair of 100-yard returns in the same game, Dunn doing it vs California in 2012.
 
For Battie, it marked his second and third 100-yard kickoff returns on the season, all occurring in the last four games, as he became the first USF player to post multiple 100-yard returns on their career and set USF season and career touchdown return records with three. He finished with three touchdowns on the night, also posting a 29-yard touchdown run, and 236 all-purpose yards.
 
Freshman quarterback Timmy McClain also had a career-best night passing for 289 yards and two touchdowns and running for a team-best 46 yards and a touchdown to account for 335 total yards. Sophomore wide receiver Xavier Weaver posted career highs with six catches for 105 yards and tight end Mitchell Brinkman made a 33-yard touchdown catch on a McClain scramble play.
 
USF's most points in a game since last year's 58-46 season-ending loss to UCF were not enough to overcome a Houston team that won its eighth straight game. The Cougars posted 646 yards of offense as junior quarterback Clayton Tune passed for 385 yards and three touchdowns and a pair of running backs eclipsed 100 yards with Ta'Zhawn Henry posting 130 yard and a touchdown and Alton McCaskill 125 yards and three touchdowns. Henry's 97-yard touchdown run in the third quarter was the longest in American Athletic Conference history.
 
Houston responded to Battie's opening touchdown return with an 18-yard pass from Tune to Jake Herslow to tie the game at 7.
 
Battie found the end zone again on USF's third drive, making a great cutback on a 29-yard touchdown run that gave the Bulls a 14-7 lead. The play marked the Bulls' longest touchdown run of the season and Battie's second career. Battie's touchdown run was set up by a 40-yard completion from McClain to Weaver.
 
The USF defense forced Houston to punt for a second time in the first quarter and Cougars' punter Laine Wilkins downed the ball on the Bulls 1. The Bulls couldn't move the ball off the goal line and on third down, Jaren Mangham was stopped without getting the ball out of the end zone for a safety.
 
After a short free kick following the safety, Houston marched to the USF 2, but the Bulls' defense held the Cougars out of the end zone on three plays from the 2 as Christian Williams broke up a third down pass play in the end zone. Houston settled for a field goal to cut the Bulls lead to 14-12.
 
McClain then drove USF 75 yards in the 10 plays for another touchdown, hitting Brinkman on a broken play for a 33-yard touchdown pass that extend the USF lead to 21-12. It marked the longest touchdown pass of McClain's young career.
 
Houston drove 54 yards and cut the lead with a six-yard Alton McCaskill touchdown run.
 
McClain again took the Bulls down the field. This time he hit Jimmy Horn with a 24-yard strike and moved the Bulls to the Houston 16. But on fourth and one, McClain rolled left and fired to the end zone where he was picked off by Houston cornerback Marcus Jones. After Jones' return of the interception for a touchdown was called back due to a holding penalty, Tune hit Nathaniel Dell with a 55-yard touchdown pass to give Houston their first lead at 26-21.
 
It didn't last long, as Battie took the ensuing kickoff and blazed for another 100-yard return to give the Bulls a 28-26 lead at the half.
 
Houston opened the second half by driving 67 yards in just over two minutes to retake the lead, 33-28, on a two-yard run from McCaskill. The Cougars extend the lead to 39-22 on their next possession when 5-7 running back Henry shot through an interior hole and raced 97-yards for a touchdown.
 
USF kept it close, driving 65 yards and putting another touchdown on the board when McClain scrambled and hit tight end Chris Carter with a 14-yard pass in the back corner of the end zone.
 
Houston immediately rebuilt the lead using just 2:14 to move 75 yards and score on a 27-yard pass from Tune to Jeremy Singleton to lead 47-35 with 4:44 to play in the third.
 
Both defenses dug in, forcing punts on each team's next three possessions. USF broke the standstill behind some inspired play from McClain who drove the Bulls 60 yards in nine plays and capped the drive with a bobbing and weaving 11-yard touchdown run.
 
Having cut the lead to 47-42 with 3:59 to play, USF attempted an onside kick, but was unable to recover it and committed a penalty on the play that gave Houston the ball at the USF 29. The Cougars used three plays to ice the game with a touchdown with 2:27 remaining.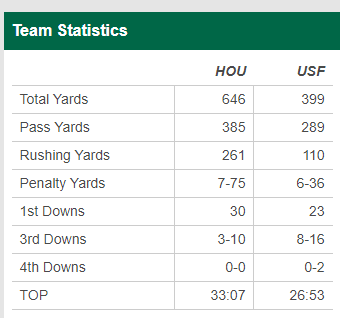 Quotable – Jeff Scott
"Hats off to Houston. I thought they played excellent in the second half. We just got beat. It wasn't an effort thing. They were just better than us in the second half. It wasn't even close. That's disappointing. We had opportunities, but what I told the players, we just got beat in the second half by a good team. That's the negative: we didn't finish the game. The positive is that our guys played their hearts out. They continue to do it over and over again. It was not an effort thing."

"We haven't been able to break through, but we did a lot of really good things. There's a lot of things to look at. Brian Battie had two kickoff returns for touchdowns. I think that tied an NCAA record with two 100-yard kickoff returns. A lot of really good things there. Offensively, eight-of-16 on third down. I think Houston was one out of 130 Division-I FBS teams on third down coming into today's game, only giving up about 25 percent on conversions. We haven't done well on third downs, but I thought we did a better job tonight. I thought Timmy McClain looked healthy and looked back to what the guy we saw earlier in the year. He made some really big plays for us whenever we needed it."

Key Stats
100 X 2 – Brian Battie tied an NCAA record with two 100-yard kickoff returns in the same game and now has three on the year to set USF marks for season and a career with three touchdown returns.
8-of-16 – USF went 8-of-16 on third down conversions, its best performance of the season. Houston entered the game No. 1 in the nation giving up just 25 percent on third downs on the year.
28-14 – Houston outscored USF 28-14 in the second half
Notables
• QB Timmy McClain set career highs in completions (22), attempts (46), passing yards (289), passing touchdowns (2) and total offense (335).
• LB Antonio Grier led USF with a game-high 12 tackles and 2.5 tackles for loss
• WR Xavier Weaver set career-highs with six catches for 105 yards receiving.
Up Next
USF returns to Raymond James Stadium for a Friday night, primetime clash with No. 2 Cincinnati. That game is set for a 6:00 p.m. kickoff on ESPN2.
Tickets for USF home games can be purchased by calling or texting 1-800-GoBulls or visiting USFBullstix.com or Ticketmaster.

ABOUT USF FOOTBALL
The USF football program first took the field in 1997 and will celebrate its 25th season in 2021 (22nd at the FBS level). USF has posted 15 winning seasons and is the fastest program in the state of Florida to reach 150 all-time wins. Bulls have earned 14 All-America selections, 29 first-team all-conference selections, and 30 USF players have been selected in the NFL Draft.USF has made 10 bowl game appearances (going 6-4 in those games) and posted a program-record six-straight from 2005-2010. The Bulls most recently made four straight bowl appearances from 2015-18 and posted back-to-back 10-win seasons in 2016 and 2017, logging a program-record 11-2 mark in 2016 while finishing both seasons ranked in the Top 25. USF spent a program-record 20-straight weeks ranked in the Top 25 during the 2016 and 2017 seasons and reached as high as No. 2 in the national rankings during the 2007 season.

Follow @USFFootball on Twitter for all the latest information concerning the USF Football program.– #GoBulls  –
COURTESY USF ATHLETIC COMMUNICATIONS