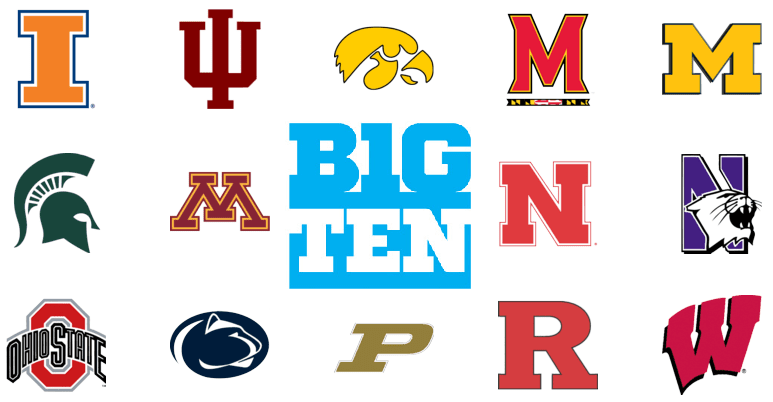 BIG TEN FOOTBALL RELEASE – WEEK 10 | STANDINGS | MEDIA GUIDE | SCHEDULE


• Five Big Ten teams appear in the Associated Press Poll this week, highlighted by three of the top 10 teams in the country. Michigan State leads the conference at No. 5, followed by No. 6 Ohio State, No. 9 Michigan, No. 19 Iowa, and No. 22 Penn State.
• The Big Ten (three teams) is the only conference with more than two teams ranked in the top-10 of the AP Poll. The only other conference with multiple teams ranked in the top-10 is the SEC (two teams).
• No. 5 Michigan State (8-0) defeated then-No. 6 Michigan, 37-33, and is now one of just six undefeated teams remaining in the FBS. The Spartans are 8-0 for the first time since 2015 and for just the seventh time ever in program history. The win over Michigan marked Michigan State's first win over an AP Top 10 team since they defeated No. 8 Penn State on Oct. 13, 2018, and the Spartans' highest-ranked win since they defeated No. 4 Iowa in the 2015 Big Ten Football Championship Game.
• Michigan State junior RB Kenneth Walker III was named Big Ten Offensive Player of the Week after rushing for 197 yards and five touchdowns on 23 carries (8.57 avg.) in the win vs. Michigan. Walker scored all five of Michigan State's touchdowns, becoming just the second FBS player to record five rushing touchdowns in a game this season. Walker leads the FBS is rushing yards per game (149.2), is tied for third in the FBS in rushing touchdowns (14) and total touchdowns (15), and ranks fifth in all-purpose yards per game (153.75).
• No. 6 Ohio State improved to 7-1 on the season and 5-0 in the Big Ten with a 33-24 win over then-No. 20 Penn State on Saturday. The Buckeyes lead the nation in scoring offense (47.2 ppg), rank second in total offense (548.1) and third in team passing efficiency (183.34). The Buckeyes are one of just two teams in the nation to average more than 45 points per game this season along with the No. 2 scoring offense, Alabama (45.9).
• Defensively, Ohio State held Penn State to 33 yards rushing. Dating back to Week 3, the Buckeyes are surrendering just 66.2 rushing yards per game and in their last three wins they are allowing just 45.7 yards per game on the ground.
• Minnesota defeated Northwestern on the road, 41-14, to win its fourth game in a row and move into first place in the Big Ten West. With the victory, the Gophers became bowl-eligible for the third time under head coach P.J. Fleck. The Gophers are now 3-0 on the road this season and have an unblemished road record through three games for just the fourth time since 1961.
• The Gophers finished with 442 yards of total offense, including 308 rushing yards. The ground game was powered by freshmen RBs Mar'Keise Irving (110 yards) and Ky Thomas (106 yards), who each compiled more than 100 yards rushing for the second straight week. Irving and Thomas are the first pair of Minnesota running backs to record back-to-back 100-yard games since Laurence Maroney and Gary Russell in 2005.
• Wisconsin earned its fourth straight win, and its third straight conference win, with a 27-7 victory over then-No. 9 Iowa. The victory marked Wisconsin's second consecutive victory over an AP Top 25 team and their first against a top-10 team since they defeated No. 9 Minnesota on Nov. 30, 2019. The last time that Wisconsin defeated ranked opponents in back-to-back weeks was in 2017.
• The Badgers rank No. 1 in the nation in total defense (214.6 ypg) and rushing defense (49.6 ypg). The Wisconsin run defense leads the No. 2-ranked run defense (Georgia, 75.6 ypg) by 26 yards per game. Wisconsin is surrendering just 7.5 points and 180.3 yards per game during their four-game win streak. After holding Purdue to -13 rushing yards in their Week 8 win over the Boilermakers, the Badgers limited the Hawkeyes to a season-low 24 yards rushing.
• Purdue defeated Nebraska 28-23 to improve to 3-2 in the Big Ten. The Boilermakers defense notched four interceptions, marking the second time in three games that Purdue has registered four interceptions. Junior LB/S Jalen Graham was named Big Ten Defensive Player of the Week after snagging two interceptions, including a 45-yard pick-six. Graham became the second Purdue defender to record two interceptions in a game this season, joining junior safety Cam Allen. Graham is just the 12th Purdue defender to record a multi-interception game since 2000.
• Maryland topped Indiana, 38-35, and is now 5-3 on the season. Sophomore QB Taulia Tagovailoa threw for a career-high 419 yards and two touchdowns in the game, marking the first 400-yard passing performance by a Maryland quarterback since Danny O'Brien threw for 417 yards against NC State on Nov. 27, 2010. Tagovailoa's 419 yards are the third-most in a single game in Maryland history, trailing only Scott Milanovich's 498 vs. Virginia Tech and 451 vs. West Virginia in 1993.
• Rutgers head coach Greg Schiano earned his 75th win as head coach of the Scarlet Knights with a 20-14 victory at Illinois. Schiano needs just four wins to pass Frank Burns (78) for the most wins by a head coach in Rutgers history. The Scarlet Knights defense allowed just 10 total first downs, tying Rutgers' program record in Big Ten play (also allowed 10 first downs vs. Illinois in 2016).
• Iowa, Michigan, Michigan State, Minnesota and Ohio State have all secured bowl eligibility by reaching six wins this season, while Maryland, Penn State, Purdue and Wisconsin need just one more win to become eligible. The Big Ten will continue to feature the largest bowl lineup in conference history.
• The Big Ten boasts five teams who rank among the top 10 in the nation in scoring defense: Iowa (t-4th, 16.1 ppg), Penn State (t-8th, 17.0), Wisconsin (t-8th, 17.0). Michigan (t-10th, 17.1) and Purdue (t-10th, 17.1). The conference has two teams in the top 10 in terms of rushing defense (No. 1 Wisconsin at 49.6 ypg, and No. 8 Minnesota at 92.9 ypg) and four teams in the top 10 in terms of defensive passing efficiency: Iowa (3rd, 101.97), Penn State (6th, 103.56), Purdue (8th, 106.42) and Wisconsin (10th, 110.30).
• In 2021, the Big Ten has seen top-five single-game FBS rushing-yard performances from Ohio State's TreVeyon Henderson (2nd, 270 vs. Tulsa), Michigan State's Kenneth Walker III (4th, 264 at Northwestern) and Illinois' Chase Brown (5th, 257 vs. Charlotte). The Big Ten has three additional 200-plus yard rushing performances this season: Walker III's 233 yards at Rutgers on Oct. 9, Brown's 223 yards at Penn State on Oct. 23, and Northwestern's Evan Hull's 216 yards vs. Ohio on Sept. 25.
• Additional top-five single-game FBS performances in the Big Ten include: Ohio State's C.J. Stroud (5th, 266.174 passing efficiency), Purdue's David Bell (2nd, 240 receiving yards at Iowa), Northwestern's Brandon Joseph (4th, 111 punt return yards vs. Indiana State), Nebraska's Luke Reimer (2nd, 19 tackles), and Wisconsin's Leo Chenal (2nd, 5.5 tackles for loss).
• On October 10, for the first time in the history of the Associated Press college football poll (established in 1936), the Big Ten has five teams ranked in the top 10. Iowa leads the conference at No. 2, followed by No. 6 Ohio State, No. 7 Penn State, No. 8 Michigan, and No. 10 Michigan State.
• The 2021 Big Ten Football Championship Game will be played at 8 p.m. ET on Saturday, Dec. 4, at Indianapolis' Lucas Oil Stadium and will be televised nationally on FOX. The winner will earn the Amos Alonzo Stagg Championship Trophy and a chance to play in one of the six bowls that comprise the College Football Playoff, including the Rose Bowl Game.
COURTESY BIG TEN COMMUNICATIONS