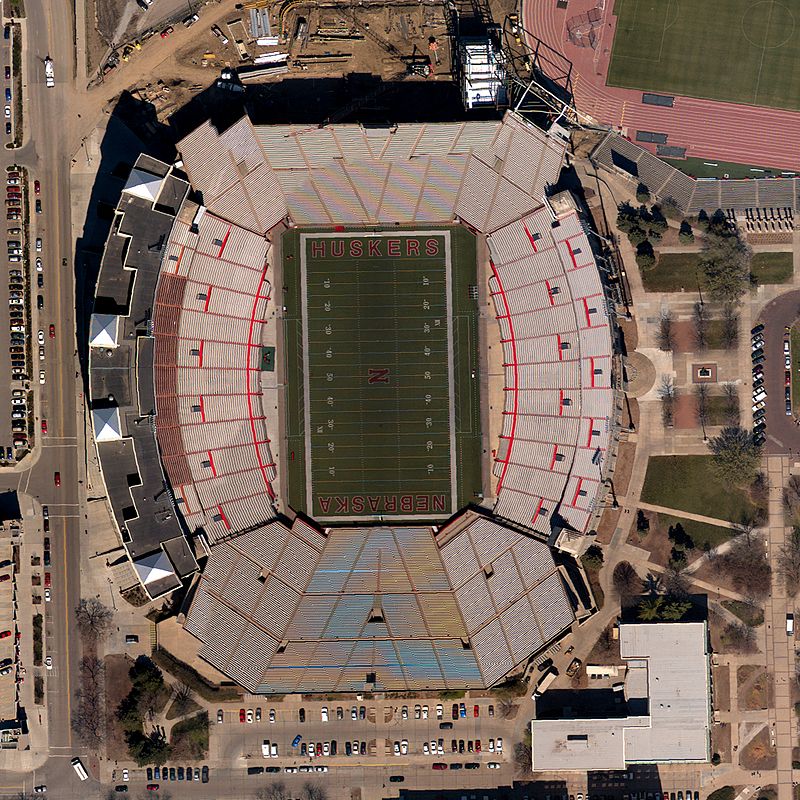 Ohio State looks to remain unbeaten in the Big Ten Conference as it travels to Lincoln, Neb., this week for a noon (EDT) kick at Memorial Stadium. FOX will broadcast the game nationally.
The Buckeyes and Cornhuskers, two of the nation's most tradition-rich programs, are meeting for a sixth consecutive year and for the eighth time since Nebraska joined the Big Ten.
This will be Ohio State's fourth trip to Memorial Stadium and the first time the game has been played during the afternoon hours. The three previous trips were all 7 p.m. or later start times.
No. 6 Ohio State at Nebraska • Saturday, Nov. 6 • When: Noon • Where: Memorial Stadium • TV: FOX
• Radio: 97.1 The Fan
QUICK HITTERS
Following a loss to Oregon on Sept. 11, Ohio State has won six straight and is averaging 50.8 points per game during its winning streak.
The Buckeyes have won 23 consecutive Big Ten games, which is the longest streak in the conference since the Buckeyes' national record, 30-game conference winning streak from 2013-15.
Ohio State's offense is on pace to set single-season records for yards and points scored. It currently leads the nation in total offense (548.1 yards/game) and scoring offense (47.3 points/game).
The Buckeyes have put 50 or more points on the scoreboard in four of the last five games and was just one game shy of tying a Big Ten record for most consecutive
50- point games.
While its offense gets most of the headlines, Ohio State's defense is allowing just 13.6 points per game over the last five games.
The Buckeyes have limited five of their last six opponents to 100 yards or less rushing. In that span, they're giving up an average of just 1.9 yards per carry.
NOTES TO KNOW
SIX DEFENSIVE TOUCHDOWNS
Ohio State's defense has scored six defensive touchdowns this season, the most of any school in the country. On Saturday, the Buckeyes added to their total thanks to a momentum-changing 57-yard scoop-and-score touchdown in the second quarter by defensive tackle Jerron Cage.
Ohio State has returned four interceptions for TDs and returned two fumbles. Five of its six defensive touchdowns have come in the last six games.
MIDSEASON ALL-AMERICANS
Eight Buckeyes were named to various midseason All-American teams, headlined by first-team status for WR Chris Olave, OT Nicholas Petit-Frere and RB TreVeyon Henderson.
Olave and Henderson were each named to the The Sporting News' mid-season All-American team while Petit-Frere was named to the first-team as chosen by The Athletic. WR Garrett Wilson earned second-team honors by The Athletic.
STROUD A MAXWELL SEMIFINALIST
QB C.J. Stroud was announced as one of 15 semifinalists for the Maxwell Award, which is presented annually by the Maxwell Football Club to the nation's most outstanding player.
He ranks in the top 10 nationally in nearly every major passing statistic, including efficiency (third, 186.1), touchdown passes (seventh, 23), yards per game
(seventh, 324.3 yards/game) and yards per attempt (third, 10.4).
DEFENSIVE IMPROVEMENTS
Over the last five games, Ohio State's defense has allowed 350 or fewer yards in four contests and given up nine total touchdowns.
Opponents are rushing for just 1.7 yards per carry.
During this span the defense has as many interceptions (seven) as touchdown passes allowed.
Opposing quarterbacks are averaging less than 10 yards per completion (9.1).
After generating just 11 tackles-for-loss in the first three games, Ohio State has 47 in the last five with 23 sacks.
RECEIVING RECORDS
Olave and senior TE Jeremy Ruckert are each nearing school touchdowns receiving records.
Olave has 31 career receiving touchdowns and needs four to break David Boston's
23- year-old school record of 34, set between 1996-98.
Ruckert has 12 career receiving touchdowns and needs just two to topple Jake Stoneburner's school mark for tight ends of 13, set between 2009-12.
BY THE NUMBERS
13
Grad transfer kicker Noah Ruggles has made 13 consecutive FGs dating back to his time at North Carolina. Ruggles went 4-for-4 vs. Penn State to earn Big Ten co-Special Teams Player of the Week honors.
15
Quarterback C.J. Stroud has thrown 15 touchdown passes in his last four games. In that span, Stroud is completing 71.1 percent of his passes (84-for-118) for 1,307 yards with zero interceptions.
1.9
Ohio State's defense is allowing an average of just 1.9 yards per rush over the last six games. In the last two games, Penn State and Indiana have combined for 67 yards on 66 carries.
8.23
Ohio State's offense is No.2 nationally with an average of 8.23 yards per play. Ohio State has never finished lower than seventh in yards per play average with Ryan Day on staff (2017-present).
Nebraska News
THE HUSKERS
Seven of the nine all-time meetings between Ohio State and Nebraska have occured since the Cornhuskers joined the conference for the 2011 season.
The Buckeyes have won six consecutive games in the series with an average margin of victory of 34.5 points per game.
The series dates back to the mid-1950s when Ohio State and Nebraska met in the 1955 and 1956 seasons, respectively.
In 1955, on its way to head coach Woody Hayes' first national championship,
Ohio State defeated Nebraska 28-20 in Columbus.
MORE ON THE MATCHUP
Saturday's game features two of the winningest programs in college football history: Ohio State is second with 938 all-time wins while Nebraska is seventh with 908.
The Buckeyes are 2-1 all-time at Memorial Stadium, losing a 21-point lead and the game, 34-27, in 2011 and winning there in 2017, 56-14, and 2019, 48-7.
Between the two programs, Ohio State and Nebraska have combined for 85 conference championships, 10 Heisman Trophies and 13 national championships.
SCOUTING THE HUSKERS
Nebraska enters Saturday's game with a 3-6 record but all six of its losses have come by eight points or less.
Quarterback Adrian Martinez is a four-year starter who last week became just the third player in program history to amass 10,000 yards of total offense.
Martinez has accounted for 23 touchdowns this season and is currently third in the conference in rushing TDs with 11.
Wide receiver Samori Toure has a team-high 29 receptions for 568 yards and three touchdowns while tight end Austin Allen has chipped in with 27 receptions, 371 yards and a pair of TDs.
Nebraska is fourth in the Big Ten in rushing offense, averaging 202.1 yards per game. After Martinez's team-high 451 yards, the Huskers have relied on a pair of freshmen running backs: Rahmir Johnson (433 yards, 96 carries) and Jaquez Yant (250 yards, 7.5 yards per carry).

COURTESY OSU ATHLETICS