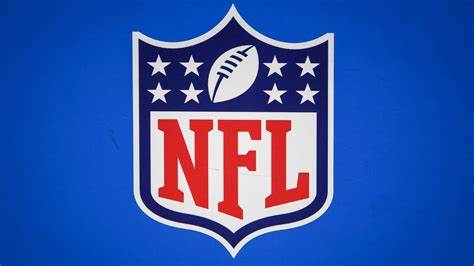 TOP BILLING: The BUFFALO BILLS (4-1) enter Monday Night Football in Week 6 with the league's top scoring offense (34.4 points per game) and top scoring defense (12.8 points per game against) and have scored at least 35 points in each of their past four games.

With 35 points against Tennessee on Monday night (8:15 PM ET, ESPN), the Bills would become the fourth team to register at least 35 points in five consecutive games within a single season in NFL history.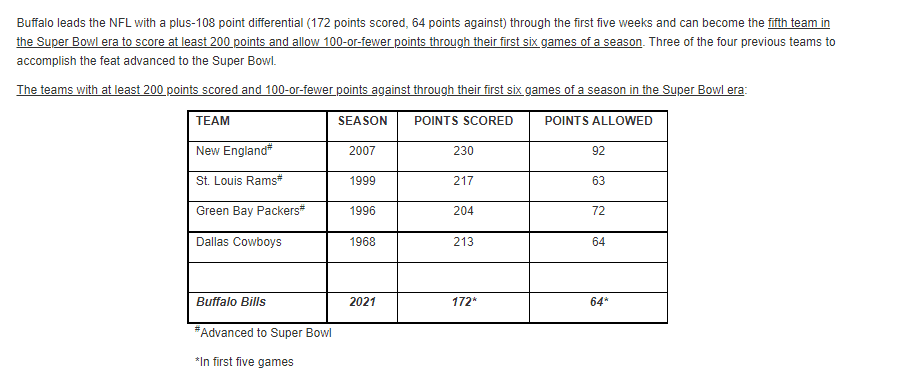 — NFL —

ELECTRIC PURPLE: The LOS ANGELES CHARGERS (4-1) visit the BALTIMORE RAVENS (4-1) on Sunday (1:00 PM ET, CBS) in a matchup of two teams that overcame second-half deficits of at least 14 points to win in Week 5.

The Chargers, down 27-13 in the third quarter, scored 26 fourth-quarter points to defeat Cleveland, 47-42. Baltimore trailed by 16 points early in the fourth quarter last week and scored three consecutive touchdowns to defeat Indianapolis, 31-25, in overtime. This marks the first meeting between two teams that are both coming off wins in which they overcame a 14-point deficit since Week 5 of the 2018 season (Oakland Raiders at Los Angeles Chargers).
Chargers quarterback JUSTIN HERBERT (315.2 passing yards per game) and Ravens quarterback LAMAR JACKSON (303.8) rank fourth and fifth, respectively, in passing yards per game this season. Their matchup on Sunday will be the first game to feature opposing starting quarterbacks who each average at least 300 passing yards per game that season (entering the game) in Week 6 or later since Week 11, 2018 (JARED GOFF and PATRICK MAHOMES).
Jackson, who turns 25 years old in January, earned his 34th-career win as a starting quarterback last week and can surpass Pro Football Hall of Famer DAN MARINO (34 wins) for the most wins by a quarterback prior to his 25th birthday in NFL history.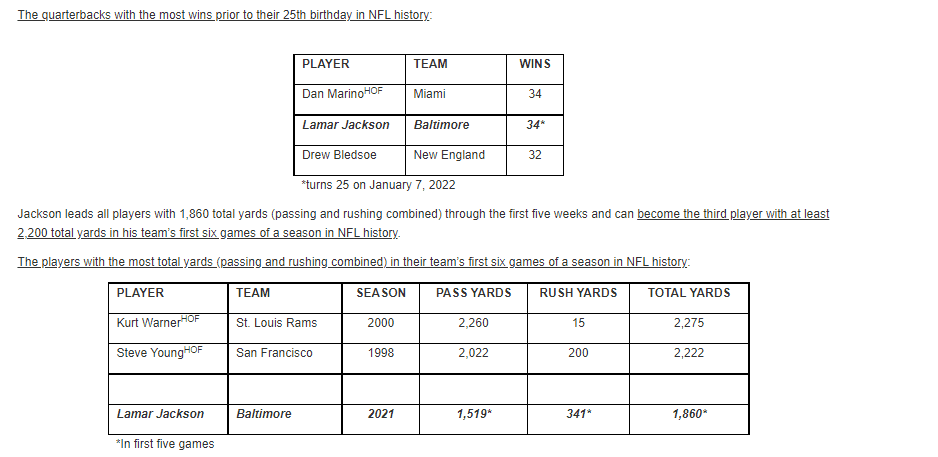 — NFL —

THURSDAY NIGHT LIGHTS: On Thursday Night Football (8:20 PM ET, FOX/NFL Network/Amazon), TOM BRADY and the Tampa Bay Buccaneers (4-1) visit JALEN HURTS and the Philadelphia Eagles (2-3).
Brady, the league's all-time leader in passing yards (80,971) and touchdown passes (596), needs four touchdown passes to become the first player all-time to reach 600 career touchdown passes.
Brady, who has thrown at least four touchdown passes in three of his first five games this season, has 36 career games with at least four touchdown passes and can tie DREW BREES (37 games) for the most such games in NFL history. He can also tie Brees (97 games) for the most games with at least three touchdown passes in league annals.
Hurts will be making his 10th-career start and can become the fifth player ever with at least 3,000 total yards (combined passing and rushing) and 20 offensive touchdowns (passing and rushing combined) in his first 10 starts.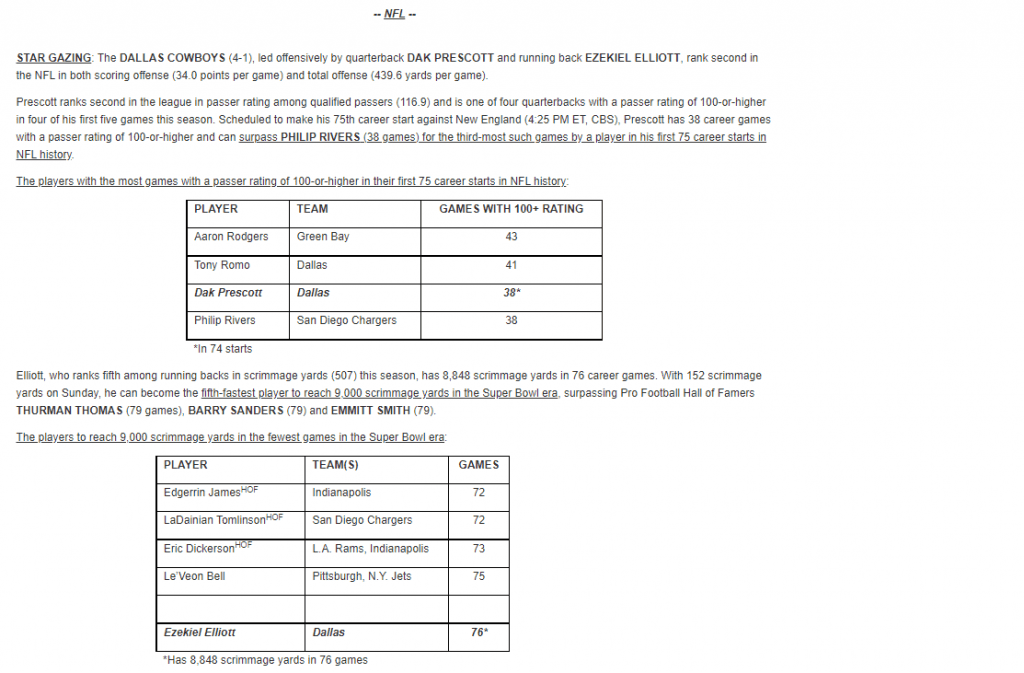 New England rookie quarterback MAC JONES ranks fifth in the NFL this season with a 71.1 completion percentage and has a completion percentage of 70-or-higher in four of his first five career starts. On Sunday, he can become the first rookie quarterback in NFL history to record five games with a completion percentage of 70-or-higher (minimum 30 attempts). The only other rookies with four such games were JUSTIN HERBERT (2020) and DAK PRESCOTT (2016), who both were named Associated Press Offensive Rookie of the Year.
— NFL —

BACK IN LONDON: The MIAMI DOLPHINS (1-4) and JACKSONVILLE JAGUARS (0-5) square off in the second of two 2021 international games at Tottenham Hotspur Stadium (9:30 AM ET/2:30 PM in the UK, CBS).
Jaguars quarterback TREVOR LAWRENCE, the No. 1 overall selection in the 2021 NFL Draft, leads all rookies in touchdown passes (six) and ranks second in passing yards (1,146). This week, he looks to become the first rookie quarterback to ever win a game in London and can become the first rookie quarterback to register multiple touchdown passes in an international game.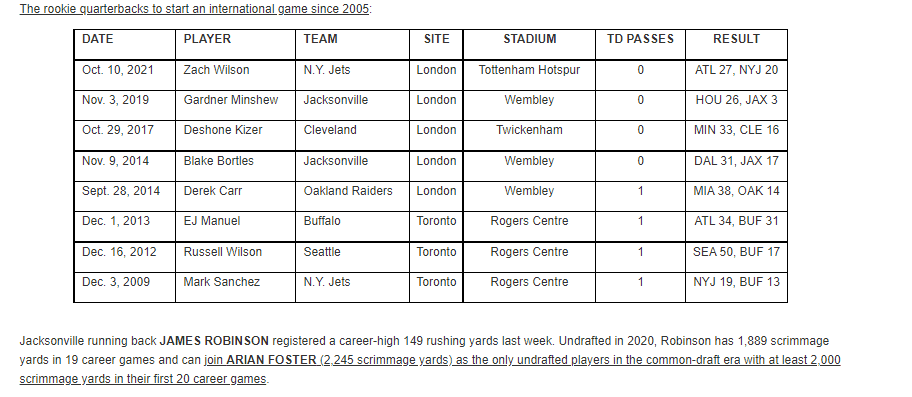 COURTESY NFLmedia.com