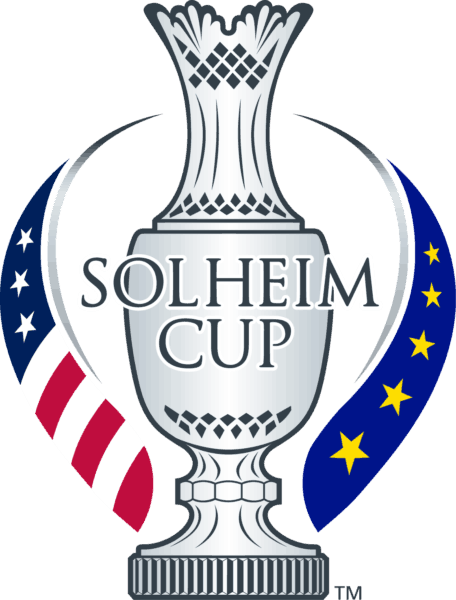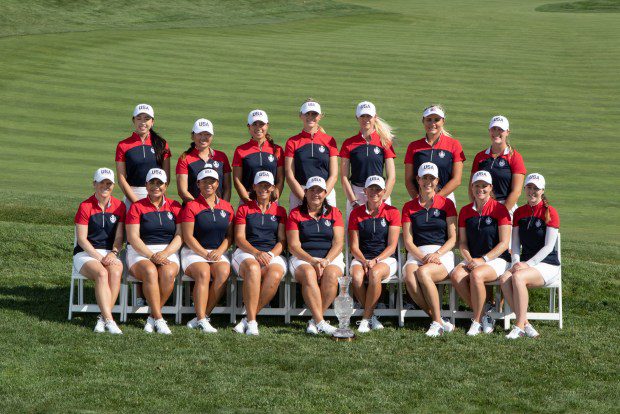 PRESS CONFERENCE WITH TEAM USA CAPTAIN, PAT HURST; ASSISTANT CAPTAIN, STACY LEWIS; ROOKIES LEAHLIMI NOH & BRITTANY ALTOMARE
2021 Solheim Cup
Inverness Club | Toledo, Ohio | Sept. 4-6, 2021
Monday Final Notes
Sept. 6, 2021
Team Europe Roster and Records
OVERALL SCORE – EUROPE 15, USA 13
MONDAY SINGLES RESULTS – EUROPE 7, USA 5
Anna Nordqvist (EUR) tied Lexi Thompson (USA)
Madelene Sagstrom (EUR) def. Ally Ewing (USA), 3 and 2
Leona Maguire (EUR) def. Jennifer Kupcho (USA), 5 and 4
Nelly Korda (USA) def. Georgia Hall (EUR), 1 up
Celine Boutier (EUR) def. Mina Harigae (USA), 5 and 4
Nanna Koerstz Madsen (EUR) tied Austin Ernst (USA)
Matilda Castren (EUR) def. Lizette Salas (USA), 1 up (clinching point)
Brittany Altomare (USA) def. Carlota Ciganda (EUR), 2 and 1
Megan Khang (USA) def. Sophia Popov (EUR), 3 and 2
Yealimi Noh (USA) def. Mel Reid (EUR), 1 up
Jessica Korda (USA) def. Charley Hull (EUR), 3 and 1
Emily K. Pedersen (EUR) def. Danielle Kang (USA), 1 up (winning point)
SUNDAY FOUR-BALL RESULTS – EUROPE 2.5, USA 1.5
Yealimi Noh and Mina Harigae (USA) def. Celine Boutier and Sophia Popov (EUR), 3 and 1
Carlota Ciganda and Nanna Koerstz Madsen (EUR) def. Jessica Korda and Megan Khang (USA), 1 up
Mel Reid and Leona Maguire (EUR) tied Jennifer Kupcho and Lizette Salas (USA)
Charley Hull and Emily K. Pedersen (EUR) def. Danielle Kang and Austin Ernst (USA), 4 and 2
SUNDAY FOURSOMES RESULTS – EUROPE 1, USA 3
Danielle Kang and Austin Ernst (USA) def. Georgia Hall and Madelene Sagstrom (EUR), 1 up
Lexi Thompson and Brittany Altomare (USA) def. Charley Hull and Emily K. Pedersen (EUR), 2 and 1
Mel Reid and Leona Maguire (EUR) def. Nelly Korda and Ally Ewing (USA), 5 and 4
Lizette Salas and Jennifer Kupcho (USA) def. Anna Nordqvist and Matilda Castren (EUR), 3 and 1
SATURDAY FOUR-BALL RESULTS – EUROPE 2, USA 2
Nelly Korda and Ally Ewing (USA) def. Nanna Koerstz Madsen and Madelene Sagstrom (EUR), 1 up
Jennifer Kupcho and Lizette Salas (USA) def. Carlota Ciganda and Sophia Popov (EUR), 1 up
Anna Nordqvist and Matilda Castren (EUR) def. Lexi Thompson and Mina Harigae (USA), 4 and 3
Georgia Hall and Leona Maguire (EUR) def. Yealimi Noh and Brittany Altomare (USA), 1 up
SATURDAY FOURSOMES RESULTS – EUROPE 3.5, USA .5
Matilda Castren and Anna Nordqvist (EUR) def. Austin Ernst and Danielle Kang (USA), 1 up
Celine Boutier and Georgia Hall (EUR) tied Ally Ewing and Megan Khang (USA)
Leona Maguire and Mel Reid (EUR) def. Nelly Korda and Jessica Korda (USA), 1 up
Charley Hull and Emily K. Pedersen (EUR) def. Brittany Altomare and Lexi Thompson (USA), 1 up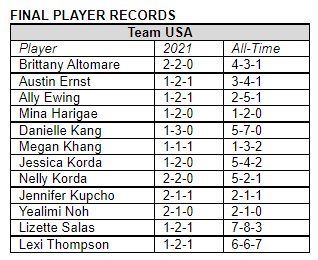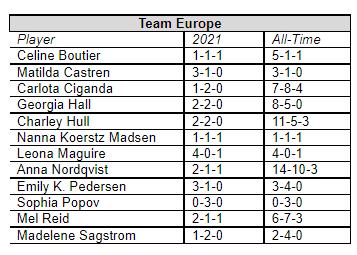 MONDAY SINGLES RECAPS
Anna Nordqvist (EUR) tied Lexi Thompson (USA)
In a rematch of the opening singles match of the 2017 Solheim Cup, Lexi Thompson and Anna Nordqvist again gave the fans 18 holes of entertainment and golfing prowess. The back-and-forth affair, which saw neither player earn more than a 1-up advantage, ended in a tie
Nordqvist, the 2021 AIG Women's Open champion, drew first blood with a birdie at No. 2 and held the advantage for much of the front nine. Thompson tied the match with a birdie at No. 8 and took her first 1-up lead with a second birdie at No. 9. Nordqvist again evened the match with a birdie at No. 12.
The tall Swede missed a 3-footer that would have won the hole at No. 14, but with both players in tight on 15, Thompson missed her own 3-footer to tie. That gave Nordqvist her first 1-up lead since No. 7. Yet again, Thompson drained another birdie to tie. The match ultimately went to the 18th green, where both players scared the hole with long birdie putts that were conceded for the half point apiece.
"It's always a great match going up against Anna. I got to play against her I think the first day, and she's just an amazing player, just so steady. Especially right now, she's just rolling in putts," said Thompson of the rematch. "She might have missed a few on the back nine, but just a great ball striker and I knew I had to play my A game and shoot a few under."
"We both played so good today. I wish I could have made a few more putts. I felt like I rolled the putter good. I thought it was in on the last," Nordqvist added. "But I mean, you can't ask for anything more, her playing good, me playing good. It's not easy out there."
Madelene Sagstrom (EUR) def. Ally Ewing (USA), 3 and 2
Off the tee, it looked like American Ally Ewing had the upper hand in her match with Europe's Madelene Sagstrom, winning No. 1 with par and holding a 1-up advantage through seven holes. But the Swede took her first lead thanks to a birdie at No. 10 and cruised home, winning 15 and 16 to capture a 3-and-2 win.
"I haven't really contributed until today. I was saying on the range this morning, hold on a second, I need to be myself. I need to be myself out there," said Sagstrom, whose only career Solheim Cup points have come in singles. "I can't play somebody else's game. I can't be somebody else's character. I need to be myself, and I really found that today. I grinded hard."
Leona Maguire (EUR) def. Jennifer Kupcho (USA), 5 and 4
Europe's Leona Maguire capped off an undefeated Solheim Cup debut with a dominant 5-and-4 victory over fellow rookie Jennifer Kupcho. Maguire struck early, driving the second green in two and nailing a 12-foot eagle putt to go 1 up. She grew a 4-up lead with birdies at 4, 6 and 7 and ultimately took the decisive win with a par at No. 14, punctuated by the fierce fist pump she unleashed all week across the famed Inverness Club.
"Just wanted to put pressure on Jen from the get-go. She's a phenomenal player," said Maguire, who competed against Kupcho frequently in their amateur and college days. "We've played many times before, and I knew I'd have to have my A game today, and luckily there was still some energy left in my legs and I was able to get it done."
Maguire, the first Irish player to compete in the Solheim Cup, went 4-0-1 for Europe. She is the third player to earn more than four points in a single Solheim Cup, joining her fellow Europeans Caroline Hedwall (5-0-0 in 2013) and Carin Koch (4-0-1 in 2002).
Nelly Korda (USA) def. Georgia Hall (EUR), 1 up
Rolex Rankings No. 1 Nelly Korda earned her second point of the 2021 Solheim Cup with a hard-fought 1-up victory over Georgia Hall. But it was Hall with the early advantage, winning No. 1 with a par and going 2 up with a birdie at No. 4.
The fifth and sixth holes were the tide-turners for Korda, who pulled within one with a birdie at No. 5. She then leveled the match with a winning bogey at No. 6. "I think that kind of changed it all," she said of that two-hole stretch.
From there, the match was all Korda. She went 1 up with a birdie at No. 8, her approach spinning back and careening off the hole for a near eagle, while a 10-foot birdie at 11 moved her to 2 up. Hall hung close, never letting Korda pull further ahead. The match ended on the 18th green when Korda nestled a masterful shot from the rear rough to tap-in distance.
"It was close all day. Honestly it was 1-up to 2-up, it was kind of back and forth, but happy to get it done," said Korda. "I've touched every hole all week, so happy about that one."
Celine Boutier (EUR) def. Mina Harigae (USA), 5 and 4
France's Celine Boutier made easy work of her Sunday singles match-up with American rookie Mina Harigae. Saying she "didn't make any mistakes today," Boutier carded birdie at No. 5 to take a 1-up lead. Sitting 3 up at the turn, Boutier moved to 4 up with a birdie at No. 11 and took an insurmountable 5-up lead after Harigae bogeyed No. 13.
Boutier finished runner-up to Danielle Kang in 2020 when Inverness Club hosted the 2020 LPGA Drive On Championship, making today's victory perhaps even sweeter. "I think just hitting fairways and greens is key on this course," she said. "It's a tough one, and I feel like the more you can just give yourself opportunities the better."
Nanna Koerstz Madsen (EUR) tied Austin Ernst (USA)
Austin Ernst and Nanna Koerstz Madsen fought back and forth all day, sitting tied for nine of their 18 holes and with no player pulling clear by more than one hole. Ernst had a putt to win the match on No. 18 but left it just inches short of the hole. After conceding Ernst's par, Koerstz Madsen knocked in her short par putt to tie the hole and the match.
"I think it was fair that the match finished halved. We both played, to be honest, not very good," said Koerstz Madsen, playing in her first Solheim Cup. "I know it means a lot right now, every point that we can get, so half a point is, I think it's good right now. I'm just happy I could just bring a half a point."
Matilda Castren (EUR) def. Lizette Salas (USA), 1 up
Just six weeks Matilda Castren won the 2021 Gant Ladies Open in her native Finland to earn Ladies European Tour Membership, the 26-year-old LPGA Tour and Solheim Cup rookie drained a 5-foot birdie putt on 18 that officially retained the Solheim Cup for Team Europe.
Castren's 1-up victory over American Lizette Salas brought her team to 14 points, the tally needed to keep the Solheim Cup on European soil.
"It's hard to put it into words right now. I think I'm still shaking," said an emotional Castren. "I just knew I was looking at the board and I knew it was going to be an important putt, and I wanted to make it. Me and (caddie) Mikey (Patterson) read it and we read it perfectly and it went in. I'm just so happy right now, and I'm not sure what the final scores are, but I'm just… Yeah, a lot of emotions right now."
Castren led for much of the match, but never by more than a 2-up margin. Salas put her approach at No. 17 to 4 feet, but the putt to win the hole and square the match grazed the right edge and rolled 3 feet past. She nailed the testy comebacker and watched Castren drain her own 3-footer to tie the hole and head to 18 with the Finn ahead by one. From there, Castren's winning putt brought her European teammates streaming from the sidelines with cheers and hugs for their newest teammate and newly minted Solheim Cup champion.
"I think I focused a little more whenever there's pressure, and I just, oh, my God," she said. "We read the putts really well, and I've been rolling the ball really good all week. I just figured, just trust it and trust the line and just make a good stroke, and they just went in."
Brittany Altomare (USA) def. Carlota Ciganda (EUR), 2 and 1
American Brittany Altomare only led for two holes in her singles match with Carlota Ciganda, but they were the two holes that mattered. After Ciganda had blue on the leaderboard for much of the match, Altomare won four of the closing five holes to capture a come-from-behind 2-and-1 win.
"My caddie's motto and my motto is never give up. It's literally not over until it's over," said Altomare. "You won't catch me giving up, and I'm just going to fight until the end."
Altomare began her comeback with a birdie at 13 to pull within one. She then drained a monster birdie putt at No. 14, fist-bumping with her caddie Audrey Gerdes and thrusting her arms in the air to rouse the crowd. Ciganda's bogey at No. 16 gave Altomare her first 1-up lead and she ultimately captured the victory with yet another birdie at No. 17.
Megan Khang (USA) def. Sophia Popov (EUR), 3 and 2
In her second year of Solheim Cup competition, American Megan Khang finally earned her first full point with a 3-and-2 singles victory over Europe's Sophia Popov. Khang led from the get-go, birdieing the first two holes to up 2 up through two. Conversely, Popov was never able to find any groove on the course, carding bogeys at 4, 6, 7 and 8 that gave Khang a 6-up lead.
The German major champion, whose Cinderella 2020 season started with a caddying gig at Inverness for the LPGA Drive On Championship, did rally down the stretch. Wins from Popov at 13, 14 and 15 put Khang just 3 up with three to play, but with a pair of swapped pars at No. 16, Khang captured the win, her first as a member of Team USA.
"She hit a great shot on 13 out of the bunker. That was probably the best, almost the best she could have done other than holing out. I had a feeling she was going to make it," said Khang. "I was ready to go a few more holes. Went a few more than I wanted to, but ended up getting the job done, and she put up a good fight."
Yealimi Noh (USA) def. Mel Reid (EUR), 1 up
USA Solheim Cup rookie Yealimi Noh came out on fire against European stalwart Mel Reid, winning the first four holes for an early 4-up lead. Reid chipped away at the advantage, winning 5 and 6 to give Noh a 2-up lead that she carried through 13 holes.
A bogey from Reid at No. 14 gave Noh a 3-up lead, but the feisty Englishwoman did not go down without a fight. Wins for Reid at 15 and 17 gave Noh a tenuous 1-up lead going to 18. But with a pair of swapped bogeys on the final hole, Noh emerged the victor, going 2-1-0 in her Solheim Cup debut.
"It's been incredible, so much more than I imagined. It was kind of last minute, like getting a captain's pick and all, but it was always on my mind the entire year and just before, too," said Noh. "Just actually being here and getting to experience all of this, all the fans, the crowds, and just the atmosphere has been really incredible."
Jessica Korda (USA) def. Charley Hull (EUR), 3 and 1
Jessica Korda earned her only point of the 2021 Solheim Cup with a 3-and-1 singles victory over Charley Hull. Hull pulled to an early advantage, winning 3 and 4 for a 2-up lead that she carried through eight holes. Korda then had a great stretch and won five holes out of the last nine. After winning the par-4 16th, the American was 2 up with two to go and birdied the 17th to secure a win and bring Team USA their last full point of singles.
Emily K. Pedersen (EUR) def. Danielle Kang (USA), 1 up
The final match of Monday singles featured the anchors: Emily Pedersen for Team Europe and Danielle Kang for Team USA. It was a familiar spot for both, as they previously met in the final singles match at the 2017 Solheim Cup where Kang got the better of Pedersen. The result was different this time around.
Pedersen took the opening hole with a par, but Kang responded with eagle at No. 2. The two went back and forth the rest of the front nine, as Pedersen used birdies to capture Nos. 5 and 8 while Kang took 7 (par) and 9 (birdie) to tie the match at the turn.

"It was a mixture [of emotions]. I was happy she put me there [in the anchor match]. I was there in 2017 in Des Moines against the same player and it felt really good to have another outcome," said Pedersen. "I felt confident that Beany putting me there, so I was proud."

The European captain chimed in with a few words of affirmation. "We knew she could handle it," said Catriona Matthew.
Once the duo headed to the back nine, Pedersen created separation. She secured Nos. 10, 12 and 13 going birdie-par-birdie to go 3-up. Then on the walk from 15 to 16, results became official: Team Europe had won the 2021 Solheim Cup thanks to Matilda Castren's match victory. 
 
The European contingent gathered on 16 tee and celebrated the moment. Hugs, congratulations, tears and laughs. They walked hand in hand down the fairway.  Olé chants rang out. But Pedersen still had to withstand a Kang comeback. The American won 16 and 17, but Pedersen buried her birdie putt on 18 to seal an outright European victory. 
 
"It was a bit of a fight because after 15, I knew we'd won and just wanted to celebrate with everyone, so I just really had to collect myself. Felt really good to hole that last putt," Pedersen said. "I was so happy for Matilda. I think all our rookies did so well and Leona just smashing it. It was so crucial for us. I just really had to collect myself on the last three because I could see them and I could hear the 'olés.' It was nice to get it done."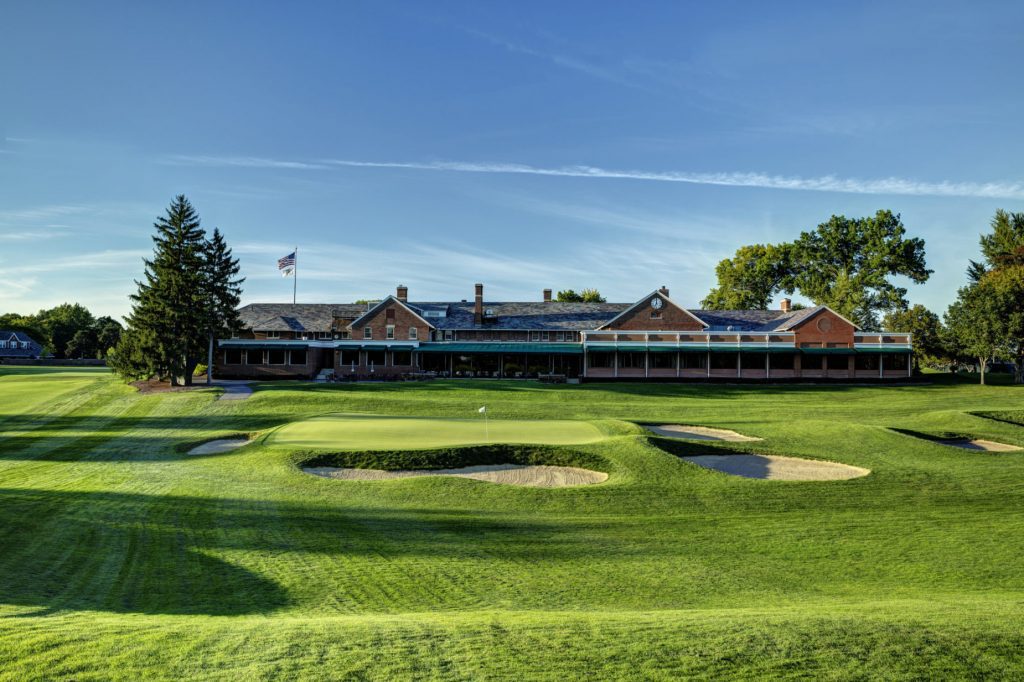 COURTESY LPGA COMMUNICATIONS