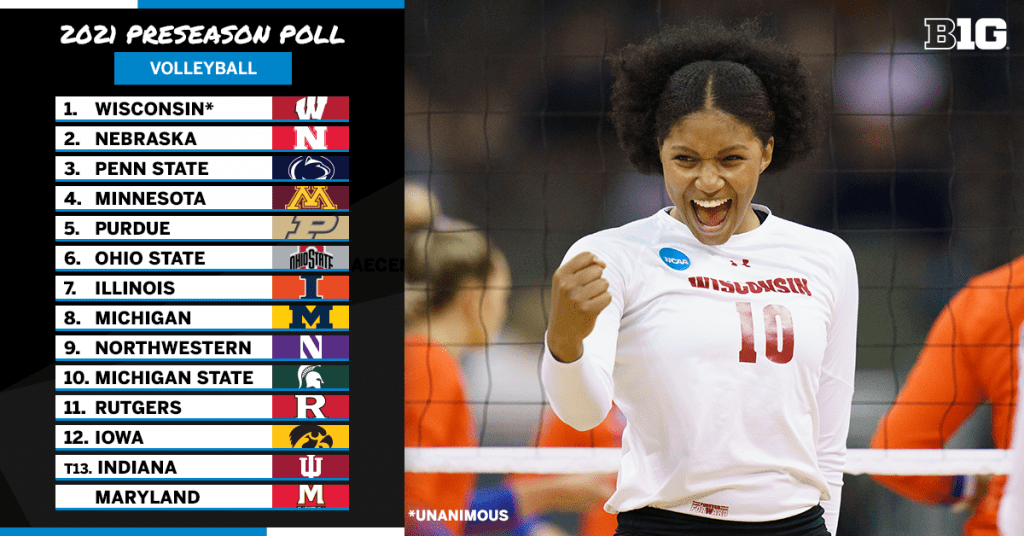 View Online: https://bit.ly/2021B1GVBPrePoll
Badgers and Penn State each with three players named to preseason all-conference team
ROSEMONT, Ill. – Two-time defending Big Ten champion Wisconsin is the unanimous favorite to earn a third consecutive Big Ten title, according to the 2021 Big Ten preseason volleyball poll and all-conference team announced Monday. All 14 Big Ten coaches took part in the balloting and were permitted to vote for their own teams and players.
The Badgers, who are coming off their second consecutive trip to the NCAA national semifinals, are seeking to become the first Big Ten program to earn three straight conference titles since Penn State captured eight in a row from 2003-10. Wisconsin also was ranked No. 2 in the preseason American Volleyball Coaches Association (AVCA) poll released last week, leading a group of six Big Ten schools among the top 12 in the national Top 25 balloting, tying for the most from any conference in the country.
Nebraska was second in Monday's Big Ten preseason poll, with the Huskers aiming to build off last season's run to the NCAA quarterfinals. Penn State was third in the conference coaches' survey, with Minnesota and Purdue (which also advanced to the NCAA quarterfinals) rounding out the top five.
Nebraska was No. 5 in the preseason AVCA poll, with Minnesota seventh, Purdue eighth and Penn State 11th. Ohio State, which was sixth in the Big Ten preseason poll, was No. 10 in the preseason AVCA balloting, while Illinois and Michigan were seventh and eighth in the conference poll and received votes in the AVCA poll.
Penn State and Wisconsin each had three players named to the 14-person Big Ten preseason all-conference team. The Nittany Lions were represented by senior middle blocker Kaitlyn Hord, senior right side Jonni Parker and graduate outside hitter Erika Pritchard. Meanwhile, Wisconsin's honorees included a pair of unanimous selections in graduate setter Sydney Hilley and graduate middle blocker Dana Rettke, along with sophomore middle blocker/right side Devyn Robinson.
Among the Big Ten's other unanimous preseason all-conference honorees were the reigning Big Ten Player of the Year, Minnesota senior opposite Stephanie Samedy, and last season's Big Ten Freshman of the Year, Ohio State opposite Emily Londot, along with Purdue senior outside hitter Grace Cleveland.
Among the 14 Big Ten preseason all-conference team members are 12 returning AVCA All-Americans from the 2020 season — first-team selections Cleveland, Hilley, Rettke and Samedy, second-team choices Londot and Nebraska senior setter Nicklin Hames, third-team picks Hord, Robinson and Nebraska graduate outside hitter Lexi Sun, and honorable mention AVCA All-Americans Parker, Minnesota sophomore outside Taylor Landfair and Purdue senior setter Hayley Bush.
Completing the preseason all-conference team are two of last season's first-team All-Big Ten selections in Pritchard (who previously attended Maryland) and Northwestern junior outside hitter Temi Thomas-Ailara, who is the first Wildcat to earn preseason All-Big Ten honors since 2013 (Stephanie Holthus).
Big Ten teams will open the 2021 season on Friday, highlighted by a handful of matches as part of the Big Ten/Big 12 Challenge. Minnesota's opening-night Challenge matchup with No. 10 Baylor in Madison, Wis., will air on ESPNU (9:30 p.m. ET), while Big Ten Network will televise a tripleheader of Big Ten volleyball action on Saturday, with Nebraska hosting Kansas State (5 p.m. ET), Wisconsin entertaining Baylor in another top-10 clash (7 p.m. ET) and Minnesota tangling with TCU in Madison (9:30 p.m. ET).
Those broadcasts kick off a record-setting 53 matches that will be televised nationally this season on the Big Ten Network, ESPN2 and ESPNU. All Big Ten Network matches can also be seen through its digital extension, the FOX Sports app, delivering live events and on-demand programming to Big Ten Network customers via the web, smartphones and tablets. All matches on ESPN networks will also be available to stream on the ESPN App via connected devices.
All non-televised Big Ten matches are scheduled to appear on Big Ten Network+, a subscription service for non-televised live events. In the coming weeks, additional matches are expected to be assigned to both Big Ten Network and Big Ten Network+, with the latter also offering sport-specific packages for fans only interested in viewing volleyball events. Details and subscription information can be found at btnplus.com.
Back for a second season is At The Net, the Big Ten Network's multiplatform, behind-the-scenes look at the elite volleyball players and programs across the conference. Fans can also find the latest updates by following the Big Ten's volleyball Twitter feed (@B1GVolleyball) and the Big Ten Network's volleyball-focused Instagram account (@B1GVolleyball). Throughout the season, both accounts will be home to original videos, highlights and custom content featuring some of the most competitive and exciting volleyball in the nation.
The full Big Ten preseason poll and all-conference team is as follows:
2021 BIG TEN VOLLEYBALL PRESEASON POLL
1. WISCONSIN
2. Nebraska
3. Penn State
4. Minnesota
5. Purdue
6. Ohio State
7. Illinois
8. Michigan
9. Northwestern
10. Michigan State
11. Rutgers
12. Iowa
13. (tie) Indiana
(tie) Maryland
2021 BIG TEN VOLLEYBALL PRESEASON ALL-CONFERENCE TEAM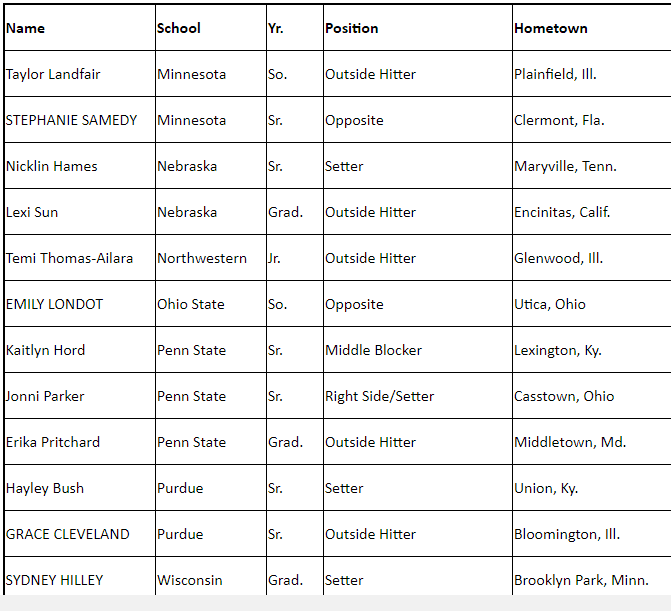 Unanimous selections listed in ALL CAPS
#B1GVolleyball
COURTESY BIG TEN COMMUNICATIONS