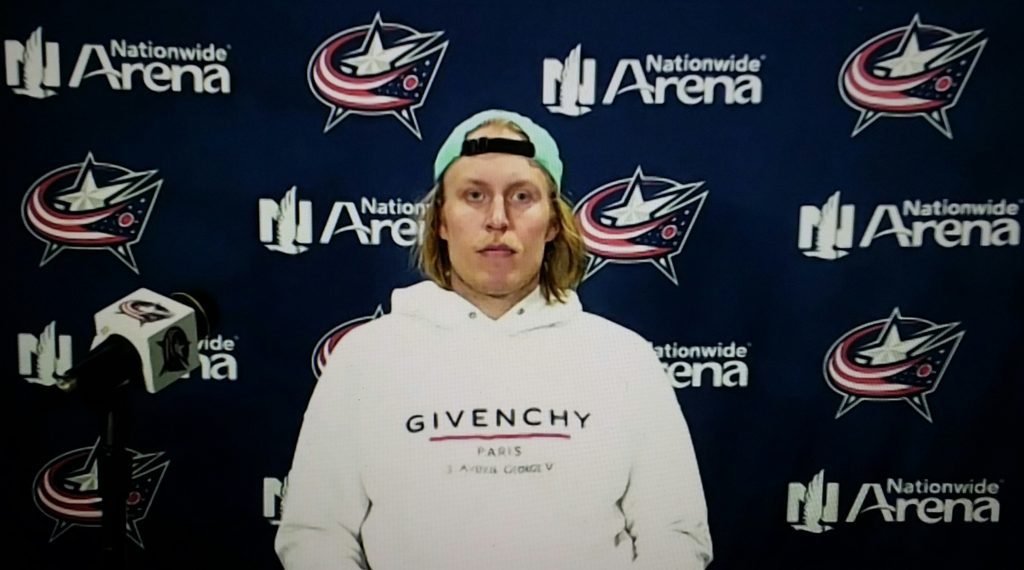 JULY 28, 2021
COLUMBUS, OHIO – Columbus Blue Jackets General Manager and Alternate Governor Jarmo Kekalainen announced today that restricted free agent winger Patrik Laine has accepted the club's qualifying offer of $7.5 million for the 2021-22 National Hockey League season.
Laine, 23, has recorded 150 goals and 121 assists for 271 points, including 56-35-91 on the power play, and added 139 penalty minutes in 351 career games with the Blue Jackets and Winnipeg Jets since making his NHL debut in 2016-17. He tallied 28 or more goals and 50-plus points in his first four NHL campaigns. He has added 8-8-16 and four penalty minutes in 24 career Stanley Cup Playoff outings.
"At just 23 years of age, Patrik has established himself as one of the premier goal scorers in the National Hockey League," said Kekalainen. "There is no doubt that he had a difficult season in 2020-21, as a lot of players did, but we are confident that he will bounce back this season. He is a special talent, has a passion for the game and will be an important part of our organization as we move forward."
The 6-5, 210-pound forward notched 12-12-24, 25 penalty minutes, four power play goals and 82 shots while averaging 17:27 of ice time in 46 contests split between the Blue Jackets and Jets in 2020-21. Acquired in a trade from the Jets on January 23, he tallied 10-11-21, 21 penalty minutes and four power play goals in 45 contests with Columbus. The forward finished tied for the team lead in power play goals and multi-goal games (three).
"Last season was a tough one, but I've put it in the past and am looking forward to getting back to Columbus and helping this team move forward," said Laine. "I've had a good summer training and I'm excited about what's ahead for me personally and for our team."
A native of Tampere, Finland, Laine was originally selected by Winnipeg with the second overall pick at the 2016 NHL Draft. He earned NHL All-Rookie Team honors and made his All-Star Game debut in 2016-17 as he tallied 36-28-64 and 26 penalty minutes in 73 games. The following season, he set career highs in goals, points and power play goals with 44-26-70, 20 power play goals and 24 penalty minutes in 82 contests. He led the NHL in power play goals and ranked second in goals that campaign. In 2018-19, he picked up 30-20-50 and 15 penalty minutes in 82 games and set a career high in assists with 28-35-63 and 22 penalty minutes in 68 games in 2019-20.
Laine has represented Finland in various international competitions, including the 2016 IIHF World Junior Hockey Championships, where he collected 7-6-13 in seven outings and led Finland to a gold medal. That same year, he helped his country win the silver medal at the World Championships, earning Best Forward and Most Valuable Player honors after notching 7-5-12 in 10 games. He also appeared in three games at the 2016 World Cup of Hockey tournament.
‐ CBJ ‐
Full and partial season tickets for the Blue Jackets' 2021-22 campaign are currently available for purchase.  Information on all ticketing options can be obtained by calling (800) NHL‐COLS or by visiting BlueJackets.com.
COURTESY BLUE JACKETS COMMUNICATIONS