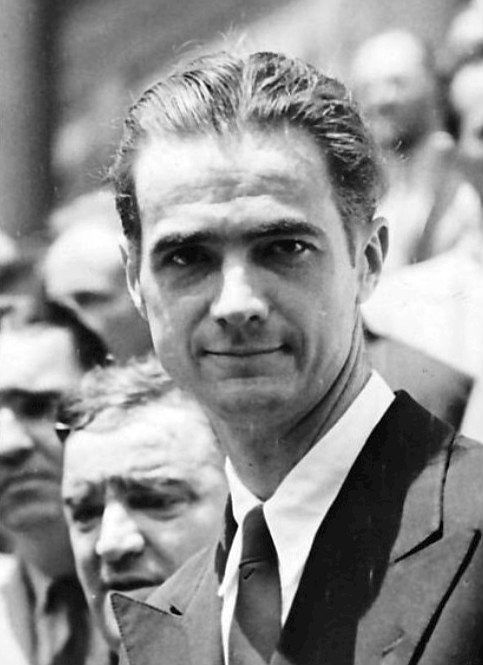 FROM WIKIPEDIA COMMONS
Round-the-world flight
On July 14, 1938, Hughes set another record by completing a flight around the world in just 91 hours (three days, 19 hours, 17 minutes), beating the previous record set in 1933 by Wiley Post in a single-engine Lockheed Vega by almost four days. Hughes returned home ahead of photographs of his flight. Taking off from New York City, Hughes continued to Paris, Moscow, Omsk, Yakutsk,  Fairbanks, and Minneapolis, then returning to New York City. For this flight he flew a  Lockheed 14 Super Electra (NX18973, a twin-engine transport with a four-man crew) fitted with the latest radio and navigational equipment. Harry Connor was the co-pilot, Thomas Thurlow the navigator, Richard Stoddart the engineer, and Ed Lund the mechanic. Hughes wanted the flight to be a triumph of American aviation technology, illustrating that safe, long-distance air travel was possible. Albert Lodwick of Mystic, Iowa, provided organizational skills as the flight operations manager. While Hughes had previously been relatively obscure despite his wealth, being better known for dating Katharine Hepburn, New York City now gave him a ticker-tape parade in the Canyon of Heroes. Hughes and his crew were awarded the 1938 Collier Trophy for flying around the world in record time. He was awarded the Harmon Trophy in 1936 and 1938 for the record-breaking global circumnavigation.
In 1938 the William P. Hobby Airport in Houston, Texas—known at the time as Houston Municipal Airport—was renamed after Hughes, but the name was changed back due to public outrage over naming the airport after a living person. Hughes also had a role in the design and financing of both the Boeing 307 Stratoliner and Lockheed L-049 Constellation.
Other aviator awards include: the Bibesco Cup of the Fédération Aéronautique Internationale in 1938, the Octave Chanute Award in 1940, and a special Congressional Gold Medal in 1939 "in recognition of the achievements of Howard Hughes in advancing the science of aviation and thus bringing great credit to his country throughout the world".
President Harry S. Truman sent the Congressional medal to Hughes after the F-11 crash. After his around-the-world flight, Hughes had declined to go to the White House to collect it.
HERE IS TODAY'S ALMANAC
1500s
1550s
1830s
1850s
1870s
1890s
1900s
1910s
1920s
1930s
1940s
1960s
1970s
1980s
1990s
2000s
2010s
COURTESY www.almanac.com