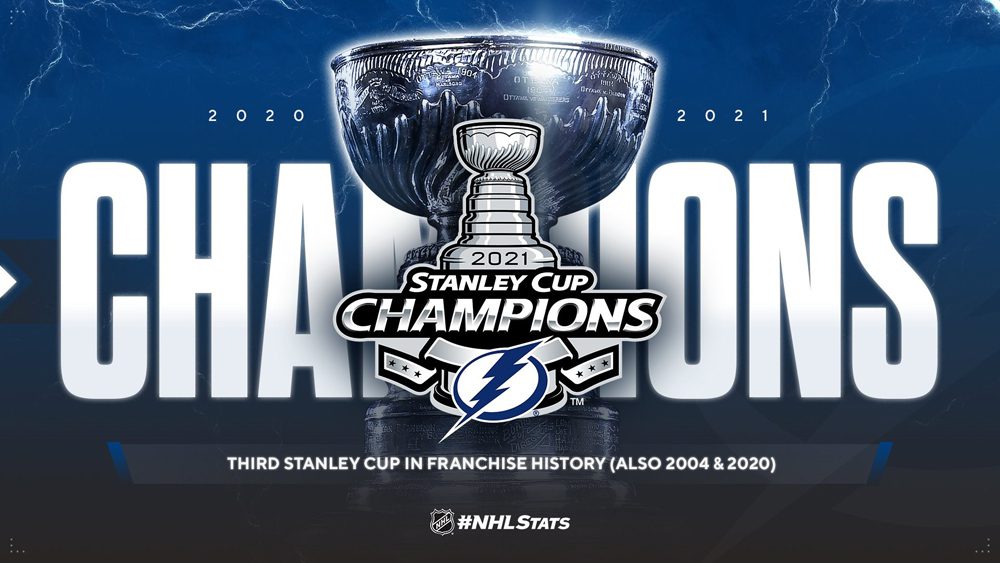 July 7, 2021
LIGHTNING RUN IT BACK AND CLAIM SECOND STRAIGHT STANLEY CUP
After the Lightning won the 2020 Stanley Cup in an elongated season that took 363 days due to a pause caused by the COVID-19 pandemic, they are again hoisting the prized trophy just 282 days later. Tampa Bay claimed its third championship in franchise history, adding to titles won in 2004 and 2020, with a 1-0 victory over the Canadiens in Game 5.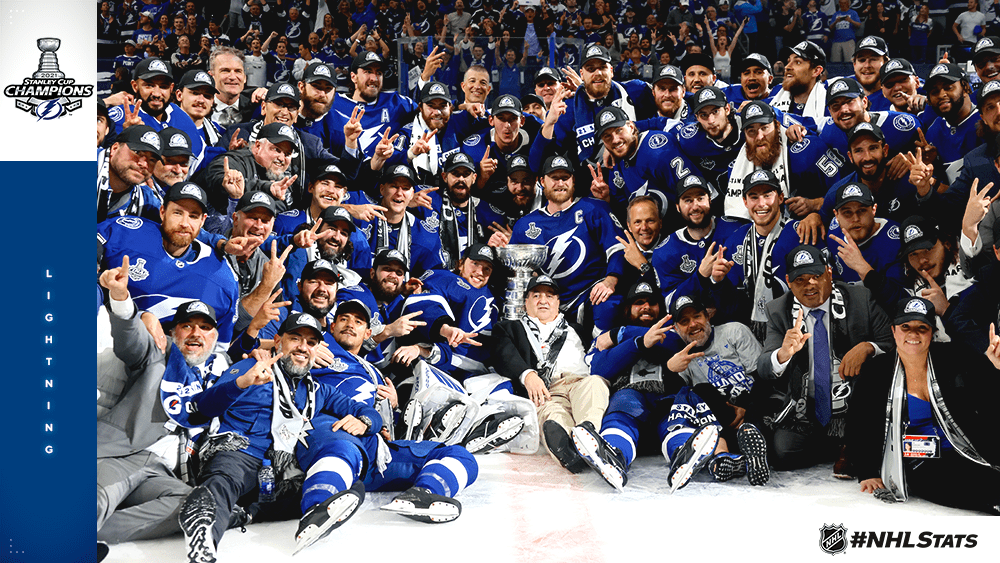 * In a regular season that featured strictly divisional play and the birth of new rivalries, the Lightning opened their 28th campaign with a victory against the Blackhawks on Jan. 13 and concluded by hoisting the Cup on home ice for the second time (also 2004).
* The Lightning's championship journey included the first-ever all-Florida matchup in the Stanley Cup Playoffs, a six-game victory, followed by a five-game triumph over the Discover Central Division's top-seeded Hurricanes. In an epic final-four rematch with the Islanders, the Lightning emerged from the Stanley Cup Semifinals with their sixth all-time Game 7 victory, setting up a meeting with the Canadiens in the Final.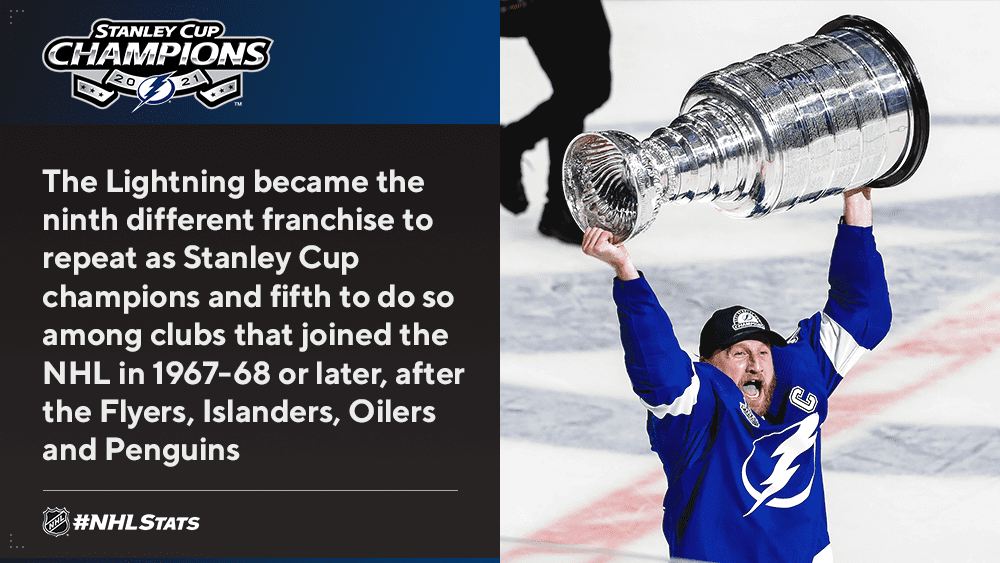 * After winning the Stanley Cup in a "bubble" in Edmonton in 2020, Tampa Bay hoisted the trophy in front of 18,110 fans at AMALIE Arena. It was the second time the Lightning won the Cup on home ice and fourth time in the last 10 years that any team has done so.
* Tampa Bay (3) is just the second Florida-based franchise to win at least three titles in either the NHL, NBA (Miami Heat: 3), NFL (Miami Dolphins: 2; Tampa Bay Buccaneers: 2) or MLB (Florida Marlins: 2). The Heat (2012, 2013) and Dolphins (1973, 1974) repeated as NBA and Super Bowl champions, respectively.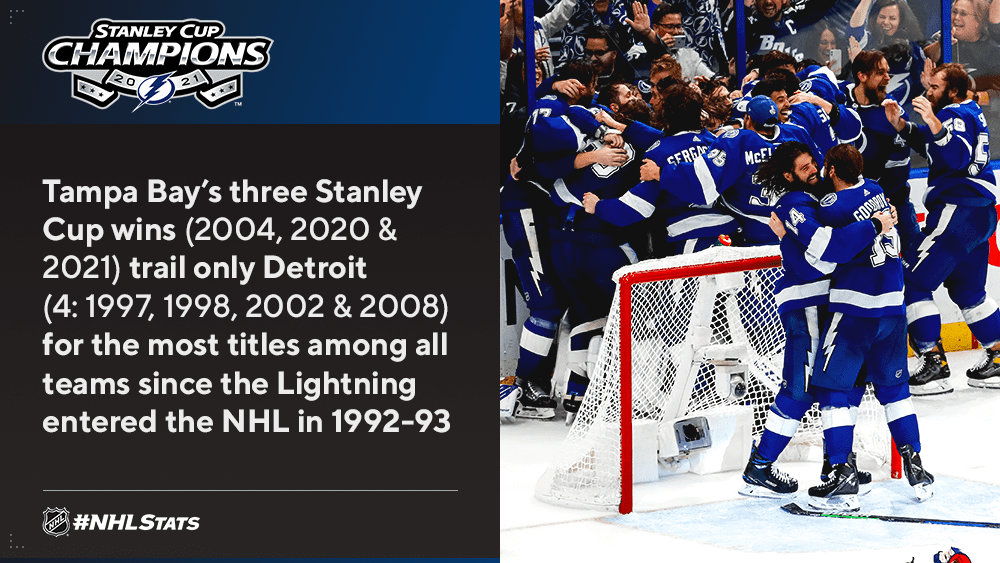 VASILEVSKIY AWARDED CONN SMYTHE TROPHY
After posting a 16-7 record (1.90 GAA, .937 SV%, 5 SO) en route to claiming his second consecutive Stanley Cup, Andrei Vasilevskiy won the Conn Smythe Trophy, awarded to "the most valuable player to his team in the playoffs." The winner was selected in a vote by a panel of the Professional Hockey Writers Association.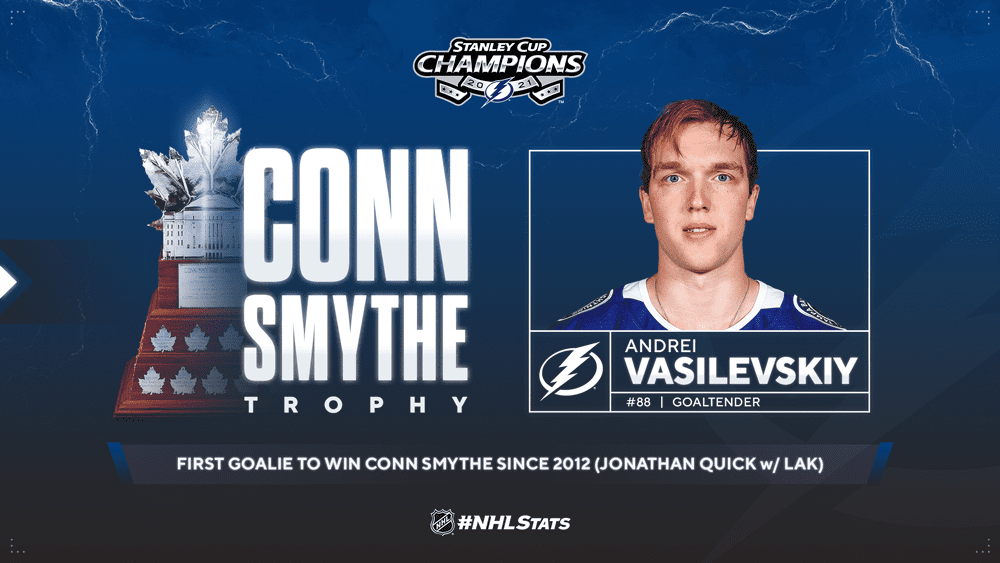 * Vasilevskiy (Tyumen, Russia) is the first goaltender born outside North America to be named playoff MVP. Overall, this marks the 17th time a goaltender won the Conn Smythe Trophy since the award's inception in 1964-65.
* Vasilevskiy is just the third Russian-born player to win the Conn Smythe Trophy, joining Capitals captain Alex Ovechkin (Moscow, RUS; 2018) and Penguins forward Evgeni Malkin (Magnitogorsk, RUS; 2009).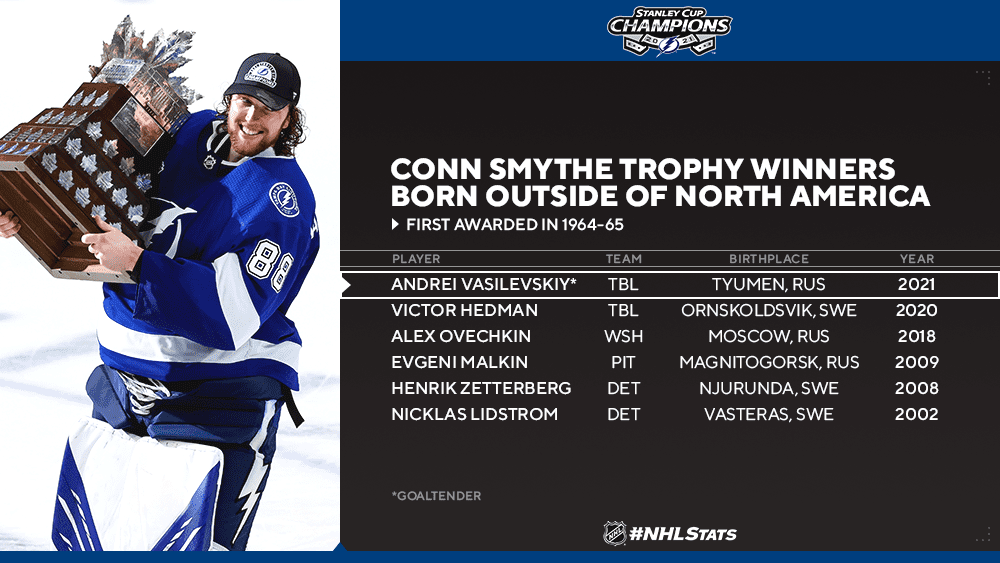 * Vasilevskiy also became just the fourth active goaltender to win multiple Stanley Cups, joining Marc-Andre Fleury (3), Jonathan Quick (2) and Matt Murray (2). Fleury and Murray also won consecutive championships.
* Vasilevskiy became the second goaltender in the NHL's expansion era (since 1967-68) to claim consecutive Stanley Cup titles while earning every victory for his club across each postseason. The only other to do so in that span was Ken Dryden (1976–1979 w/ MTL).
* Vasilevskiy became the first goaltender in more than 40 years to win the Stanley Cup in consecutive playoff years with a goals-against average under 2.00 in each postseason (min. 10 GP in both) since Dryden accomplished the feat in three straight years from 1976 to 1978. The only other goaltender to do so is Jacques Plante, who accomplished the feat in three straight years from 1956 to 1958.
* Vasilevskiy recorded a streak of five straight series-clinching shutouts dating to the Cup-clinching victory in Game 6 of the 2020 Stanley Cup Final (2021: Game 6 of R1, Game 5 of R2, Game 7 of SCSF & Game 5 of SCF). That is the longest such run by a goaltender in NHL history.
* Vasilevskiy became the first goaltender in NHL history with four series-clinching shutouts in a single postseason. He also became the third in League history with multiple Cup-clinching shutouts (consecutive or otherwise).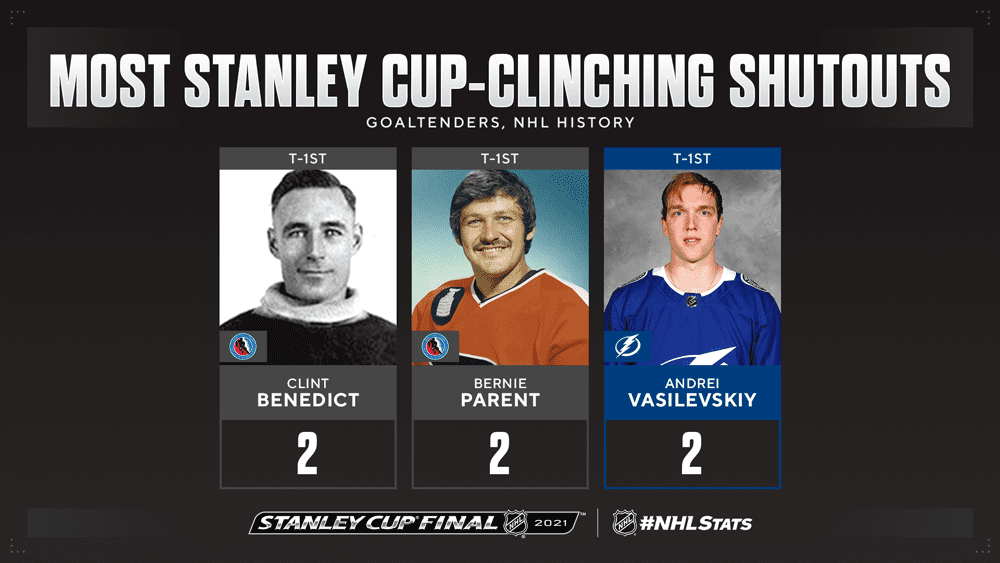 KUCHEROV, POINT LEAD PLAYOFFS IN POINTS, GOALS ONCE AGAIN
Nikita Kucherov (8-24—32 in 23 GP) and Brayden Point (14-9—23 in 23 GP) topped the NHL in points and goals, respectively, during the 2021 Stanley Cup Playoffs.
* Kucherov, who also led all players in points during the 2020 postseason (7-27—34 in 25 GP), became the sixth different player in the NHL's expansion era (since 1967-68) to lead the Stanley Cup Playoffs in points in consecutive years (outright or tied), joining Wayne Gretzky (3x: 1983-85; 2x: 1987-88), Guy Lafleur (3x: 1977-79), Mario Lemieux (2x: 1991-92), Rick MacLeish (2x: 1974-75) and Phil Esposito (2x: 1969-70).
* Kucherov became just the third player to record 30-plus points in consecutive playoff years, joining NHL legendsLemieux (1991-1992) and Gretzky (1983-1985 & 1987-1988).
* Kucherov's combined 66 points over the 2020 and 2021 postseasons trail only Gretzky and Lemieux for total points across two consecutive playoff years. Gretzky (60 from 1987-1988 and 52 from 1984-1985) is the only player to record more assists than Kucherov (51) across two postseasons.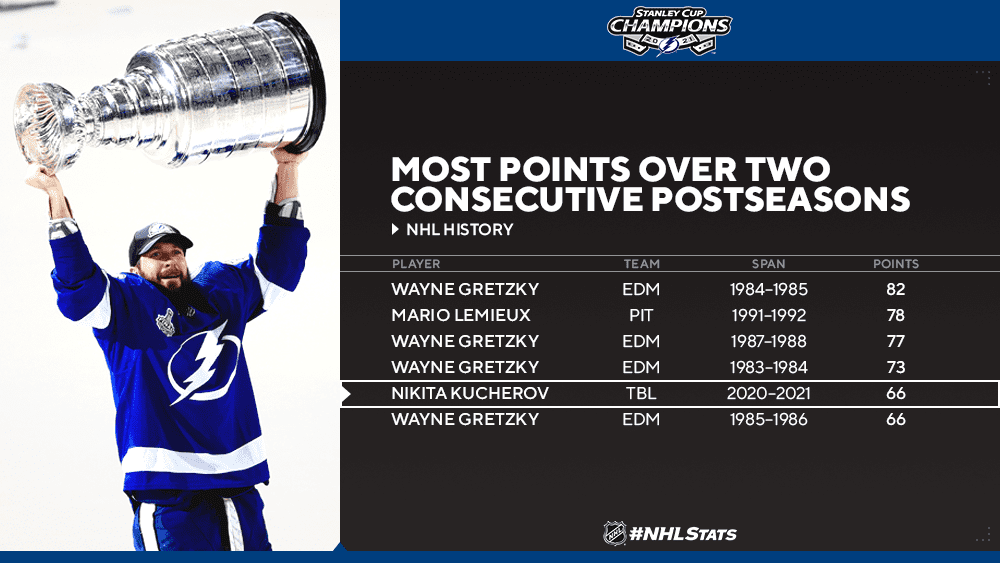 * Point finished the playoffs with six more goals than the next closest players after also pacing the 2020 postseason with a franchise-record 14 goals.
* Point had a nine-game goal streak – the second-longest such run in NHL history – and became the first player to record 14-plus goals in consecutive playoff years since Lemieux (1991–1992). The only other players in NHL history to do so are Mike Bossy (1981–1983) and Jari Kurri (1984–1985; 1987–1988).
* Point became the eighth different player in League history to lead the Stanley Cup Playoffs in goals in consecutive years (tied or outright).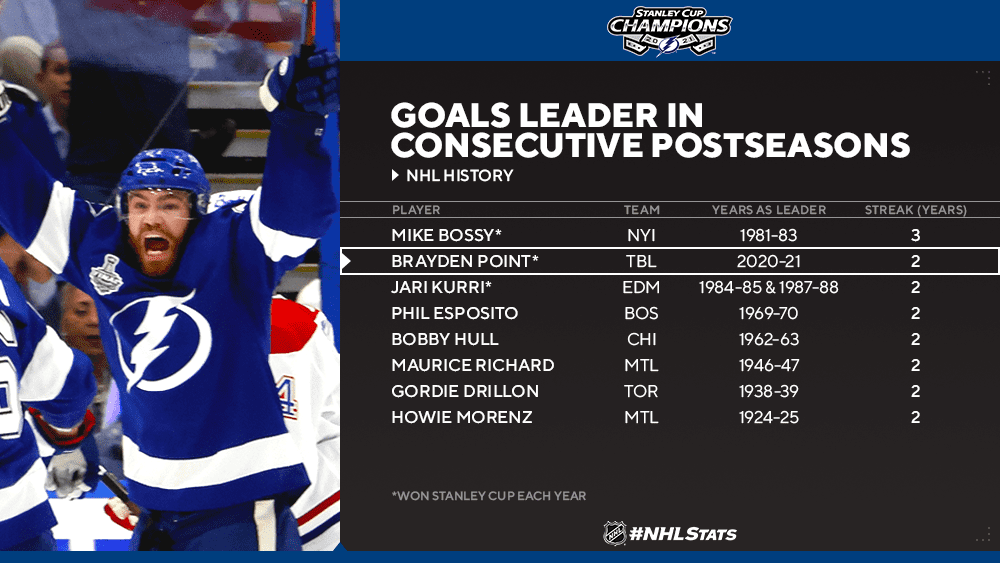 WHERE PAT MAROON GOES, SO TOO DOES STANLEY
After winning his first Stanley Cup in 2019 with the Blues and second in 2020 with the Lightning, Pat Maroon claimed the trophy for a third straight year. Already one of eight different players in NHL history to win a championship in consecutive seasons with different teams, Maroon became the first player to win three straight Stanley Cups since multiple players did so with the Islanders dynasty from 1980 to 1983.
* Maroon joined Ed Litzenberger, Ab McDonald and Eddie Gerard as the fourth player in NHL history to claim three-plus straight Stanley Cup wins while playing for two different teams over that span. An NHL player has never won three or more consecutive titles with three or more different clubs.
* Maroon's three Stanley Cup wins are tied for the most among active players, equaling Sidney Crosby, Marc-Andre Fleury, Niklas Hjalmarsson, Patrick Kane, Duncan Keith, Kris Letang, Evgeni Malkin and Jonathan Toews.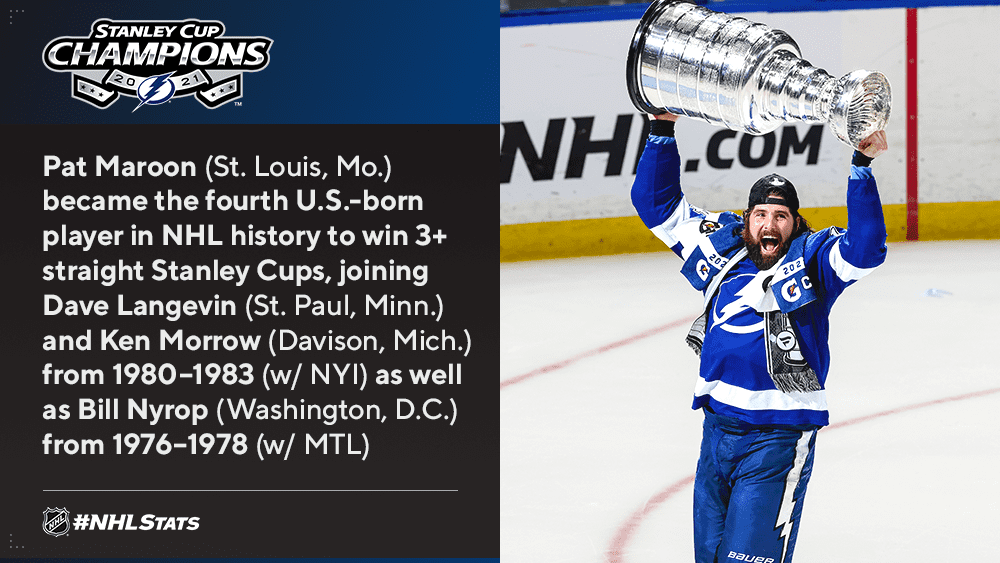 * Maroon has been on the winning side in each of the last 12 playoff series contested by his teams since the 2019 First Round (8-0 w/ TBL, 4-0 w/ STL). He is one of two players in the last 36 years to be on the roster for 12 consecutive playoff series wins (min. 1 GP in playoff year), following Jaroslav Pouzar (12-0 from 1984-1987, all w/ EDM). Excluding the Canadiens and Islanders dynasties of the 1970s and 1980s, respectively, Maroon and Pouzar are the only players to have won 12 consecutive series.
STAMKOS PLAYS LARGER ROLE IN CUP RUN
After playing just 2:47 in the entire 2020 Stanley Cup Playoffs, Lightning captain Steven Stamkos dressed in all 23 games for Tampa Bay in the 2021 postseason where he produced 8-10—18 to rank tied for third in NHL scoring and match a career high.
* Each of the five highest-scoring players in the 2021 playoffs were Tampa Bay skaters. It marked the second postseason in the NHL's expansion era (since 1967-68) in which each of the League's top-five scorers were with the same club – the first was in 1970, when Bruins teammates Phil Esposito, Bobby Orr, Johnny Bucyk, John McKenzie and Fred Stanfield combined for the feat.
HOME SWEET HOME
Tampa Bay, which hoisted its first Stanley Cup in front of fans at St. Pete Times Forum in 2004, matched a franchise record for most home wins in a single postseason (9; also 2004) and set one for longest home winning streak in a playoff year (6-0).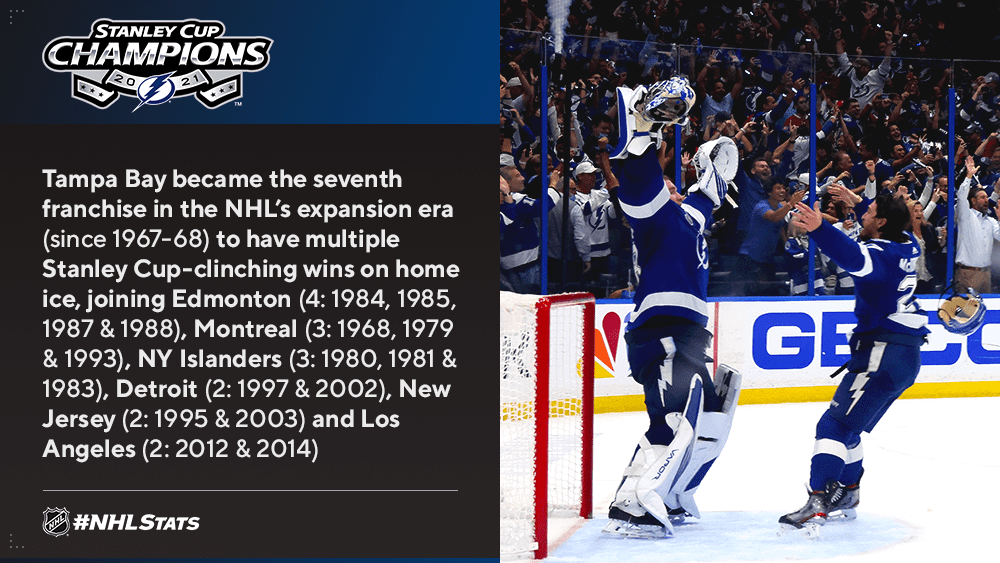 CONSISTENTLY CONTENDERS: JON COOPER AND JULIEN BRISEBOIS
Tampa Bay's Jon Cooper and Julien BriseBois have now claimed three championships over the last 10 years as a head coach-general manager tandem, winning two Stanley Cups with the Lightning (2020 & 2021) and one Calder Cup with the AHL's Norfolk Admirals (2012). Forwards Tyler Johnson, Alex Killorn and Ondrej Palat were also part of each championship.
* BriseBois, who acquired key players such as Pat Maroon, Blake Coleman, Barclay Goodrow, Jan Rutta and David Savard after being named to the position Sept. 11, 2018, became the second general manager in NHL history to win the Stanley Cup multiple times within his first three seasons with that title, joining longtime Canadiens executive Sam Pollock (2 from 1964-65–1966-67).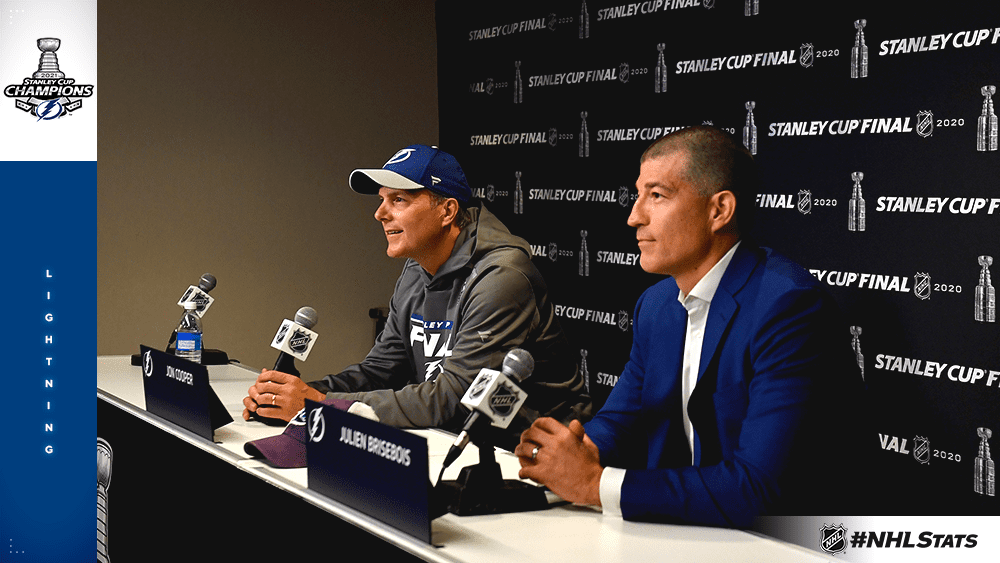 MORE ON TAMPA BAY'S SECOND STRAIGHT STANLEY CUP
* The Stanley Cup now has been awarded in six different months: March (6x; first in 1918 and last in 1929), April (40x; first in 1920 and last in 1964), May (27x; first in 1965 and last in 1991), June (27x; first in 1992 and last in 2019), September (2020) and for the first time, July.
* Ross Colton, who scored the game-winning goal in his League debut on Feb. 24 earlier this year, concluded his first NHL season by scoring the Stanley Cup clincher for the Lightning. Colton became the seventh rookie in NHL history to score a Cup-clinching goal and just the second to do so in the League's modern era (since 1943-44), joining Mike Rupp in 2003 (w/ NJD).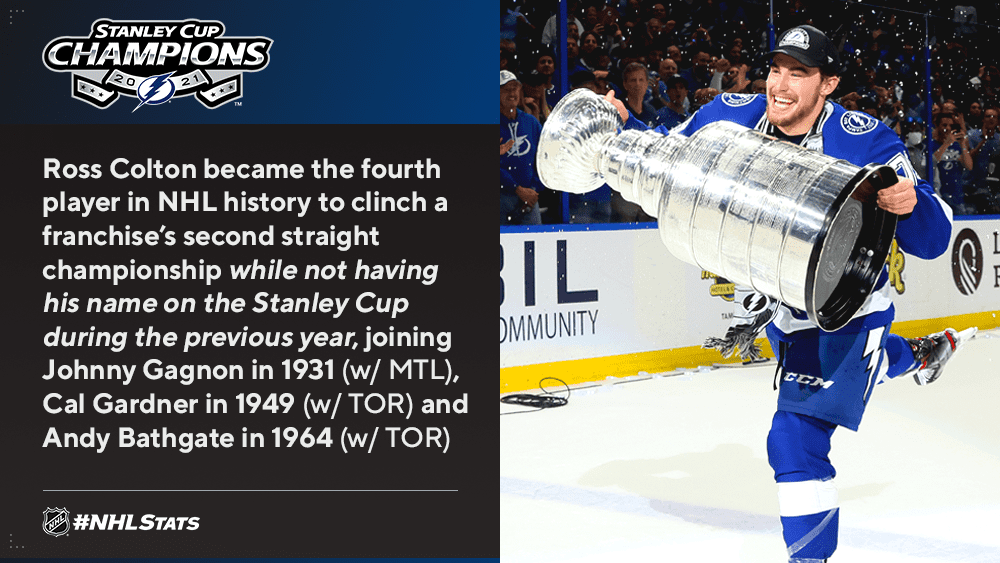 * Tampa Bay and Andrei Vasilevskiy went 7-0 following a loss during the 2021 Stanley Cup Playoffs after having an equal record under that criterion in the 2020 postseason en route to the championship. The Lightning have not suffered consecutive playoff losses since 2019, when they were swept by the Blue Jackets in the First Round.
* The Lightning are just the third team in NHL history to bounce back from a sweep with Stanley Cup championships in each of the next two seasons.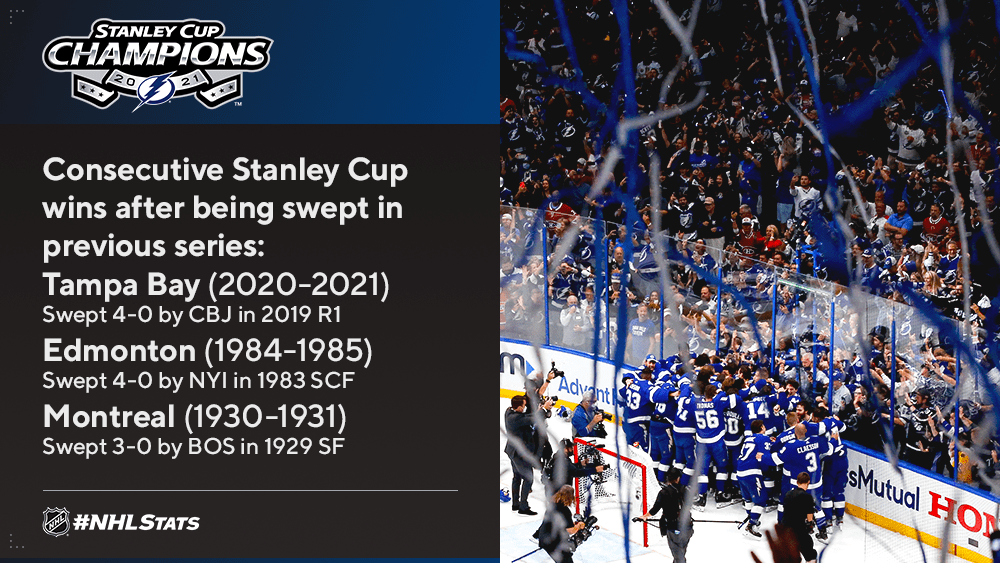 COURTESY NHLmedia.com
t