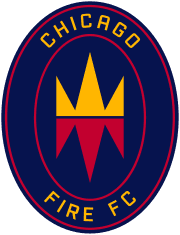 CHICAGO FIRE FC (1-5-1, 4 pts.) vs
COLUMBUS CREW (4-2-1, 13 pts.)
2021 MLS REGULAR SEASON
Kickoff: June 19, 2021 | 6:30 p.m. CT
Referee: Alex Chilowicz
Assistants: Matthew Nelson; Jeffrey Swartzel
Fourth Official: Matthew Thompson
VAR: Jorge Gonzalez; AVAR: Craig Lowry
BROADCAST INFORMATION
TV: WGN-TV, CFFC Live
Talent: Arlo White (play-by-play), Tony Meola (analyst)
Radio: TUDN 1200AM
Radio Talent: Omar Ramos (play-by-play), Raquel Ortiz (color analyst)
PLAYER AVAILABILITY REPORT
QUESTIONABLE: Elliot Collier (right hip), Boris Sekulić (left knee)
OUT: Stanislav Ivanov (left knee), Kenneth Kronholm (right knee)
Health and Safety Protocols
A player may be listed as "Questionable" or "Out" due to Health and
Safety Protocols for the following reasons:
Quarantine due to participating in high risk behavior.
Quarantine related to being a high risk close contact.
Pending COVID-19 test results.
An inconclusive COVID-19 test result.
A positive COVID-19 test or a confirmed case of COVID-19.
Other illness not related to COVID-19.
CLUB CONNECTIONS
Chicago Fire FC captain Francisco Calvo and Columbus Crew
goalkeeper Eloy Room have faced off for both club and country.
Calvo represented Costa Rica while Room was in goal for Curacao
in the Concacaf Nations League League A Group Stage on Nov. 14,
Calvo scored the game-winning goal that gave the Ticos a 2-1
victory despite playing with 10 men for the final 26 minutes of the
game.
On the coaching side, Chicago Fire goalkeeper coach Adin Brown
and Columbus Crew head coach Caleb Porter know each other well.
Brown was the Portland Timbers goalkeeper coach from 2015-17,
where he worked with Porter, who was the head coach.
STATISTICALLY SPEAKING
Since May 22, when the team recorded its first win of the season,
the Fire has recorded the second-most shots in the league with 39.
Sporting KC (68), FC Dallas (50) and the New England Revolution
(49) are the only teams to record more shots, with Sporting KC
playing one more game during that stretch.
The Fire have also created the fourth-most chances (28) in the
league since May 22. Sporting KC (47), New England (41) and FC
Dallas (39) are the only other teams to create more chances.
Chicago has hit the post five times in the 2021 season, which is tied
with Nashville SC and the Portland Timbers for the second-most
in the league. The New England Revolution lead the league in this
category, hitting the post nine times.
INTERNATIONAL DUTY
The Chicago Fire FC is currently without midfielders Przemysław LIFT EVERY VOICE
Frankowski and Gastón Giménez, who are on interantional duty with
Poland and Paraguay, respectively.
Frankowski was called up to Poland in May for two friendly matches
before being named to the final roster for EURO 2020. He started
both matches, assisting on Jakub Swierczok's goal in the 1-1 tie
against Russia on June 1 at Stadion Miejski in Gdańsk. He also
started and played 64 minutes, helping Poland to a 2-2 draw with
Iceland on June 8.
The Fire midfielder made his EURO 2020 debut on June 14, coming
on for Karol Linetty in the 74th minute of the 2-1 loss to Slovakia at
Saint Petersburg Stadium in Saint Petersburg, Russia. Poland next
faces Spain on Saturday, June 19, at Estadio La Cartuja in Seville,
Spain.
Giménez joined Paraguay for CONMEBOL qualifying matches against
Uruguay and Brazl before being named to the final roster for the
historic Copa America. Giménez went the distance in the scoreless
draw against Paraguay, helping the team secure a vital road point
towards regional qualification. On June 8, the Albirroja fell 2-0 to
Brazil at Estadio Defensores del Chaco in Asunción, Paraguay.
Paraguay kicked off the Copa America one week later, defeating
Bolivia 3-0 at the Estádio Olímpico Pedro Ludovico Teixeira. The team
next faces Argentina on Monday, June 21.
LIFT EVERY VOICE
Major League Soccer and Chicago Fire FC announced on Thursday
plans to recognize Juneteenth – the effective end of slavery in the
United States – with a series of initiatives that celebrate freedom.
In collaboration with its clubs, Black Players for Change (BPC), an
independent organization of Black MLS players, coaches, and staff
seeking to increase inclusion in soccer that was established on
Juneteenth 2020, MLS programs will include a limited-edition jersey
auction, and the playing of the Black National Anthem ("Lift Every
Voice and Sing") before matches on the weekend beginning June 18.
The jersey numbers and the limited-edition jersey packaging
illustrate the history and importance of Juneteenth and pay homage
to Harriet Tubman and Frederick Douglass. The imagery reinforces
the message that Black players in MLS are standing tall because
they stand on the shoulders of the freedom fighters who came
before them.
The game-worn jerseys from each team and their commemorative
boxes are set to be auctioned off in three phases from June 21-July
19.
Proceeds from the auction will benefit local Chicago nonprofit
organization, My Block, My Hood, My City (M3), chosen by Fire
defender Andre Reynolds II, the Club's BPC representative. M3 was
created to inspire youth, empower communities, and build a better
world one block at a time. Through the program, youth from the city
of Chicago are provided opportunities to step outside their comfort
zone and explore new communities, cultures, and cuisines in an
effort to gain a greater understanding of the world.
Fans can find additional information on My Block, My Hood, My City
at ForMyBlock.org, and auction information, including how to place a
bid, at MLSauctions.com.
CFFC LIVE
Chicago Fire FC recently unveiled CFFC Live, a streaming platform
on ChicagoFireFC.com, where fans in Chicago can watch the team's
locally-televised matches on WGN-TV free of charge. Fans can
stream CFFC Live via the Club's website or mobile app. Thirty-two of
the Club's 34 regular season games are currently scheduled to air
on WGN-TV and stream on CFFC Live. Matches will be available ondemand for a week, until the following Chicago Fire FC match. CFFC
Live will only be available for fans in the Chicago DMA. Fans outside
of the Chicago DMA will still be able to stream all locally-aired Fire
matches via MLS' out-of-market package on ESPN+.
ALL (HOME)GROWN UP
With his start against D.C. United on May 13, Brian Gutiérrez became
the youngest Homegrown Player and the third-youngest player
overall in Chicago Fire FC history to start a Major League Soccer
match for the Fire at 17 years and 331 days. "Guti's" performance
against D.C. United earned him Man of the Match honors. Since
earning his first start, Guti has started in three straight matches.
Homegrown midfielder Javier Casas Jr. made his first career Major
League Soccer appearance in the match against D.C. United, coming
on for midfielder Gastón Giménez at halftime. Casas Jr. is the
second-youngest Homegrown Player and fourth-youngest player
overall to appear in a match for the Fire (17 years, 364 days).
NEW FACES: OFFOR YOU CAN'T REFUSE
Offor made his MLS debut on April 17, going 74 minutes in the Fire's
2-2 tie with New England Revolution at Soldier Field. He joins the Fire
after spending the past two-and-a-half seasons in the Latvian first
division, where he notched 16 goals and seven assists in 40 games
played across all competitions. He is under contract with the Fire
through the 2023 season with a Club option for the 2024 season.
The striker originally began his professional career in 2019 with BFC
Daugavpils. In two seasons with the Club, he scored 10 goals in 23
appearances (22 starts). Since signing with FK Rīgas Futbola Skola
on July 19, Offor has scored six goals in 13 league appearances in
He also made one appearance in the UEFA Europa League,
featuring against Serbian powerhouse FK Partizan on Aug. 27.
NEW FACES: HERE'S JHONNY!
Espinoza made his MLS debut on April 24, coming in as a sub for
forward Chinonso Offor in the 3-1 loss to Atlanta United FC. Since
making his professional debut on Dec. 12, 2017, Espinoza has made
54 appearances (48 starts) across all competitions in Ecuador's topflight. He began his career with C.D. Cuenca in 2017 and played five games (four starts) in two seasons with the Club. The defender made
49 appearances (44 starts) across all competitions with S.D. Aucas
since 2018. Internationally, he has earned 15 caps for Ecuador's
U-20 side, including seven appearances in the 2019 U-20 FIFA World
Cup, and two caps for the Ecuador National Team. In 2019, Espinoza
captained Ecuador's U-20 team to a first-place finish in the 2019
U-20 South American Championship.
NEW FACES: WE STAN
Ivanov, who made his professional debut for Levski Sofia at 16, spent
the first six seasons of his career in the Bulgarian first division,
tallying 13 goals and 15 assists. He has made 85 appearances
(54 starts) across all competitions for Levski Sofia, including five
appearances (four starts) in the UEFA Europa League. The 2019-20
campaign marked a career-high in goals (nine), assists (five), games
played (27) and starts (25) for the winger. At the international level,
he has made 10 appearances (10 starts) for Bulgaria's U-21 side
during qualification for the UEFA European U-21 Championship. In
those 10 appearances, Ivanov scored four goals, including a brace in
a 3-0 win against Poland on Nov. 15, 2019.
CHICAGO FIRE FC
OVERALL RECORD: 1-5-1
GOALS SCORED: 4
ASSISTS: 6
SHOTS: 101
SHOTS ON GOAL: 35
FOULS: 107
OFFSIDES: 17
CORNER KICKS: 41
COLUMBUS CREW
OVERALL RECORD: 3-2-2
GOALS SCORED: 7
ASSISTS: 3
SHOTS: 59
SHOTS ON GOAL: 22
FOULS: 75
OFFSIDES: 13
CORNER KICKS: 21
ALL-TIME RESULTS
Chicago: 26-20-22
Home games: 16-6-13 (53 GF, 41 GA)
Road games: 10-14-9 (40 GF, 62 GA)
Columbus Crew: 22-26-22
Home games: 14-10-9 (62 GF, 40 GA)
Road games: 6-16-13 (41 GF, 41 GA)
Last 5 matches
09/12/2020 CHI 2 VS CLB 2 T SOLDIER FIELD
08/20/2020 CHI 0 AT CLB 3 L MAPFRE STADIUM
08/31/2019 CHI 1 AT CLB 1 T MAPFRE STADIUM
07/17/2019 CHI 2 VS CLB 2 T SEATGEEK STADIUM
08/23/2018 CHI 1 VS CLB 1 T TOYOTA PARK
CHICAGO FIRE FC
Category 1 2 OT Total
GOALS 48 45 0 93
SHOTS 414 507 6 927
SHOTS ON GOAL 154 192 2 348
FOULS 449 492 9 950
OFFSIDES 82 53 0 135
CORNER KICKS 160 157 1 318
COLUMBUS CREW
Category 1 2 OT Total
GOALS 44 59 0 103
SHOTS 380 507 4 891
SHOTS ON GOAL 151 203 1 355
FOULS 458 495 4 957
OFFSIDES 78 76 0 154
CORNER KICKS 143 176 2 321
SINGLE SEASON RECORDS
MINUTES WITHOUT ALLOWING A GOAL
Minutes Start End
412 03/11/2016 04/16/2016
395 07/04/2009 08/09/2009
335 05/28/2011 06/18/2011
CATEGORICAL WON-LOST-TIED
Home Road Overall
Overall: 1-2-1 0-3-0 1-5-1
vs Eastern: 1-2-1 0-3-0 1-5-1
vs Western: 0-0-0 0-0-0 0-0-0
Day Matches: 0-2-0 0-1-0 0-3-0
Night Matches: 1-0-1 0-2-0 1-2-1
Scoring First: 1-0-1 0-0-0 1-0-1
Opp. Scoring First: 0-2-0 0-3-0 0-5-0
Leading at Half: 0-0-0 0-0-0 0-0-0
Trailing at Half: 0-0-0 0-2-0 0-2-0
Tied at Half: 1-2-1 0-1-0 1-3-1
Leading at 75': 1-0-0 0-0-0 1-0-0
Trailing at 75': 0-1-0 0-3-0 0-4-0
Tied at 75': 0-1-1 0-0-0 0-1-1
Primary Jerseys: 1-1-1 0-1-0 1-2-1
Secondary Jerseys: 0-0-0 0-2-0 0-2-0
Parley Jerseys: 0-1-0 0-0-0 0-1-0
Outshooting Opp.: 1-1-1 0-1-0 1-2-1
Outshot by Opp.: 0-1-0 0-2-0 0-3-0
Shots Even: 0-0-0 0-0-0 0-0-0
April: 0-0-1 0-1-0 0-1-1
May: 1-2-0 0-2-0 1-4-0
June: 0-0-0 0-0-0 0-0-0
July: 0-0-0 0-0-0 0-0-0
August: 0-0-0 0-0-0 0-0-0
September: 0-0-0 0-0-0 0-0-0
October: 0-0-0 0-0-0 0-0-0
November: 0-0-0 0-0-0 0-0-0
SERIES LEADERS VS CLB
Goals Ante Razov 11
Assists Armas/Nowak 6
Shots Ante Razov 92
SOG Ante Razov 45
Wins Zach Thornton 12
Shutouts Zach Thornton 6
Saves Zach Thornton 79
BROADCAST DREAM TEAM
Returning to the broadcast booth for a second season are play-byplay commentator Tyler Terens and color analyst and U.S. Soccer
Hall of Famer Tony Meola. Play-by-play commentator Arlo White
– whose Fire broadcast debut was postponed last year by the
pandemic – will call four consecutive games for the Fire starting in
Columbus on Saturday, June 19 at 6:30 p.m. CT.
The 2021 season will mark White's first campaign in the Fire
broadcast booth. A native of Leicester, England, who grew up visiting
Chicago, will call Fire matches during the Premier League offseason
(exact games to be determined). He will also call football matches
for NBC Olympics during this summer's Tokyo Games. He previously
worked at the 2016 Rio and 2012 London Games.
The 2021 season marks Meola's second campaign as a member of
the Chicago Fire's broadcast team. A native of Kearny, N.J., Meola
served as one of the top two broadcast teams – on-site in Russia –
for FOX Sports at the 2018 FIFA World Cup. Since 1990, Meola has
served as a football broadcaster in various capacities.
Meola, the 2000 MLS Most Valuable Player and FIFA World Cup
veteran – was inducted into the United States Soccer National Hall of
Fame in May 2012.
The 2021 season marks Terens' second campaign as a member
of the Chicago Fire's broadcast team. Terens came to the Fire
after calling more than 500 football matches including Concacaf
Champions League, Concacaf Gold Cup, Concacaf Nations League,
Lamar Hunt U.S. Open Cup, USL and NCAA. He also spent two
seasons as the voice of Phoenix Rising FC, covering all home and
away matches as well as hosting Concacaf's Scotiabank Concacaf
Champions League Show.
COURTESY CHICAGO FIRE FC COMMUNICATIONS