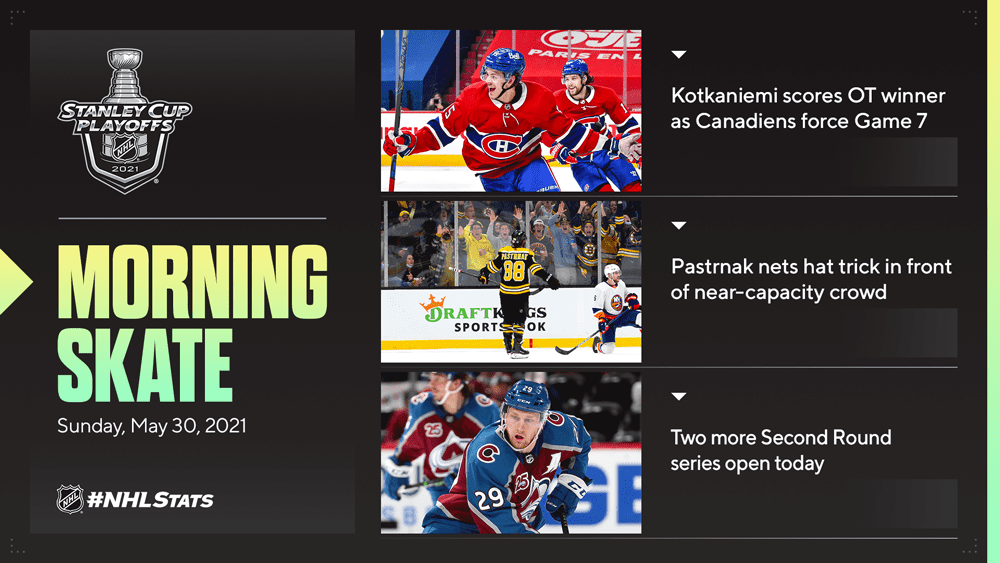 THREE HARD LAPS

* Jesperi Kotkaniemi scored the overtime winner in front of 2,500 fans at Bell Centre as the Canadiens earned another wild win over the Maple Leafs and forced Game 7 in their First Round series. The winner-take-all showdown is scheduled for Monday at 7 p.m. ET (CBC, SN, TVAS, CNBC).

* David Pastrnak accounted for three of the Bruins' five goals as Boston earned a Game 1 win with a near-capacity crowd in attendance at TD Garden.

* Two more Game 1s will be contested today with the Hurricanes-Lightning and Avalanche-Golden Knights meeting in a postseason series for the first time.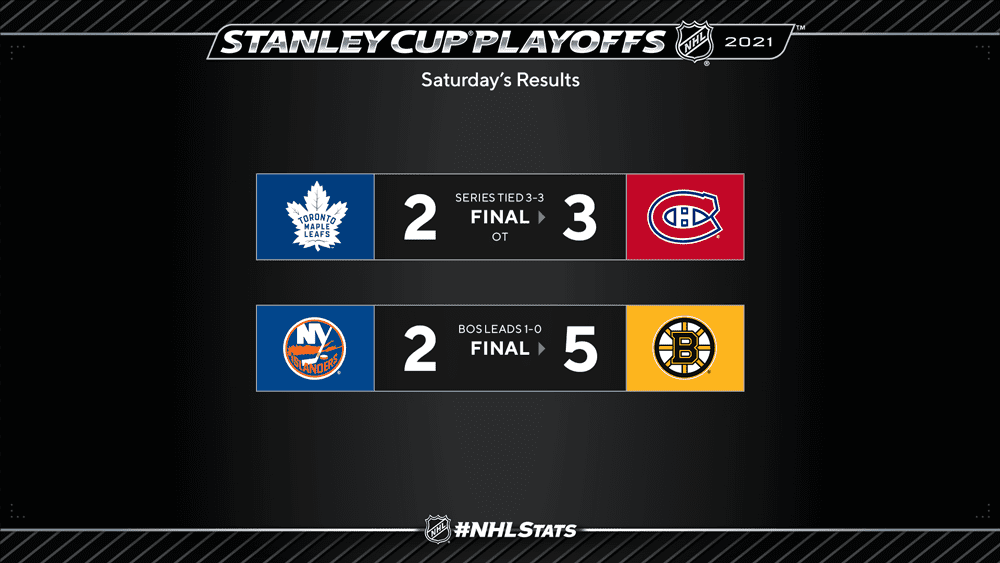 CANADIENS AVOID ELIMINATION IN OT AGAIN, FORCE DECISIVE SHOWDOWN
Former Stanley Cup winners Corey Perry and Tyler Toffoli tallied power-play goals 77 seconds apart to put Montreal up 2-0, but Jason Spezza and TJ Brodie scored in the final 10 minutes of regulation as Toronto erased a multi-goal, third-period deficit to force overtime for a second straight game. Carey Price then made 13 saves in the extra frame before Jesperi Kotkaniemi notched the winner on Montreal's second shot of overtime to set up the second all-time Game 7 between the storied franchises – and first in more than 57 years.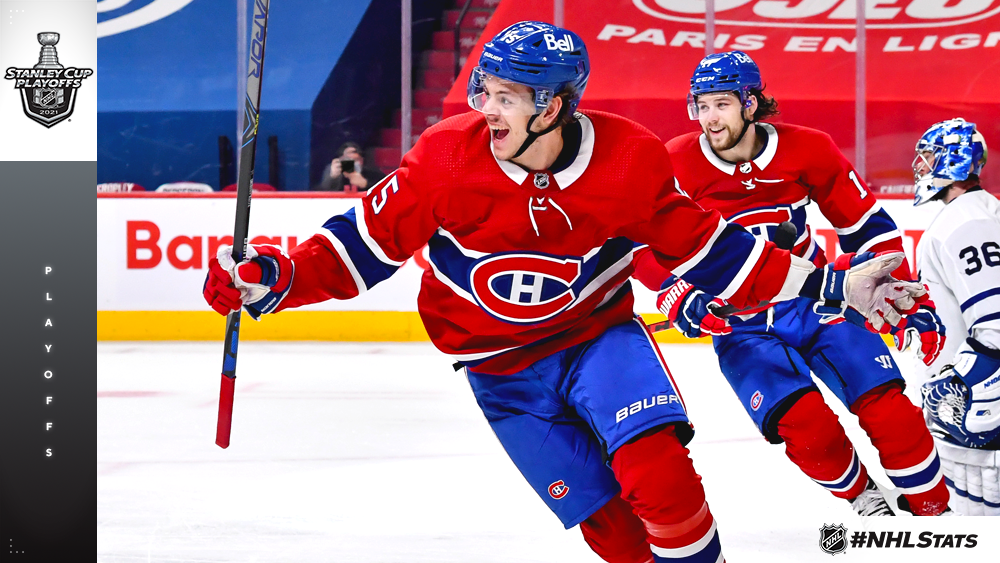 * Montreal became the first team in NHL history to surrender a multi-goal, third-period lead in consecutive games while facing elimination, and win each contest.
* The Canadiens also became the ninth team in NHL history – and second in as many years – to win two straight games in overtime while facing elimination. The Flyers achieved the feat in Game 5 and Game 6 of the 2020 Second Round against the Islanders.

* Price made 41 saves overall to improve to 9-6 in 15 career appearances in which Montreal faced elimination. His nine career wins when facing elimination are the most in franchise history; Henrik Lundqvist (16-11 in 27 GP) is the only active goaltender with more career wins in that scenario (also the highest such total in NHL history).

* The Canadiens forced a Game 7 after facing a 3-1 series deficit for the fourth time in franchise history (also 1954 SCF vs. DET, 2004 CQF vs. BOS & 2010 CQF vs. WSH). Montreal went on to claim the winner-take-all showdown in the two most-recent instances.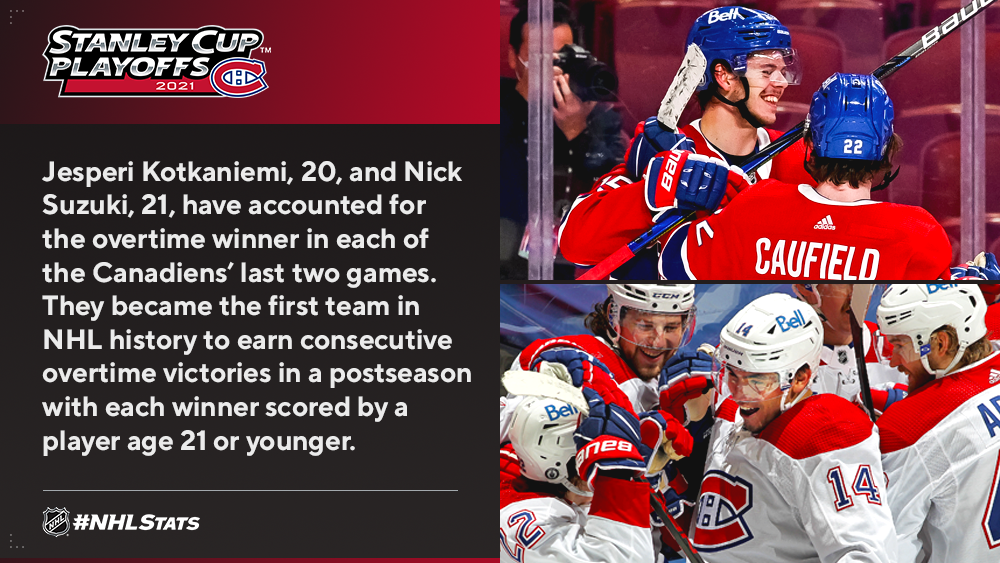 GAME 7 BETWEEN CANADIENS, MAPLE LEAFS GOES MONDAY NIGHT IN TORONTO
Monday will mark the second all-time Game 7 between the Canadiens and Maple Leafs and first since the 1964 Semifinals, when Dave Keon scored a hat trick to power Toronto to a 3-1 win at Montreal Forum. Keon was the second player in NHL history with a Game 7 hat trick – six skaters have accomplished the feat since, including Golden Knights forward Mattias Janmark on Friday.
 
* The Canadiens have earned 14 all-time wins in Game 7s (14-9), which trails only the Bruins (15-13) for the most in League history. The Maple Leafs own an all-time home win percentage of .875 in Game 7s (7-1), tied with the Rangers (.875; 7-1) for the highest among NHL franchises (min. 5 GP).

* Both Montreal and Toronto faced Boston in its last Game 7. Carey Price made 29 saves and Brendan Gallagher had two assists as the Canadiens earned a 3-1 series-clinching win in the 2014 Second Round, while John Tavares scored the Maple Leafs' only goal as they fell by a 5-1 margin in the 2019 First Round.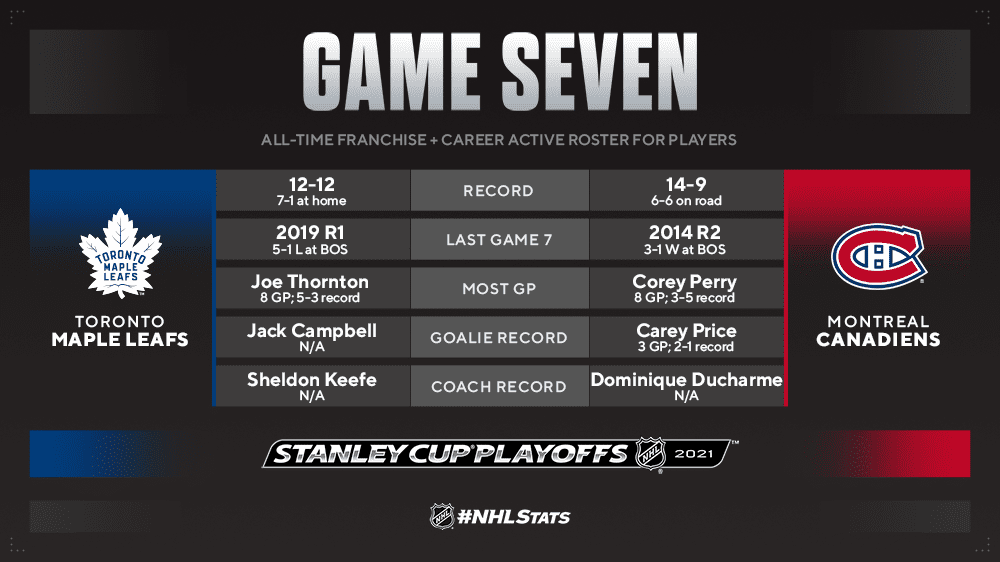 PASTRNAK HAT TRICK POWERS BRUINS TO GAME 1 WIN AT TD GARDEN
David Pastrnak scored the second playoff hat trick of his NHL career (also Game 2 of 2018 R1) as Boston opened its Second Round series with a win in front of a near-capacity crowd at TD Garden. Pastrnak now trails only Phil Esposito (4), Cam Neely (3) and Johnny Bucyk (3) for the most in franchise history.
* Pastrnak became the first player in Bruins history to score a playoff hat trick against the Islanders. Mike Bossy (Game 4 of 1983 CF & Game 6 of 1983 CF) is the only New York player to do so versus Boston.
* The Bruins are 5-0 in their last five contests dating to Game 2 of the First Round. Boston reached the Stanley Cup Final in each of the last three postseasons in which it recorded a winning streak of at least five games (2011, 2013 & 2019).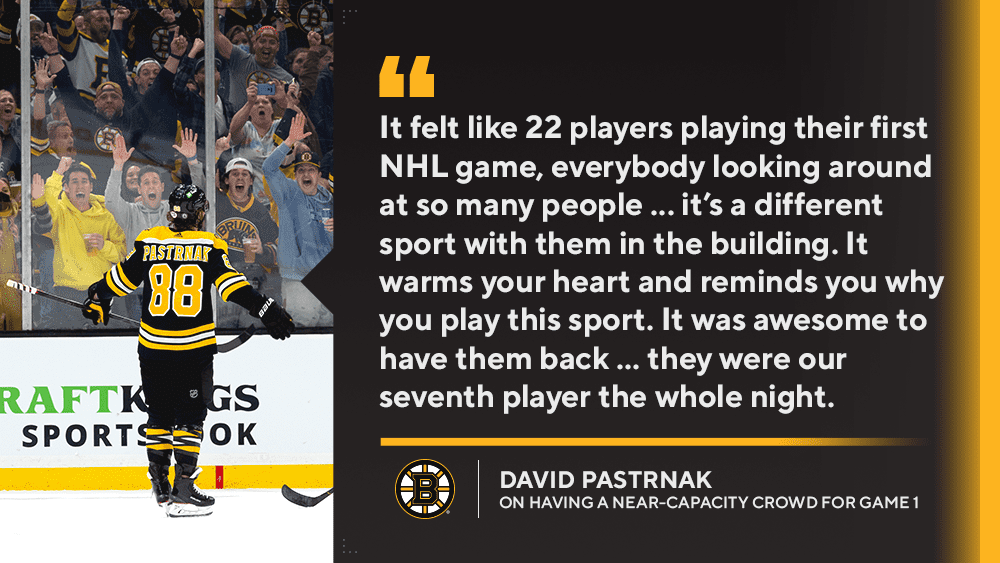 TWO FIRST-EVER PLAYOFF SERIES BEGIN TONIGHT
Two more Second Round Game 1s will be contested today as the Hurricanes host the Lightning at PNC Arena and the Avalanche welcome the Golden Knights to Ball Arena. Both sets of franchises are meeting in a postseason series for the first time.
* Tampa Bay (2004, 2020) and Carolina (2006) are two of three teams competing in the 2021 Second Round which have won at least one Stanley Cup over the last 15 years (also Boston: 2011). The Hurricanes and Lightning had identical head-to-head records during the regular season, with Carolina owning a narrow edge against the defending champions in goals (CAR: 18, TBL: 17) as well as power play (CAR: 14.3%, TBL: 13.6%) and penalty kill (CAR: 86.4%, TBL: 85.7%) percentages.

* The Hurricanes/Whalers franchise has faced the defending Stanley Cup champions in the postseason on three prior occasions – Hartford fell to Montreal in the 1980 Preliminary Round, while Carolina lost to New Jersey in the 2001 Conference Quarterfinals but defeated Washington in the 2019 First Round.

* The top two teams from the regular season are set to collide after Colorado swept its First Round series, while Vegas required seven games to oust Minnesota. Teams coming off a Game 7 win own an all-time series record of 7-7 (.500) when facing an opponent which completed a four-game sweep in their preceding round. The last such series came in the 2019 Second Round when two matchups aligned that way – both won by the club that had emerged from a Game 7 (BOS defeated CBJ, 4-2, and CAR defeated NYI, 4-0).
* Like their Discover Central Division counterparts, the 2020-21 season series between the Avalanche and Golden Knights was closely contested. The clubs were also tangled in a neck-and-neck race for the Presidents' Trophy, with Colorado defeating Los Angeles in its final game of the season to overtake Vegas for the top seed by virtue of the regulation wins tiebreaker.
 
COURTESY NHLmedia.com