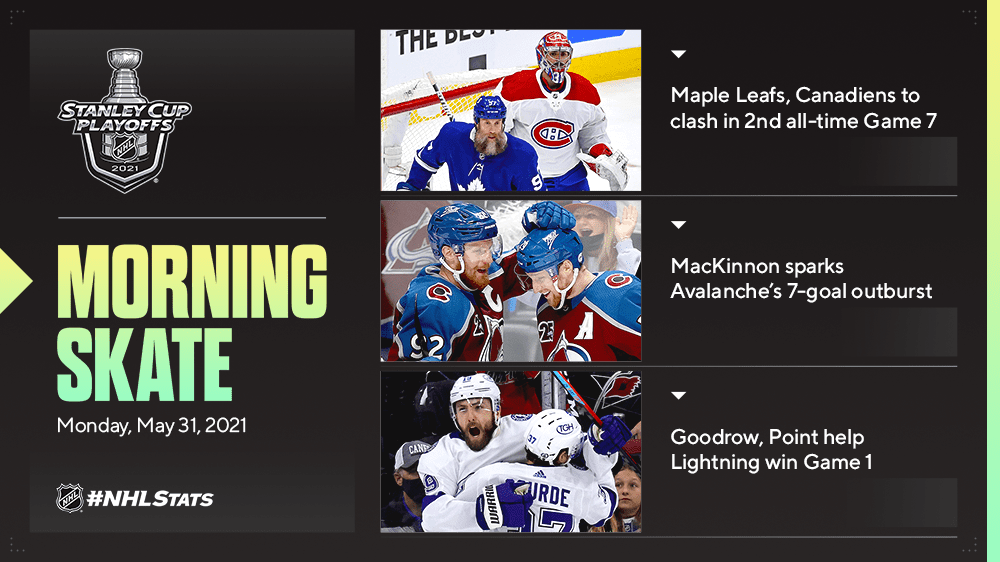 THREE HARD LAPS

* For just the second time in their storied, century-old rivalry, the Maple Leafs and Canadiens will face off in a winner-take-all Game 7.

* Nathan MacKinnon continued his scorching start to the Stanley Cup Playoffs as Colorado cruised to a 1-0 lead in its Second Round series.

* Barclay Goodrow scored another timely postseason game-winning goal as the Lightning also opened their Second Round series with a victory.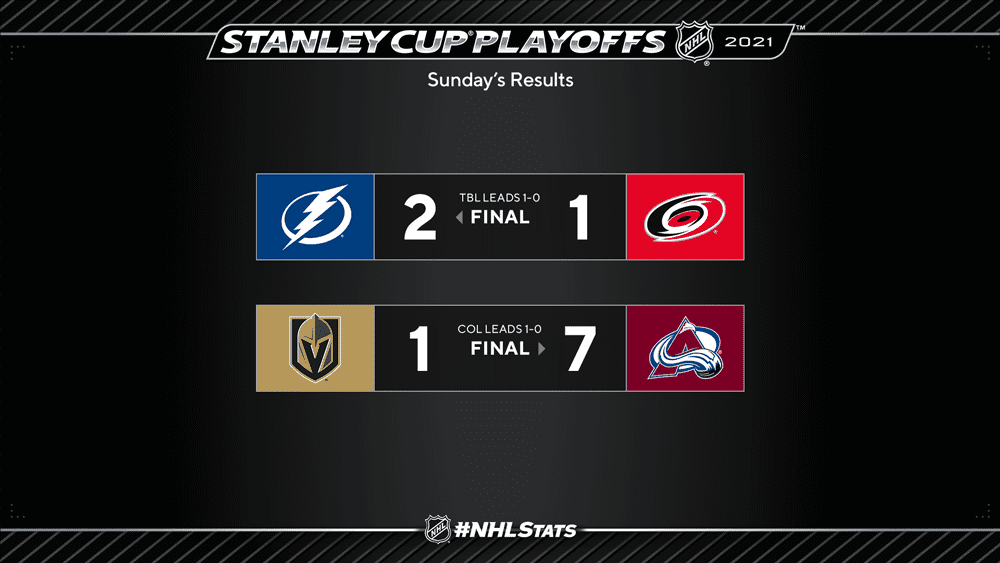 MAPLE LEAFS, CANADIENS SET FOR SECOND GAME 7 OF CENTURY-OLD RIVALRY
Toronto and Montreal will face off in a Game 7 for just the second time in the storied, 104-year-old rivalry between the Original Six franchises and first since the 1964 Semifinals, when a hat trick by Maple Leafs icon Dave Keon lifted the visitors to a 3-1 win at Montreal Forum.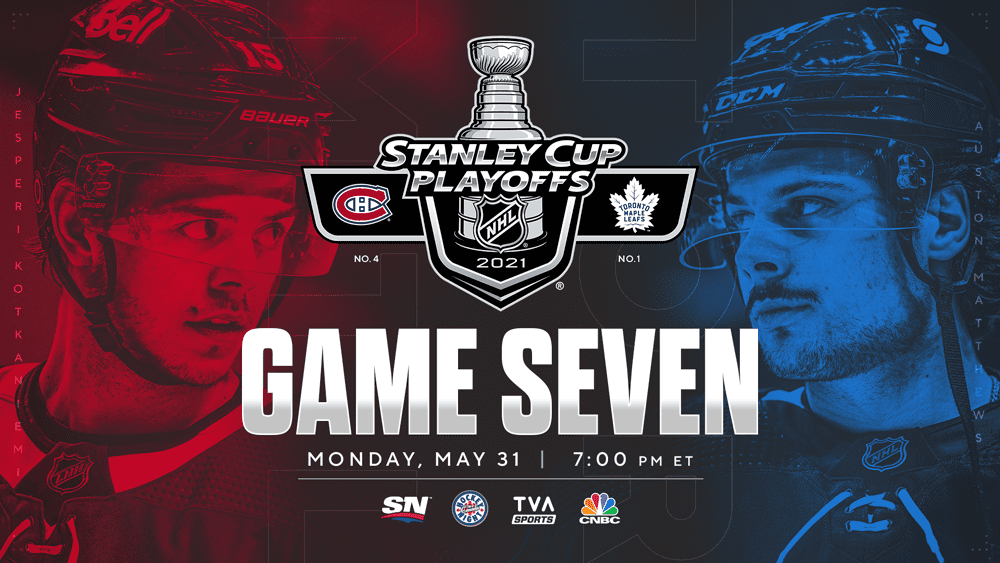 * Toronto, which owns an all-time home win percentage of .875 in Game 7s (7-1), looks to win a series after surrendering a 3-1 lead for the second time in franchise history. The first instance was in the 1945 Stanley Cup Final, when Babe Pratt scored the championship-clinching goal on Red Wings goaltender Harry Lumley with 7:46 remaining in regulation to give the Maple Leafs a 2-1 win at Detroit Olympia.

* The Canadiens can become the second team in NHL history to earn a Game 7 win against the Maple Leafs in Toronto. The first was Los Angeles in the 1993 Conference Finals – Wayne Gretzky (3-1—4) completed the hat trick with 3:14 remaining in regulation, powering the Kings to a 5-4 win at Maple Leaf Gardens and a date with the Canadiens in the Stanley Cup Final.

WEALTH OF GAME 7 EXPERIENCE SHARED AMONG TORONTO, MONTREAL PLAYERS
Multiple players with the Maple Leafs and Canadiens find themselves already among (or about to join) rare Game 7 company:

* Joe Thornton is the only current Toronto player who has appeared in a Game 7 against Montreal, which was during the 2004 Conference Quarterfinals when the Canadiens earned three straight wins to overcome a 3-1 series deficit and eliminate the Bruins. No current Montreal players have appeared in a Game 7 versus Toronto.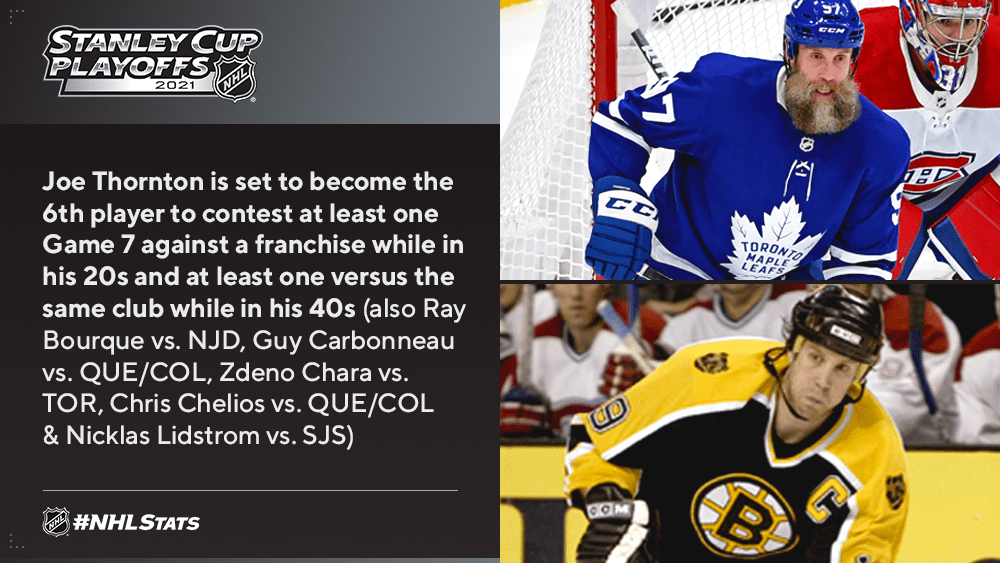 * Thornton and Corey Perry lead current Maple Leafs and Canadiens players, respectively, in Game 7 experience with eight appearances apiece. Thornton has 2-2—4 and a 5-3 record in those contests, while Perry has 3-2—5 and is 3-5.

* Eric Staal is the only player on either team's active roster with a winning goal in a Game 7 – he scored on Devils goaltender Martin Brodeur at 19:28 of the third period in the 2009 Conference Quarterfinals finale, lifting the Hurricanes to a 4-3 victory at Prudential Center. It remains the NHL's latest go-ahead goal scored in regulation during a Game 7.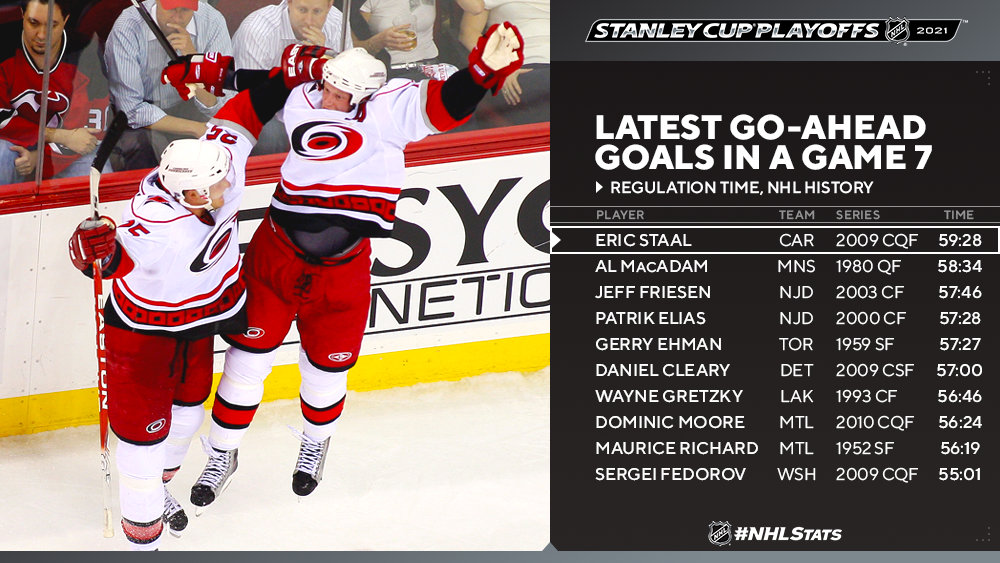 Carey Price is 2-1 in three career Game 7 appearances with a 1.62 goals-against average, .944 save percentage and one shutout. His two Game 7 wins are tied with Patrick Roy (2-2) and Jaroslav Halak (2-0) for second place among Canadiens goaltenders, one back of franchise cornerstone Ken Dryden (3-0).
 
* Jake Muzzin and Tyler Toffoli appeared in all three winner-take-all contests with the Kings during the 2014 Stanley Cup Playoffs as Los Angeles became the first team in NHL history to win three Game 7s en route to the Final. Toffoli found the score sheet in all three contests (2-2—4), including a goal against Thornton and the Sharks in Game 7 of the First Round and an assist versus Perry and the Ducks during the Second Round finale.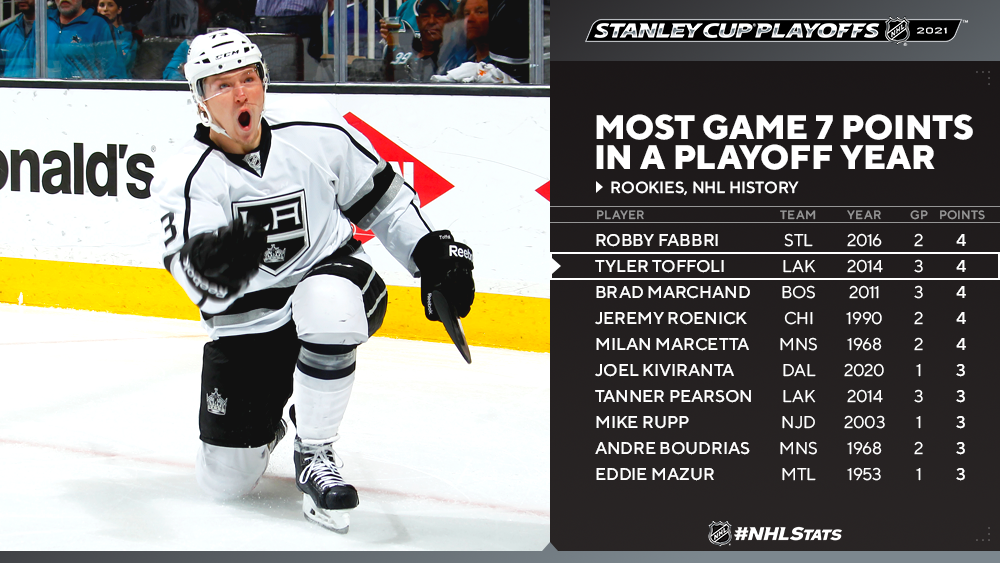 MacKINNON REACHES EIGHT GOALS THIS POSTSEASON, AVALANCHE WIN GAME 1
Nathan MacKinnon (8-4—12 in 5 GP) scored his League-leading seventh and eighth goals of the 2021 Stanley Cup Playoffs and Cale Makar had 1-3—4 as Colorado erupted for seven tallies to extend its postseason-opening winning streak to five games. MacKinnon became the seventh player in NHL history with eight or more goals through five personal games in a playoff year and first since Ray Ferraro over 28 years ago.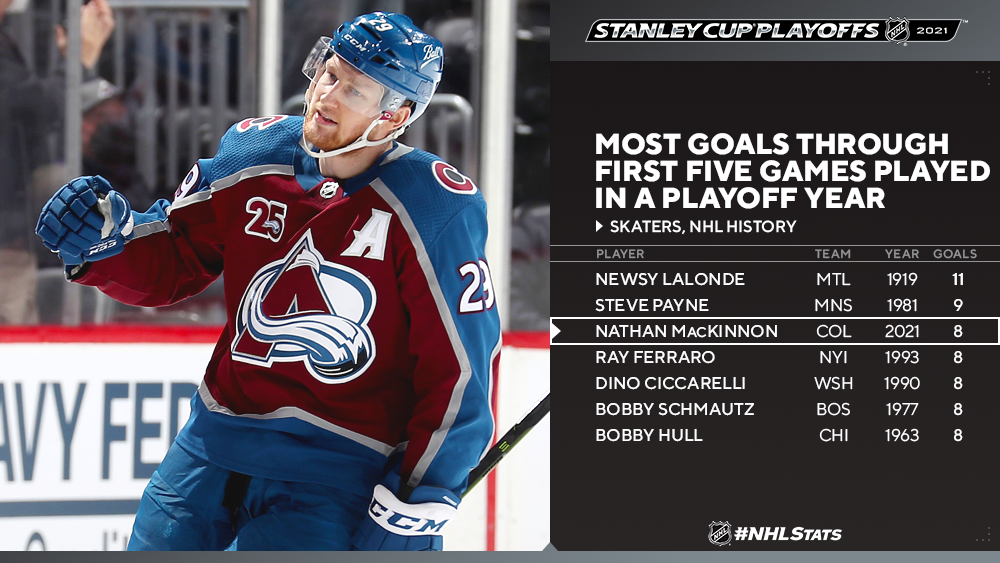 * MacKinnon recorded his seventh career multi-goal game in the postseason, surpassing Michel Goulet and Valeri Kamensky (both w/ 6) for sole possession of the third-most in Avalanche/Nordiques franchise history. Joe Sakic (14) and Peter Forsberg (8) rank first and second, respectively.

* MacKinnon moved into a tie with Lightning forward Nikita Kucherov (3-9—12 in 7 GP) for the League lead in points this postseason. MacKinnon became the first player with 12 or more through five games played in a playoff year since fellow Nova Scotia native Sidney Crosby in 2010 (5-9—14).

* Makar has 28 points through the first 30 playoff games of his NHL career (7-21—28) – only five defensemen in League history have recorded more postseason points through 30 contests (Brian Leetch, Bobby Orr, Denis Potvin, Al MacInnis & Sergei Zubov). Makar also became the fourth blueliner in franchise history with four or more points in a playoff contest, following Risto Siltanen (Game 5 of 1987 DSF), Sandis Ozolinsh (Game 3 of 1998 CQF) and Rob Blake (Game 1 of 2001 CQF).

GOODROW GIVES TAMPA BAY SERIES LEAD WITH THIRD-PERIOD WINNER
Jake Bean pulled the Hurricanes even less than two minutes after EBUG favorite David Ayres sounded the in-arena storm siren before the third period, but Barclay Goodrow scored with 7:21 remaining in regulation to restore the Lightning's one-goal lead and lift Tampa Bay to a Game 1 win.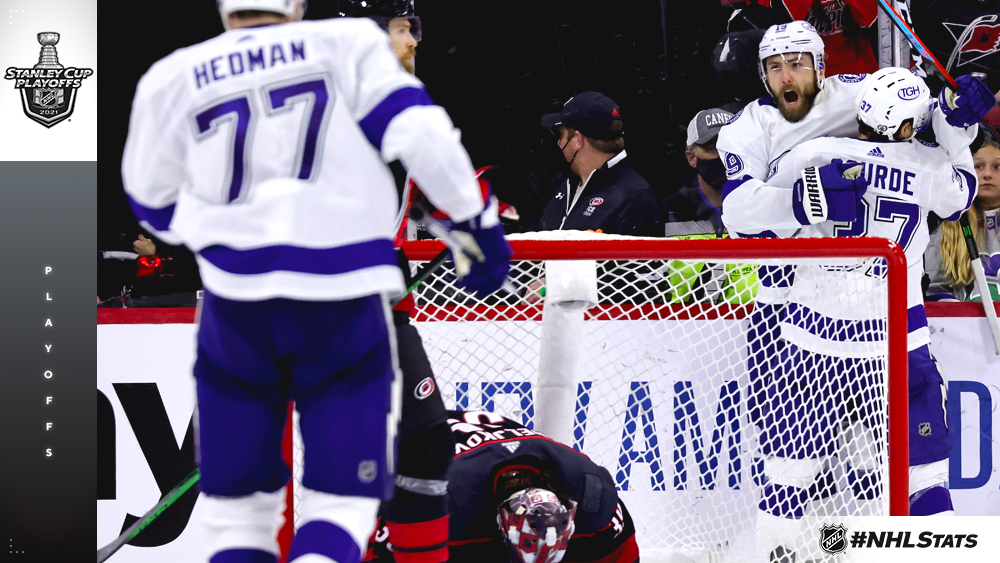 * Goodrow has scored four playoff goals in his NHL career (4-5—9 in 49 GP), with three standing as game winners. Prior to Sunday, he had the winning goal in Game 5 of the 2019 First Round to help the Sharks avoid elimination against the Golden Knights and then scored the series clincher in overtime less than a week later as San Jose overcame a three-goal, third-period deficit to win Game 7.
* Brayden Point opened the scoring for the Lightning to record his fifth goal of the 2021 Stanley Cup Playoffs (5-2—7 in 7 GP), which trails only Avalanche forward Nathan MacKinnon (8-4—12 in 5 GP) for the most in the NHL. Point has scored 19 playoff goals dating to the start of the 2020 postseason (19-21—40 in 30 GP), two more than MacKinnon (17-20—37 in 20 GP) for the most over that span.

* Andrei Vasilevskiy stopped 37 shots, which included making a highlight-reel glove save on Sebastian Aho in the first period. Vasilevskiy saw his shutout sequence end at 121:06 when Bean got the Hurricanes on the board – that was just shy of his career high for longest in a playoff year, a mark set in 2020 en route to winning the Stanley Cup (124:07).
MONDAY'S SLATE ALSO FEATURES GAME 2 BETWEEN BRUINS, ISLANDERS
Tonight's schedule also features the Bruins and Islanders squaring off again as their Second Round series continues in Boston. David Pastrnak scored a hat trick in Game 1 with a near-capacity crowd in attendance at TD Garden.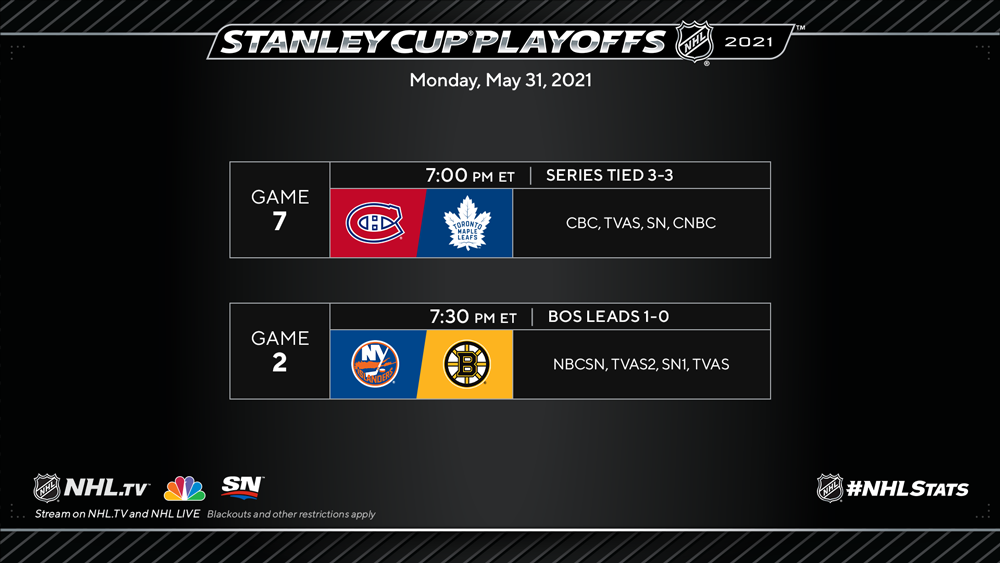 COURTESY NHLmedia.com