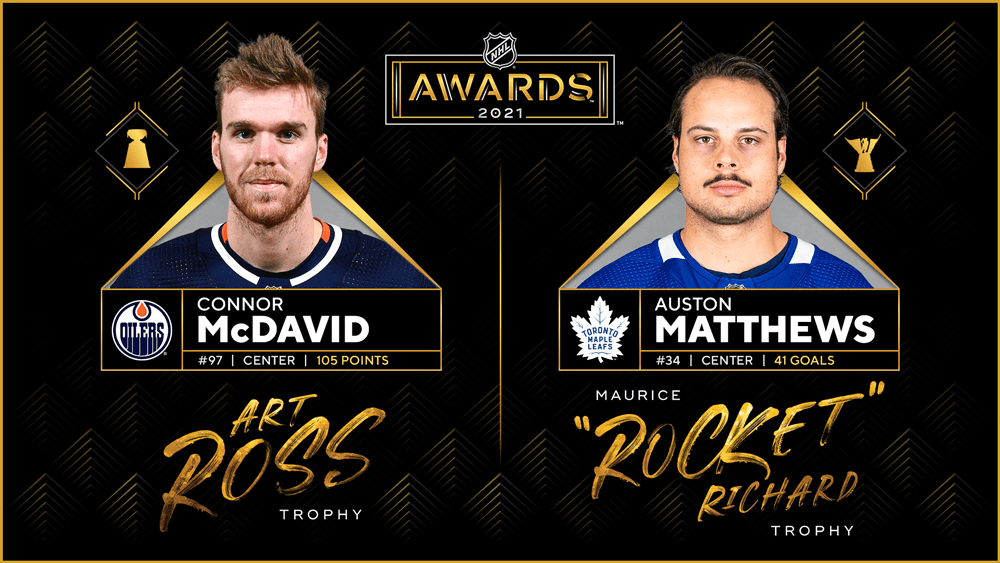 NEW YORK (May 19, 2021) – The 2020-21 National Hockey League regular season concluded today with Edmonton Oilers center Connor McDavid capturing his third Art Ross Trophy as the League's scoring champion and Toronto Maple Leafs center Auston Matthews claiming his first Maurice "Rocket" Richard Trophy as the NHL's goal-scoring leader.
McDavid registered a League-best 105 points (33-72—105 in 56 GP) – 21 more than the next-closest player (teammate Leon Draisaitl: 31-53—84 in 56 GP) – to earn his third career Art Ross Trophy, adding to back-to-back wins 2016-17 and 2017-18. He became the ninth player in NHL history to claim the award at least three times as well as the third to achieve the feat prior to his 25th birthday, following Wayne Gretzky (5x) and Gordie Howe (3x). McDavid's 21-point gap over the runner-up was the largest by an NHL scoring champion since 1990-91, when Gretzky (41-122—163 in 78 GP w/ LAK) finished 32 points ahead of Brett Hull (86-45—131 in 78 GP w/ STL).
McDavid, who also topped the League in assists (72), power-play assists (28) and power-play points (37), factored on 57.38 percent of Edmonton's 183 total goals (excluding the shootout) – the highest single-season percentage in NHL history, ahead of Mario Lemieux in 1988-89 (57.35% w/ PIT). He also posted a League-leading 1.88 points per game – the most by any player since 1995-96, when Lemieux averaged 2.30 (69-92—161 in 70 GP w/ PIT).
The 24-year-old Richmond Hill, Ont., native and 2016-17 Hart Memorial Trophy winner has accumulated 195-379—574 in 407 career outings since entering the NHL in 2015-16; his 1.41 points per game is the fourth-best average in League history among players with a minimum of 100 appearances, behind only Gretzky (1.92), Lemieux (1.88) and Mike Bossy (1.50).
Matthews scored a League-leading 41 goals in 52 games (41-25—66) to finish ahead of McDavid (33 G in 56 GP) and Chicago Blackhawks left wing Alex DeBrincat (32 G in 52 GP) for his first career Maurice "Rocket" Richard Trophy. Matthews became the first player in Maple Leafs history to capture the Richard Trophy, which first was awarded in 1998-99, as well as the first Toronto player in 75 years to top the NHL in goals (Gaye Stewart: 37 G in 50 GP in 1945-46). His eight-goal margin over McDavid was the largest by a Richard Trophy winner since 2014-15, when Alex Ovechkin (53 G in 81 GP w/ WSH) finished 10 ahead of Steven Stamkos (43 G in 82 GP w/ TBL).
Matthews, who also paced the League with 12 game-winning goals and 222 shots on goal, accounted for 22.0 percent of Toronto's 186 total goals (excluding the shootout) – the highest single-season percentage by an NHL player since 2014-15 (Ovechkin: 22.4% w/ WSH) and the best single-season mark by a Maple Leafs player in the expansion era (since 1967-68). His 0.79 goals per game also was the best such average by any player since 2007-08 (Ovechkin: 0.79) as well as the highest single-season mark in franchise history (minimum: 50 GP).
The 23-year-old Scottsdale, Ariz., native – who became the first U.S.-born player to win the Richard Trophy and just the second to lead the NHL in goals (also Keith Tkachuk: 52 G in 81 GP in 1996-97 w/ PHX) – has recorded 199 career goals since entering the League in 2016-17 (334 GP), a number topped only by nine-time goal-scoring champion Ovechkin (205 G in 358 GP).
The NHL earlier announced that the Vegas Golden Knights tandem of Marc-Andre Fleury and Robin Lehner won this season's William M. Jennings Trophy as the goaltenders who played for the team allowing the fewest goals and that the Colorado Avalanche captured the Presidents' Trophy as the team with the best overall record.
COURTESY NHLmedia.com