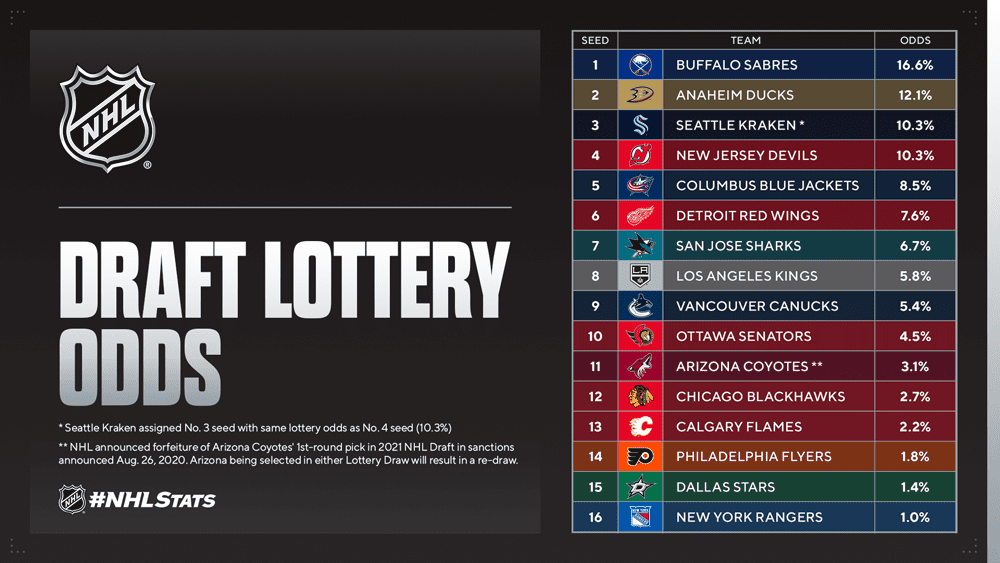 Expansion Seattle Kraken Placed as No. 3 Seed, Matching Vegas' Position for 2017 Draws
NEW YORK (May 19, 2021) – The National Hockey League announced today the 2021 NHL Draft Lottery, used to determine the order of selection for the first 16 picks in the first round of the 2021 NHL Draft, will be held on Wednesday, June 2, at NHL Network's Secaucus, N.J., studio.
The 2021 NHL Draft Lottery will consist of two drawings: the 1st Lottery Draw will determine the club selecting first overall, the 2nd Lottery Draw will determine the club selecting second overall.
Participants in the Draft Lottery include the expansion Seattle Kraken, who begin play in the 2021-22 season, and all clubs that did not qualify for this season's Stanley Cup Playoffs.
The Kraken enter the Draft Lottery as the No. 3 seed and owning the exact same lottery odds as the No. 4 seed (the team finishing the regular season with the third-worst regular-season record), mirroring the status of the Vegas Golden Knights entering their inaugural Draft Lottery participation in 2017. The Kraken will be guaranteed no lower than the fifth overall selection.
To accommodate the addition of a 16th team in the Draft Lottery, the odds for all other participating teams have been reduced proportionally from the odds utilized in last year's Draft Lottery.
The allocation of odds for the 1st Lottery Draw of the 2021 NHL Draft Lottery is above:
* Seattle Kraken assigned No. 3 seed with same lottery odds as No. 4 seed (10.3%).
** NHL announced forfeiture of Arizona Coyotes' 1st-round pick in 2021 NHL Draft in sanctions announced Aug. 26, 2020. Arizona being selected in either Lottery Draw will result in a re-draw.
The odds for the remaining teams will increase on a proportionate basis for the 2nd Lottery Draw, based on which club wins the 1st Lottery Draw.
The 14 clubs not selected in the Draft Lottery will be assigned NHL Draft selections 3 through 16, in inverse order of regular-season points.
The 2021 NHL Draft will be held virtually over two days. Round 1 will take place on Friday, July 23, followed by Rounds 2-7 on Saturday, July 24.
COURTESY NHLmedia.com