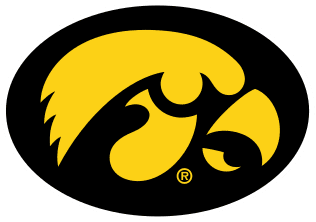 CLE ELUM, WA. — The University of Iowa men's golf team is in 11th place following Monday's opening round at the NCAA Regionals. The Hawkeyes are nine strokes back from the coveted top-five standing required to advance.
Iowa finished the first round five-over par (289) at the par-71 Tumble Creek Golf and Country Club after opening play on the back nine. Fifth-year senior Charles Jahn leads the way for Iowa at even-par, sinking three consecutive birdies on his front nine to match his season-low round of 71. Jahn is tied for 26th on the leaderboard heading into the second round.
The top-four Hawkeyes finished within two strokes of each other. Fifth-year senior Alex Schaake tied for 32nd with a one-over par 72, while junior Gonzalo Leal-Montero and sophomore Mac McClear tied for 43rd just one stroke behind (73).
The low five teams at the 54-hole event, as well as the low individual not on those teams, will advance to the NCAA Championships May 28-June 2.
Iowa has finished fourth or better in each of the last five tournaments, and Schaake has finished in the top five of each of those events. Schaake previously won the individual title at the Hawkeye Invitational, while McClear won the Spartan Collegiate at Sea Island and the individual Big Ten Championship.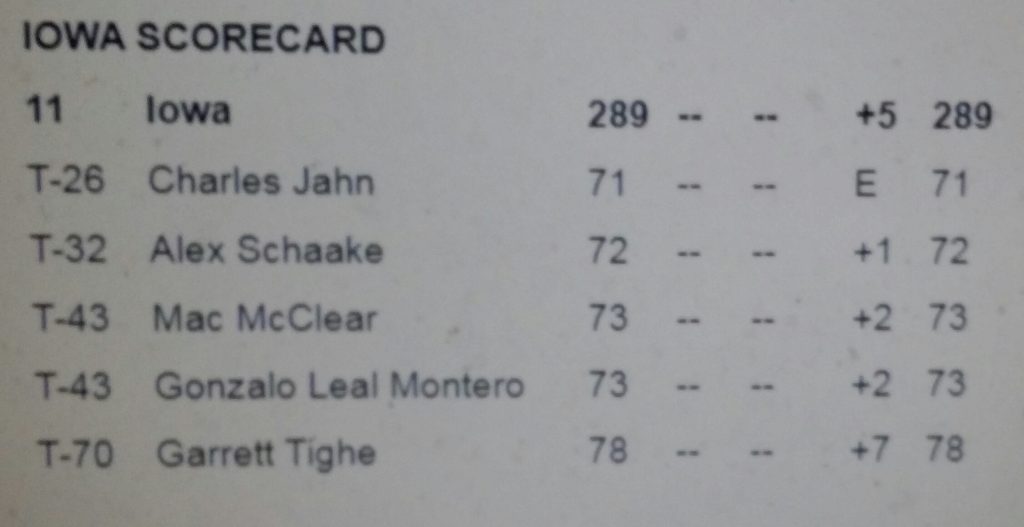 HEAR FROM HEAD COACH TYLER STITH
"We let some shots get away coming in. We can't change that now. All we can do is refocus ourselves for tomorrow. The goal is still there, we just have to work a little harder for it now."
HAWKEYE NOTEABLES
Iowa drained 13 birdies on the day; McClear led the way with four, followed by Schaake and Jahn with three apiece.
Schaake's par three stroke average ties for third in the field (3.00).
Leal-Montero's 14 pars tie for fourth best at the event. Iowa totaled 54 pars on the day.
UP NEXT
The second round of play at Tumble Creek tees off on Tuesday at 10 a.m. (CT).
COURTESY IOWA ATHLETIC COMMUNICATIONS