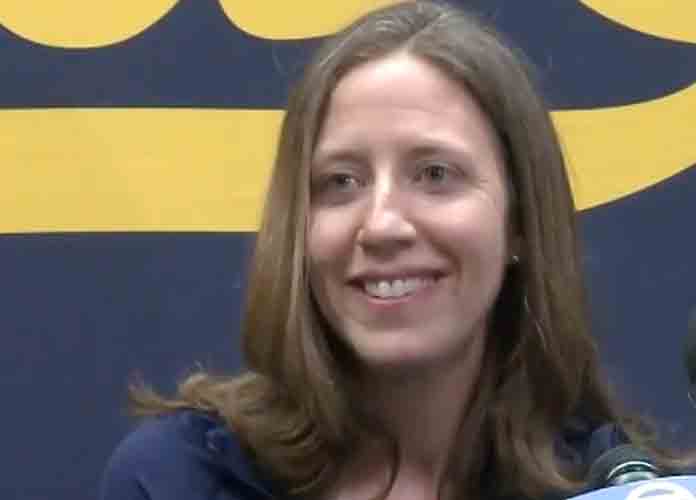 May 10, 2021
Gottlieb returns to the Pac-12 to lead the Women of Troy.
LOS ANGELES — Cleveland Cavaliers assistant coach Lindsay Gottlieb, who in her 8 seasons at California led the Golden Bear women to 7 NCAA appearances with a trip to the Final Four, has been named the USC women's basketball head coach, Trojan athletic director Mike Bohn announced today (May 10). 
 
"We are thrilled to name Lindsay Gottlieb our new women's basketball head coach," said Bohn.  "A trailblazer who smashed through the glass ceiling of men's professional sports, I cannot think of a better coach, leader, and role model for our young women.  Lindsay has a proven record of success in the country's premier women's basketball conference, and her commitment to student-athletes aligns perfectly with our vision and values.  After an incredible experience in the NBA, Lindsay is taking leadership of our program at a time when she has become her very best as a coach and teacher, and we have the utmost confidence in her ability to lead the Women of Troy back to national prominence." 
 
Said Gottlieb:  "It is an honor and a thrill to become the women's basketball coach at USC.  I am inspired by the incredible history of this program and excited about the opportunity to do special things with the young women I will have the privilege to coach. 
 
"I went to the NBA to challenge myself at the highest levels of the game of basketball and was fully invested in that journey.  However, the commitment of President Carol Folt and athletic director Mike Bohn to women's basketball at USC, and to my vision of success, made it clear that NOW is the right time to come here and use all my coaching experience to partner with the young women in the program, the administration and our future student-athletes to make USC women's basketball the most dynamic program in the country." 
Gottlieb replaces Mark Trakh, who retired in late April after guiding the Women of Troy for the past 4 seasons (2018-21), his second stint at USC.  Combined with his previous 5 seasons (2005-09) at USC, Trakh was the program's second winningest coach with a 155-114 record. 
 
Gottlieb, 43, became just the seventh female NBA assistant when she was hired by the Cavs in June of 2019 and the first NCAA women's head coach to be hired by an NBA team. Cavalier players praised her knowledge of the game, leadership and communication skills. 
 
Gottlieb spent 8 seasons (2012-19) as the head coach at Cal, posting a 179-89 (.668) overall record and advancing to the NCAA tourney all but once.  Seven of her teams won at least 20 games, including the 2013 squad that went 32-4 (a school record for wins) and made it to the program's first-ever NCAA Final Four.  She was the 2013 Pac-12 Coach of the Year and a Naismith National Coach of the Year finalist and was just the seventh NCAA women's coach since 1990 to reach the Final Four in the first 2 seasons of being hired.   
 
Her 179 overall victories are the second-most in Cal history.  Her teams finished in the top half of the Pac-12 standings 6 times, including tied for the regular season title in 2013 (a program first) at 17-1 and second twice.  Her Golden Bear players were named All-Americans 10 times and 6 were WNBA Draft selections. 
 
She made her mark immediately at Cal, taking a senior-less team in 2012 to the second round of the NCAAs with a 25-10 overall record and a second place Pac-12 finish.  Her 2013 Final Four team snapped Stanford's 81-game conference winning streak.  The Golden Bears were 22-10 in 2014 (second in Pac-12) and 24-10 in 2015 (third in Pac-12), advancing to the NCAA second round both seasons.  After dipping to 15-17 in 2016, Cal rebounded with a 20-14 season in 2017 and got to the NCAA second round.  Her final 2 Golden Bear squads were 21-11 in 2018 (NCAA first round) and 20-13 in 2019 (NCAA second round). 
 
Gottlieb was an assistant at Cal for 2 seasons (2006-07) and then the Golden Bears' associate head coach in 2008.  The Golden Bears had their first winning season in 13 years in 2006 and played in the NCAAs each season.  She worked primarily with the post players, with Ashley Walker and Devanei Hampton both becoming All-Americans (Hampton was Cal's first Pac-10 Player of the Year in 2006 and Walker was the program's first WNBA draftee when she went in the 2009 first round). 
 
Gottlieb then became the head coach at UC Santa Barbara for 3 years (2009-11), where she posted a 56-39 (.589) record and led the team to trips to the NCAA (2009) and WNIT (2011) tourneys.  She won 75.0% of her Big West games (36-12), captured Big West regular season championships in 2009 and 2011 and the Big West tournament crown in 2009, and was named the 2009 Big West Coach of the Year when UCSB was 22-10 overall and 15-1 in league play.  She was the first coach in school history to win 20 games in her debut season.  The Gauchos went 15-17 in 2010 and 19-12 in 2011 (falling in WNIT play to USC).   
 
She also was an assistant at Syracuse (2000-01), New Hampshire (2002) and Richmond (2003-05).  The Spiders won at least 20 games all 3 seasons and earned post-season berths in the 2003 and 2004 WNIT and 2005 NCAA tourneys. 
 
Gottlieb played basketball at Brown, serving in the unique role of player and student assistant coach in her 1999 senior season.   
 
She earned her bachelor's degree in political science from Brown in 1999 and has a master's degree in philosophy of education from Syracuse. 
 
She prepped at Scarsdale (N.Y.) High.  She was sidelined her senior year with a knee injury, which led her to consider a coaching career. 
 
She and her husband, Patrick, have a son, Jordan. 
 
USC was 11-12 overall in the recently-concluded 2021 season, with 4 games cancelled due to COVID-19 issues, and placed eighth in the Pac-12 at 8-10. 
COURTESY USC ATHLETIC COMMUNICATIONS