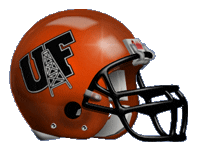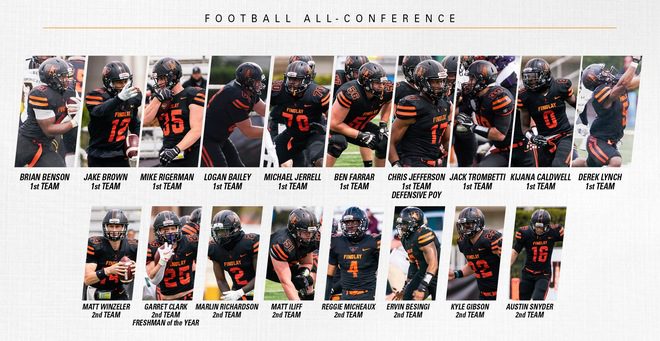 May 10, 2021
Findlay, Ohio – The Great Midwest Athletic Conference (G-MAC) announced their 2021 All-Conference Football Team on Monday, May 10 following the completion of the 2021 spring football season. The awards were voted on by the league's head coaches. Findlay had 22 players named to all-conference teams, tied for the most in the conference, and also had the Defensive Player of the Year and Co-Freshman of the Year. Since joining the league in 2017, Findlay has amassed 89 all-conference awards, the most of any school in the G-MAC.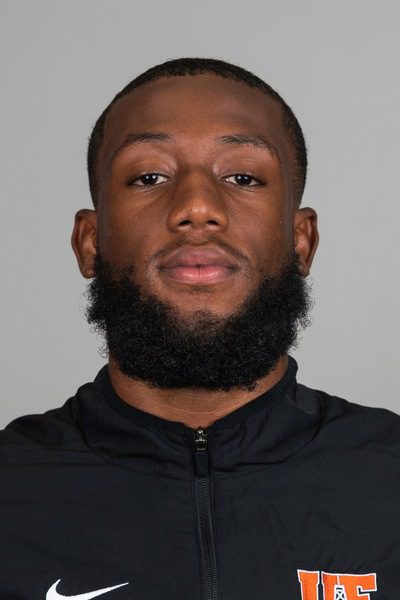 Despite a long layoff due to COVID pushing the fall season to the spring, junior safety Christopher Jefferson picked up right where he left off and has earned his second consecutive G-MAC Defensive Player of the Year honor, becoming the first player in the NCAA era of the program to earn any Player of the Year honor multiple times in their career. He also earned first-team all-conference making him the first player in the Oilers' secondary to earn back-to-back first-team all-conference awards since defensive back Harold Jones-Quartey was named first-team all-Great Lakes Intercollegiate Athletic Conference (GLIAC) in 2013 and 2014.
An all-American selection in 2019, Jefferson was again vital to the Oilers' defense, which allowed the least points per game in the league, as he started all six games and led the team with 32 tackles, 25 of which were solo stops. The Euclid, Ohio native had four pass breakups, two interceptions, which were returned for 114 yards including one touchdown, and one fumble recovery, which was returned 47 yards for a touchdown.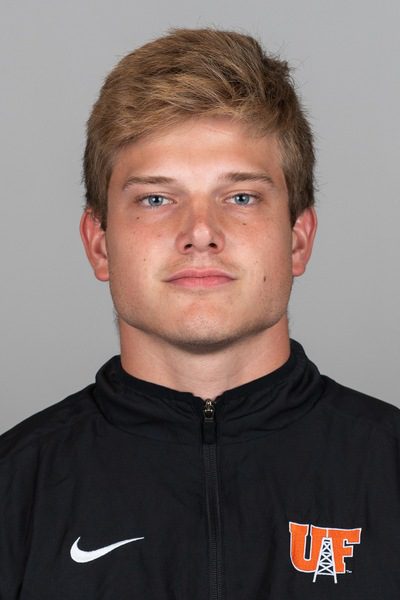 Co-Freshman of the Year
A native of Strongsville, Ohio, freshman Garret Clark burst onto the scene in the shortened season, showing he may have what it takes to become the next in a long line of outstanding tailbacks at Findlay. For his efforts, Clark has earned G-MAC Co-Freshman of the Year, splitting the award with Ohio Dominican running back Travis Whittaker. Clark is the first player at Findlay to earn conference Freshman of the Year since running back Montarae Williams earned the award in the GLIAC in 2009. Williams went on to rush for 1,000 or more yards in three consecutive seasons on his way to becoming Findlay's all-time rushing leader with 4,660 career yards.
This season, Clark ran the ball 49 times for 269 yards and was tied for second in the conference with five rushing touchdowns. Clark's best game of the season came on April 17 at home against Lake Erie College where he rushed eight times for 104 yards and two touchdowns, his first-career 100-yard game.
Clark was also named second-team all-G-MAC for his performance this season.
First Team All-Great Midwest
Picking up his third consecutive first-team all-conference award is senior Brian Benson who put together another good year as the Oilers' starting running back. Benson rushed the ball 69 times for 364 yards, both of which led the team, and three touchdowns this season. Benson now has 2,216 rushing yards and 22 rushing touchdowns in his career and will return for the fall season in 2021.
In his first year at Findlay, senior Jake Brown, who played at James Madison University prior to his arrival, made a name for himself in the season-opener against Hillsdale as he caught six passes for 59 yards and two touchdowns. Despite missing the next two games, Brown would finish the season with 17 receptions for 174 yards and two scores and finished top ten in the conference with 10.2 yards per catch.
Sophomore tight end Mike Rigerman is the second consecutive Oilers' tight end to earn a spot on first-team after Luke Stuffel picked up the award last season. In 2021, Rigerman, who played in just four of six games this season, had 56 receiving yards on six receptions, three of which were for touchdowns.
Rounding out the offensive first-team winners were three players on the Oilers' offensive line. Senior Logan Bailey, junior Michael Jerrell, and junior Ben Farrar all earned spots on the G-MAC first-team. For Bailey, it was his third consecutive first-team honor while both Jerrell and Farrar are making their debut on any all-conference team. Those three anchored an offensive line that blocked for the top-scoring team in the G-MAC at 26.0 points per game and helped Oilers' running backs to 182.8 rushing yards per game, the most in the G-MAC. A major part of their job is keeping their quarterback upright and there was none better in the conference as the Oilers' offensive line allowed just three sacks all season. With these three offensive linemen making first-team, that makes nine first-team o-lineman for the Oilers since joining the G-MAC in 2017, the most in the conference.
On the defensive side of the ball, senior linebacker Jack Trombetti, a second-team selection a season ago, earned first-team all-G-MAC in 2021 after a season in which he played in five games and made 26 tackles for 5.2 per game which was second on the team. Trombetti had 1.5 tackles for loss this season.
Playing alongside fellow first-teamer Christopher Jefferson in the secondary, senior Kijana Caldwell has earned his initial all-conference award of his career, being selected to the all-G-MAC first-team. Caldwell played in five games this season and made 12 tackles, but his forte was his pass defense. This season, the Oswego, Illinois native led the G-MAC with three interceptions, including two in one game against Kentucky Wesleyan on April 3, and had two other pass breakups.
The Oilers final first-team selection was senior Derek Lynch who earned the award as a kick returner. This season Lynch had seven returns for 174 yards for an average of 24.9 yards per return, the most in the conference. Lynch was also named third team-all conference as a wide receiver this season as he amassed 129 yards on 15 receptions. As a slot receiver, Lynch also had 46 carries this season and picked up 289 yards and two touchdowns.
Second Team All-Great Midwest
Senior quarterback Matt Winzeler has been named second-team all-conference for the second consecutive season as the Oilers' signal-caller. This year Winzeler completed 89-of-161 passes (.563) for 1,033 yards and was tops in the conference with 11 passing touchdowns. His top target this year was senior Marlin Richardson who led the team with 23 receptions, led the G-MAC with six receiving touchdowns, and ranked second in the G-MAC with 408 receiving yards. This second team award is the first all-conference selection of Richardson's career.
Also earning second-team on offense was junior offensive lineman Matt Iliff who, along with his teammates on the line, helped block for the top offense in the league while allowing just three sacks on the season.
On the defensive line, the Oilers had three players selected as second-team honorees. Junior Reggie Micheaux, senior Ervin Besingi, and senior Kyle Gibson all were named second-team as they helped lead a defense that harassed opposing quarterbacks better than any team in the league, picking up a conference-best 17 sacks as a defense. Micheaux finished the year with 19 tackles including eight tackles-for-loss and four sacks. Besingi had 15 tackles including 4.5 tackles-for-loss and 1.5 sacks while Gibson had 13 tackles, 3.5 tackles-for-loss, and two sacks in his final season at Findlay.
In his first season as the Oilers kicker, freshman Austin Snyder picked up second-team honors after leading the team with 39 points scored. He was 5-for-7 on field goals this season including a long of 40-yards. He also knocked in 24-of-27 extra points. He also punted seven times this season for 284 yards, an average of 40.6.
Third Team All-Great Midwest
Derek Lynch, a first-team kick returner, was also named third-team as a wide receiver while senior offensive lineman Kory Henthorne also earned third-team, giving the Oilers an all-conference honoree at each of the five spots on their offensive line.
Senior linebacker Colin Robertson had 27 tackles including two sacks, one interception, and one fumble recovery en route to a third-team all-G-MAC award while sophomore cornerback Brennan Perry had 11 tackles, two tackles-for-loss, and one sack to earn a spot on the third-team.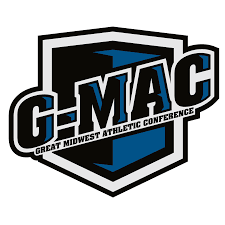 COURTESY FINDLAY ATHLETICS