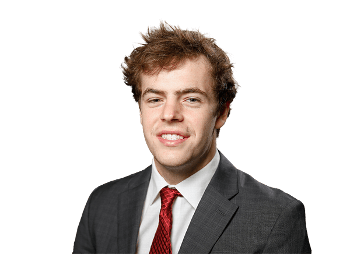 Ohio native comes from Cornell
DAYTON – Riley Voss, who is set to graduate from Cornell this spring, will transfer to Wright State and be immediately eligible to play for the Raiders this fall, head coach Scott Nagy announced today.
Voss, a 6-6 220-pound forward, is a native of Milford, Ohio and prepped at Moeller High School. He graduates from Cornell with an Economics degree and a minor in Business.
Cornell and the Ivy League did not play basketball this season. Voss played in 57 games for the Big Red over three seasons, starting 15 of 26 games as a junior in 2019-20. He averaged 11.3 minutes per game over the course of his career. Shooting 36 percent from the floor and 31 percent from three-point range of three seasons.
"We are excited to add Riley as a versatile player who is highly skilled. We feel he is a perfect fit for our culture," Nagy said.
Voss was a second-team all-state selection as a senior after helping Moeller to three league championships and a state runner-up finish as a senior captain. He was named league Player of the Year after averaging 7.6 points, 5.6 rebounds and 2.9 assists while ranking second in the league in assists (84) and third in blocks (14) en route to all-region honors in his final season. He was named all-league in each of his final three years, including capturing first-team accolades as a junior and senior.
Wright State was 18-6 in 2020-21, clinching at least a share of the Horizon League regular season championship for the third consecutive season.
COURTESY WRIGHT STATE ATHLETIC COMMUNICATIONS