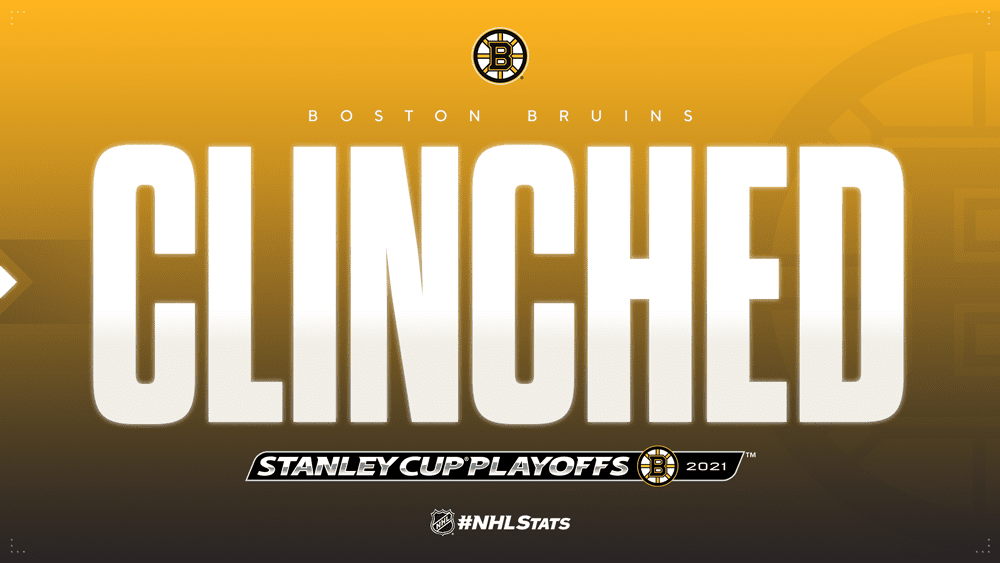 Ten #NHLStats about the Boston Bruins, who are headed to the postseason for the fifth consecutive campaign and 12th time in the last 14 seasons.

1. This marks the 74th season in which Boston has qualified for the Stanley Cup Playoffs, the second-highest total in NHL history behind the Montreal Canadiens (84) – Montreal can still add to that total this season.

2. The Bruins are no strangers to putting together strings of postseason appearances – they qualified for an NHL-record 29 consecutive seasons from 1967-68 to 1995-96, clinched nine straight berths from 1934-35 to 1942-43 and more recently seven consecutive campaigns from 2007-08 to 2013-14, with the latter including a Stanley Cup win in 2011.

3. The Bruins (2011, 2013 and 2019) are the only team to appear in the Stanley Cup Final three times over the last 10 seasons (since 2010-11), the Los Angeles Kings (2012 and 2014), Chicago Blackhawks (2013 and 2015), Tampa Bay Lightning (2015 and 2020) and Pittsburgh Penguins (2016 and 2017) all did so twice over that span.

4. Tuukka Rask (51-42) needs two wins during the Stanley Cup Playoffs to tie Gerry Cheevers (53-34) for the most in franchise history. Only Marc-Andre Fleury (81) and Henrik Lundqvist (61) have more career playoff wins among active goaltenders.
5. Brad Marchand (37-58—95 in 121 GP) sits five points shy of becoming the seventh player to record 100 points in the Stanley Cup Playoffs with the Bruins franchise – teammates David Krejci (40-75—115 in 145 GP) and Patrice Bergeron (42-69—111 in 149 GP) have already reached the milestone. No current team has more than two players on their roster with 100 career postseason points.
6. Patrice Bergeron is three goals shy of tying Rick Middleton (45) for third all-time in Bruins postseason history and four away from Phil Esposito (46) for second. Bergeron has also scored nine career game-winning goals in the postseason – only Cam Neely (11) has more with the franchise.

7. David Pastrnak has recorded 20-33—53 in 52 career postseason games – his 1.02 points per game average in the playoffs is the eighth-highest total in Bruins franchise history. Only three Boston players have recorded more career postseason points before their 25th birthday (Pastrnak will turn 25 on May 25): Craig Janney (17-56—73 in 68 GP), Bobby Orr (20-46—66 in 50 GP) and Cam Neely (33-27—60 in 57 GP).
8. Taylor Hall was acquired by the Bruins just prior to the 2021 NHL Trade Deadline as the 11-season veteran is in search of his first Stanley Cup. Hall was selected first overall by the Edmonton Oilers in the 2010 NHL Draft, one pick before Boston selected Tyler Seguin, who was a member of Boston's Cup-winning team in 2011. The first two picks of a draft year have only gone on to win a Stanley Cup with the same franchise twice – and both occurred with the Canadiens. Rejean Houle (No. 1 in 1969 by MTL) helped Montreal capture the Cup in 1971, 1973, 1977, 1978 and 1979 while Marc Tardif (No. 2 in 1969 by MTL) was part of the 1971 and 1973 championships. Additionally, Bobby Smith (No. 1 in 1978 by MNS) and Ryan Walter (No. 2 in 1978 by WSH) teamed up to help the Canadiens win the Cup in 1986.

9. Bruce Cassidy has a 27-28 record in the playoffs as head coach of the Bruins. Only two head coaches in Boston history have recorded 30 postseason victories prior to their 60th playoff game behind the Bruins bench: Claude Julien (52 GP) and Don Cherry (53 GP). Mike Sullivan (47 GP w/ PIT) and Jon Cooper (54 GP w/ TBL) are the only active coaches who required fewer than 60 games to reach 30 postseason wins with their current team.

10. The Bruins have competed in a Game 7 on 28 occasions (15-13) – the most Game 7 wins and appearances in Stanley Cup Playoffs history. Boston has more Game 7 wins than 20 active franchises have appearances in a seventh-and-deciding game.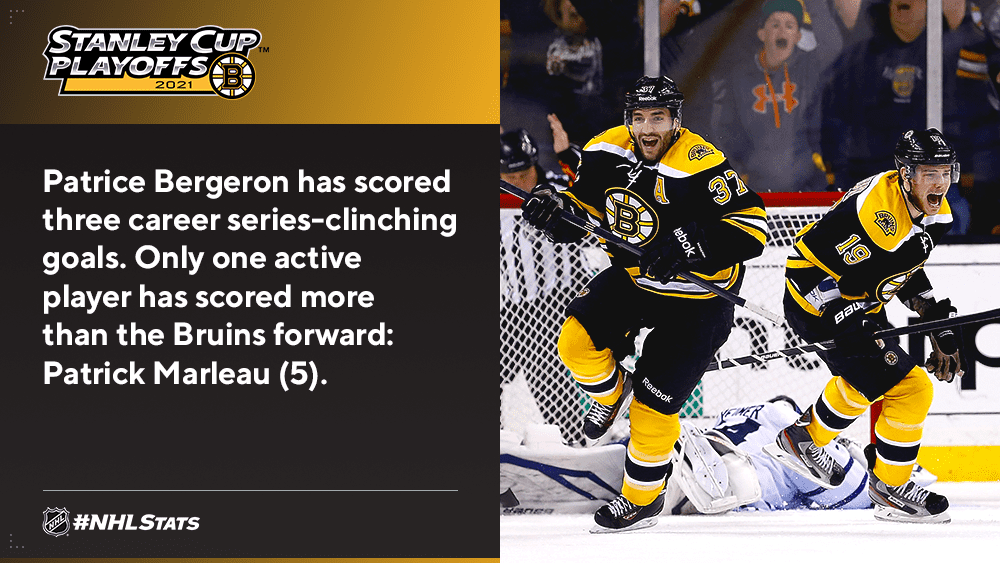 COURTESY NHLmedia.com