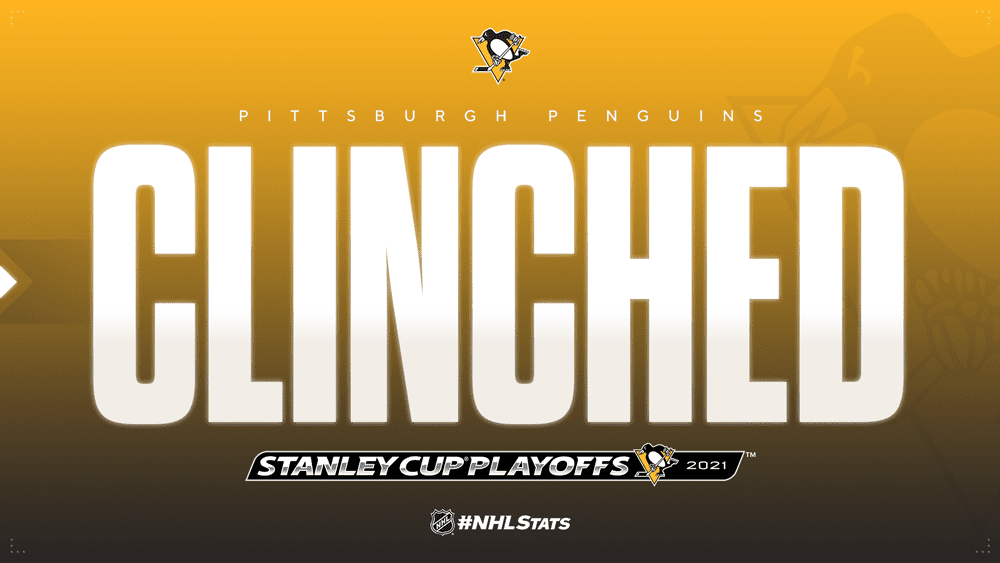 April 29, 2021
Ten #NHLStats about the Pittsburgh Penguins, who are headed to the postseason for the 15th consecutive season and 36th time in franchise history.
1. The Penguins are the ninth different franchise in NHL history to make 15 or more consecutive postseason appearances – the Detroit Red Wings and Montreal Canadiens each had two runs of at least that length. Overall, this is the 11th time a club has made 15 or more consecutive trips to the postseason and the longest such run since the Red Wings made the last of their 25 straight appearances in 2016.
2. Sidney Crosby and Evgeni Malkin each can make their 10th consecutive postseason appearance for the Penguins (each missed the 2011 Stanley Cup Playoffs due to injury), trailing only Jaromir Jagr (11; 1991–2001) for the longest such stretch in franchise history. The last NHL players to make 10 or more consecutive trips to the postseason with one franchise were Pavel Datsyuk (14; 2002–2016) and Henrik Zetterberg (13; 2003–2016) with the Red Wings.
3. Sidney Crosby (68-121—189 in 168 GP) needs one point to tie Brett Hull (103-87—190 in 202 GP) for seventh place in career points during the Stanley Cup Playoffs. He also needs two assists to tie Jaromir Jagr (123) for ninth place in playoff history. Crosby's next playoff goal will break a tie with Gordie Howe (68) on the all-time NHL list; he trails only Alex Ovechkin (69) and Patrick Marleau (72) among active NHL players. He also ranks fourth in NHL history for career playoff points in road games.
4. Evgeni Malkin (106) has the second-most career playoff assists among active NHL players and needs one helper to tie Peter Forsberg (107) for 21st place in NHL history. Malkin (63-106—169 in 166 GP) needs three points to tie Mario Lemieux (76-96—172 in 107 GP) for the second-most playoff points in Penguins history. Only six clubs have players on their current roster who rank first and second in career playoff points for that franchise (Columbus Blue Jackets, Nashville Predators, Tampa Bay Lightning, Vegas Golden Knights, Washington Capitals, Winnipeg Jets).

5. Sidney Crosby is looking to become the seventh player in NHL history to captain one franchise to four or more Stanley Cups. Jean Beliveau (5, MTL), George Armstrong (4, TOR), Yvan Cournoyer (4, MTL), Maurice Richard (4, MTL), Denis Potvin (4, NYI) and Wayne Gretzky (4, EDM) are the only captains to do so.

6. Six of the seven Stanley Cup champions on the Penguins' roster have won with the franchise: Sidney Crosby (2009, 2016, 2017), Kris Letang (2009, 2016, 2017), Evgeni Malkin (2009, 2016, 2017), Brian Dumoulin (2016, 2017), Bryan Rust (2016, 2017) and Jake Guentzel (2017). The other, Jeff Carter (2012 LAK, 2014 LAK), will look to become the ninth player to play for the Flyers (461 GP from 2005-06 to 2010-11) and later win a Stanley Cup with the cross-state rival Penguins.
7. Kris Letang (21-59—80 in 136 GP) leads all active defensemen in career playoff goals (21) and ranks second in assists (59) and points (80). His next playoff point will move him ahead of Eric Desjardins and Doug Wilson and into a tie with Dan Boyle on the all-time NHL list among defensemen.
8. Pittsburgh (38-24 in 62 series) ranks second among non-Original Six clubs in best-of-seven series victories, trailing only the Philadelphia Flyers (39-34 in 73 series). The Canadiens (78-42 in 120 series), Red Wings (55-45 in 100 series), Boston Bruins (53-52 in 105 series) and Chicago Blackhawks (42-44 in 86 series) are the only franchises with more.
9. Mike Sullivan (39-30 in 69 GC w/ PIT) ranks second in franchise history behind Dan Bylsma (43-35 in 78 GC) for both career postseason wins and games. He is one of three active NHL head coaches – and among a group of only 18 in League history – with multiple Stanley Cup wins as a head coach (also Joel Quenneville: 3 and Darryl Sutter: 2).
10. Tristan Jarry and Casey DeSmith have combined for one appearance in the Stanley Cup Playoffs, a 2-0 defeat for Jarry in Game 4 of the 2020 Stanley Cup Qualifiers. In the expansion era, two clubs have reached the Stanley Cup Final with goaltenders who entered the postseason with fewer than two combined playoff games (min. 1 GP in that regular season): the Anaheim Ducks in 2003 and Tampa Bay Lightning in 2015.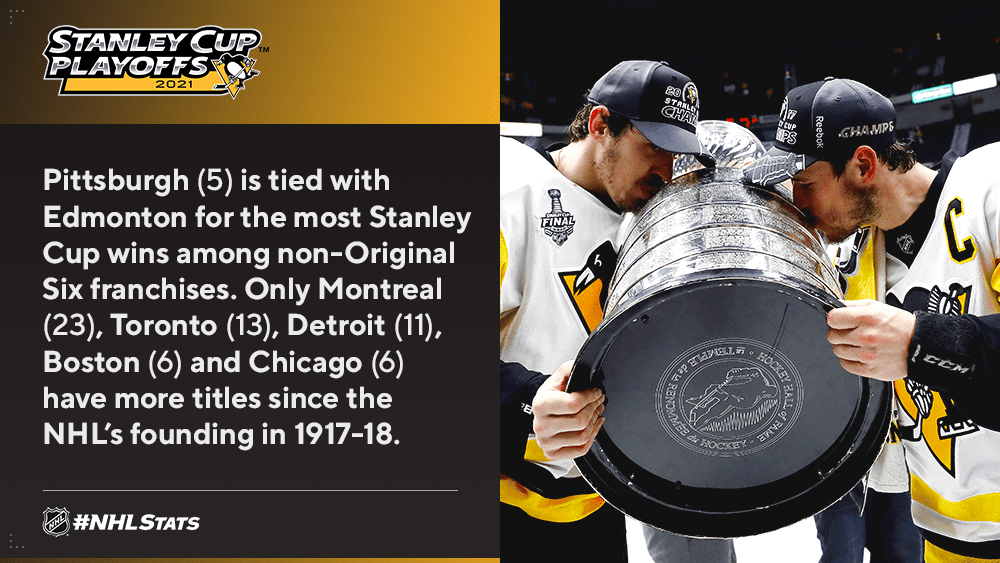 COURTESY NHLmedia.com