April 29, 2021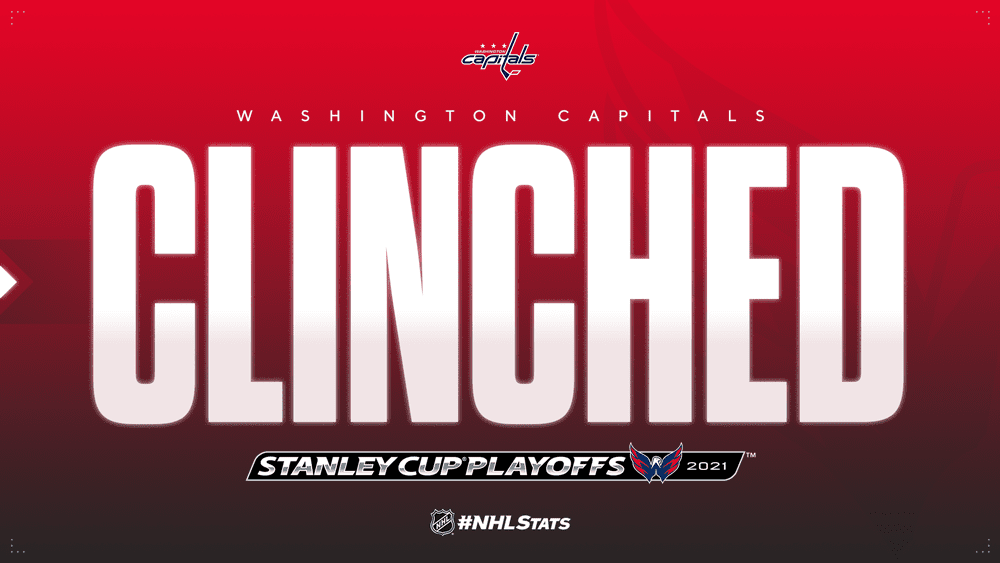 Ten #NHLStats about the Washington Capitals, who are headed to the postseason for the seventh consecutive season and 31st time in franchise history.
1. Washington has reached the postseason for the 13th time in 14 seasons (since 2007-08), one of two clubs to do so in 2020-21 – the Pittsburgh Penguins have extended their active run to 15 straight postseason appearances.
2. The Capitals' run of seven consecutive postseason appearances is the second-longest stretch in franchise history (14 straight trips from 1983 to 1996). It also is the second-longest active run in the NHL behind the Penguins (15; 2007–2021) and ahead of the Nashville Predators (6; 2015–2020) – Nashville can match Washington this season.
3. Alex Ovechkin and Nicklas Backstrom, who between them have the Capitals records for career playoff goals, assists, points and games played, will extend their shared franchise benchmark for most years in the postseason (currently 12). They are two of 13 active players with at least 100 career playoff points, and one of five sets of current teammates on that list (also Sidney Crosby and Evgeni Malkin, PIT; David Krejci and Patrice Bergeron, BOS; Patrick Kane and Jonathan Toews, CHI; Patrick Marleau and Logan Couture, SJS).
4. Alex Ovechkin ranks 18th in NHL history with 69 career playoff goals, trailing only Patrick Marleau (72) among active players, and is among the top 50 in career playoff points (131; 44th). Ovechkin has scored at least four goals in 11 of his 12 previous postseason appearances, second to only Wayne Gretzky (12x) for the most such playoff performances.
5. As one of the last three winners of the Stanley Cup, the Capitals rank third in the League in terms of both the number of Cup winners on their roster (14) and total combined championships (17), trailing the two most recent winners in each category (Tampa Bay Lightning: 21 players, 22 Cups; and St. Louis Blues: 17 players, 18 Cups).
6. Nine members of Washington's 2018 Stanley Cup team remain with the club: Nicklas Backstrom, John Carlson, Lars Eller, Michal Kempny, Evgeny Kuznetsov, Dmitry Orlov, T.J. Oshie, Alex Ovechkin and Tom Wilson.
7. Stanley Cup champion Zdeno Chara (2011 BOS), 44, can become the seventh player in NHL history to appear in a playoff game at age 44 or older. He would follow Gordie Howe (52 years, 11 days in 1980), Chris Chelios (47 years, 122 days in 2009), Johnny Bower (44 years, 149 days in 1969), Lester Patrick (44 years, 99 days in 1928), Jacques Plante (44 years, 78 days in 1973) and Jaromir Jagr (44 years, 69 days in 2016), who all are listed with their age at the time of their last playoff game. Chelios (1-6—7 in 44 GP), Howe (1-1—2 in 3 GP) and Jagr (0-2—2 in 6 GP) all registered points; the others were goaltenders, including Patrick who traded his duties as New York Rangers coach to guard the net for one playoff game. Only Chelios(age 46 in 2008) and Patrick (1928 NYR) won the Cup at age 44 or older.
8. Carl Hagelin, Justin Schultz and Conor Sheary all won the Cup with Pittsburgh in 2016 and 2017, while Trevor van Riemsdyk was with the Chicago Blackhawks for their 2015 win. Hagelin, Schultz and Sheary can become the first set of teammates since 1997 to win multiple Cups with one team and then skate in the postseason together with another club – that last happened in 1997 when Wayne Gretzky, Mark Messier, Esa Tikkanen and Jeff Beukeboom all played for the Rangers after winning multiple championships together with the Edmonton Oilers.
9. John Carlson (18-48—66 in 112 GP) ranks fifth among active defensemen with 66 career playoff points – teammate Zdeno Chara (18-52—70 in 195 GP) is one of the blueliners ahead of him on that list. Carlson is one of five active skaters who leads his current franchise in career playoff goals, assists, points and games played among defensemen (also Drew Doughty, LAK; Kris Letang, PIT; Victor Hedman, TBL; Shea Theodore, VGK).
10. Vitek Vanecek and Ilya Samsonov will enter the playoffs with fewer than 80 career combined regular season starts. Only 10 NHL teams have won the Stanley Cup after dressing goaltenders in the postseason who had a combined 100 or fewer career regular-season starts, including only two instances in the past 80 years (1945 Toronto Maple Leafs: Frank McCool: 50 GS and 1944 Montreal Canadiens: Bill Durnan: 50 GS).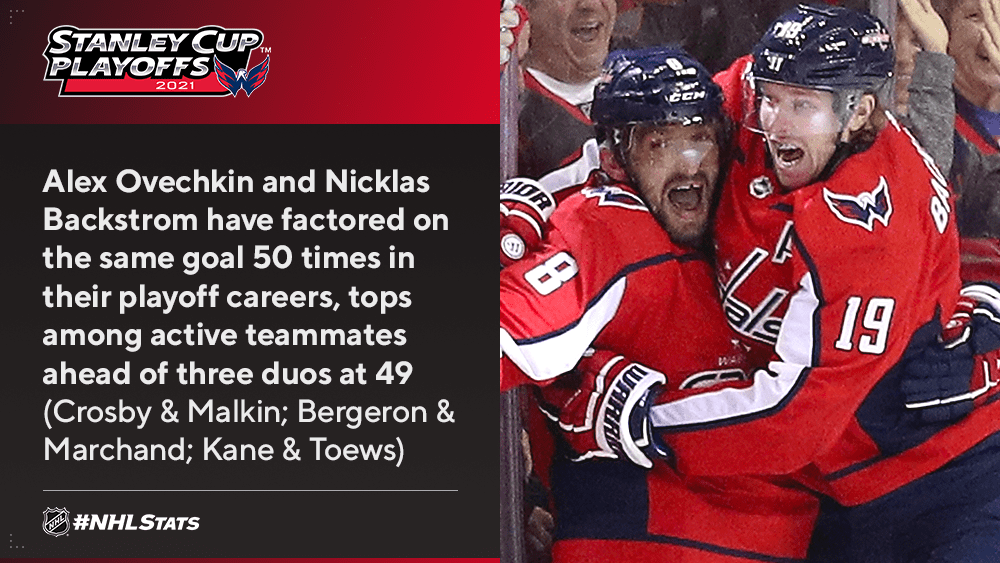 COURTESY NHLmedia.com