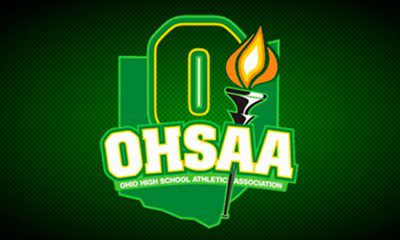 News Release – Ohio High School Athletic Association
Executive Director Doug Ute
www.OHSAA.org  |  twitter.com/OHSAASports  |  facebook.com/OHSAASports
April 27, 2021
Charles Anderson, Kate Barnett, John Kuzio and Laura Lemanski join OHSAA staff
COLUMBUS, Ohio – Four talented individuals have been selected to fill open staff positions at Ohio High School Athletic Association, Executive Director Doug Ute has announced. The four new staff members take positions vacated in late 2020 or early 2021 and are not newly created positions.
Charles Anderson will fill the position of Manager of Officiating, while Kate Barnett and John Kuzio join as Sport Administrators and Laura Lemanski is the new Senior Accountant.
"We are very excited to welcome Charles, Kate, John and Laura to our team," said Ute. "It has been a pleasure getting to know them and they will add a lot to our staff. We appreciate the patience and understanding shown by our member schools, officials and partners, as we are still down three full-time staff positions due to budget cuts. These new staff members will bring us back closer to full strength."
Anderson was with the Ohio State University Department of Recreational Sports since 2008. He helped manage one of the largest college recreational and club sports programs in the country that includes more than 40 intramural sports and 59 club sports, with more than 22,000 participants. Prior to OSU, Anderson worked for Columbus Recreation and Parks Department, the University of Illinois and the University of Nebraska. He is a member of the OSU football and basketball game day operations staff and is an OHSAA certified officials instructor for football and basketball. He is a 1999 graduate of Ohio University and received a master's degree from Mount Vernon Nazarene University. He is a graduate of Massillon Perry High School where lettered in basketball and track & field, helping Perry to its first Federal League track & field conference championship.
Barnett joins the OHSAA after 10 years in collegiate athletics administration, including the Ohio Valley Conference office in Nashville as Assistant Commissioner for Championships and Compliance since 2016, and the Southern Conference in Spartanburg, South Carolina, as Director of Championships from 2014-16. Prior to those two positions, she was a graduate assistant at Belmont University and had internships with the National Association of Collegiate Directors of Athletics, the Tennessee Sports Hall of Fame and the Mahoning Valley Scrappers, the Class A affiliate of the Cleveland Indians. Barnett was a three-year letter winner in volleyball and a four-year letter winner in softball at Cortland Lakeview High School in Northeast Ohio, where she was also a member of the National Honor Society and a Buckeye Girls State delegate. She is a 2009 graduate of Bluffton University where she played volleyball and was a member of the Student-Athlete Advisory Committee.
Kuzio returns to Central Ohio after seven years at the NCAA office in Indianapolis where he was Assistant Director of Championships and Alliances, Operations. Most recently he served as the national championship manager for Division II men's and women's swimming and diving, Division III women's volleyball and Division III women's softball. Prior to that, Kuzio was the Division III men's golf national championships manager for four years. After graduating from Ashland University in 2011, he earned a master's degree from Belmont University in Nashville and then completed an internship at the Ohio Valley Conference. He is a 2007 graduate of Marion Pleasant High School where he was a member of the National Honor Society and helped lead Pleasant to the 2006 OHSAA Division III baseball state championship.
Lemanski joins the OHSAA accounting department after graduating from Ohio Wesleyan University in 2018 with a double-major of Sport and Exercise Management and Accounting and spending three years as staff accountant at Installed Building Products in Columbus. As a senior at OWU, she was the Athletics Coordinator and head volleyball coach at Buckeye Valley Middle School and she has continued to coach volleyball at Olentangy Liberty High School and Advancement Academy Volleyball Club in Lewis Center. Lemanski was a facility manager and lifeguard instructor at Meek Aquatic and Recreation Center in Delaware from 2011-18 and completed an internship at Smiths Medical in Dublin in 2017. She played volleyball one year at OWU and was the treasurer of the Senior Class Council. Lemanski is a graduate of Buckeye Valley High School where she lettered in volleyball, basketball and track.
4080 Roselea Place
Columbus, OH 43214
COURTESY OHSAA COMMUNICATIONS