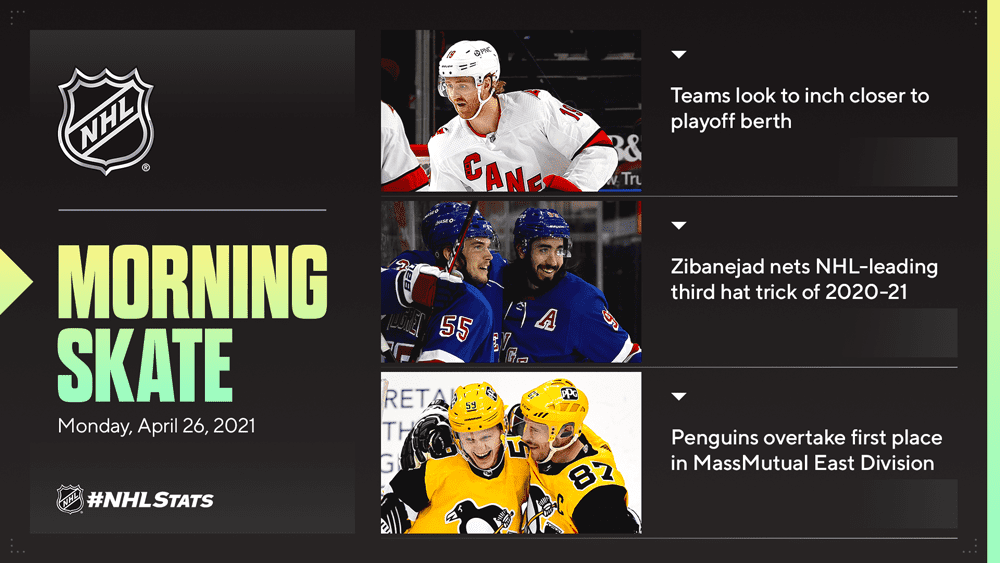 THREE HARD LAPS
* With three of 16 postseason spots already accounted for, the Hurricanes and Panthers look to inch closer to a berth in the 2021 Stanley Cup Playoffs tonight.
* Mika Zibanejad helped the Rangers keep their playoff hopes alive with his NHL-best third hat trick of the season.
* The Penguins continued their success at PPG Paints Arena and moved past the idle Capitals for top spot in the MassMutual East Division.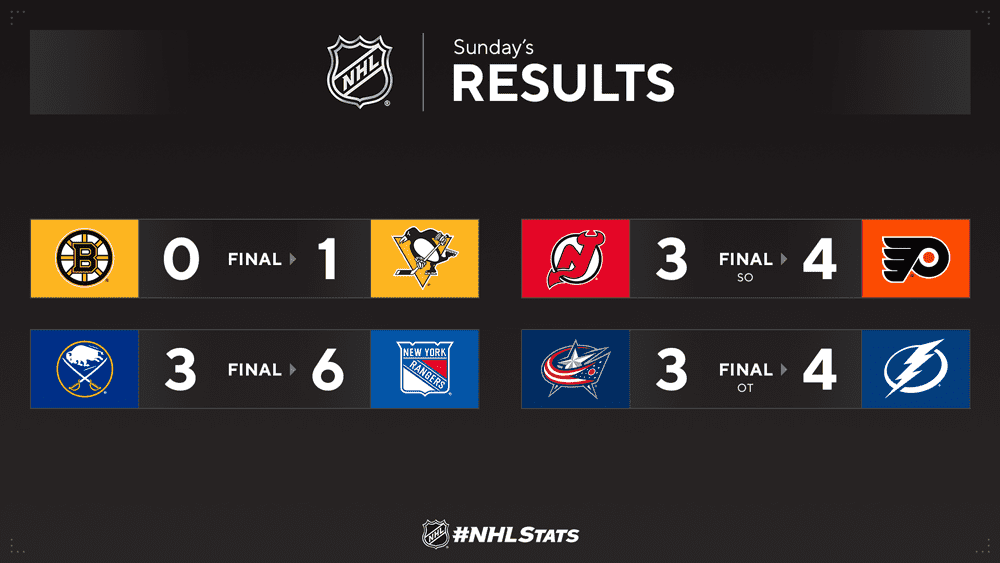 CLUBS LOOK TO INCH CLOSER TO PLAYOFF BERTHS
With less than 10 scheduled games remaining in their respective campaigns, the Discover Central Division-leading Hurricanes (31-10-6, 68 points) and second-place Panthers (31-13-5, 67 points) will continue their push to the playoffs when they face off against the Stars (20-15-12, 52 points) and Predators (26-21-2, 54 points).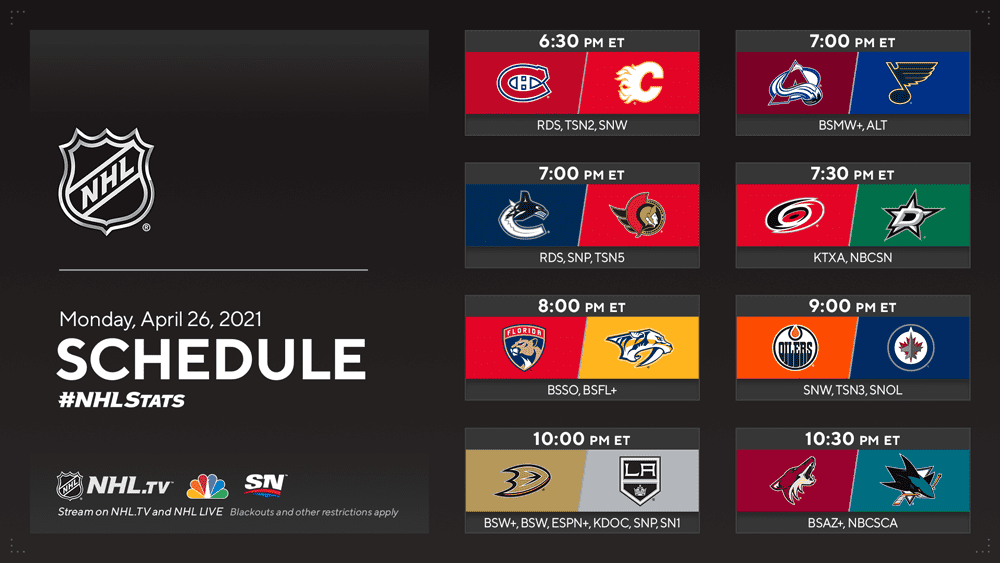 OILERS, JETS SET TO CLASH AS SECOND PLACE IN SCOTIA NORTH INTENSIFIES. . .
Connor McDavid (25-52—77) and the third-place Oilers (27-16-2, 56 points) head to Winnipeg to take on Mark Scheifele (18-36—54) and the second-place Jets (27-17-3, 57 points) as the two clubs continue their pursuit of home-ice advantage in the First Round of the Stanley Cup Playoffs.
* The Oilers captain, who has at least held a share of the NHL lead in points for 96 of 105 days (91.4%) this season, sits 13 points ahead of the next closest skater – teammate Leon Draisaitl (22-42—64). McDavid can become just the second player in League history to win the Art Ross Trophy at least three times before turning 25 (2016-17 and 2017-18). The other: Wayne Gretzky (5x; last: 1984-85).
* Scheifele (198-300—498 in 566 GP) has averaged a point per game since April 1 (3-7—10 in 10 GP) and now sits two points shy of becoming the fourth player to collect 500 career points with the Jets/Thrashers. Among players to debut with the franchise, only one reached the milestone prior to their 600th game: Ilya Kovalchuk (500 GP).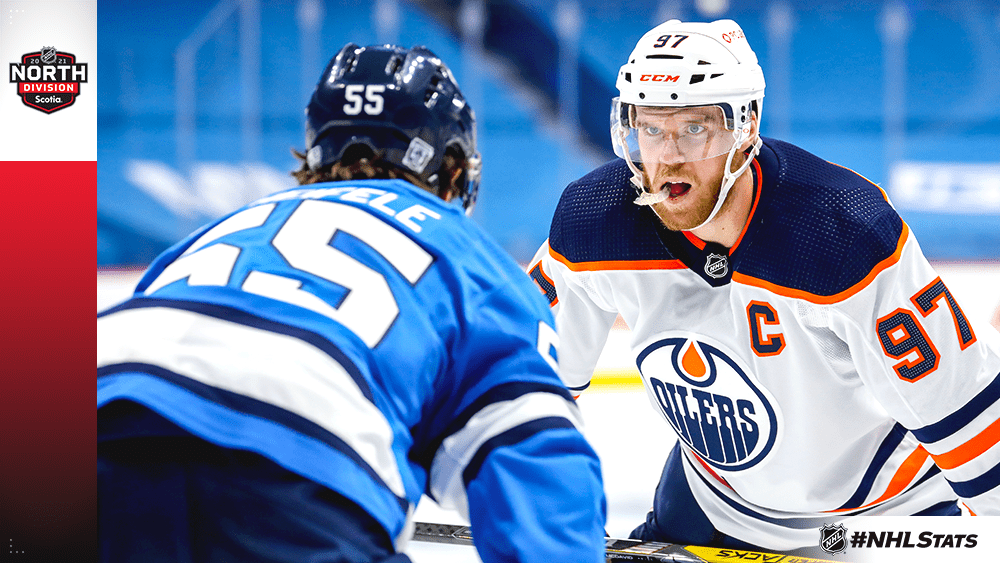 . . . WHILE CANADIENS AND FLAMES CONTINUE BATTLE FOR FOURTH
The fourth-place Canadiens (20-17-9, 49 points) and fifth-place Flames (21-23-3, 45 points) are set to continue their battle for the fourth seed in the Scotia North Division. Montreal sits four points ahead, but Calgary has narrowed the gap with consecutive regulation wins through the first two contests of a three-game set.
* The Flames, 6-2-0 against the Canadiens in 2020-21, are set to close out their season series with Montreal and can collect at least seven wins versus one opponent in a single season for the fourth time in franchise history (8 vs. SJS in 1992-93, 7 vs. LAK in 1985-86 & 7 vs. VAN in 1984-85).
CHYCHRUN LOOKS TO LEAD COYOTES WITH LATE-SEASON SURGE
Jakob Chychrun (14-19—33) and the Coyotes (21-22-5, 47 points) find themselves in a battle for the fourth and final playoff spot in the Honda West Division. Fifth-place St. Louis (20-19-6, 46 points), which has 11 scheduled games remaining and is also in action on Monday, trails Arizona by only one point with three contests in hand.
* Chychrun, in the midst of a career season in goals and points, leads all defensemen with 14 tallies in 2020-21. The 16th overall pick in the 2016 NHL Draft can become just the third blueliner in Coyotes/Jets history to conclude the season as the NHL's goal leader among defensemen, joining Oliver Ekman-Larsson (23 in 2014-15) and Phil Housley (23 in 1991-92).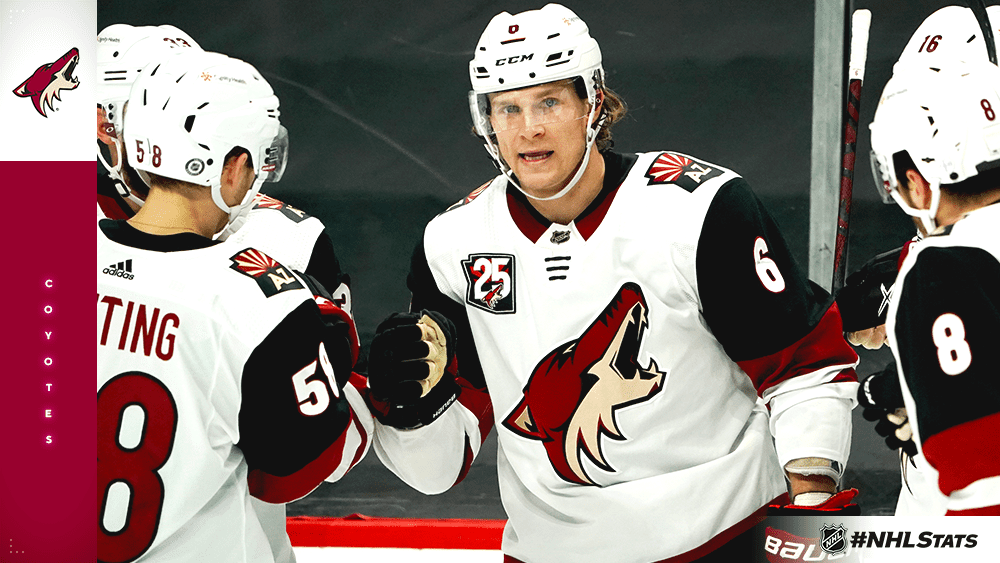 MacKINNON WITHIN REACH OF MATCHING LONGEST POINT STREAK OF HIS CAREER
Nathan MacKinnon and the NHL's longest active point streak (8-16—24 in 13 GP dating to March 27) are set to take to the ice when the Avalanche (31-10-4, 66 points) battle the Blues. The Colorado forward can match the longest point streak of his career (14 GP in 2017-18) and the longest by any player this season (Dougie Hamilton: 14 GP w/ CAR).
* MacKinnon can become just the third player to post multiple point streaks of at least 14 contests with the Avalanche/Nordiques franchise. Peter Stastny (5x; last: 16 GP in 1987-88) and Michel Goulet (2x; last: 14 GP in 1985-86) are the only ones to do so.
* In fact, only four active players have accomplished the feat multiple times: Chicago's Patrick Kane (4x), Anaheim's Ryan Getzlaf (2x) as well as Pittsburgh's Sidney Crosby (2x) and Evgeni Malkin (2x).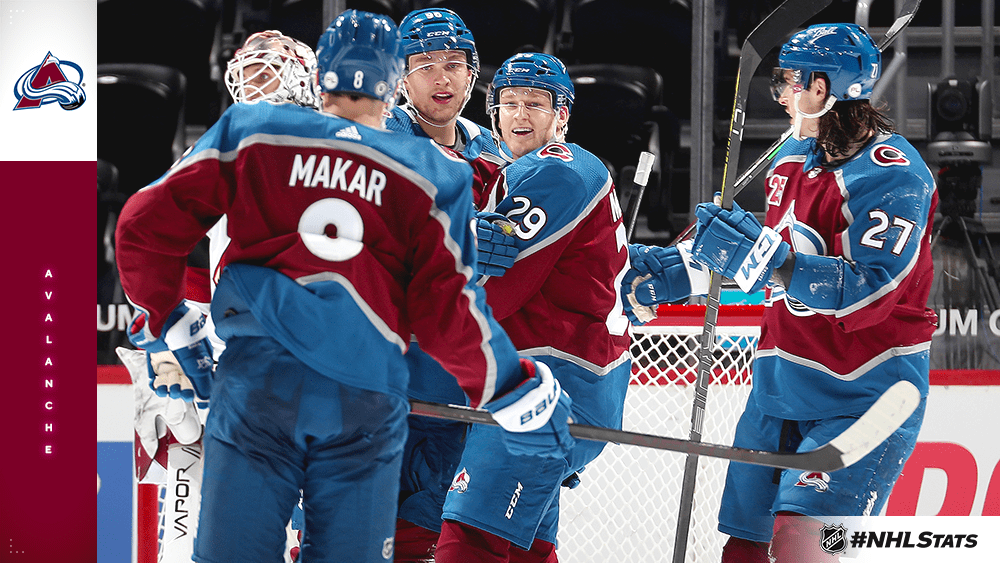 ZIBANEJAD HELPS RANGERS GAIN GROUND ON FOURTH-PLACE BRUINS
Mika Zibanejad scored a hat trick and Adam Fox collected three assists as the Rangers (25-18-6, 56 points) moved within four points of the Bruins (27-14-6, 60 points), who lost in regulation to the Penguins on Sunday, for fourth place in the MassMutual East Division.
* Zibanejad, whose 17 goals since March 1 trail only Mikko Rantanen (18) for the most among all players over that span, netted his NHL-leading third hat trick of the season and his sixth as a member of the Rangers.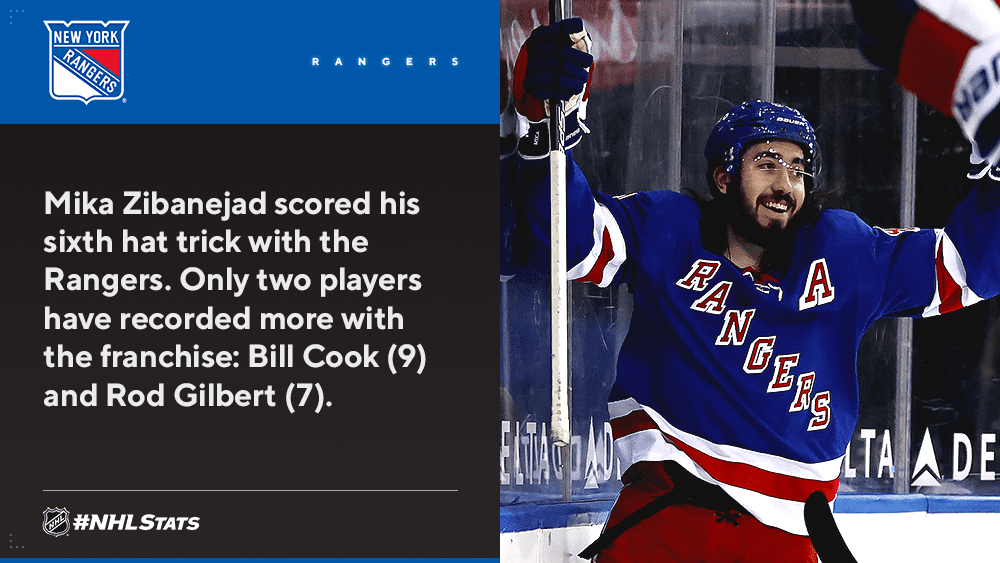 * Fox collected his 39th, 40th and 41st assists of the season (5-41—46 in 48 GP), the most among all defensemen. He required the sixth-fewest games (tied) by a Rangers blueliner to reach the 40-assist mark in a single season and fewest since Brian Leetch in 2000-01 (45 GP).
PENGUINS OVERTAKE FIRST PLACE IN MASSMUTUAL EAST
Jake Guentzel scored the only goal of the contest and Tristan Jarry turned aside all 30 shots he faced as the Penguins (32-14-3, 67 points) leapfrogged the idle Capitals (31-13-4, 66 points) into first place in the MassMutual East Division.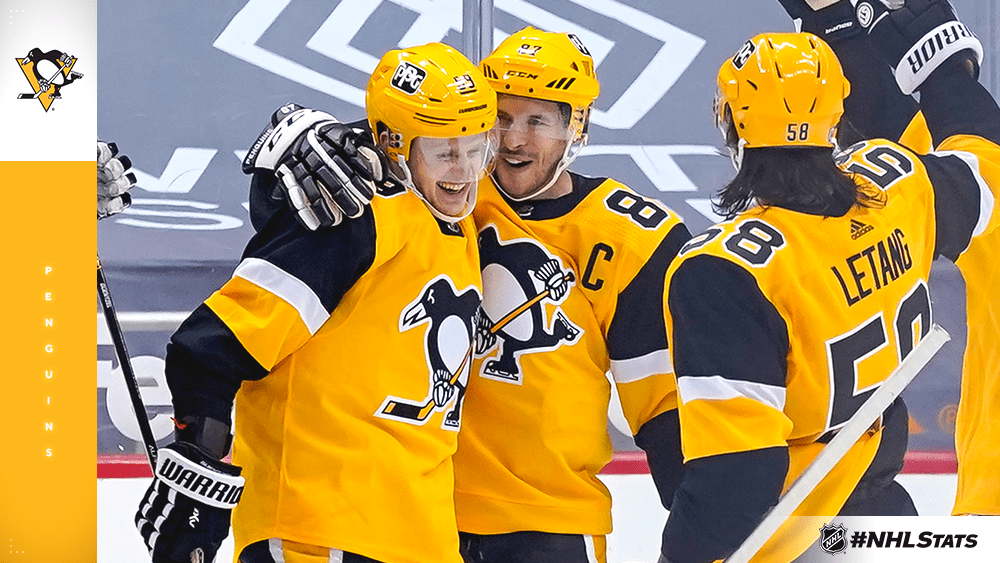 * On March 1, Pittsburgh (11-8-1, 23 points) found itself in fifth place, two points behind Philadelphia (11-4-3, 25 points) for fourth and five points behind first-place Washington (12-5-4, 28 points). The Penguins' rise in the standings has been the result of a 21-6-2 record since then, with their 21 victories trailing only the NHL-leading Golden Knights (22) for the most among all teams over that span.
* The Penguins – who improved to 8-0-2 in their last 10 games at PPG Paints Arena – also became the fourth team to record a home point streak of at least 10 contests this season, joining the Islanders (14 GP from Jan. 18 – March 11), Avalanche (13 GP from March 10 – April 12) and Wild (11 GP from Jan. 31 – March 25). Colorado's stretch is still active.
HEDMAN LIFTS LIGHTNING TO VICTORY WITH QUICK OT WINNER
The Lightning (32-14-2, 66 points) tied the game twice in regulation before setting the stage for Victor Hedman (1-1—2) 10 seconds into three-on-three. Hedman's seventh career overtime goal, and second this season, fell one second shy of the fastest by any player in Lightning history to start an overtime period (Mikael Andersson: 0:09 on Jan. 16, 1994 at WIN). Additionally, only one defenseman in NHL history scored a faster goal to start an extra frame.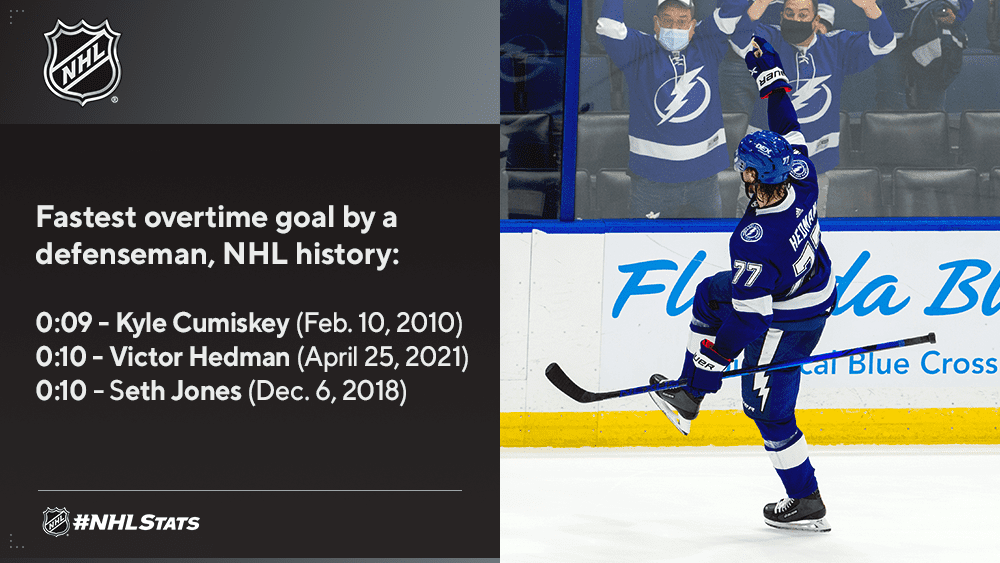 COURTESY NHLmedia.com