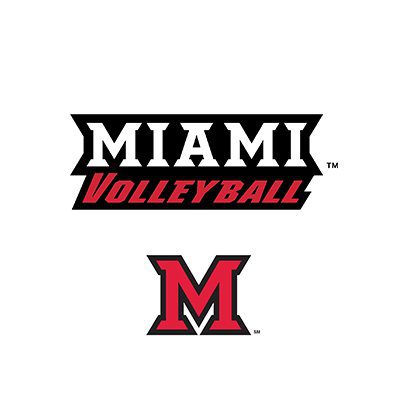 Fri, Mar 19, 2021
OXFORD, Ohio—Bolstered by a career-high 57 assists from senior Morgan Seaman and a career-best 38 digs from senior Abigail Huser, the Miami University volleyball team captured a 3-1 win against Eastern Michigan University on Friday night at Millett Hall, 25-18, 25-21, 21-25, 25-22. Miami moves to 9-8 on the season and in Mid-American Conference play, while the Eagles drop to 7-9.

HOW IT HAPPENED:
Miami opened up a quick 7-1 lead in the first set off a balanced offensive attack and led from start to finish. Miami pushed its lead to double figures off a block by senior Sarah Wojick and freshman Maggie McCrary, 24-14. The Eagles rattled off four unanswered before junior Sophie Riemersma put down a big kill to hand Miami the first set, 25-18. Wojick and junior Gaby Harper each recorded four kills in the set, while the RedHawks hit .356 as a team.
In the second set, Miami took an early 7-3 lead, spurred by a pair of Wojick kills and a service ace from Huser. The Eagles came back to take a 9-8 lead. The RedHawks pushed ahead to an 18-13 lead, but a 6-0 run by the Eagles handed EMU a 19-18 edge. Three kills from Riemersma and a block by Harper and McCrary helped lift Miami to a 25-21 win in the second set.
Miami led by as many as three early in the third set. With the Eagles holding a 13-10 advantage, Miami rattled off three unanswered points to knot the set. The teams went back and forth until the Eagles built a 21-18 lead. Miami pulled within 21-20 off a Harper kill, but EMU outscored Miami 4-1 down the stretch to take the third set, 25-21.
The Eagles took a 14-11 lead in the fourth set. Miami chiseled away and used a 5-0 surge powered by two kills each from Riemersma and senior Avarie Powell and one from Harper to push ahead of EMU, 21-19. The Eagles closed within one at 23-22, but a kill from Wojick set up match point, and sophomore Allyson Severance served up an ace to clinch the fourth set and the match for the RedHawks, 25-22.
NOTES:
In addition to her career-high 57 assists, Seaman also amassed 16 digs for the RedHawks.
Riemersma led the team with 18 kills.
Wojick and Powell had 14 kills apiece.
Harper added 13 kills and 15 digs.
UP NEXT:
Miami returns to the court to host Eastern Michigan in the second of two weekend matches at 5 p.m. on Saturday, March 20.
COURTESY MIAMI ATHLETIC COMMUNICATIONS