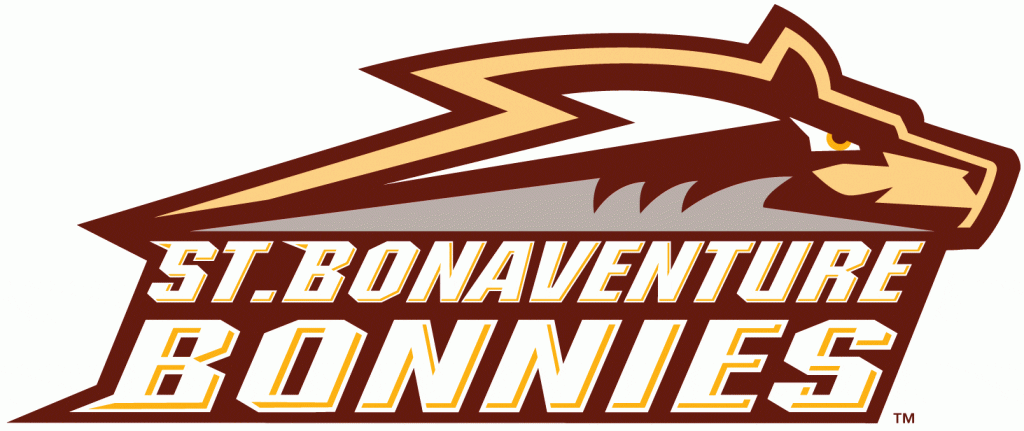 3/14/2021
DAYTON, OHIO — St. Bonaventure has not had the opportunity to play in front of fans this season, but Sunday afternoon at Dayton's UD Arena, after securing a 74-65 victory to earn its second-ever Atlantic 10 Championship title, the players acknowledge those who made the trip from Olean.
"As soon as you ran out on the court, you heard 'let's go Bonas'," St. Bonaventure guard Kyle Lofton said. "It just gave me flashbacks to us being at the Reilly Center. Going to Indianapolis and the NCAA Tournament is a dream-come true. Since kids we've been working for that and we can finally live the dream."
Indeed St. Bonaventure's win is its second conference title, with the first occurring in 2012. It also is the first time the Bonnies were both Atlantic 10 regular and conference-championship champions.
This is also the fifth time that the top seed in the A-10 Championship went the distance and won a title, with Saint Louis, the last to accomplish this in 2013.
Lofton, an All-Championship Team selection, led all scorers with his 23 points and also added six assists, while converting all seven of his free-throw attempts. Lofton scored 17 of his points in the second half.
"He's everything, he's the quarterback," St. Bonaventure coach Mark Schmidt said. "He handles the pressure, gets us in our sets, he guards the best guy. He is invaluable. Great IQ, competitor, he's our leader. Without Kyle on the court, we struggle. He's a special player, a special kid and I'm lucky and glad he's on our team."
Most Outstanding Player Osun Osunniyi earned his fifth double-double of the season with his 14-point, 12-rebound performance. Dominick Welch scored 13 points and All-Championship Team member Jalen Adaway contributed 10 points.
"I'm really proud of our team, the players and my staff," said Schmidt. "We didn't change what got us there, we defended, rebounded and took care of the basket. Against a VCU twam so talented, they'll get out on the break and when they get on the break, they are lethal. We did a good job outrebounding them by 10 and made the plays when we needed to. I'm proud to win the regular season and tournament for the first time in school history. I am so proud of our players and so thankful. Now we move onto Indianapolis and see what happens."
As a team, St. Bonaventure outrebounded VCU 42-32.
VCU saw All-Championship Team honoree Nah'Shon "Bones" Hyland score all 21 of his points in the second half after picking up three fouls in the first seven minutes of Sunday afternoon's contest.
Vince Williams pieced together 12 points and nine rebounds, while Josh Banks earned 10 points and was a big reason why VCU's bench outscored St. Bonaventure 18-5.
"Hats off and congratulations to St. Bonaventure," VCU coach Mike Rhoades said.
"They played a great game, a championship-level game. They were the best team in the league this year and they showed it today. We fought today and we competed but we really fought the game. We got at times really emotional and it really hurt us with our shot selection and missing defensive assignments. We allowed adversity to affect us multiple possessions. For most of the game, St. Bonaventure was in control because of how they responded to thinks. We have to learn from it. I love this team, I love how far we've come and this hurt, but it needs to hurt for us to take the next step."
Though VCU scored the first four points in the contest, an Adaway three-point basket place St. Bonaventure back in front. It would not trail for the remainder of the afternoon.
The basket was Adaway's second from deep and helped the Bonnies convert five of its first six three-point shot attempts.
It took 6:55 of game action for Hyland to pick up three fouls and he sat for the remainder of the first half.
"We've played with Bones out before," said Rhoades. "In this game, and then out that long because of fouls, it affects you. It affected us too much, to be honest with you."
Without Hyland, the Atlantic 10 Player of the Year, Banks led VCU's efforts, though the Rams trailed by seven points at halftime.
Midway through the second half, St. Bonaventure went on a 12-2 run. Lofton made a three-pointer, one of four on the game and following another attempt, both Welch and VCU's Hason Ward were assessed technical fouls.
VCU made its two free throws, then Lofton made all five of his, with two coming for the infraction and three coming from the previously mentioned three-point attempt.
This sequence of events placed the Bonnies in front by 17 points.
Though VCU cut the contest to seven points, went on a 7-2 run over 1:05 towards the end of regulation to secure the championship.
"It's bittersweet," Schmidt said. "I'm really proud of our guys and it's a little bit surreal. When (President) Dr. (Dennis) DePerro passed, this season was in his honor. When we cut those nets down, one of those is going to his family. He's done so much in a short period of time for Bonaventure, athletics, men's basketball in particular. That one was for him and hopefully that helps a little bit with their family."
St. Bonaventure has secured its spot in the NCAA Tournament, though it, as well as a hopeful VCU will learn its respective fates during the NCAA Men's Tournament Selection Show which airs at 6 p.m. Sunday evening on CBS. All NCAA Tournament games will occur in Indianapolis.
Atlantic 10 All-Championship Team
Kellan Grady Davidson
Nah'Shon "Bones" Hyland VCU
Kyle Lofton St. Bonaventure
Osun Osunniyi St. Bonaventure
Jalen Adaway St. Bonaventure
Most Outstanding Player
Osun Osunniyi St. Bonaventure
COURTESY ATLANTIC CONFERENCE COMMUNICATIONS