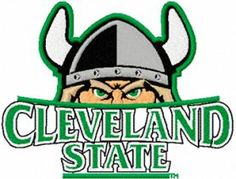 CLEVELAND, Ohio – The Cleveland State Vikings worked extra to earn their eighth-straight win, claiming a, 74-71, overtime victory over Northern Kentucky Saturday night inside the Wolstein Center.
With the win, Cleveland State remains unbeaten in Horizon League play, marking the best start to HL play in program history, surpassing the 2007-08 team's 7-0 start. The Vikings now have their best start to conference play since the 1992-93 season (14-0, Mid-Continent Conference).
The Vikes' eight-game winning streak is also CSU's longest winning streak since the 2010-11 season (12 straight games).
After Northern Kentucky scored the first two points of overtime, the Vikings held the Norse scoreless for over three minutes while scoring nine consecutive points to take a commanding seven-point edge. NKU made a pair of triples in the final 15 seconds of overtime to make it close in the final seconds, but a buzzer-beater attempt by the Norse to force a second extra session was off the mark.
Torrey Patton had CSU's first double-double of the season as he produced a team-high 18 points and a game-high 12 rebounds. Craig Beaudion tallied 14 points, aided by a 9-for-10 effort from the charity stripe, along with a team-high six assists and a game-high five steals while Alec Oglesby contributed 17 points on 6-of-10 shooting.
The final 10 minutes of regulation was nip and tuck with relatively little change in scoring. The game was tied, 51-51, with just over five minutes left as each side scored just six points over the final stretch. Beaudion made a pair of clutch free throws with 34 seconds left in regulation to tie the contest and force the extra session.
At the intermission of Saturday's league contest, Cleveland State held a slim 31-29 advantage.
Northern Kentucky began the second half of a 7-2 run to take a 36-33 lead. The Norse would extend their lead to as many as seven points.
With CSU trailing by six, 45-39, Craig Beaudion buried a three-pointer and then Algevon Eichelberger followed up with an offensive put-back, bringing the Vikings within one point of the Norse, 45-44, with 9:58 on the clock. Neither team would lead by more than three points for the remainder of regulation.
Cleveland State used a significant advantage in bench points Saturday (29-14) to claim the series sweep over the Norse after the Vikings had posted a 58-44 win Friday evening.
QUICK HITS:
With Cleveland State's overtime victory over the Northern Kentucky Norse, the Vikings improve to 8-0 in the Horizon League, marking the best start to #HLMBB play in program history.
The Vikings are off to their best start in any league/conference play since beginning the 1992-93 season 14-0 (Mid-Continent Conference).
Cleveland State, winners of eight-in-a-row, are in the midst of their longest winning streak since the 2010-11 season (12 straight games).
The Vikes notched an .800 clip from the charity stripe on Saturday, connecting on 24-30 free throws.
In overtime, Cleveland State shot a .875 mark from the free throw line (14-16).
Cleveland State swiped 11 steals, marking the second straight game of recording 10-plus thefts, as well as the third game this season.
The Vikings held the edge in bench points (29-14), points in the paint (26-20), fast break points (15-8) and second chance points (14-12).
Cleveland State held a +7 advantage in rebounds (38-31) and a plus +2 advantage in assists (13-11).
Three Vikings scored 10-plus in Saturday's Horizon League win: Torrey Patton (18), Alec Oglesby (17), Craig Beaudion (14).
Cleveland State is now 1-0 in overtime games this season.
Torrey Patton recorded his first double-double of the season, notching a team-high 18 points, a team-high 12 rebounds, two assists and three steals in 39.4 minutes of play.
Saturday's double-double marked Patton's fourth career double-double.
Patton has scored in double figures in every game during Cleveland State's eight-game winning streak.
Saturday's contest also marked Patton's second game this season pulling down 10-or-more rebounds and fifth career game with 10-plus boards.
Alec Oglesby led all bench scoring, finishing with a career-high 17 points on a 6-10 (.600) clip from the field, in addition to a 5-8 (.625) mark from the three-point line and two rebounds in 26.2 minutes.
Craig Beaudion swiped a career-high five steals in Saturday night's league victory, in addition to a season-high tying 14 points, a season-high six assists, and three rebounds in 43.1 minutes of play.
Deante Johnson rejected one shot, marking the ninth game this season he has swatted at least one shot, as well as the fifth straight game.
GAME RECAP COURTESY CLEVELAND STATE ATHLETIC COMMUNICATIONS