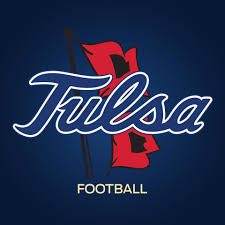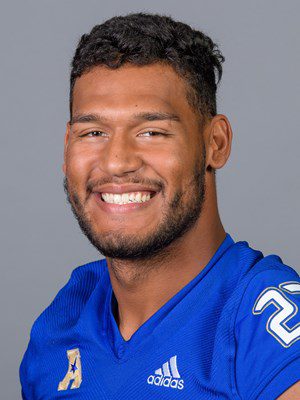 The Nagurski Trophy honors the nation's top defensive player
CHARLOTTE, N.C. –– Capping an outstanding junior season, Tulsa linebacker Zaven Collins has won the 2020 Bronko Nagurski Trophy, which honors college football's national defensive player of the year, it was announced today by the Football Writers Association of America (FWAA) and the Charlotte Touchdown Club.
 
In 2016, Collins was a high school senior quarterback at tiny Class A Hominy (Okla.) High School. His only Division I scholarship offer came from The University of Tulsa. Today, Collins has reached the pinnacle as the best defensive player for the 2020 college football season.
 
Collins is the first Tulsa player to win any of the current on-field performance awards and becomes the school's first FWAA All-American since offensive lineman Jerry Ostroski in 1991. He was selected among five finalists that included Coastal Carolina defensive end Tarron Jackson, Iowa defensive tackle Daviyon Nixon, Notre Dame linebacker Jeremiah Owusu-Koramoah and Alabama cornerback Patrick Surtain II.
 
The FWAA All-America Committee selected Collins as this year's Bronko Nagurski Trophy recipient after voting from the entire membership. The official presentation of the award by the FWAA and the Charlotte Touchdown Club, the award's sponsor, will occur at a later date.
At 6'4″, 260 pounds, Collins has become one of the most dynamic defenders in college football. He has totaled 54 tackles, 11.5 TFLs for minus 49 yards, four sacks for minus 25 yards, four interceptions for 152 return yards, two TDs off INTs, one forced fumble and one fumble recovery, as well as one safety, in eight games. Two of Collins' interceptions were game-clinchers, including a pickoff against No. 19 SMU that ended any possible final scoring drive for the Mustangs and his pick-6 in overtime against Tulane that he took 96 yards for the game-winning score.

Collins was unanimously chosen as the American Athletic Conference Defensive Player of the Year, becoming the first player in league history to earn unanimous player-of-the-year honors, and also receiving unanimous first-team all-AAC accolades.

"I'm honored and blessed to receive the Bronko Nagurski Trophy. It's awe-inspiring to be mentioned in the same breath as Bronko Nagurski and the many great players who won this award before me," said Collins. "I'm so thankful for this honor and for all the people who have put me in this position – my family, coaches, teammates and fan base. I can't thank the coaching staff and my teammates enough. Coach G (DC Joe Gillespie) and Coach Monty (Head Coach Philip Montgomery) have pushed me, and the absolute best teammates have helped make me better each day."

"It's a great honor to represent my family, the city of Tulsa and The University of Tulsa in receiving the Bronko Nagurski Trophy," Collins added.

Collins joins a long and impressive list of Nagurski winners, including Bradley Chubb (2017), Aaron Donald (2013), Luke Kuechly (2012), Ndamukong Suh (2009), Terrell Suggs (2002), Champ Bailey (1998), Charles Woodson (1997) and Warren Sapp (1994). Last year's winner was Ohio State defensive end Chase Young. Collins and Temple linebacker Tyler Matakevich, the 2015 recipient, are the only two Nagurski winners from a Group of Five school, both hailing from institutions in the American Athletic Conference.

Collins was named the Bronko Nagurski National Defensive Player of the Week after his performance in Tulsa's 28-24 comeback win over SMU. He totaled six tackles, two TFLs for -10 yards, one sack for -9 yards and one QB hurry to go along with his game-sealing interception.

"I'm absolutely thrilled to have a young man like Zaven Collins be recognized as the Bronko Nagurski winner," said Tulsa Head Coach Philip Montgomery. "Being mentioned with the likes of former award-winners such as Warren Sapp and Charles Woodson and carrying on the name of the original tough guy himself Bronko Nagurski is a tremendous honor. He was a guy who played multiple positions and played the game at a high level with so much passion and grit. I think Zaven embodies what Bronko Nagurski and this award represent."

"To have the Bronko Nagurski Trophy winner come from our University, what an honor," added Montgomery.

Among his many in-season awards, Collins also earned National Defensive Player of the Week honors once each from the Chuck Bednarik Award and the Walter Camp Foundation. He was named the American Athletic Conference Defensive Player of the Week four times in seven weeks.

In four games against top-25 opponents this season –– #11 Oklahoma State, #11 UCF, #19 SMU and #6 Cincinnati –– Collins had 25 solo tackles among his 35 total stops and 10 TFL's for minus 45 yards, four sacks and two interceptions. Collins opened the season with six tackles, all solos, four stops for -24 yards and three sacks for -16 yards against the No. 11-ranked Oklahoma State Cowboys.

Collins also remains one of three finalists for the Chuck Bednarik Award and earlier this week was named the Butkus Award runner-up for the nation's top linebacker.

"Winning the Bronko Nagurski Trophy is such a wonderful accomplishment for Zaven, for this team and this university. Not just the production that he has had this season, but over the course of his career is phenomenal. He's an impactful player and the most hungry football player that I've gotten to coach. He has a passion and a work ethic to be great," said Tulsa Defensive Coordinator and Collins' position coach Joe Gillespie.

The last Tulsa player to earn a national award for his on-field performance was receiver Howard Twilley, when he was named the 1965 United PressInternational Lineman of the Year. Since then, quarterback Paul Smith earned the Wuerffel Trophy in 2007 for community service and academic and athletic success, while offensive tackle Wilson Holloway won the FedEx Orange Bowl/FWAA Courage Award Winner in 2008 as he battled hodgkins lymphoma.

The FWAA has chosen a National Defensive Player of the Year since 1993. In 1995, the FWAA named the award in honor of the legendary two-way player from the University of Minnesota. Nagurski dominated college football then became a star for professional football's Chicago Bears in the 1930s. Bronislaw "Bronko" Nagurski is a charter member of both the College Football and Pro Football Halls of Fame.
The Bronko Nagurski Trophy is a member of the National College Football Awards Association (NCFAA), which encompasses the most prestigious awards in college football. Founded in 1997, the NCFAA and its 25 awards now boast over 800 recipients, dating to 1935. Visit ncfaa.org and @NCFAA on Twitter to learn more about the association.
Founded in 1941, the Football Writers Association of America consists of 1,300 men and women who cover college football. The membership includes journalists, broadcasters and publicists, as well as key executives in all the areas that involve the game. The FWAA works to govern areas that include game-day operations, major awards and its annual All-America team. For more information about the FWAA and its award programs, contact Steve Richardson at tiger@fwaa.com.
About the Charlotte Touchdown Club
The Charlotte Touchdown Club is a non-profit organization founded in 1990 for the purpose of promoting high school, collegiate, and professional football in the Charlotte, N.C., region. The club's activities and services focus community attention on the outstanding citizenship, scholarship, sportsmanship, and leadership of area athletes and coaches. Since 1990, the club has raised more than $2 million to benefit area high school and collegiate athletics. For more information, contact John Rocco (704-347-2918 or jrocco@touchdownclub.com). The official website of the Charlotte Touchdown Club is touchdownclub.com.
---
MORE OF HIS COACHES COMMENTS . . .
"Zaven Collins is what college football is all about. He does a great job in the classroom, does everything you ask of him on and off the field, a great leader and a great teammate. He has always put his team in front of himself. Even with the recognition he has received this year, he'd be the first one to tell you he hasn't done that by himself. It's been with the help of a lot of his teammates pushing him, coaches pushing him and his dedication to being great. He's done that same thing in the classroom. This is young man who has poured a lot into being a true student-athlete and being a winner on both sides of that."
–– Philip Montgomery, Tulsa Head Coach

"To go through this journey with Zaven, coaching linebackers and being in that meeting room and on the practice field every day with him, and now seeing all of his hard work come to fruition is a tremendous blessing for him, his family and this program. Zaven is probably still a little bit in awe as to what it all means right now, but the significance of winning the Bronko Nagurski Trophy is extremely impactful for him and this university."
–– Joe Gillespie, Tulsa Defensive Coordinator & Linebacker Coach
COURTESY TULSA ATHLETIC COMMUNICATIONS