By Burt Leeson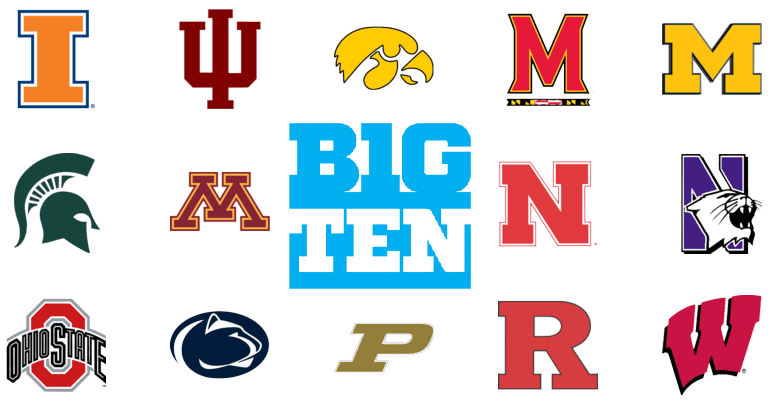 11/13/2023
With just two weekends remaining in the regular season, all 14 Big Ten teams will take the field this week. The action opens on Saturday at noon ET and features seven conference games and six divisional matchups. The complete schedule can be found to the right.
• Michigan and Ohio State sit atop the East Division standings with matching 7-0 Big Ten records, while Penn State is third at 5-2 in conference play. Iowa leads the West Division with a 5-2 Big Ten record, followed by Minnesota, Nebraska, Northwestern and Wisconsin in second at 3-4.
• With a 22-0 victory over Rutgers on Saturday, Iowa earned at least a share of the Big Ten West Division title. The West Division participant in the Big Ten Football Championship Game presented by Discover is yet to be determined. Iowa can clinch the West Division title outright and secure a berth into the Big Ten Football Championship Game with a win in one of their two remaining games.
• Four Big Ten teams appear in the AP Poll this week. Michigan leads the conference at No. 2, followed by No. 3 Ohio State and No. 12 Penn State, while Iowa is receiving votes.
• The College Football Playoff will release its next set of top 25 rankings on Tuesday, Nov. 14. The Big Ten had four teams in last week's CFP's rankings, including three teams in the top 10: No. 1 Ohio State, No. 3 Michigan, No. 20 Penn State and No. 22 Iowa.
• There are just seven undefeated teams remaining in the FBS, including two Big Ten teams: Michigan (10-0) and Ohio State (10-0). The Wolverines travel to College Park this weekend to face Maryland, while the Buckeyes welcome Minnesota.
• Michigan and Penn State currently rank among the top 15 nationally in both scoring offense and scoring defense. The Wolverines lead the nation in scoring defense (7.5 points per game), while ranking No. 10 nationally in scoring offense (39.0 points per game). The Nittany Lions rank No. 4 nationally in scoring defense (13.1 points per game), while ranking 15th in scoring offense (37.7 points per game).
• Five additional Big Ten teams rank in the top 25 in terms of scoring defense: Ohio State (2nd, 9.9 points per game), Iowa (3rd, 12.3 points per game), Nebraska (18th, 18.2 points per game), Rutgers (19th, 18.3 points per game) and Wisconsin (24th, 19.6 points per game).
• Additionally, the Big Ten has three teams in the top 15 in terms of rushing defense: No. 2 Penn State (77.2 yards per game), No. 3 Nebraska (3rd, 79.6) and No. 12 Michigan (12th, 97.5), and five teams in the top 15 in terms of defensive passing efficiency: Ohio State (1st, 93.06), Michigan (2nd, 94.97), Iowa (4th, 100.14), Penn State (105h, 110.49) and Rutgers (13th, 113.54).
• Michigan looks to claim its NCAA-leading 1,000th victory at Maryland this weekend (999-353-36 all-time record). The Wolverines are currently on a program-record 20-game conference winning streak, surpassing the 19-game Big Ten winning streak spanning 1990-92. Michigan has claimed wins in 26 of its last 27 games against conference schools.
• Iowa, Maryland, Michigan, Ohio State, Penn State and Rutgers have all secured bowl eligibility by reaching six wins this season, while Illinois, Minnesota, Nebraska, Northwestern and Wisconsin need just one more win to become eligible. The Big Ten will continue to feature the largest bowl lineup in conference history.
• Seven Big Ten Conference programs appear in the top 20 of the latest NCAA attendance rankings, including the nation's top three schools: No. 1 Michigan (109,864 fans per game), No. 2 Penn State (108,958), No. 3 Ohio State (103,747), No. 12 Nebraska (86,905), No. 18 Wisconsin (75,917), No. 19 Michigan State (70,211) and No. 20 Iowa (69,250). Additionally, Big Ten teams own 14 of the top 15 single-game attendance highs this season, including the top nine spots.
• Maryland's Taulia Tagovailoa, Michigan's Zak Zinter and Penn State's Olumuyiwa Fashanu were named finalists for the 2023 William V. Campbell Trophy on Oct. 25. Now in its 34th year, the Campbell Trophy is presented annually to the nation's top football scholar-athlete. The finalists will travel to the 65th NFF Annual Awards Dinner Presented by Las Vegas on Dec. 5, where one member of the class will be declared as the winner of the 34th Campbell Trophy and have his postgraduate scholarship increased to $25,000.
• The 2023 Big Ten Football Championship Game will be played at 8 p.m. ET on Saturday, Dec. 2, at Indianapolis' Lucas Oil Stadium and will be televised nationally on FOX. The winner will earn the Amos Alonzo Stagg Championship Trophy and a chance to play in one of the six bowls that comprise the College Football Playoff.
• This season's Playoff Semifinals will take place Monday, January 1, 2024, at the Allstate Sugar Bowl and the Rose Bowl. Houston will host the College Football Playoff National Championship on Monday, January 8, 2024, at NRG Stadium. The College Football Playoff matches the No. 1 ranked team vs. No. 4, and No. 2 vs. No. 3 in semifinal games that rotate annually among six bowl games – the Goodyear Cotton Bowl, Vrbo Fiesta Bowl, Chick-fil-A Peach Bowl, Capital One Orange Bowl, Allstate Sugar Bowl and Rose Bowl Game.
---
COURTESY BIG TEN COMMUNICATIONS