By Mona Hatfield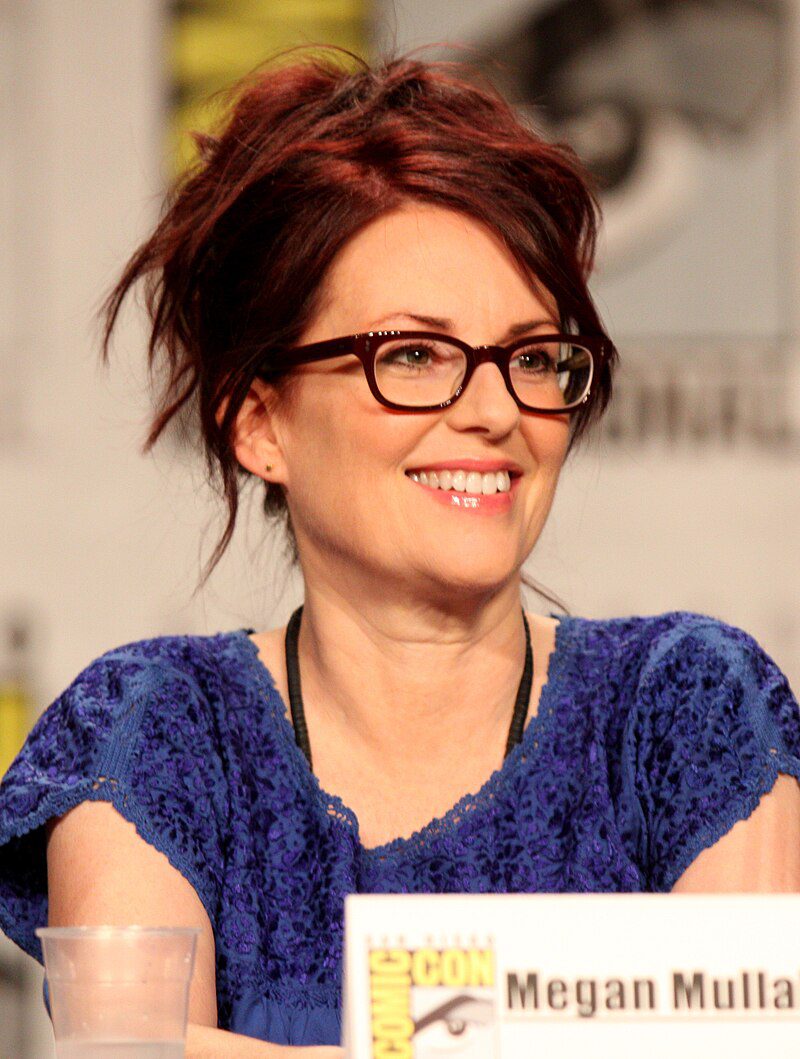 FROM WIKIPEDIA COMMONS
Megan Mullally (born November 12, 1958) is an American actress, singer and comedian. She is best known for playing Karen Walker in the NBC sitcom Will & Grace (1998–2006, 2017–2020), for which she received eight Primetime Emmy Award nominations for Outstanding Supporting Actress in a Comedy Series, winning twice, in 2000 and 2006. She also received nominations for numerous other accolades for her portrayal, including seven consecutive Screen Actors Guild Awards nominations for Outstanding Performance by a Female Actor in a Comedy Series, winning three times, in 2001, 2002, and 2003, as well as receiving four Golden Globe Award nominations.
From 2006 to 2007, Mullally hosted the talk show The Megan Mullally Show. Since then, she has been a series regular on several television series, such as In the Motherhood, Party Down, Childrens Hospital, and Breaking In. She has also appeared in guest spots and recurring roles on other comedy series including, Happy Endings, Bob's Burgers, Parks and Recreation, 30 Rock, Up All Night, Boston Legal, The New Adventures of Old Christine, Party Down, and The Great North. In addition to television, Mullally has also ventured into film, with appearances in Smashed (2012), The Kings of Summer (2013), and Why Him? (2016).
TODAY'S ALMANAC
Second Summer (also known as "Indian summer") is a period of warm weather following a cold spell or a hard frost. It can occur between St. Martin's Day (November 11) and November 20, although the Almanac adheres to the proverb, "If All Saints' brings out winter, St. Martin's brings out Indian summer." As for the origin of the name, some say it comes from the Narragansett people, who believed that the condition was caused by a warm wind sent from the court of their southwestern god, Cautantowwit. Learn more about Second Summer.
Question of the Day
If a recipe calls for one pound of eggs, how many would that be?
Approximately nine eggs equals one pound.
Advice of the Day
The time to harvest parsnips or turnips is after a hard frost.
Home Hint of the Day
When burning a kerosene lamp, make sure you have at least 18 inches of air space above the chimney. Otherwise, the heat rising from the chimney can be enough to catch something on fire.
Word of the Day
Staunch
Strong and tight; sound; firm; as, a stanch ship.
Puzzle of the Day
Why was the giant Goliath very much astonished when David hit him with a stone?
Because such a thing had never entered his head before.
Born
Sor Juana Ines de la Cruz

 

(poet)

 

– 

Elizabeth Cady Stanton

 

(reformer)

 

– 

Auguste Rodin

 

(sculptor)

 

– 

Harry Andrew Blackmun

 

(lawyer)

 

– 

Joseph Coors

 

(brewer)

 

– 

Kim Hunter

 

(actress)

 

– 

Grace Kelly

 

(actress and later known as Her Serene Highness Princess Grace of Monaco)

 

– 

Neil Young

 

(musician)

 

– 

Megan Mullally

 

(actress)

 

– 

Nadia Comaneci

 

(gymnast)

 

– 

Ryan Gosling

 

(actor)

 

– 

Anne Hathaway

 

(actress)

 

– 
Died
Eve Arden

 

(actress)

 

– 

Bill Dickey

 

(baseball player)

 

– 

Billy Guy

 

(singer)

 

– 

Jonathan Brandis

 

(actor)

 

– 

Ira Levin

 

(author)

 

– 
Events
San Francisco-Oakland Bay Bridge opened

– 

Ellis Island federal immigration station closed in N.Y./N.J.

– 

Largest iceberg on record (208 miles long, 60 miles wide) discovered by U.S.S. Glacier

– 

First episode of Absolutely Fabulous aired

– 

Voters OK'd creation of Nunavut territory

– 
Weather
A heavy snowstorm hit all of New England

– 
COURTESY www.almanac.com