By Chris Garvin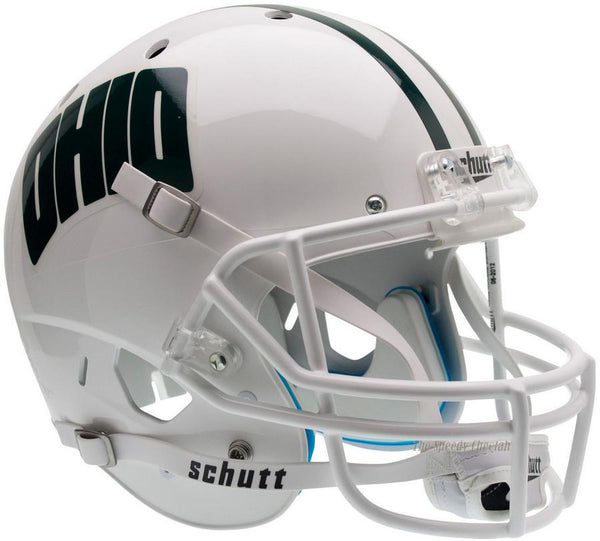 11/7/2023
FOLLOW OHIO FOOTBALL: Facebook | Twitter | Instagram
BUFFALO, N.Y.—The Ohio football team (7-3, 4-2 MAC) defeated the Buffalo Bulls (3-7, 3-3 MAC) at UB Stadium Tuesday evening (Nov. 7), 20-10. This marks Ohio's first time beating the Bulls on the road since 2019.
Graduate student quarterback Kurtis Rourke (Oakville, Ontario, Canada) finished the game 14-21 with no interceptions on 121 yards in the air. On the ground, Rourke recorded seven carries. Redshirt sophomore running back Sieh Bangura (Bowie, Md.) led the team with 17 carries on 78 rushing yards, scoring both of the team's touchdowns.
Defensively, graduate student linebackers Keye Thompson (Barberton, Ohio) and Bryce Houston (Lewis Center, Ohio) led the team with 13 and 12 total tackles, respectively. Thompson finished the game with 12 solo stops, one forced fumble and one fumble recovery while Houston recorded 10 solo tackles.
After a scoreless first quarter, the Bulls put the first three points on the board with a 41-yard field goal to wrap up a 10-play, 71-yard drive.
Ohio evened the score with 8:48 left in the third quarter, with freshman kicker Gianni Spetic (Chardon, Ohio) kicking a 29-yard field goal. Bangura gave Ohio the lead with a two-yard rushing touchdown, marking the first touchdown of the day. After a successful PAT by Spetic, Buffalo trailed Ohio, 10-3.
The Bobcats' lead was short lived, however. The following drive, the Bulls moved down the field with a 52-yard pass before capping off the eight-play drive with a rushing touchdown to tie the game, 10-10.
With 8:52 remaining in the game, Spetic kicked his second field goal of the day to reclaim Ohio's lead. Bangura extended the Bobcats' lead with less than two minutes remaining in the game, giving Ohio a 10-point advantage. Ohio's defense held the Bulls, allowing the team to go into victory formation to win, 20-10.
Up next, the Bobcats return to action on Wednesday, Nov. 15 when the host the Central Michigan Chippewas. Kickoff is set for 7 p.m. at Frank Solich Field at Peden Stadium; television network will be announced at a later date.
OHIO GAME NOTES
https://ohiobobcats.com/documents/2023/11/1/ohio_fb_110723_buffalo.pdf
GAME PREVIEW
ATHENS, Ohio—The Ohio football team (6-3, 3-2 MAC) are set to play their first "Midweek MACtion" game against the Buffalo Bulls (3-6, 3-2 MAC) next Tuesday (Nov. 7) in Buffalo, N.Y. Kickoff is set for 7:30 p.m. ET at UB Stadium. The game can be seen on ESPN2.
The Bobcats' matchup can also be heard on the Ohio Sports Network from Learfield. Russ Eisenstein returns for his 16th season as the "Voice of the Bobcats" and will be joined by Rob Cornelius, who has been a part of the broadcasts for two decades.
SERIES HISTORY VS. BUFFALO
The Bobcats and the Bulls have met 28 times since 1949 with a series record of 17-11. The two teams last met in Athens during the 2022 season, where Ohio won 45-24. This victory marked their fifth victory at Frank Solich Field and their sixth of the season, making them Bowl eligible.
SCOUTING BUFFALO
The Bulls are currently 3-6 overall and 3-2 in MAC play, falling to the Toledo Rockets 31-13 last Tuesday (Oct. 31).
On the season, Buffalo averages 24.44 points on 132.8 rushing yards and 191.22 passing yards per game.
Individually, running back Ron Cook Jr. leads the Bulls on the ground, scoring five rushing touchdowns on 107 carries and 469 yards. Running back Mike Washington Jr. is just behind him with 320 yards, 80 carries and two touchdowns while running back Jacqez Barksdale has two touchdowns on 39 attempts. In the air, quarterback Cole Snyder is 172-for-311 with 12 touchdowns, throwing nine interceptions in 1,683 yards. Quarterback CJ Ogbonna has played in five games so far this season, throwing five completions in 38 yards. Ogbonna is also a threat on the ground, netting 74 rushing yards and one rushing touchdown in 17 attempts.
Defensively, linebacker Joe Andreessen has a team-best 63 tackles, including 39 solo stops. Defensive end Max Michel leads the team in sacks (4) while safety Devin Grant leads the MAC with five interceptions.
Kicker Alex McNulty is 24-for-24 in PATs and 8-for-15 in field goals. Punter Anthony Venneri has 42 punts on the season, highlighted by 11 passing the 50-yard mark and longest clocking in at 64 yards.
LAST TIME OUT 
Last Saturday (Oct. 28), the Bobcats hosted the Miami RedHawks, falling 30-16. This loss marks Ohio's first loss at home since the 2021 season and their first time since 2019 dropping a Battle of the Bricks.
Defensively, linebackers Keye Thompson and Bryce Houston led the way, recording 12 and 10 tackles, respectively. Defensive end Vonnie Watkins finished the day with one forced fumble while safety Adonis Williams Jr. recorded a pass breakup.
Wide receivers Sam Wiglusz and Miles Cross recorded 79 receiving yards each, while Tyler Walton had the only receiving touchdown of the day. On the ground, running back Sieh Bangura scored one touchdown on 38 rushing yards and nine carries.
The Bobcats took a 9-0 lead in the first quarter with a two-yard rushing touchdown by Bangura and a 33-yard field goal from Gianni Spetic, but two RedHawk field goals cut their lead to three points in the second quarter. With 1:21 left in the half, a Miami rushing touchdown put the RedHawks in the lead, 13-9.
Miami extended their lead in the third quarter, scoring with a 32-yard field goal and a three-yard rushing touchdown. They wrapped up a seven-play, 72-yard drive with a 46-yard passing touchdown, putting Ohio at a 21-point deficit.
With 7:56 remaining in the game, Walton snuck into the end zone for Ohio's second touchdown of the game, but were unable to catch the RedHawks and fell, 30-16.
SCOUTING OHIO 
Currently, the Bobcats are 6-3 overall and 3-2 in MAC play. They average 21.78 points per game on 132.9 rushing yards and 218.78 passing yards per game.
In the air, Kurtis Rourke is 147-for-233 on 1,656 yards, throwing 10 touchdowns in eight games. Parker Navarro has participated in four games, going 7-for-10 with two passing touchdowns. Both are threats on the ground as well and are currently third and fourth, respectively, on the team in rushing yards. Rourke has two rushing touchdowns while Navarro claims the longest rush this season (52 yards).
Running backs Sieh Bangura and O'Shaan Allison lead the Bobcats on the ground. Bangura has a team-best four rushing touchdowns on 486 yards and 117 carries while Allison is right behind him with 113 carries and one touchdown on 347 yards. Bangura has also tallied one receiving touchdown on 17 receptions.
Wide receiver Sam Wiglusz has recorded three touchdowns on 44 receptions and 519 yards while wide receiver Miles Cross has a team-best four receiving touchdowns on 417 yards.
Defensively, linebacker Bryce Houston leads the team with 93 total tackles and 39 solo stops, putting him third in the MAC and seventh in FBS football. He's also recorded 8.5 tackles for loss, 1.5 sacks, two interceptions and three quarterback hurries. Linebacker Keye Thompson is right behind Houston with 67 tackles; against Bowling Green, he recorded a 71-yard fumble recovery for a touchdown. Defensive end Vonnie Watkins has a team-best seven quarterback hurries while defensive tackle Rayyan Buell is first in the league in tackles for loss (11.5).
Kicker Gianni Spetic is 11-for-16 on field goals and 20-for-21 on PATs while kicker Alex Kasee is 1-for-2 on field goals, 2-for-2 on PATs and has accumulated 2,430 yards in 43 kickoffs. Punters Jack Wilson and Jared Wheatley have both made appearances this season, with Wilson's longest of 16 clocking in at 58 yards while Wheatley has 19 punts on the season, averaging 36.79 yards per punt.
To read the rest of this week's notes, click here.
#OUohyeah
COURTESY OHIO ATHLETIC COMMUNICATIONS