By Doc McElroy
Game two slated for Saturday, October 28 at 7:03 p.m. CT; Tickets to all World Series games at Globe Life Field are sold out
October 26th, 2023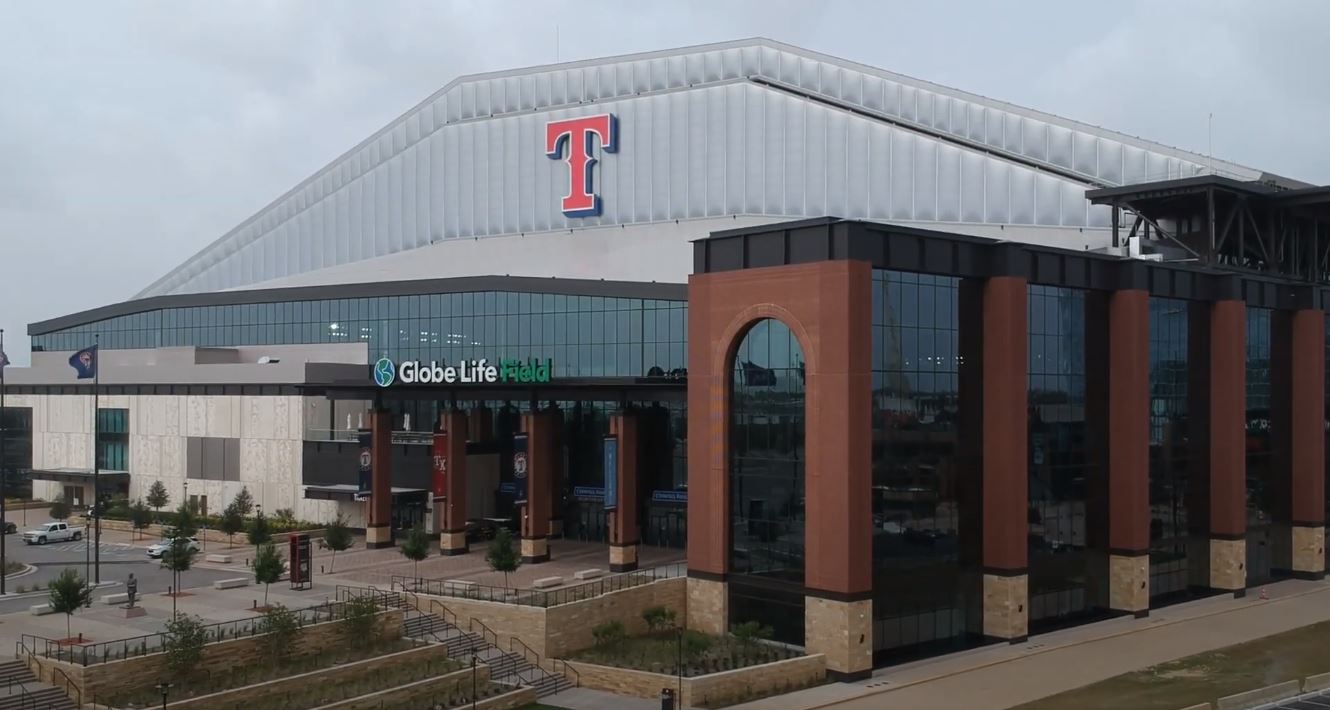 Arlington, Texas— The Texas Rangers host the Arizona Diamondbacks in games one and two of the 2023 World Series presented by Capital One set to begin Friday, October 27 at Globe Life Field. The first pitch of game one is set for 7:03 p.m. CT with game two also scheduled for 7:03 p.m. CT on Saturday, October 28.
This appearance in the 119th Fall Classic is the third in franchise history (2010, 2011). It marks the first time the Rangers have held home field advantage in a World Series.
World Series Game 2 – Saturday, October 28
Parking Lots:                         Parking lots will open to fans at 3:00 p.m., four hours prior to first pitch.
Gates Open:                         The Globe Life Field gates will open at 4:00 p.m., three hours prior to first pitch.
Tickets & Parking:                Game tickets and prepaid parking are sold out. Parking will still be available for purchase at lot entry until capacity is reached.
First Pitch:                             7:03 p.m. CT – TBD vs. RHP Merrill Kelly (12-8, 3.29 / 2-1, 2.65).
Ceremonial First Pitch:       A pair of Texas Rangers Hall of Famers team up as Adrián Beltré will toss the ceremonial first pitch to Fergie Jenkins. Beltré, a member of the 3,000 hits club and third baseman for the 2011 American League Champion Texas Rangers, is eligible for the 2024 National Baseball Hall of Fame class. Jenkins is the Rangers' single-season leader in wins (25), innings (328.1), and complete games (29), and a member of the 1991 National Baseball Hall of Fame class.
Pre-Game Recognition:      Texas Rangers Youth Academy athletes Miranda Castaneda and Ana Gonzalez will be recognized by Major League Baseball during pre-game ceremonies. Castaneda, the Academy's 2023 Youth of the Year, will be recognized alongside her fellow award winners from across the U.S. and Puerto Rico, while Gonzalez will be recognized for winning the Jennie Finch Empowerment Award, presented by ARM & HAMMER, at the 2023 MLB Develops and USA Softball Breakthrough Series.
Rally Towels:                        The first 30,000 fans in attendance will receive a Rangers Rally Towel.
National Anthem:                 18-year-old Pearle Peterson will perform the National Anthem. Peterson is the 2023 Boys & Girls Clubs of America's National Youth Talent Performer. As part of the Anthem, large American and Texas flags will be unfurled on the field.
Around the Ballpark:            A pair of new food items will join the postseason rotation presented by Delaware North, the Rangers' foodservice and retail partner. At the top of the order is the "Three Strike Lobster Roll" – a 2-foot-long, soft, freshly baked bun, generously filled with lobster in a light sauce and crowned with tenderloin medallions. Accompanying this culinary masterpiece in a packaged deal are the Boomstick Burger and Boomstick Hot Dog, creating an impressive 6-foot feast designed to feed a small group. A limited number of only 10 per game are available for $250 at Stand 24 at the top of Section 133.
Also new to the Globe Life Field culinary lineup is the "Heim Hammer," appropriately named after Rangers catcher Jonah Heim, featuring a substantial beef shank that is hand-carved to create delectable street tacos. The Heim Hammer is available for $99 at Hurtado's BBQ near Section 141.
Images for the Three Strike Lobster Roll and the Heim Hammer: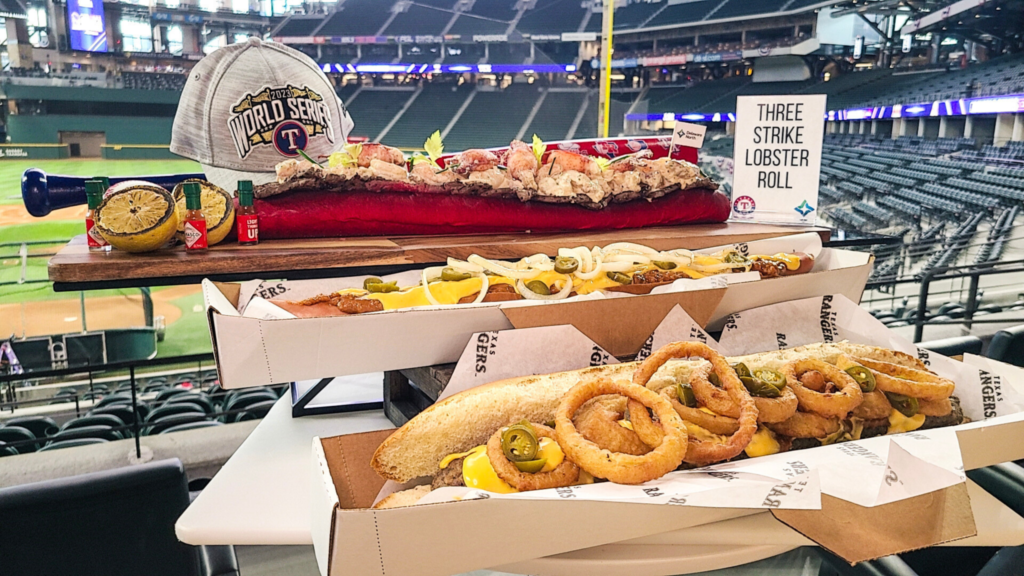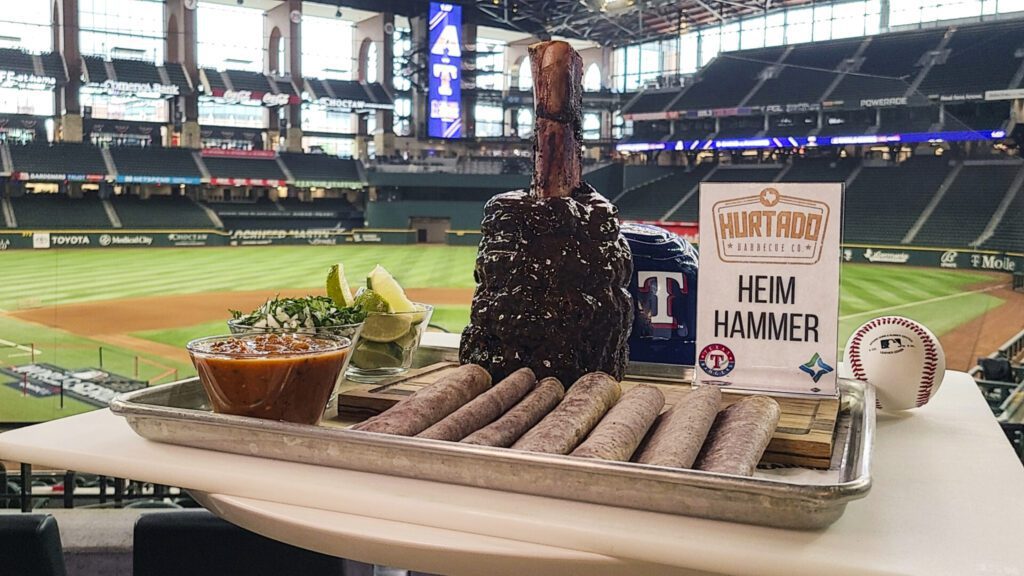 Fans can continue to enjoy new postseason items such as the Super Slugger Cheese Sticks, Chicken Parm Dawwg, Oaxaca Dawwg, and the Big Tex Torta.
Occupying the Arlington Eats stand near Section 101 will be Cartel Taco Bar. The recently opened Easy Out retail store near Section 116, which features Amazon's RFID technology, is stocked with the latest World Series merchandise. Proceeds from the 50/50 Texas 2 Split Raffle, presented by Kroger will benefit the Texas Rangers Baseball Foundation.
COURTESY TEXAS RANGERS MEDIA RELATIONS