By Stretch Jenkinson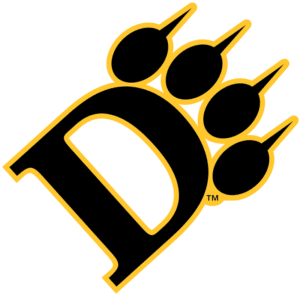 10/27/2023
OHIO DOMINICAN GAME NOTES
https://ohiodominicanpanthers.com/documents/2023/10/27/ODUfb23_FALL_Notes9_UF.pdf
FINDLAY GAME NOTES
https://ohiodominicanpanthers.com/documents/2023/10/27/Week_9_Game_Notes_vs_Ohio_Dominican.pdf
COLUMBUS, Ohio – On the heels of a current three-game winning streak, the Ohio Dominican Panthers will head to the northwest portion of Ohio for a looming Great Midwest matchup with the Findlay Oilers on Saturday (Oct. 28). The Oilers and the Panthers will kick off at high noon from Donnell Stadium.
As the final three weeks of the season begin, the Panthers find themselves back to .500 at 4-4 overall and 3-3 in the G-MAC.
OPENING KICKOFF
The Panthers shutout Northwood 15-0 at home last week, the first 15-0 final score in the history of the program. 
Jake Byrd (Fort Wayne, Indiana) completed 12 of his 24 pass attempts with 155 yards passing. He passed for two touchdowns and was intercepted once against Northwood.

Byrd has thrown for 682 yards on 56 completions in three starts (four games) this season with six passing touchdowns.
In his 15 career games, Byrd is 285-for-462 with 3324 passing yards and 30 touchdowns (33 total touchdowns). He ranks fifth in career passing touchdowns, sixth in passing yards (25 yards from 5th), pass attempts (78 from 5th) and pass completions (7 from 5th).

Travis Whittaker (Gahanna, Ohio) rushed for 60 yards on 22 carries last week.

Whittaker is now 5th all-time in rushing yards with 1,846.
In the last five games, Whittaker is averaging 72.5 yards per game on 16.8 carries. He set a career-high with 26 carries at Walsh in Week 7. Over the last three games, he has carried the ball at least 20 times each game.

Ty Wiley (Pickerington, Ohio) caught five passes for a team-high 52 yards.

Wiley caught a one-yard touchdown pass in the fourth quarter, his tenth career touchdown reception.
Wiley has a career 66 catches for 977 yards in 25 career games. He can become the 18th receiver with 1,000 career yards.

Zach Bartrum (Meigs County, Ohio) was second on the team with four catches for 34 yards total.
Jayden Cornell (Kenton, Ohio) started the scoring for the Panthers with a ten-yard touchdown catch in the second quarter.

Cornell has four touchdowns this season, leading the Panthers to this point.

Kobe Barnett (Blacklick, Ohio) tallied a 45-yard catch and run, the longest play from scrimmage for the Panthers.
Michael Powers (West Mansfield, Ohio) and Jayden Hill (Gahanna, Ohio) shared the team lead with eight tackles each.
Darryl Sinclair (Solon, Ohio), Brady Blattner (Cumberland, Ohio) and Eddie Miller-Garrett (Newark, New Jersey) all had seven tackles.

Miller-Garrett added three tackles for loss and one sack. He now has 46.0 TFL and 23.0 sacks, both second all-time.
In D2, EMG is 3rd in tackles for loss and 4th in total sacks this season. For his career, Miller-Garrett is currently fourth among active D2 players for tackles for loss (18th across all divisions) and tied for sixth in sacks.

Qwyn Williams (Gahanna, Ohio) joined with a sack and two tackles for loss.
Logan Ortt (New Philadelphia, Ohio) punted 11 times for 467 yards (both Ohio Dominican single-game records), averaging 42.5 yards per kick.
The Panthers finished the game with 87 yards rushing and 155 passing yards for 242 yards of total offense.
With 86 rushing yards allowed, ODU has held teams under 100 yards rushing 15 times since the beginning of the 2021 season.
Ohio Dominican ended the game holding Northwood to one-of-four on fourth down conversions and 0-for-3 in the red zone, including two fourth down stops in the final quarter.
ODU held the ball for 32:20 of the game, including at least eight minutes of possession in three of the four quarters.

The Panthers possessed the ball for 9:52 in the first quarter and ten minutes for the fourth quarter.
In 32 quarters of play, ODU has had 17 quarters with at least 7:30 of possession and four frames of at least ten minutes of possession.
Opponents have tallied 16 quarters with under seven minutes of possession this season.

The shutout was ODU's 12th in program history (seventh in D2 era).

The Panthers have shutout an opponent in each of the five seasons (and six of the last seven seasons).

ODU has scored 53 points in the second half over the last three weeks while allowing zero points over the third and fourth quarters.

Currently, the Panthers have a scoreless streak of 94:44, dating back to the first half of the Walsh game in Week 7.
Teams have been held scoreless in 16 of 28 quarters this season.

Ohio Dominican is 2nd in the G-MAC with 24 sacks through eight games. Averaging 3.0 sacks per game, ODU is tied for 16th in Division II.

Ten different players have connected on sacks for the Panthers with Eddie Miller-Garrett (Newark, New Jersey) leading the Panthers and the G-MAC with nine sacks. 

ODU is in the top three of the G-MAC in eight of ten defensive categories this season. They also rank in the top 20 nationally in four different categories.

Scoring: 14.4 PPG – 1st (14th in D2)
Rushing: 66.3 YPG – 1st (6th in D2)
Sacks: 24 – 2nd (16th in D2)
Total Defense: 263.4 YPG – 2nd (18th in D2)
Third Down Conversions: 32.0% – 2nd
First Down Defense: 120 – 2nd
Red Zone Defense: 63.6% – 2nd
Fourth Down Conversions: 35.7% – 3rd
Passing: 197.1 YPG – 4th
Interceptions: 6 – T-4th

Ohio Dominican leads the overall series 9-2 against the Oilers, including 4-1 on the road at Donnell Stadium.
The Panthers have the toughest strength of schedule in the G-MAC (.708, 17-7) of future opponents, tied with Findlay.
Ohio Dominican has followed a three-game losing streak with three straight wins. The last time ODU did that was 2017.
NUMBERS TO KNOW
3 – ODU stopped Northwood three times on fourth down, the most since Nov. 6, 2021 vs. Lake Erie (1-5).
12 – Ohio Dominican is 12-3 in Week 9 games over the history of the program.
13 – Ohio Dominican has at least a three-game winning streak in each of the last 13 seasons, dating back to 2010.
30 – Ohio Dominican is 30-2 when allowing under 14 points in the Kelly Cummings era.
FINDLAY AT A GLANCE
Findlay is 6-2 overall and 5-1 in the G-MAC for the 2023 season. They sit 2nd in the G-MAC, one game behind Tiffin and tied with Ashland.
The Oilers split the non-conference schedule with a season-opening loss to Truman State and rallied for a 40-25 win at Pace.
In conference play, Findlay won the first three G-MAC games. Findlay smashed Lake Erie 45-3 before playing Hillsdale (31-21) and Kentucky Wesleyan (27-21) close. Northwood shocked Findlay with a blocked field goal attempt in the final minute, snapping the Oilers' four-game winning streak. UF defeated Thomas More 38-10 before shutting out Walsh 23-0 last week on the road.
For the season, Findlay averages 30.5 points scored, 187.4 rushing yards, and 215.1 passing yards per game on offense. The Oilers are allowing 16.6 points, 74.3 rushing yards and 193.5 passing yards per contest. Overall on offense, the Oilers are second in scoring, total offense (402.5 YPG) and rushing while sitting third in passing.  For the defense, UF is second in rushing defense and third in total defense (267.8 YPG), scoring and passing.
Kory Allen is in his second season as head coach and 18th overall as a member of the Oilers' coaching staff. Allen was the offensive coordinator for Findlay previously before taking over the program in 2022.
In the 2023 G-MAC Preseason Poll, Findlay was selected third of ten teams. Findlay was voted third after being in a three-way second place tie with Tiffin and Ohio Dominican.
Just like Ohio Dominican, Findlay's defense ranks high within Division II. The Oilers are seventh in red zone defense, tenth in rushing defense, 24th in total defense and 25th in scoring defense.
Alec Bornhorst has appeared under center for all eight games for Findlay. Bornhorst has completed 137 passes of 209 attempts, making 65.2% of his throws. He has thrown for 1,642 yards with 13 touchdowns and eight interceptions. The senior is first in the G-MAC for completions, third for passing yards and fourth in passing touchdowns.
Four players have carried the load on the rushing attack for Findlay. Brian Benson leads the team with 97 carries for 526 yards (4th in G-MAC) and six touchdowns. Bornhorst has scored six touchdowns as he's tallied 405 yards on 76 carries. Garret Clark rushed 42 times for 304 yards before suffering an injury. Makya Matthews scored three times with 227 yards on the ground.
Mike Rigerman is the top target for the Oilers with 44 catches for 605 yards. He is tied for first in the conference in catches and second in receiving yards. His seven touchdown catches are tied for second in the league. Cam Childers (24-323), Mitch Nielsen (23-173) and Bryan Hunt (21-320) all have double-digit catches.
Brian Bartholomew has connected on 11-of-12 field goals and is 29-for-29 on extra points. He is the reigning G-MAC Special Teams Athlete of the Week.
Sam Weihrauch leads the Oilers with 61 tackles, tied for third in the conference and 10.5 tackles for loss. Johnny Harris has made 50 tackles. Grey Brancifort has a team-high 3.5 sacks.
Jordan Grimes has four of the 11 picks for the Oilers on defense (tied for 1st). Jeremiah Jackson has three with Quinn Smith for two.
COURTESY ODU ATHLETIC COMMUNICATIONS