By StephanieLee Elliott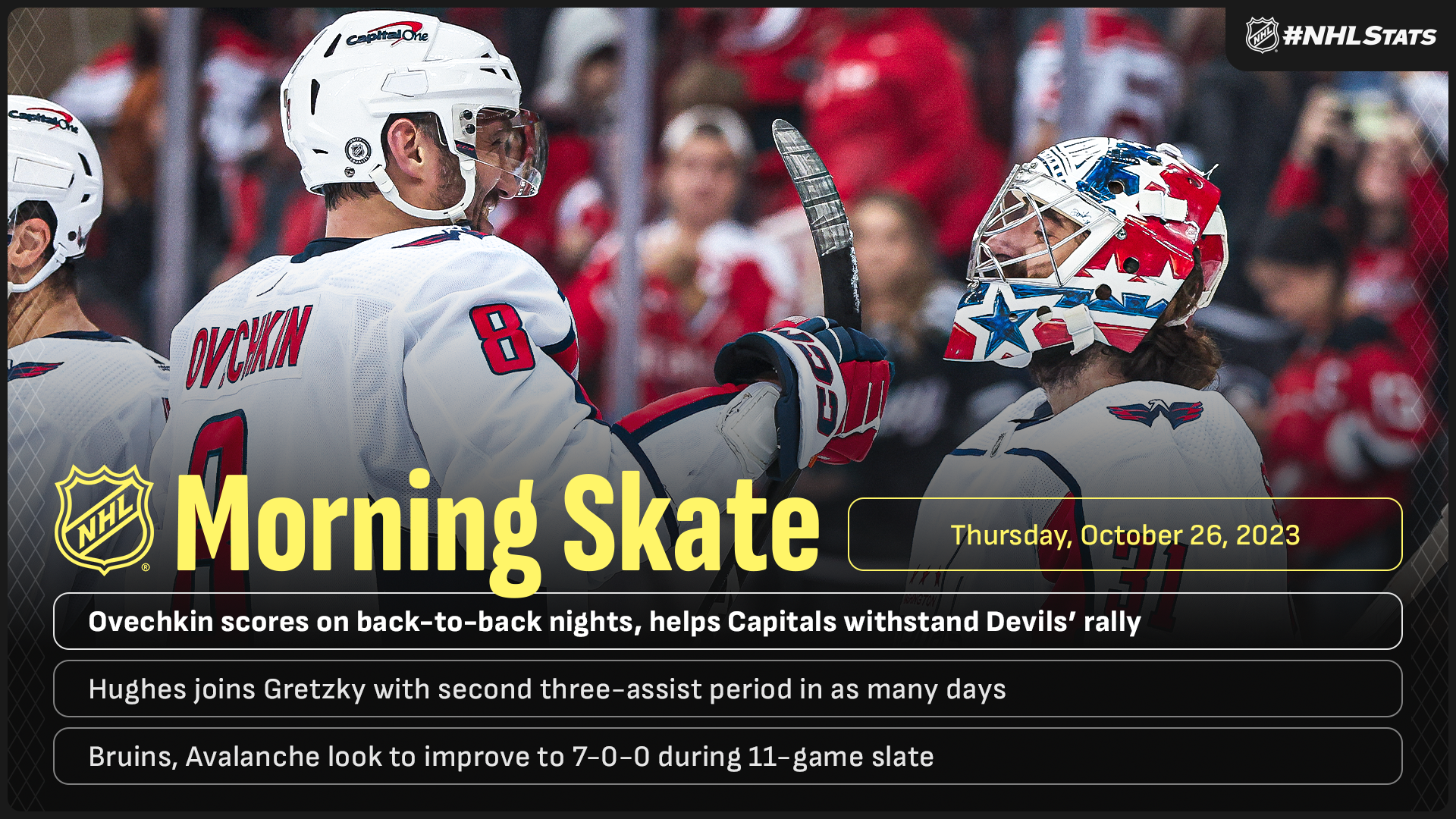 * A high-scoring, back-and-forth affair saw the Devils and Capitals score four and three unanswered goals, respectively, and ended with Alex Ovechkin adding his name to a couple of lists after scoring for the second straight day.
* Jack Hughes achieved a rare NHL feat as he collected three assists in a period for the second straight day and boosted his League-leading points to the highest total by a player through the first six games of a season since Mario Lemieux in 1995-96.
* The full #NHLStats Pack for the 2023 Tim Hortons NHL Heritage Classic is now available, along with an interactive information guide for the event.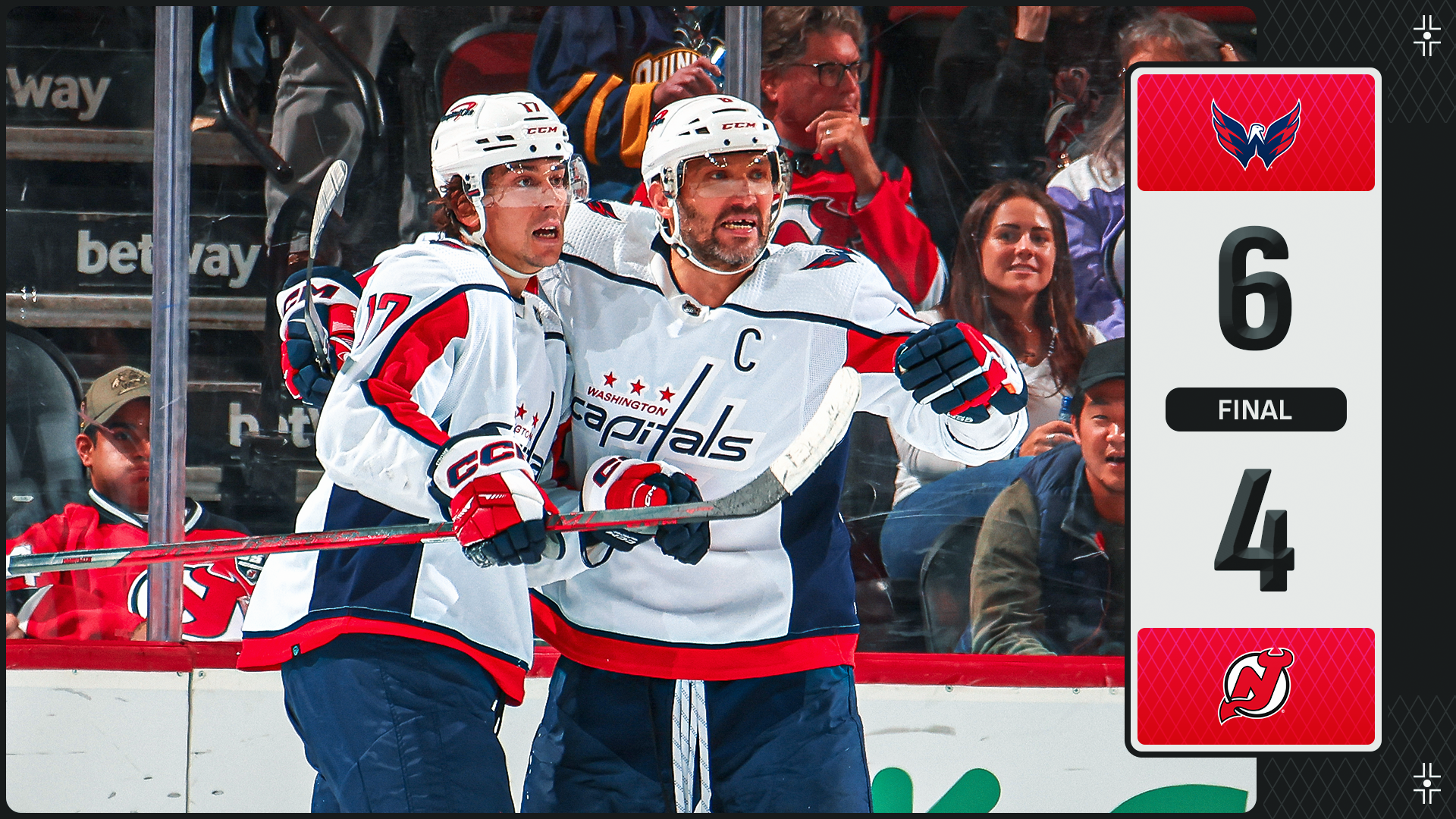 CAPITALS COME BACK IN ONE FRENETIC HOCKEY GAME
A day after a 16-game Frozen Frenzy was one frenetic hockey game between the Capitals and Devils, which saw New Jersey score four unanswered goals to erase a 3-0 deficit and Washington score three straight to complete their second comeback win of the season. Alex Ovechkin (1-1—2) found the score sheet for the second straight day while skating in his 1,500th career game (regular season & playoffs combined), as 27-year-old goaltender Hunter Shepard earned a win in his NHL debut.
* Ovechkin scored his 39th career goal against New Jersey (73 GP) and tied Sidney Crosby (39 in 82 GP) for the sixth-most tallies against the Devils/Rockies/Scouts franchise in NHL history. He now trails only Mike Gartner (57 in 91 GP), Mario Lemieux (47 in 74 GP), Bryan Trottier (44 in 92 GP), Marcel Dionne (40 in 64 GP) and Mike Bossy (40 in 53 GP).
* Ovechkin collected two points while playing in his 1,500th NHL game (regular season & playoffs combined) to boost his totals to 896-735—1,631 through those contests. The only players in NHL history with more points with a single franchise than the Capitals captain through that milestone are Lemieux(766-1,129—1,895 in 1,022 GP w/ PIT), Steve Yzerman (715-1,083—1,798 w/ DET), Joe Sakic (697-1,088—1,785 w/ COL & QUE) and Crosby (624-1,085—1,709 in 1,376 in 1,376 GP w/ PIT).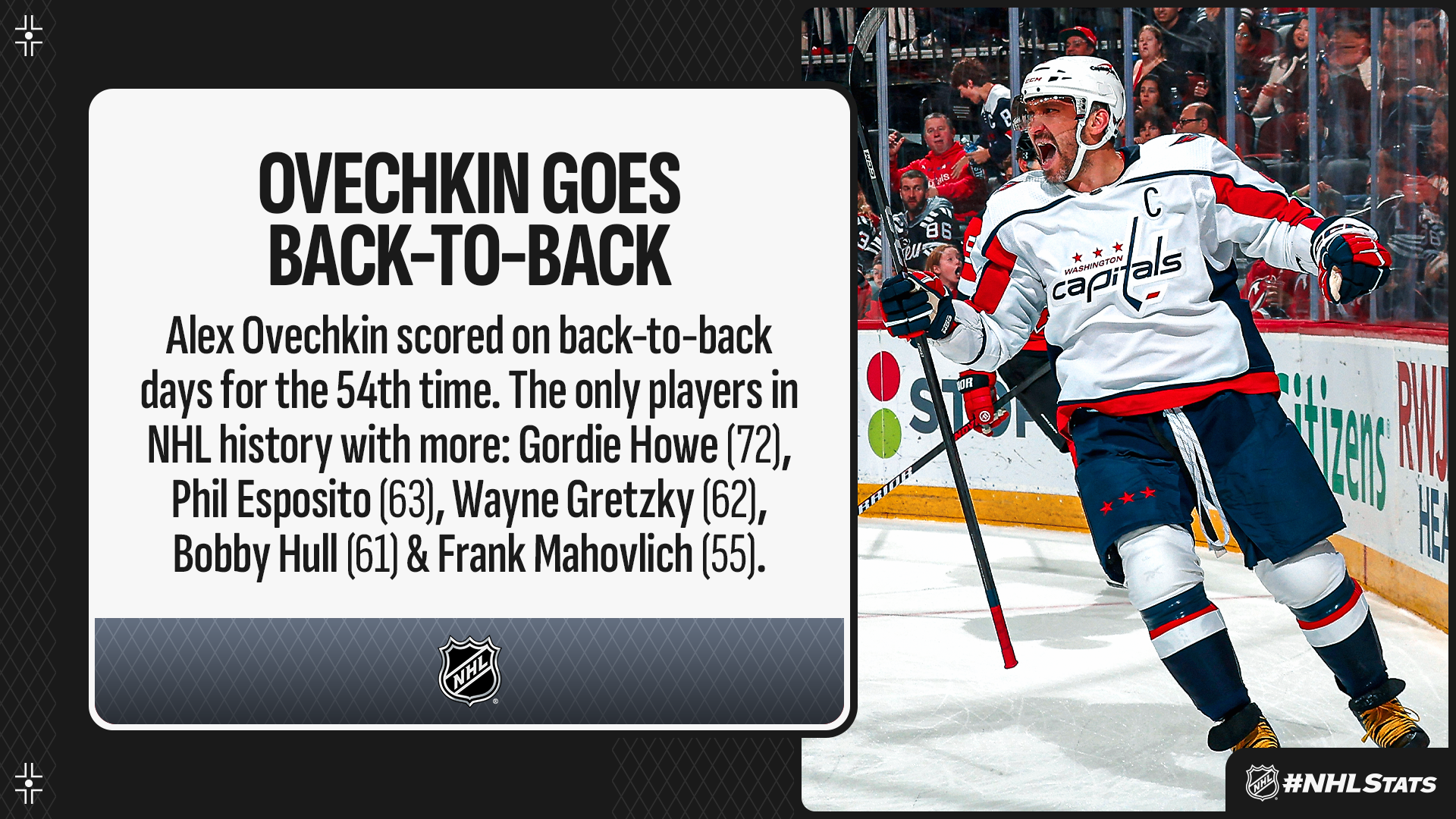 * With his family in attendance, Shepard earned a victory in his first career game after being called up Tuesday and became the fourth Capitals goaltender in the past ten years to win his NHL debut, joining Ilya Samsonov (Oct.4, 2019), Vitek Vanecek (Jan. 15, 2021) and Zach Fucale (Nov. 11, 2021). His road to the NHL included winning the 2023 Calder Cup Championship with the AHL's Hershey Bears and being named the playoff MVP after posting a 14-6 record (2.27 GAA, .914 SV%, 3 SO). His trophy case also includes back-to-back NCAA championships with Univ. of Minnesota-Duluth in 2018 and 2019 – he was named team captain the following season (2019-20).
HUGHES ONCE AGAIN FILLS #NHLSTATS: LIVE UPDATES
Jack Hughes (0-3—3) has been a staple this season in the Morning Skate and once again accounted for multiple notes in #NHLStats: Live Updates with his fifth multi-point game of the campaign. Hughes improved his NHL-leading totals to 4-13—17 (6 GP) – the most points through the first six games of a season since Mario Lemieux in 1995-96 (6-11—17) and seven more than Connor McDavid through that game count in 2022-23 (5-5—10), a campaign the Oilers captain finished with 64-89—153 (82 GP) and his fifth Art Ross Trophy.
* ICYMI: Jack's brother Quinn joined the TNT crew to talk about how special it is to be in the NHL with his brothers.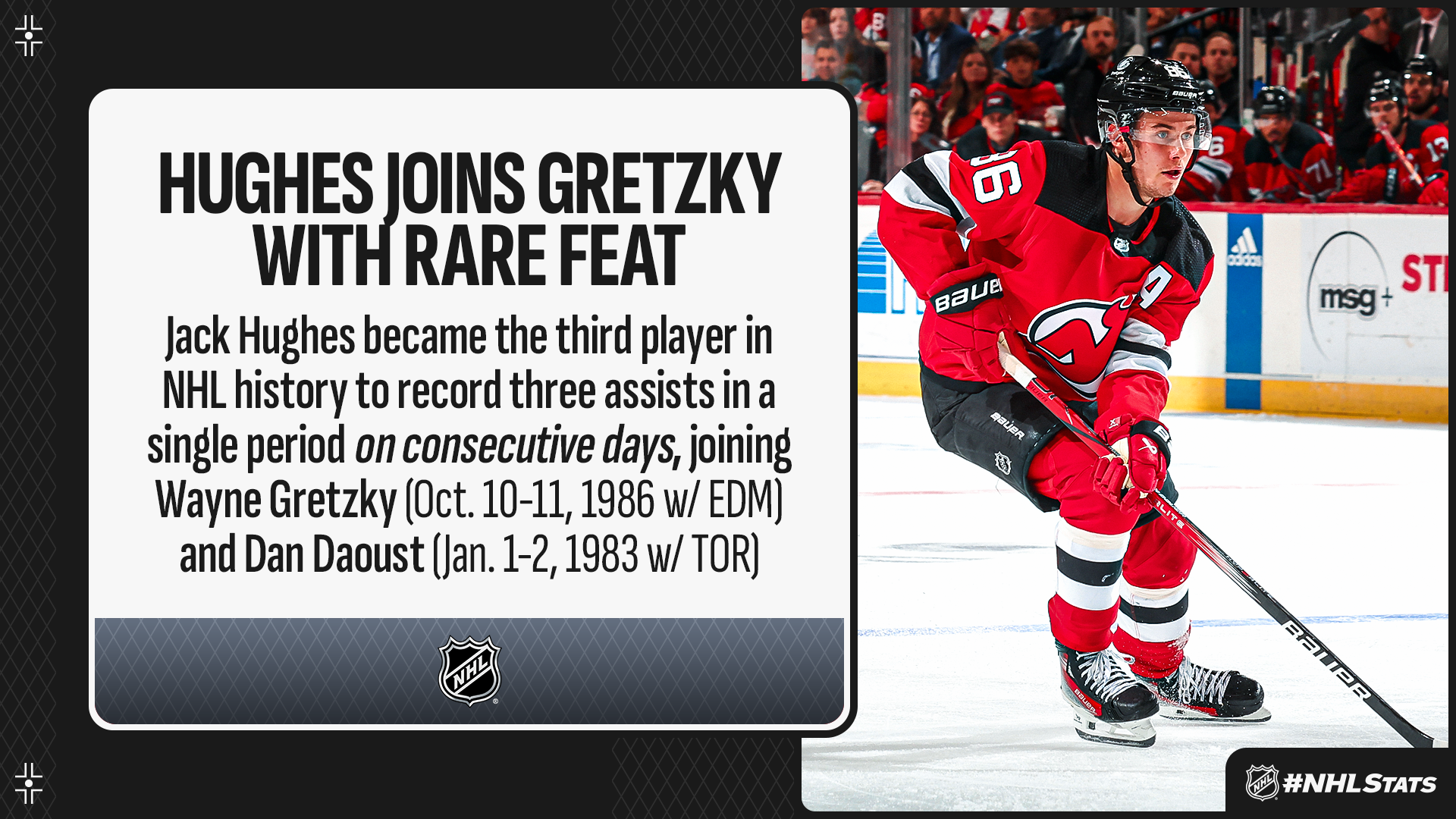 FULL RELEASE OF #NHLSTATS PACK: 2023 TIM HORTONS NHL HERITAGE CLASSIC
After a teaser #NHLStats Pack for the 2023 Tim Hortons NHL Heritage Classic was released late last week, the full document was made available Wednesday along with an interactive information guide for the event. The countdown to the 2023 Tim Hortons NHL Heritage Classic which will be contested at Commonwealth Stadium, the home of the CFL's Edmonton Elks, is down to three days (Oct. 29 at 7 p.m. ET on SN, TVAS, TBS, MAX).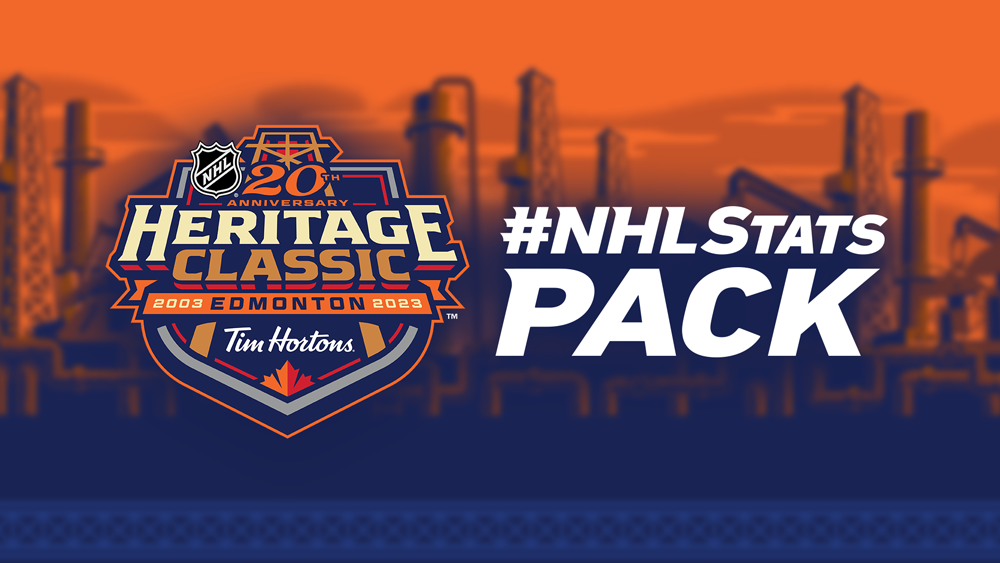 QUICK CLICKS
* Auston Matthews talks popularity of NHL, its players in U.S. on 'The Pat McAfee Show'
* Nathan MacKinnon aiming to mirror Sidney Crosby's continued hunger for success
* With wife, Connor Hellebuyck brings Taylor Swift craze to NHL in latest Halloween costume
*Macklin Celebrini, Cole Eiserman earn A rating from NHL Central Scouting
* ESPN's 'NHL Frozen Frenzy' debuted with impressive viewership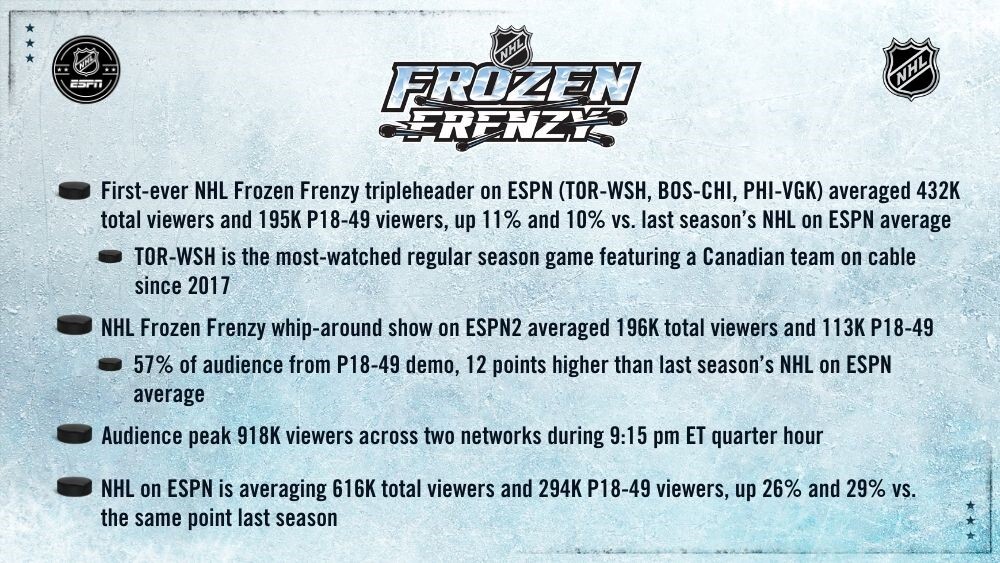 22 TEAMS IN ACTION, ALL AT ONCE
An 11-game Thursday will feature every contest being played simultaneously for a brief period as the first puck drop of the night goes at 7 p.m. ET with the final ones at 9 p.m. ET. Thursday will feature three national broadcasts, starting with the Ducks visiting the Bruins across Sportsnet channels, the Flyers welcoming the Wild on HULU and ESPN+ and finishing with the Rangers meeting the Oilers at Rogers place on Sportsnet One and TVA Sports.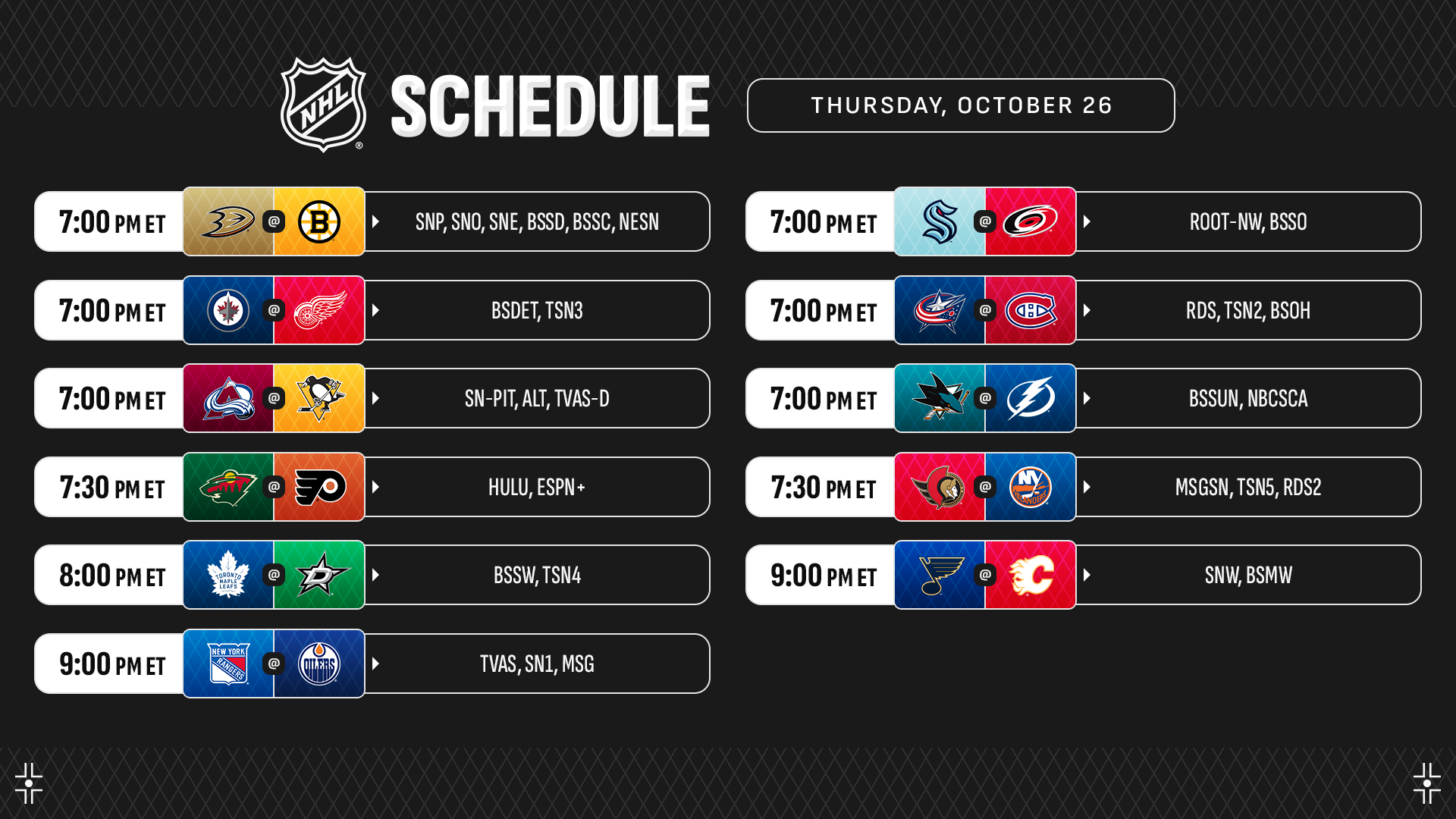 * The Bruins will aim to remain undefeated this season when the Ducks make their only appearance at TD Garden with Anaheim coming off an overtime victory that saw the club overcome two deficits en route to victory. Boston (6-0-0) can establish a franchise record for the longest season-opening win streak should they earn a victory Thursday – the only other time the club started a campaign 6-0-0 was 1937-38.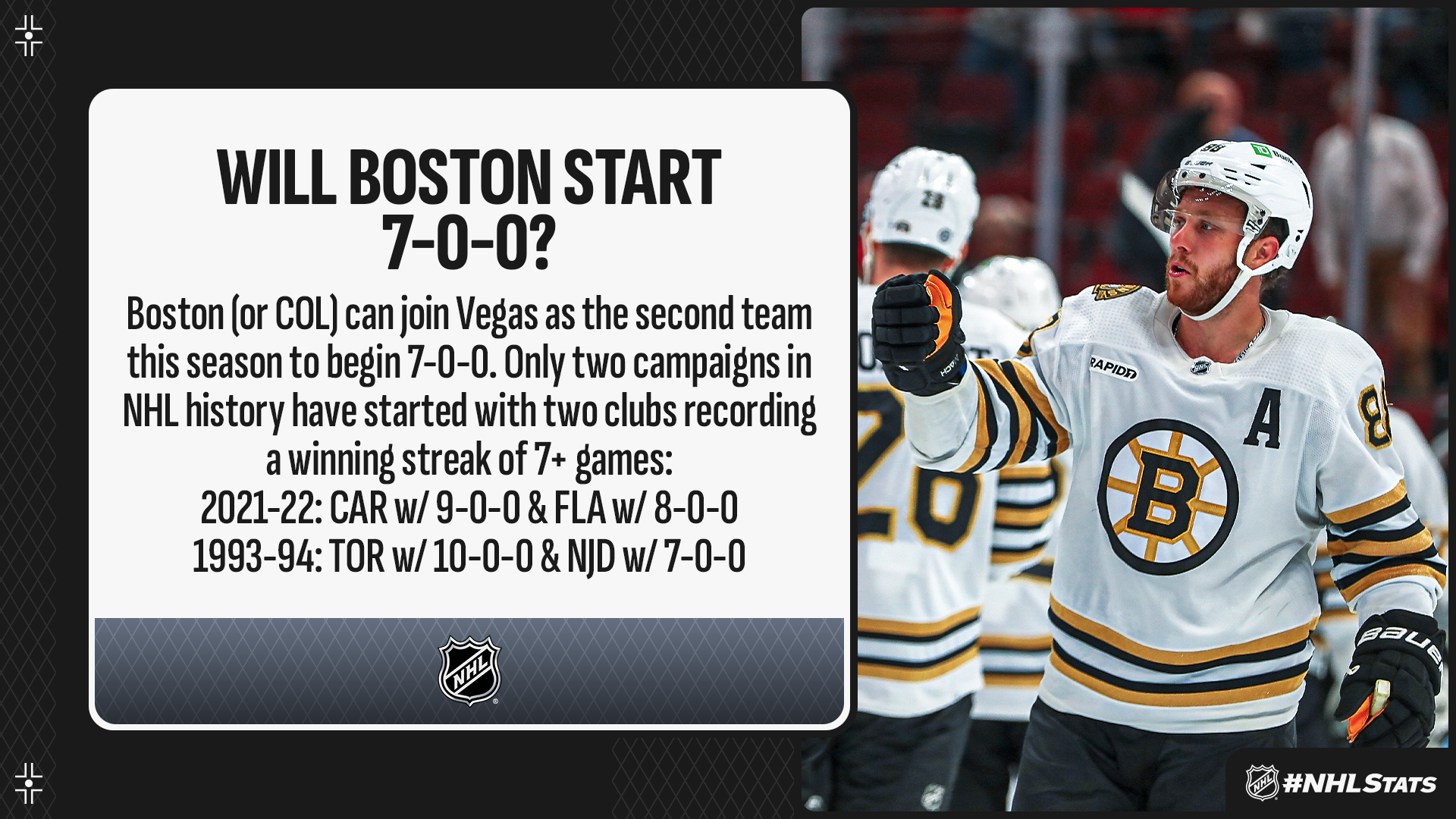 * The Wild and Flyers, two teams with identical 3-2-1 records to start the season, will take center stage on Hulu and ESPN+ at 7:30 p.m. ET. Ryan Hartman is coming off of a 3-2—5 performance Tuesday and with two points Thursday would match the Wild franchise record for most points through a two-game span, a feat last achieved by Kevin Fiala on April 22-24, 2022 (1-6—7 in 2 GP). Meanwhile, teammate Mats Zuccarello enters play on a six-game point streak and can match Andrew Brunette (7 GP in 2009-10) for the longest season-opening run in Wild history.
* In Edmonton's final game before they head outdoors for a historic "Battle of Alberta" showdown, the club will welcome the Rangers to Rogers Place in a contest featured on Sportsnet ONE and TVA Sports. New York is playing in its third of a five-game Western Conference road trip and has recorded a win in each of the first two contests. Artemi Panarin will enter the meeting on a six-game season-opening point streak (3-5—8 in 6 GP) and can become the third Rangers player in the past 30 years to extend their run to seven games should he find the score sheet. The only players to do so: Marian Gaborik (8 GP in 2009-10) and Mark Messier (7 GP in 1993-94).
MacKINNON'S AVALANCHE PUT WIN STREAKS ON THE LINE VS. CROSBY'S PENGUINS
Colorado will put its perfect 6-0-0 record on the line when fellow Nova Scotia natives Sidney Crosby and Nathan MacKinnon go head-to-head for the first time this season and 16th overall. Colorado can start a season with seven straight wins for just the second time in franchise history after the Quebec Nordiques did so in 1985-86.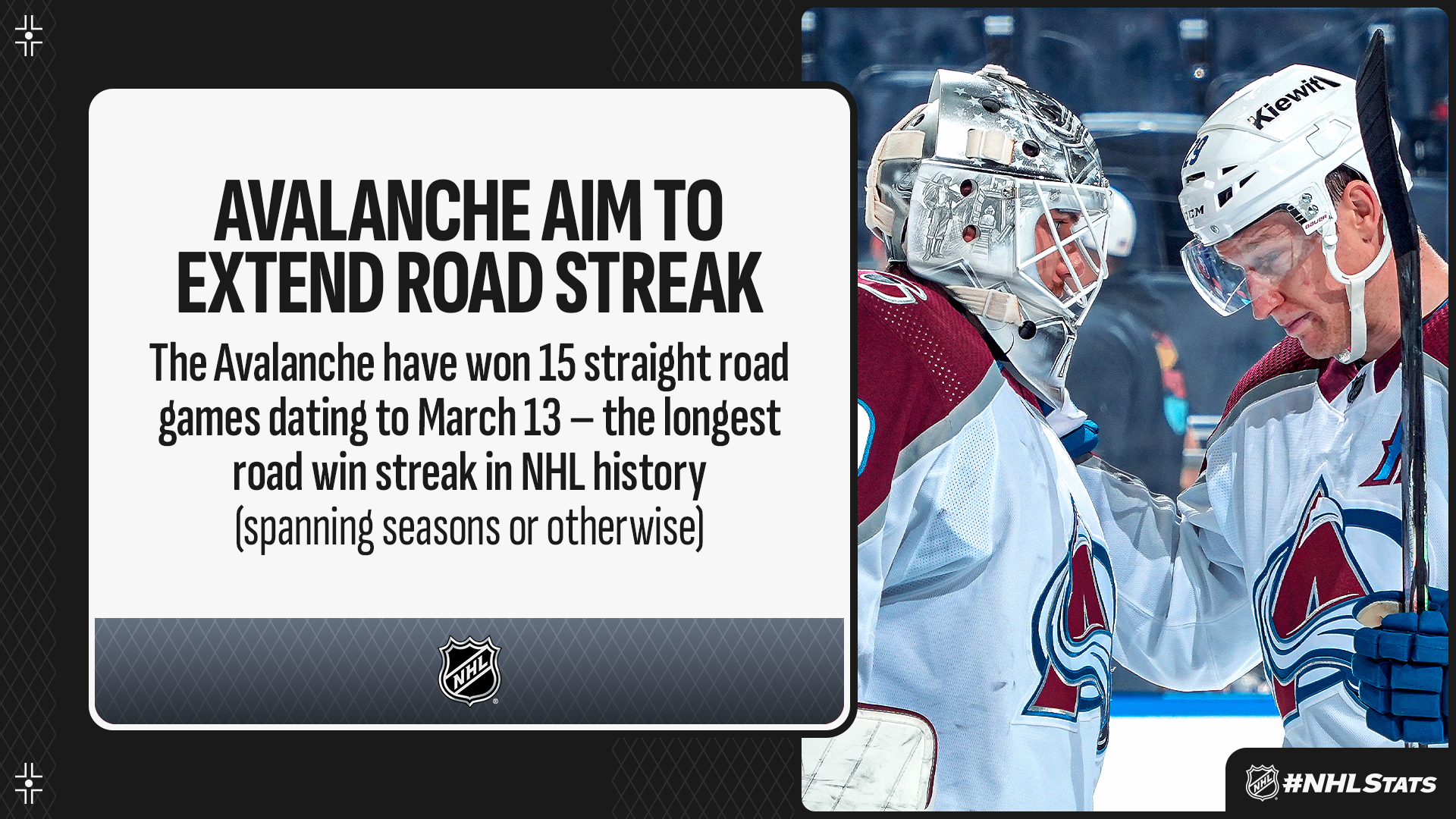 RED HOT RED WINGS LOOK TO CONTINUE STRONG START
Dylan Larkin (4-10—4 in 7 GP) and Alex DeBrincat (9-4—13 in 7 GP) will both look to achieve notable feats and help the Red Wings (5-1-1, 11 points) continue their hot start to the season when Detroit welcomes Winnipeg to Little Caesars Arena.
* Larkin comes into Thursday's contest with four straight multi-point outings and can become the first Red Wings skater to extend that streak to five since Johan Franzen in 2008-09.
* DeBrincat, who enters Thursday as the League leader in goals, can match the franchise mark for fewest games to 10 tallies in a season – a pace set by Mud Bruneteau (12-3—15 in 8 GP in 1943-44). DeBrincat could also become just the sixth player in the past 30 years to score 10 goals through the first eight games of a campaign alongside Auston Matthews (2018-19 w/ TOR), Alex Ovechkin (2017-18 w/ WSH), Ilya Kovalchuk (2003-04 w/ ATL), Mario Lemieux (1995-96 w/ PIT) and Cam Neely (1993-94 w/ BOS).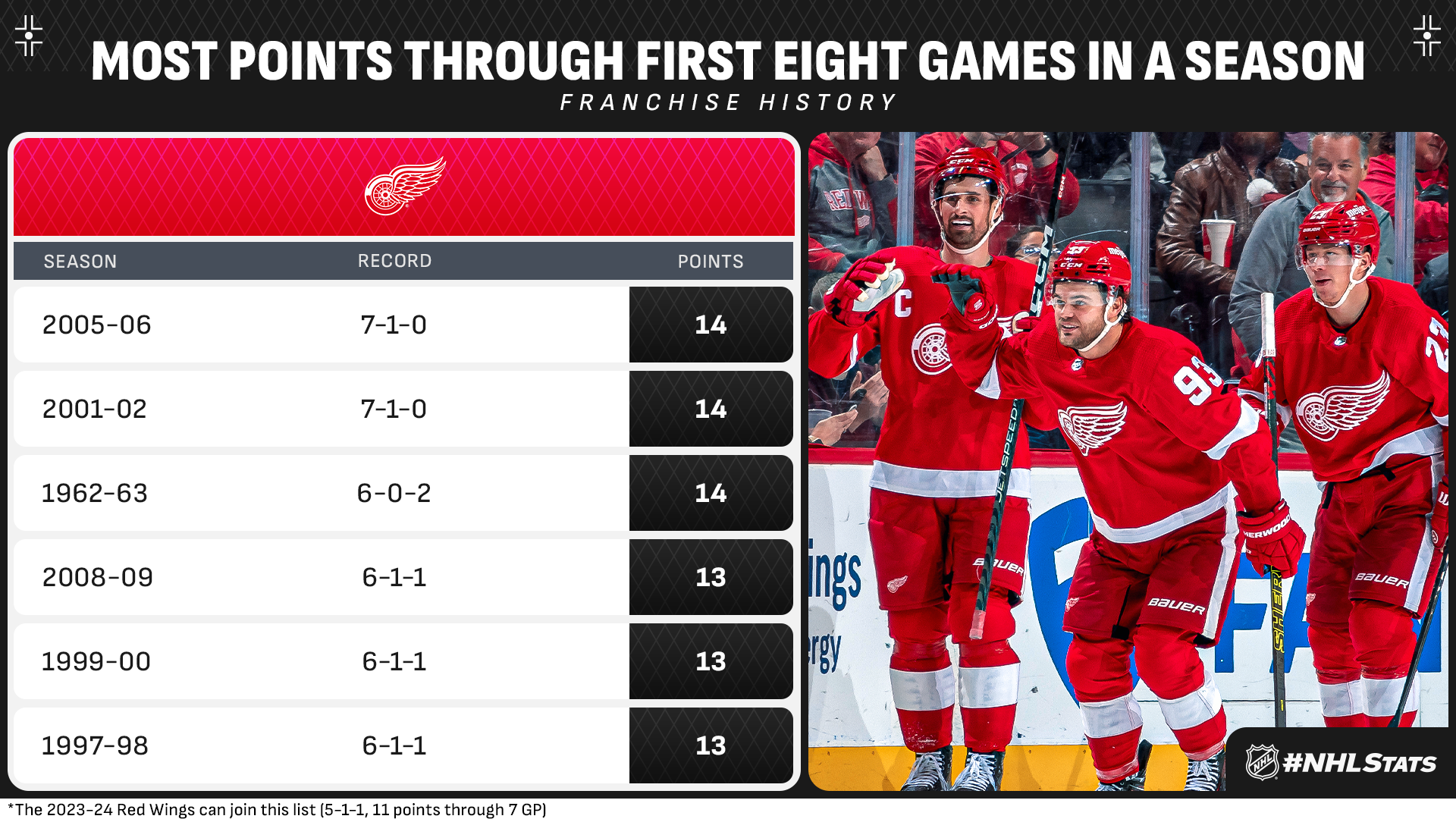 COURTESY NHLmedia.com