By StephanieLee Elliott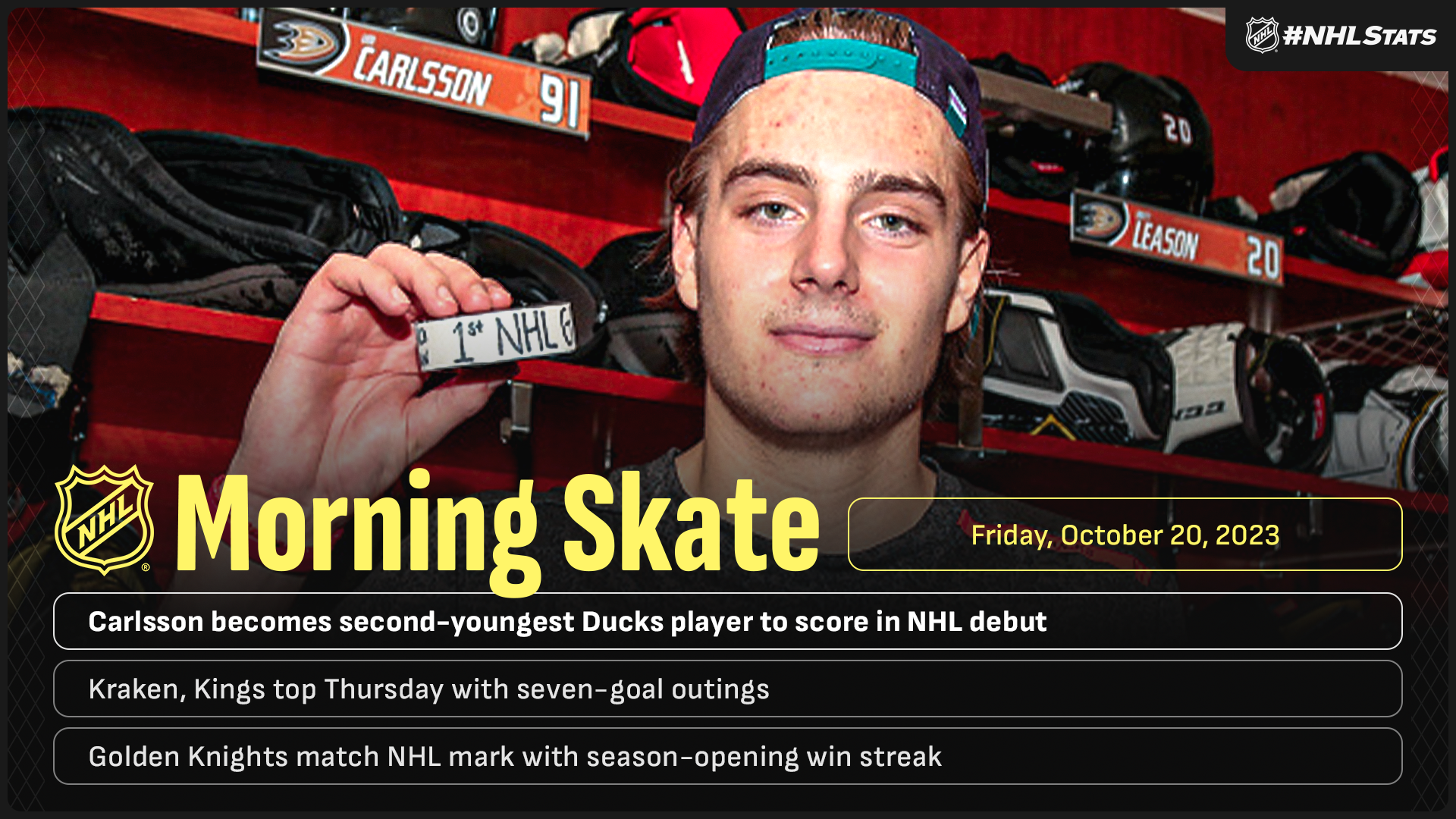 * Eighteen-year-old Leo Carlsson made his NHL debut a night to remember as he became the third-youngest Ducks player to score his first career goal after Oleg Tverdovsky and Mason McTavish.
* The Kings and Kraken doubled the number of seven-goal performances by teams this season, joining the Canucks (8 on Oct. 11) and Maple Leafs (7 on Oct. 14) as the third and fourth clubs to do so.
* Logan Thompson and Jack Eichel helped the Golden Knights defeat the Jets and tie the longest season-opening winning streak by a reigning Stanley Cup champion in NHL history.
* Friday's two-game slate is highlighted by Johnny Gaudreau facing his former team on Sportsnet ONE.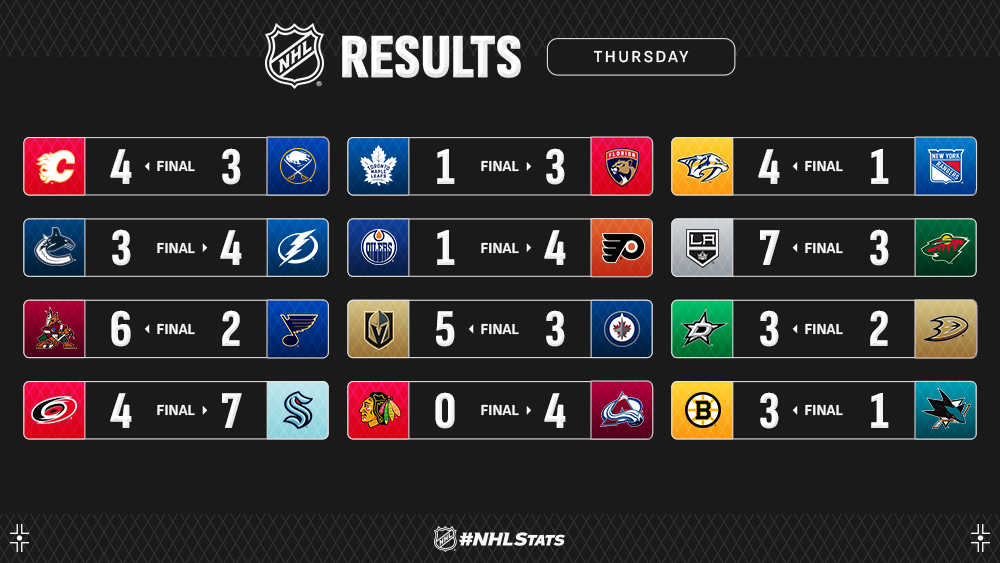 18-YEAR-OLD CARLSON SCORES FIRST NHL GOAL, 39-YEAR-OLD PAVELSKI EARNS WIN
Eighteen-year-old Leo Carlsson (1-0—1) scored in his NHL debut for the Ducks and became the latest top-three pick from the 2023 NHL Draft to find the score sheet in his first game on a night spoiled by 39-year-old Joe Pavelski (1-1—2), who factored on two of the Stars' three goals en route to a win.
* Pavelski recorded his 57th multi-point game since turning 35 and surpassed Joe Mullen (56) for the second most by a U.S.-born player after that age. He now only trails Stars legend Mike Modano (63).
* With Carlsson (No. 2 pick), Connor Bedard (No. 1 pick) and Adam Fantilli (No. 3 pick) all recording a point in their debut this season, the 2023 draft class became the second in NHL history to feature the top three picks each find the score sheet in their League debut in the ensuing regular season, following the 2009 draft class (John Tavares, Victor Hedman & Matt Duchene).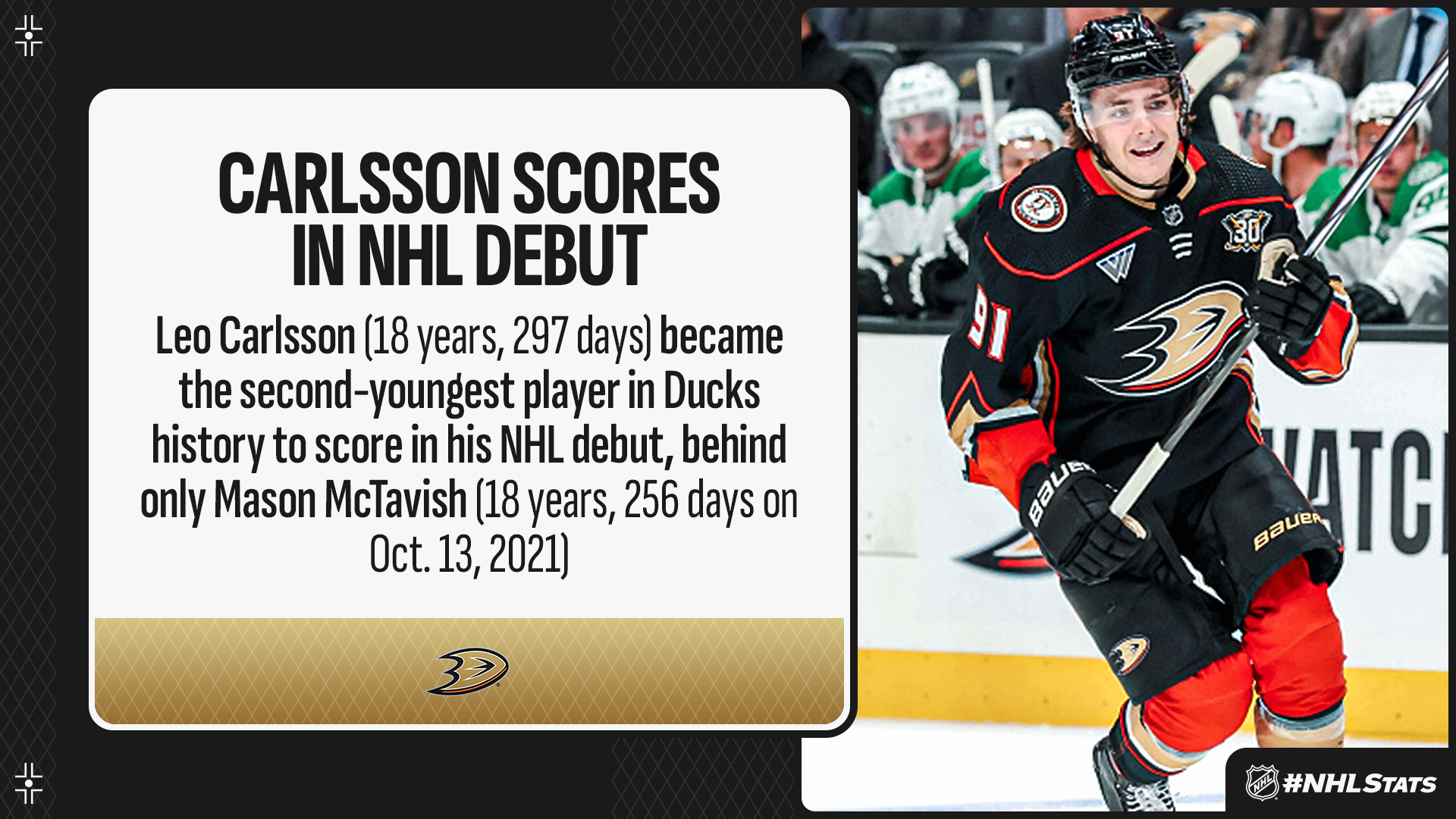 PAIR OF PACIFIC DIVISION CLUBS POT SEVEN GOALS
The Kings and Kraken put on offensive shows against the Wild and Hurricanes, respectively, as they each potted seven goals en route to victory.
* Pierre-Luc Dubois netted a pair of tallies 12 seconds apart to close out a back-and-forth first period that saw six goals scored between the two teams. Los Angeles scored at least five times for the third straight game, giving the Kings 19 goals on the season – tied for second most among all teams (excluding shootout-deciding goals), behind only the Hurricanes (23).
* Dubois' tallies marked the fastest two goals by one player in the first period since Johnny Gaudreau scored 10 seconds apart for the Flames on March 9, 2016 (vs. NSH).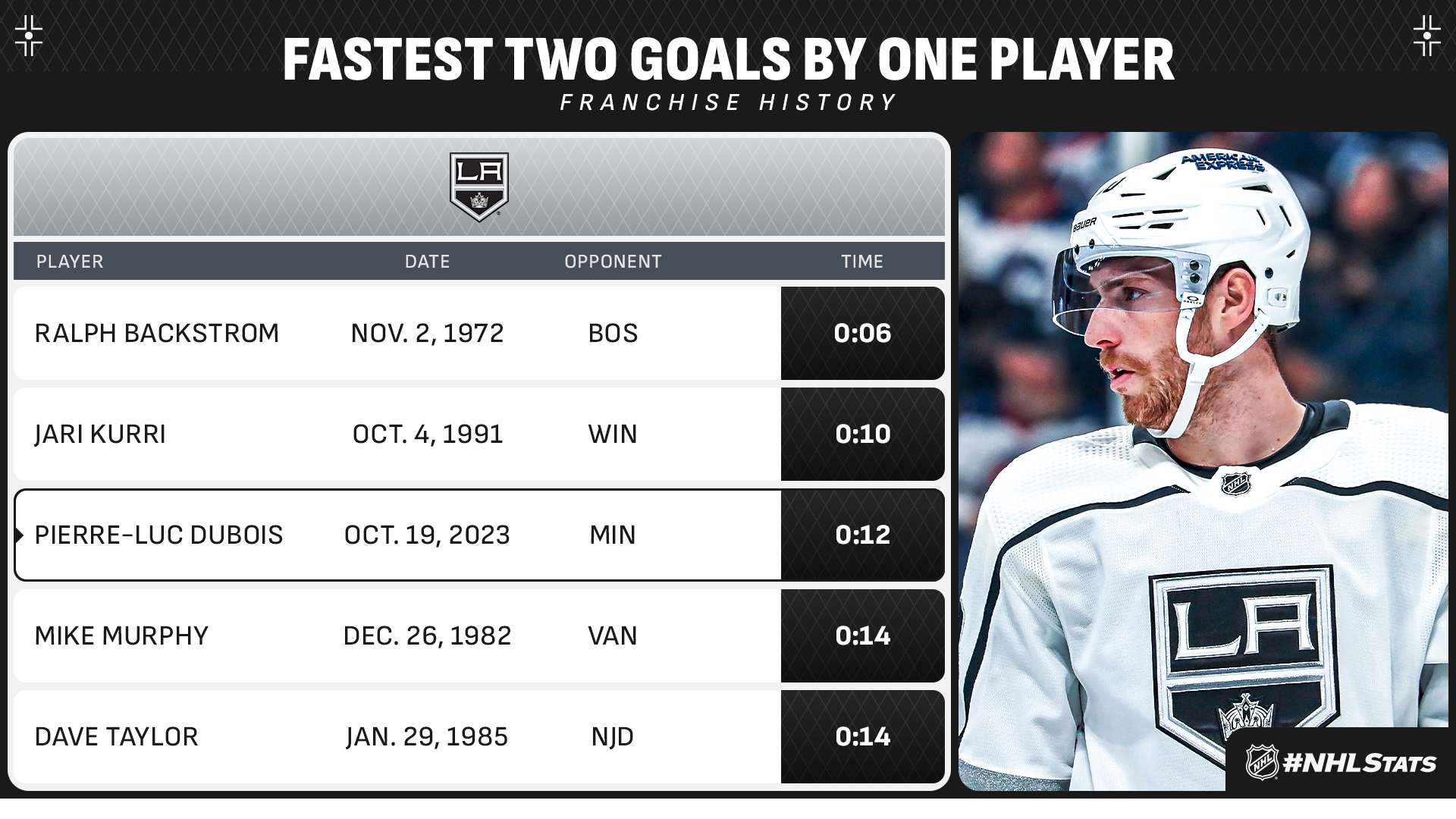 * Tye Kartye scored his first career regular-season goal while his teammates Vince Dunn (1-2—3) and Oliver Bjorkstrand (1-2—3) each posted three-point performances to guide the Kraken to their highest-scoring game this season.
* Kartye (22 years, 172 days), who made his NHL debut with Seattle during the 2023 Stanley Cup Playoffs and recorded 3-2—5 in 10 games, became the third-youngest Kraken player at the time of his first career regular-season goal behind only Shane Wright (18 years, 335 days on Dec. 6, 2022) and Matty Beniers (19 years, 162 days on April 16, 2022).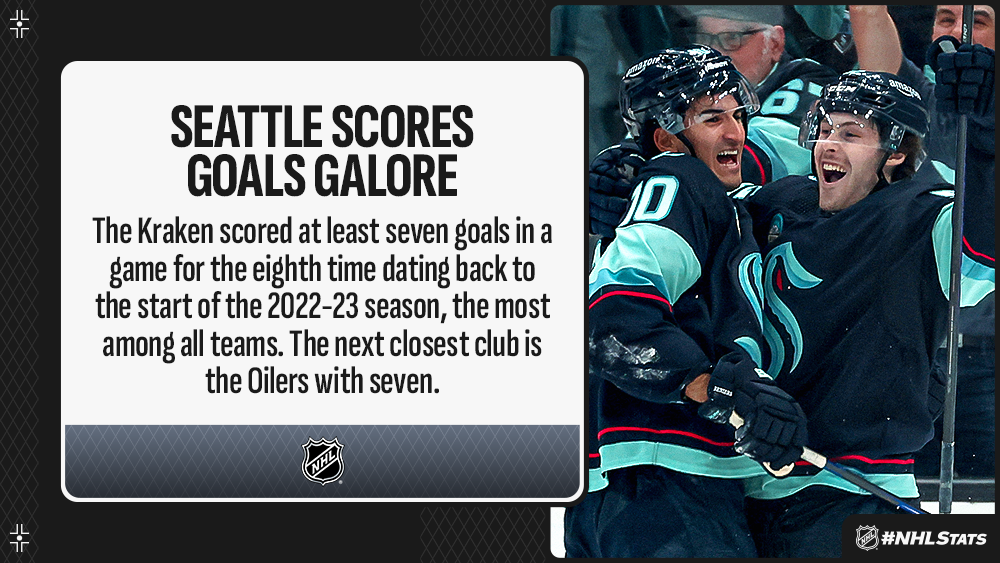 THOMPSON OUTDUELS FORMER TEAMMATE BROSSOIT AS VEGAS MOVES TO 5-0-0
Logan Thompson made 36 saves, including a highlight-reel paddle stop on Jets forward Cole Perfetti in the first period, and Jack Eichel scored the go-ahead goal with 4:36 remaining in regulation as the Golden Knights extended their season-opening winning streak to five games. Thompson outdueled Winnipeg goaltender and former teammate Laurent Brossoit (22 saves), who joined the Jets after helping the Golden Knights win the Stanley Cup.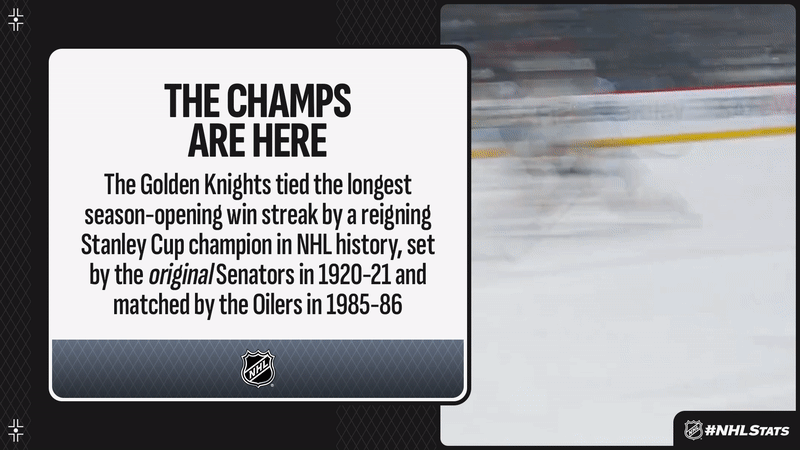 A ROUNDUP FROM #NHLSTATS: LIVE UPDATES
The Thursday edition of #NHLStats: Live Updates featured several notable performances:
* Cam Atkinson (2-0—2) recorded his first multi-goal game since March 5, 2022 to help the Flyers defeat the Oilers and improve to 3-1-0 (6 points) on the season. Atkinson, who missed the entire 2022-23 campaign due to injury, was awarded the team's celebratory dog mask following the win.
* Clayton Keller, who played minor hockey with the St. Louis Jr. Blues program, scored his 11th career goal against St. Louis – his highest total versus any single team – while Logan Cooley (0-4—4 in 4 GP) became the third player in Coyotes team history to record at least four points through his first four NHL games (also Max Domi: 6 in 2015-16 & Ramzi Abid: 4 in 2002-03).
* The Panthers defeated the Maple Leafs in their first contest since the 2023 Second Round with the help of a 29-save performance by Sergei Bobrovsky, who earned his 107th career win with Florida and surpassed John Vanbiesbrouck for sole possession of second place on the franchise's all-time list. He now trails only Roberto Luongo (230).
* It was déjà vu for Logan O'Connor, who scored a shorthanded breakaway goal for the second straight game (also Oct. 17 at SEA), while teammate Alexandar Georgiev had a perfect performance for a shutout in his fourth straight win. O'Connor became the fifth player in Avalanche/Nordiques history to record a shorthanded tally in consecutive contests, joining Joe Sakic (Oct. 15, 18 & 24, 1998; Feb. 23 & 25, 2001), Gabriel Landeskog (March 18 & 20, 2013), Owen Nolan (March 31 & April 2, 1995) and Mike Hough (Feb. 11 & 13, 1989).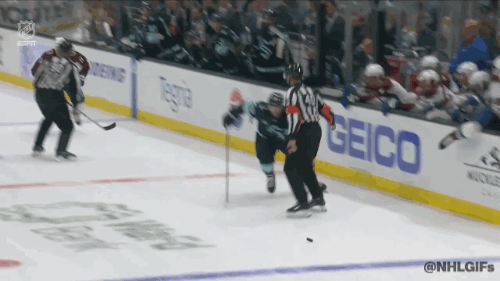 QUICK CLICKS
* 2023 Heritage Classic to be latest in long tradition of 'amazing' NHL outdoor games
* NHL, Fastenal announce multiyear global partnership extension
* Brad Marchand gifts puck to fan who was married in Bruins jersey
* Tuesday's NHL on ESPN doubleheader delivered double-digit growth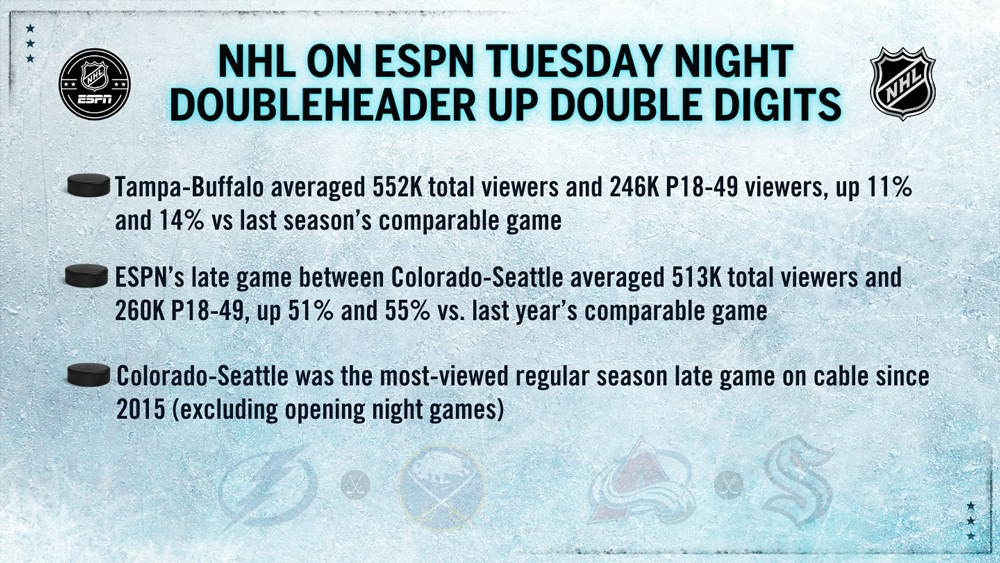 TONIGHT'S TWO-PACK OPENS WITH FLAMES–BLUE JACKETS ON SPORTSNET ONE
Friday's two-game slate features Nazem Kadri and the Flames visiting Johnny Gaudreau and the Blue Jackets at Nationwide Arena as well as Mathew Barzal and the Islanders hosting Jack Hughes and the Devils at UBS Arena. Gaudreau, who was selected by Calgary with the No. 104 pick in the 2011 NHL Draft and skated each of his first nine seasons with the Flames, has two assists in two games against his former team.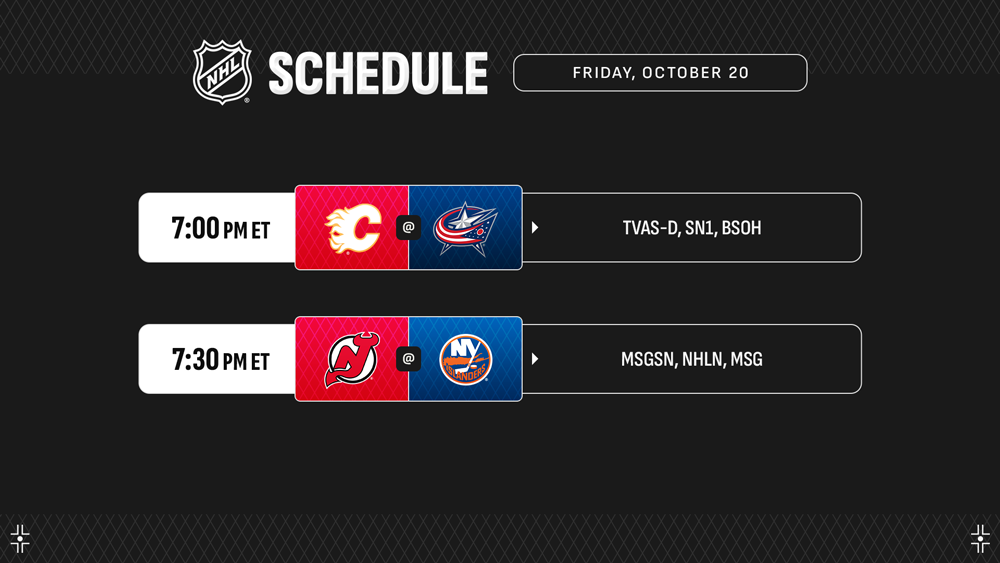 COURTESY NHLmedia.com