By Carey Van Lue
Fans Can Now Access Data from NHL EDGE, the League's Puck and Player Tracking Technology System; League Relaunches NHL.com and NHL App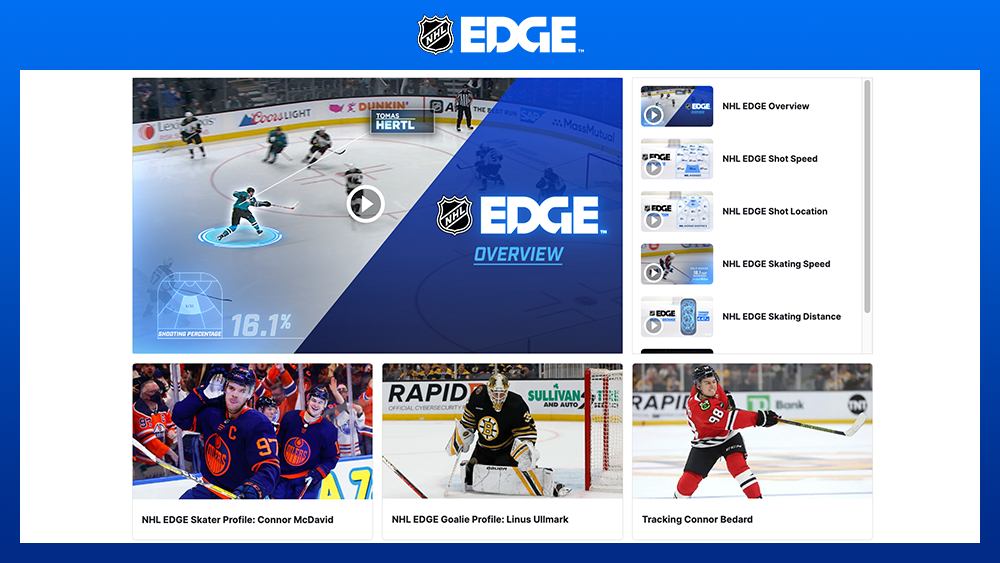 NEW YORK (Oct. 23, 2023) – The National Hockey League (NHL®) today announced the launch of the NHL EDGE advanced stats section on NHL.com (NHL.com/EDGE), delivering Player performance metrics from the League's Puck and Player Tracking system and taking fans deeper into the game.
NHL.com/EDGE, developed in collaboration with League partner Sportradar, contains season-long top-10 leaderboards for skaters, goalies and Clubs in various metrics, including Skating Speed, Skating Distance, Shot Speed, Shot Location (for skaters and goalies) and Puck Zone Time (allowing fans to see where the puck is located when Players are on the ice). Starting today, fans can search, sort, filter and view graphics and data visualizations for every NHL Player and Club since the 2021-22 NHL season, which includes regular-season and Stanley Cup Playoff games.
"We've spent years developing a best-in-class, live Puck and Player Tracking system to help grow the game, tell stories and create new fan experiences, including for arena videoboards and with broadcast partners" said Stephen McArdle, NHL Senior Executive Vice President, Digital Media & Strategic Planning. "Today's launch marks a new and important phase in the evolution of NHL EDGE, as through our collaboration with Sportradar, fans can now access a new set of stats for their favorite teams and Players in an interactive and comparative way. Combined with the relaunch of NHL.com and the NHL App, we're excited for users to enjoy this season's expanded lineup of content and experiences through a more user-friendly design."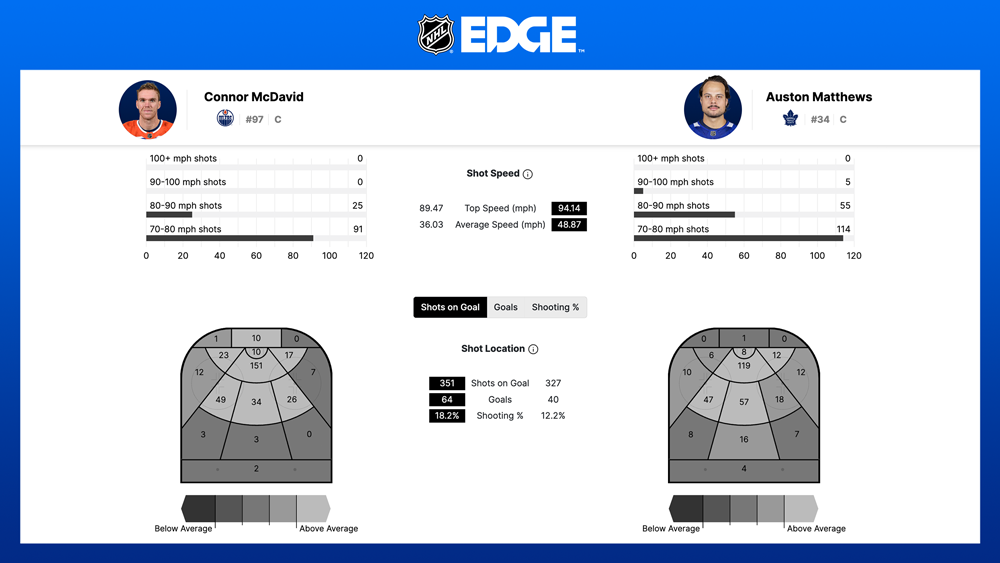 Skater, goalie and Club pages will allow fans to view season-best performances in various NHL EDGE statistics for every Player and Club in the League. The comparison feature on NHL.com/EDGE lets users view any two NHL Players or Clubs side-by-side to see how they measure up in categories such as skater speed bursts, total Player and Club distance skated and hardest shots across regular and postseason play since the 2021-22 NHL season.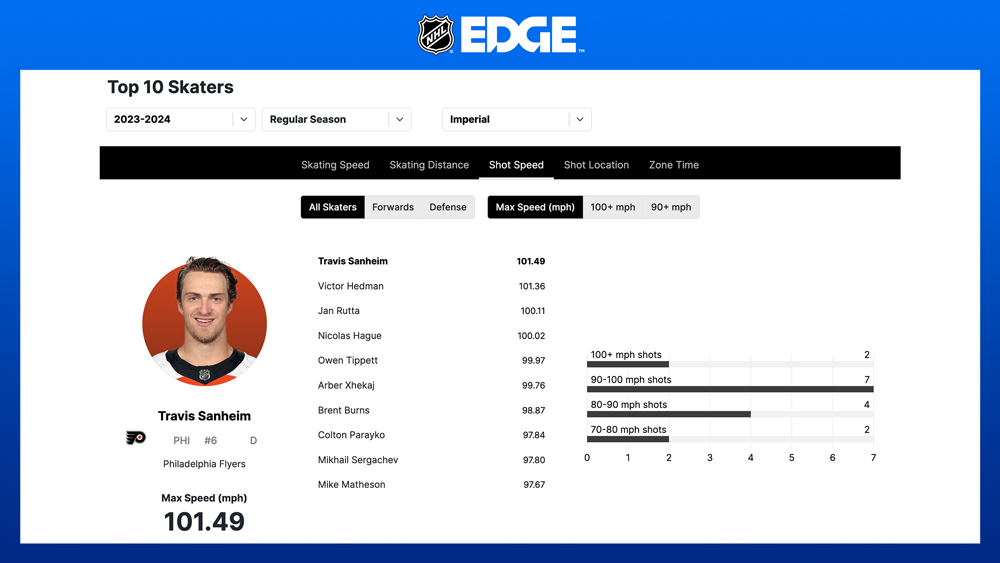 Data on the NHL.com/EDGE site is derived from the EDGE system that was deployed in all 32 NHL arenas during the 2021-22 season. The groundbreaking Puck and Player Tracking technology (including 14 IR cameras above the ice surface positioned to cover all points on the ice) tracks the movements of the puck and each on-ice Player during every game via sensors embedded inside the puck and in the Players' jerseys. The system has the ability to generate nearly one million three-dimensional coordinates and data points over the course of a regulation game, and was utilized to power the inaugural "NHL Big City Greens Classic" live volumetric broadcast in March 2023. EDGE data points, in combination with machine learning models, form the basis of the stats featured on NHL.com/EDGE.
Relaunch of NHL.com and NHL App
In addition, NHL.com and the NHL App have been relaunched for the 2023-24 season, including a complete technical re-architecture and visual redesigns for a clean, easier-to-navigate look and feel. The new platforms provide the League and Clubs with flexible foundations that surface more editorial and video content than ever before while allowing for efficient development and deployment of enhanced fan experiences.
The NHL App, rebuilt in partnership with MLSE Digital Labs, features a streamlined, modern user experience. The shift in content presentation on the NHL App is showcased in the "Latest" tab, which pulls in a mix of news and features, video highlights, stats, and more to provide fans with a single hub for the latest League and Club information. Fans can customize the Latest feed to focus on their favorite team or retain a League-wide mix of content. In-game highlights, live radio streams and postgame video recaps are integrated into a modernized "Gamecenter," putting the live game experience and postgame insights right at fans' fingertips. The app is engineered to speed development flexibility, and future releases will be augmented with enhancements including EDGE tracking data integrations within the Gamecenter experience, native League tentpole event and playoff experiences and more.
NHL.com, designed and developed in conjunction with technology provider Deltatre, now features a cleaner visual design throughout, making it easier for fans to search and navigate. The responsive, mobile-first platform allows for optimized performance on handheld devices, and powers the websites for the League in eight languages and all 32 Clubs. NHL.com mirrors the NHL App's emphasis on live official stats, in-game highlights, postgame recaps, detailed game reports, breaking news and much more content for fans to enjoy.
NHL and the NHL Shield are registered trademarks and NHL EDGE name and logo trademarks of the National Hockey League. NHL and NHL team marks are the property of the NHL and its teams. © NHL 2023. All Rights Reserved.
### (10/23/23)
About the NHL
The National Hockey League (NHL®), founded in 1917, consists of 32 Member Clubs. Each team roster reflects the League's international makeup with players from more than 20 countries represented, all vying for the most cherished and historic trophy in professional sports – the Stanley Cup®. Every year, the NHL entertains more than 670 million fans in-arena and through its partners on national television and radio; more than 191 million followers – league, team and player accounts combined – across Facebook, Twitter, Instagram, Snapchat, TikTok, and YouTube; and more than 100 million fans online at NHL.com. The League broadcasts games in more than 160 countries and territories through its rightsholders including ESPN, WBD Sports and NHL Network in the U.S.; Sportsnet and TVA Sports in Canada; Viaplay in the Nordics, Baltics, and Poland; YLE in Finland; Nova in Czech Republic and Slovakia; Sky Sports and ProSieben in Germany; MySports in Switzerland; and CCTV5+ in China; and reaches fans worldwide with games available to stream in every country. Fans are engaged across the League's digital assets on mobile devices via the free NHL® App; across nine social media platforms; on SiriusXM NHL Network Radio™; and on NHL.com, available in eight languages and featuring unprecedented access to player and team statistics as well as every regular-season and playoff game box score dating back to the League's inception, powered by SAP. NHL Original Productions and NHL Studios produce compelling original programming featuring unprecedented access to players, coaches and League and team personnel for distribution across the NHL's social and digital platforms.
The NHL is committed to building healthy and vibrant communities using the sport of hockey to celebrate fans of every race, color, religion, national origin, gender identity, age, sexual orientation, and socio-economic status. The NHL's Hockey Is For Everyone® initiative reinforces that the official policy of the sport is one of inclusion on the ice, in locker rooms, boardrooms and stands. The NHL is expanding access and opportunity for people of all backgrounds and abilities to play hockey, fostering more inclusive environments and growing the game through a greater diversity of participants. To date, the NHL has invested more than $100 million in youth hockey and grassroots programs, with a commitment to invest an additional $5 million for diversity and inclusion programs over the next year.
COURTESY NHLmedia.com