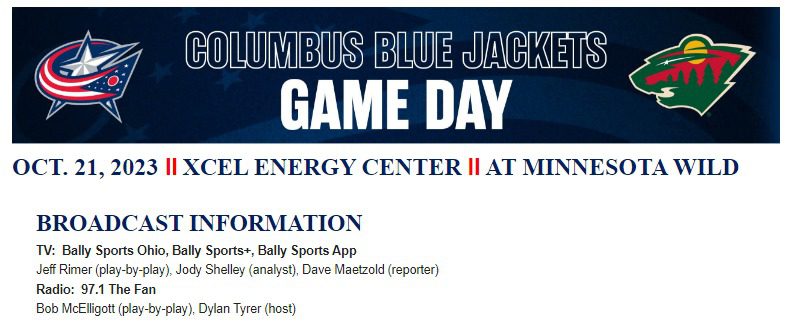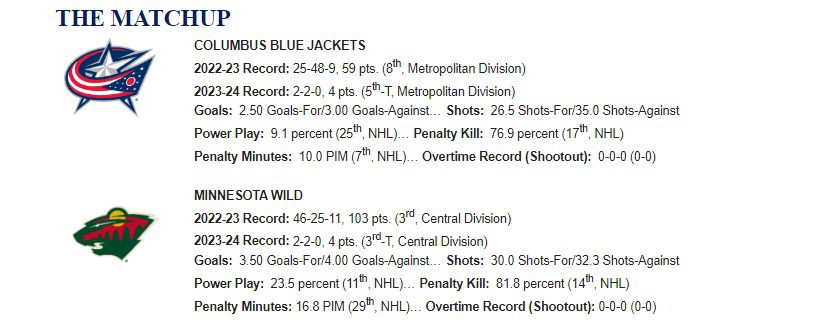 Wild to Watch
«  C Joel Eriksson Ek leads Minnesota in goals and ranks third in points with 4-1-5 in four appearances in 2023-24 a season after setting career highs in assists and points with 23-38-61 in 78 outings.
«  LW Kirill Kaprizov, who is tied for the team lead in scoring in 2023-24 with 2-4-6 in four games, has tallied 7-0-7 in four outings against the Blue Jackets.
«  RW Mats Zucarello has recorded assists in all four games this season, leading the Wild in assists and points (tied) with 0-6-6 in four contests.
All-Time Series
«  Columbus has gone 31-26-7 in 64 all-time meetings vs. Minnesota, including 12-16-5 on the road.
«  The Wild have won the last three games of the season overall (CBJ; 0-1-2) and last four in Minnesota (CBJ; 0-2-2).
«  Three of the last four meetings have been decided after regulation with the Wild winning two overtime contests (Mar. 26, 2022 and Feb. 26, 2023) and one in a shootout (Mar. 11, 2022).
«  Eight of the past 11 games in the all-time series have been decided by a single goal dating back to Mar. 2, 2017, including each of the last five played in Minnesota (three in OT).
«  The Blue Jackets own seven of the 12 shutouts in the all-time series but the Wild have registered the two most recent ones by Alex Stalock (22 saves in 5-0 W at CBJ on Feb. 28, 2020) and Marc-Andre Fleury (30 saves in 2-0 W at CBJ on Feb. 23, 2023).
«  Minnesota has recorded two of the three hat tricks in the all-time series and were awarded the only two penalty shot attempts.
This Season (CBJ, 0-0-0)
«  Oct. 21, 2023 – at Minnesota (8 p.m. ET)
«  Jan. 6, 2024 – at COLUMBUS (7 p.m. ET)
Player Notables vs. Wild
«  LW Johnny Gaudreau – 4-16-20 in 22 career GP, including three multi-point efforts in his last four games against the Wild (1-5-6).
«  F Patrik Laine – 10-5-15 in 21 career GP, including 2-1-3 in his past four contests at Xcel Energy Center.
«  G Elvis Merzlikins – 1-0-2 with a 2.53 GAA and .933 SV% in 3 career GP, including and 0-0-2 record with a 2.86 GAA and .927 SV% in two contests at the Wild.
«  D Damon Severson – 0-5-5 in 15 career GP, including three assists in his seven career games at Minnesota.
BLUE JACKETS TEAM NOTES
The Blue Jackets completed a season-opening four-game homestand (2-2-0) with a 3-1 victory over Calgary on Friday.  It was the longest homestand to kick off a season in franchise history.
Saturday begins a stretch of 7-of-11 games played away from Nationwide Arena through November 12th.  The club also visits Montreal (Oct. 26), Dallas (Oct. 30), Washington (Nov. 4), Florida (Nov. 6), Detroit (Nov. 11) and the NY Rangers (Nov. 12).
The Minnesota game marks the second of six consecutive Saturday games for the club to begin the season.  The first Saturday that the Blue Jackets won't play will be the Saturday following Thanksgiving (Nov. 25).  The team plays 21 Saturday contests in 2023-24.
Friday's contest against the Flames kicked off a stretch of three consecutive games against the Western Conference from October 20-24.
CBJ conclude their first of 13 back-to-back sets this season on Saturday at Minnesota.  The club will play three back-to-back sets in the month of November (Nov. 11 at DET/Nov. 12 at NYR, Nov. 18 at WSH/Nov. 19 at PHI, Nov. 26 at CAR/Nov. 27 vs. BOS).
BLUE JACKETS PLAYER NOTES
RW Justin Danforth collected his first career multi-point outing, including his second career game-winning goal, with 1-1-2 in Friday's victory over the Flames.  After being held scoreless in the season opener, he's recorded 2-1-3 in the last three contests.
Making his NHL debut on his 19th birthday, C Adam Fantilli became the 18th teenager in franchise history to make his NHL debut and the eighth to record a point after picking up an assist in the first period on Thursday against the Flyers.  Fantilli, who was selected third overall in the 2023 NHL Draft, became the third freshman in NCAA history to win the Hobey Baker Award as the NCAA's top collegiate player, joining Paul Kariya (1993) and Jack Eichel (2015) after leading all players in goals and points with 30-35-65 in 36 games at the University of Michigan in 2022-23.
Seven-time NHL All-Star LW Johnny Gaudreau, who led the club in assists, points and multi-point efforts with 21-53-74 and 20 multi-point outings in 80 games in his first season with the Blue Jackets in 2022-23, collected his first two assists of the 2023-24 campaign last Saturday.
C Boone Jenner recorded the Blue Jackets' first three goals in last Saturday's 5-3 victory over the Rangers for his second career hat trick (Mar. 19, 2021 vs. BOS) and the club's eighth natural hat trick in team history (MR: Emil Bemstrom; May 3, 2021 vs. NSH).  He leads the club in goals and points with 3-1-4 in four games this season after leading CBJ in goals in 2022-23 with 26-19-45 in 68 outings.
LW/C Patrik Laine collected points in the first two games this season (1-1-2).  The forward led the Blue Jackets in power play goals and points-per-game and ranked second in goals and points in 2022-23 despite missing 27 games due to injury as he finished with 22-30-52 and eight PPG in 55 outings (.95 points-per-game).
RW Kirill Marchenko has collected 0-3-3 in four games this season and is already one assist shy of tying his total from his rookie campaign in 2022-23 (21-4-25 in 59 GP).  He finished tied for the NHL lead among rookies in power play goals and third in goals while setting franchise rookie records in both categories last season.
Blue Jackets blueliners combined for 1-2-3 in Friday's victory over the Flames and have now combined for 3-5-8 in four games this season.   D Zach Werenski, who returned to action on Friday after missing two games with a quad contusion, collected his first points of the campaign with 1-1-2 against Calgary.  D Ivan Provorov has registered 0-3-3 in the last three contests.
CBJ have two 19-year-old rookies on the team with C Adam Fantilli (2023 third overall pick) and D David Jiricek (2022 sixth overall selection).
BLUE JACKETS MILESTONES
LW Kent Johnson is nine games from 100 for his NHL career (16-28-44, 91 GP).
F Patrik Laine is one goal from 200 for his NHL career (199-182-381, 466 GP).
D Andrew Peeke is four games away from his 200th NHL game (9-25-34, 196 GP).
C Jack Roslovic is nine points from 200 for his NHL career (71-120-191, 389 GP).
OhioHEALTH INJURY REPORT
RW Yegor Chinakhov (back strain) is on the Injured/Non Roster List on Oct. 9 (Week-to-Week); 4 games
G Daniil Tarasov (knee) is on the Injured/Non Roster List on Oct. 9 (Week-to-Week); 4 games
TOTAL MAN GAMES LOST: 12
COURTESY  CBJ COMMUNICATIONS