By StephanieLee Elliott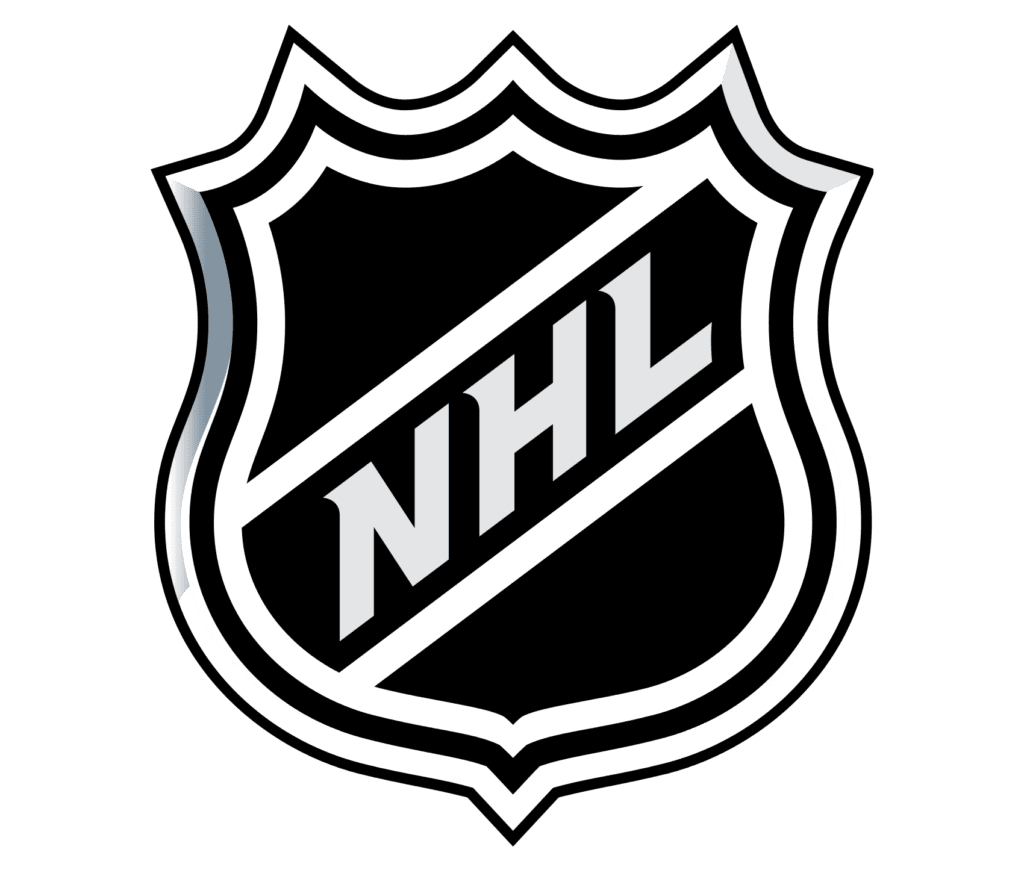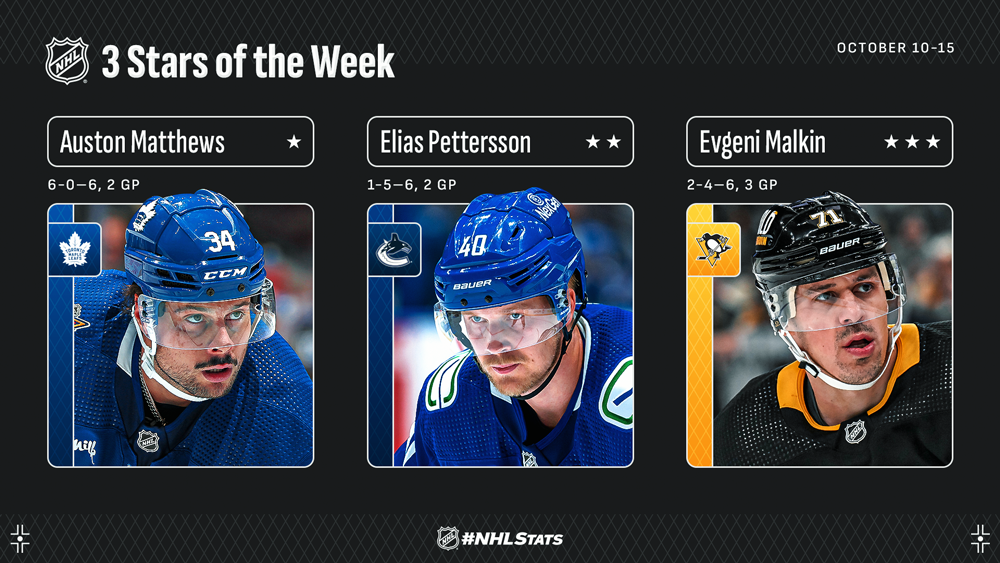 NEW YORK (Oct. 16, 2023) – Toronto Maple Leafs center Auston Matthews, Vancouver Canucks center Elias Pettersson and Pittsburgh Penguins center Evgeni Malkin have been named the NHL's "Three Stars" for the week ending Oct. 15.
FIRST STAR – AUSTON MATTHEWS, C, TORONTO MAPLE LEAFS
Matthews (6-0—6 in 2 GP) became the fifth player in NHL history – and just the second since the League's inaugural campaign (1917-18) – to record a hat trick in each of his first two games of a season, scoring three times in both a 6-5 shootout victory against the Montreal Canadiens Oct. 11 and a 7-4 win over the Minnesota Wild Oct. 14. Matthews began 2023-24 (Oct. 11 vs. MTL) by becoming the 10th-fastest player in NHL history to reach the 300-goal milestone (482 GP) while also becoming the fourth player to register a hat trick in multiple season-opening games, following his four-goal League debut in 2016‑17. He followed that up with his ninth career hat trick (Oct. 14 vs. MIN) to move into a tie with Reg Noble for the fifth-most in Maple Leafs history. The 26-year-old Matthews, a two-time Maurice "Rocket" Richard Trophy winner (2021-22 and 2020-21), has scored a League-high 305 career goals since entering the NHL after being drafted with the No. 1 overall pick in 2016 (305-243—548 in 483 GP).
SECOND STAR – ELIAS PETTERSSON, C, VANCOUVER CANUCKS
Pettersson compiled 1-5—6 in two contests to power the Canucks to a season-opening home-and-home sweep of the Edmonton Oilers. Pettersson (1-3—4) was one of three Vancouver players to record a four-point performance in the team's season-opening 8-1 triumph Oct. 11 (also Brock Boeser: 4-0—4 and J.T. Miller: 1-3—4). The Canucks became the fourth team in NHL history – and first since the 1991-92 Calgary Flames – to have three players each register four-plus points in their season opener (also 1990-91 PIT and 1965-66 MTL). Pettersson added two more assists in a 4-3 win Oct. 14, making him the second player in franchise history with six-plus points through his first two games of a campaign (also Andre Boudrias: 1-5—6 in 1973-74). The 24-year-old Pettersson, who posted career highs in goals (39), assists (63) and points (102) in 2022-23, tops Vancouver in goals (137) and points (329) since his debut NHL season in 2018-19 (327 GP).
THIRD STAR – EVGENI MALKIN, C, PITTSBURGH PENGUINS
Malkin collected 2-4—6 in three appearances to lift the Penguins to a pair of opening-week victories. Malkin was held off the scoresheet in a 4-2 loss to the Chicago Blackhawks Oct. 10, but rebounded with 1-3—4 – his 29th career four-point outing and first since Jan. 10, 2023 vs. VAN (2-2—4) – in a 4-0 win versus the Washington Capitals Oct. 13. He then notched his second straight multi-point performance with 1-1—2, including the primary helper on Pittsburgh's go-ahead goal, in a 5-2 triumph against the Calgary Flames Oct. 14. The 37-year-old Malkin, the No. 2 overall pick from the 2004 NHL Draft, ranks third in the League in assists (762) and fourth in both goals (473) and points (1,235) since entering the NHL in 2006-07 (1,066 GP).
COURTESY NHLmedia.com