By StephanieLee Elliott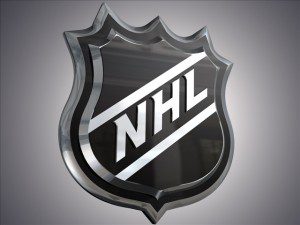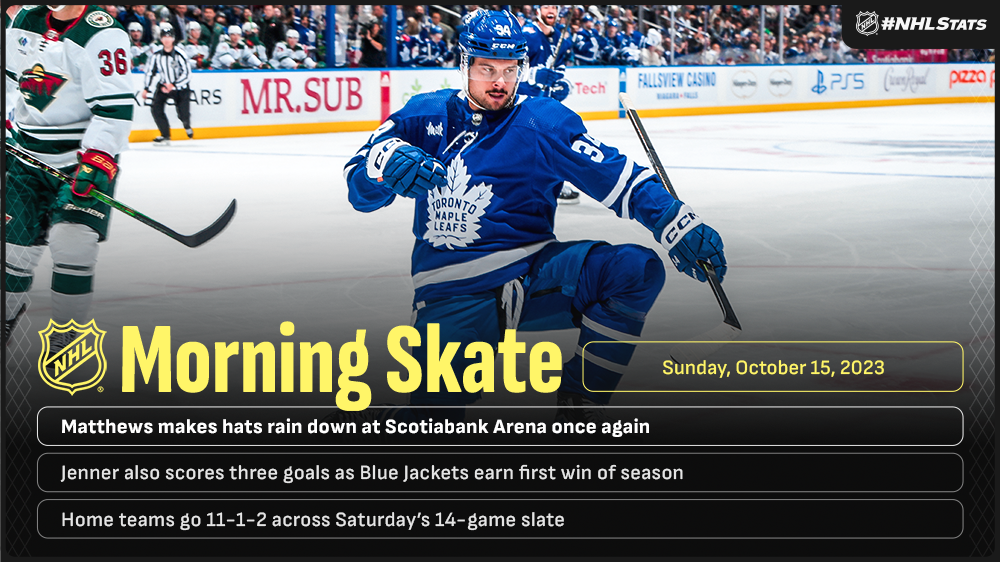 * Auston Matthews made hats rain down at Scotiabank Arena for the second time in as many games this season as he became the fifth player in NHL history to open a campaign with consecutive three-goal performances.
* Boone Jenner also had a hat trick during the first Saturday of the 2023-24 regular season, while several other stars left their mark on games.
* Several teams extended their winning streaks in home openers as hosts went 11-1-2 (24 points) across the 14-game slate overall.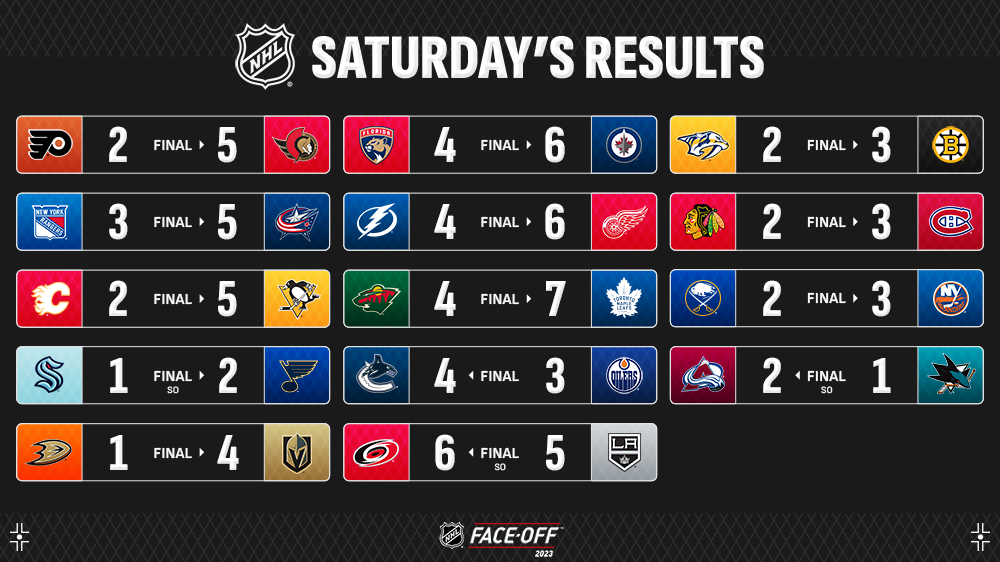 MATTHEWS STARTS SEASON WITH BACK-TO-BACK HAT TRICKS
Auston Matthews (3-0—3) recorded a hat trick for the second consecutive game to become the fifth player in NHL history to score three or more goals in each of their first two games to start the season, joining Alex Ovechkin (2017-18), Cy Denneny (1917-18), Joe Malone (1917-18) and Reg Noble (1917-18).
* It marked the ninth hat trick of Matthews' career, tying the aforementioned Noble for fifth on the Maple Leafs all-time hat trick list. Since entering the League in 2016-17, Matthews has scored a League-leading 305 goals, eight more than the next-closest skater over that span (Alex Ovechkin: 297).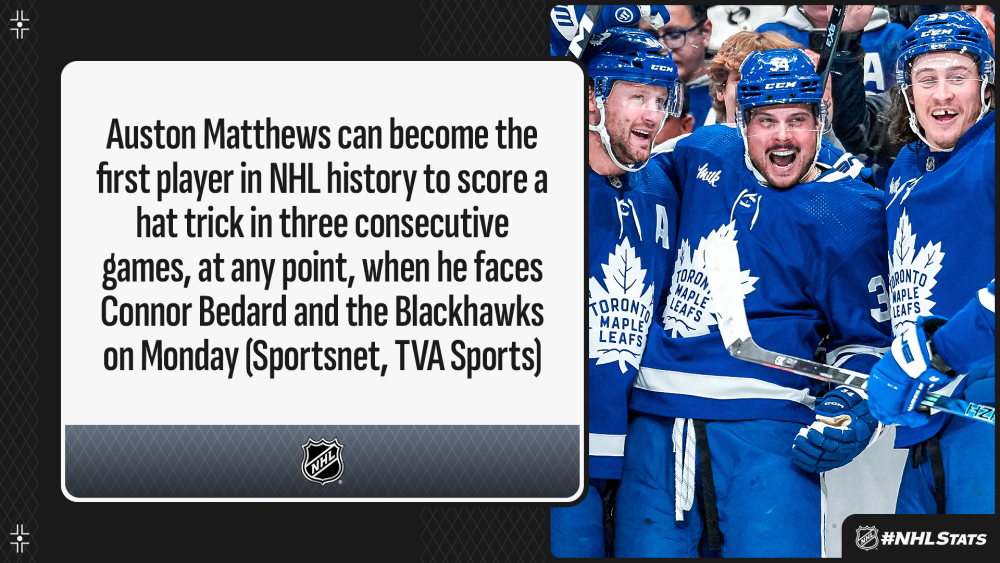 OTHER STARS SHINE ON FIRST SATURDAY OF THE SEASON
Penguins captain Sidney Crosby (0-1—1), Blackhawks forward Connor Bedard (0-1—1), Canucks forward Elias Pettersson (0-2—2), Golden Knights forward Jack Eichel (1-1—2), Islanders forward Brock Nelson (1-1—2), Bruins forward David Pastrnak (1-1—2), Hurricanes forward Sebastian Aho (1-1—2), Red Wings forward Alex DeBrincat (2-1—3) and Blue Jackets captain Boone Jenner (3-0—3) also had noteworthy performances during the first Saturday of the 2023-24 regular season:
* Crosby (553-953—1,506 in 1,193 GP) collected a helper on Jake Guentzel's game-winning goal to reach 1,506 points in his NHL career and tie Ray Bourque (395-1,111—1,506 in 1,518 GP w/ BOS) for the sixth most with a single franchise in League history.
* Bedard found the score sheet yet again and became the 10th No. 1 pick with a point in each of his first three NHL games, following Alex Ovechkin (8 GP), Alexandre Daigle (7 GP), Sidney Crosby (6 GP), Eric Lindros (5 GP), Billy Harris (3 GP), Dale McCourt (3 GP), Mario Lemieux (3 GP), John Tavares (3 GP) and Nathan MacKinnon (3 GP).
* Pettersson (1-5—6 in 2 GP) helped the Canucks sweep their home-and-home set against the Oilers and became the second player in franchise history with six points through two games in a season, joining Andre Boudrias in 1973-74 (1-5—6 in 2 GP).
* Eichel (2-2—4 in 3 GP) opened the scoring to extend his season-opening point streak to three games and help Vegas move to 3-0-0. The Golden Knights became the second reigning Stanley Cup champion in the last 23 years with a season-opening winning streak of at least three games, joining the Lightning in 2020-21 (3-0-0).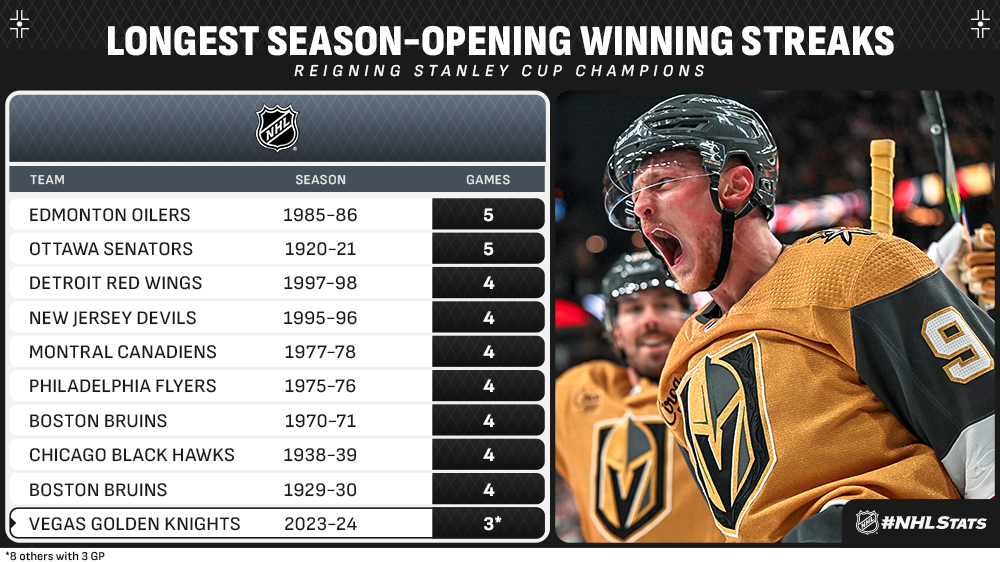 * Nelson (6-6—12 in 11 GP) notched his sixth career goal in a season-opening game to pass Bryan Trottier (5-9—14 in 14 GP) and Billy Harris (5-1—6 in 8 GP) for sole possession of second place on the franchise's all-time list, which is topped by Mike Bossy (7-4—11 in 10 GP).
* Pastrnak scored the second penalty-shot goal of his NHL career and became the first Bruins player to start a season with consecutive multi-point outings since Nathan Horton (2 GP in 2010-11) as the reigning Presidents' Trophy winners improved to 2-0-0.
* Aho scored his franchise record-setting 17th career shorthanded goal in regulation and was one of five players to find the back of the net in the shootout as the Hurricanes withstood a three-goal Kings rally to improve to 2-0-0 on the campaign. The 2023-24 season marks the third time in franchise history in which the Hurricanes/Whalers have scored at least five goals in each of their first two games, following 1981-82 and 1985-86.
* DeBrincat, who was born in Farmington Hills, Mich., scored a first-period goal and the game winner during his first home opener with Detroit. DeBrincat (3-1—4 in 2 GP) became the fourth player in franchise history to score three goals through his first two games with the Red Wings, joining Bobby Ryan in 2020-21 (3-0—3 in 2 GP), Jack McIntyre in 1957-58 (3-0—3 in 2 GP) and Harry Watson in 1942-43 (3-1—4 in 2 GP).
* Jenner scored three consecutive goals to record his second career hat trick (also March 12, 2019) and lift the Blue Jackets to their first win of the season.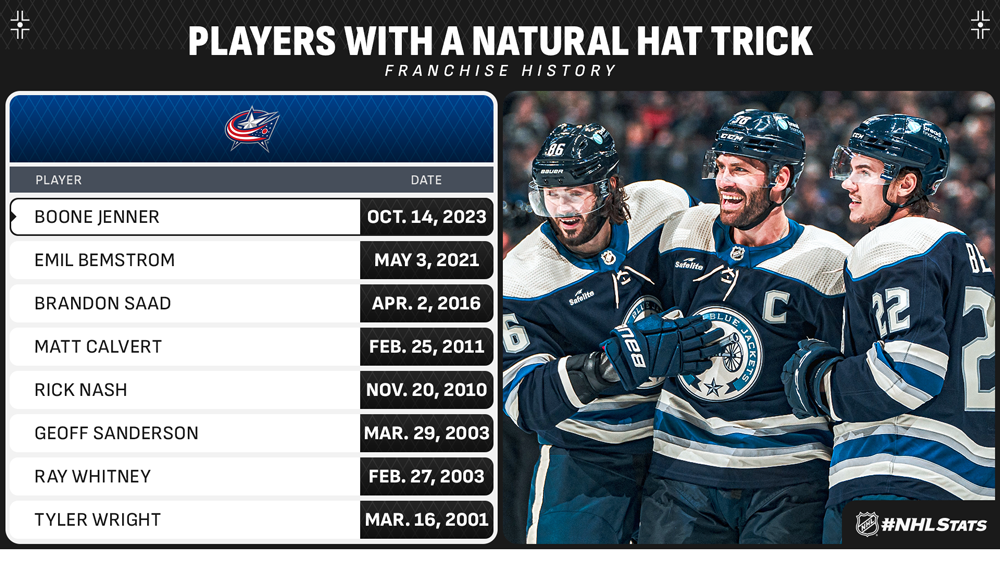 JETS, SENATORS, BLUES CONTINUE STREAKS OF HOME-OPENING WINS
Three teams treated their fans to another victory in a home opener, with Winnipeg extending its winning streak in such contests to six and the Senators and Blues pushing theirs to four. Kyle Connor (2-1—3) scored twice for Winnipeg to boost his career goal total in home openers to a franchise-high eight goals, one ahead of teammate Mark Scheifele (7) who also scored on Saturday.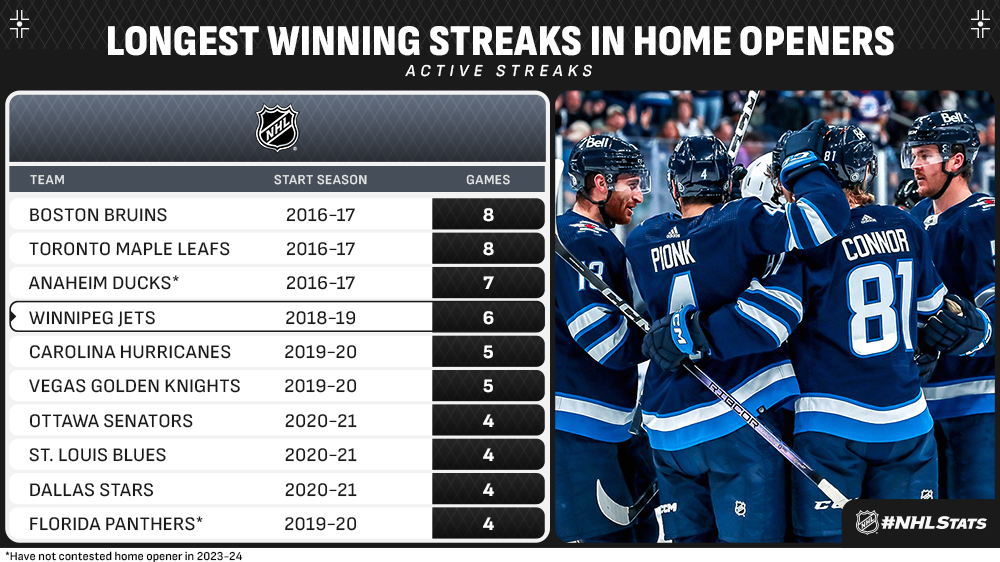 * There was plenty of action in Ottawa on Saturday afternoon as the United by Hockey Mobile Museum made its first stop on its journey to all 32 NHL markets, new Senators owner Michael Andlauer dropped the ceremonial puck and Claude Giroux was honored in a pre-game ceremony before notching two assists against his former club as the Senators won their home opener for a fourth straight year.
* Jakob Chychrun (2-1—3) and Brady Tkachuk (2-0—2) became the first Senators teammates to each score multiple goals in the club's home opener, with Chychrun also matching the highest point total by an Ottawa defenseman in the club's first game as hosts.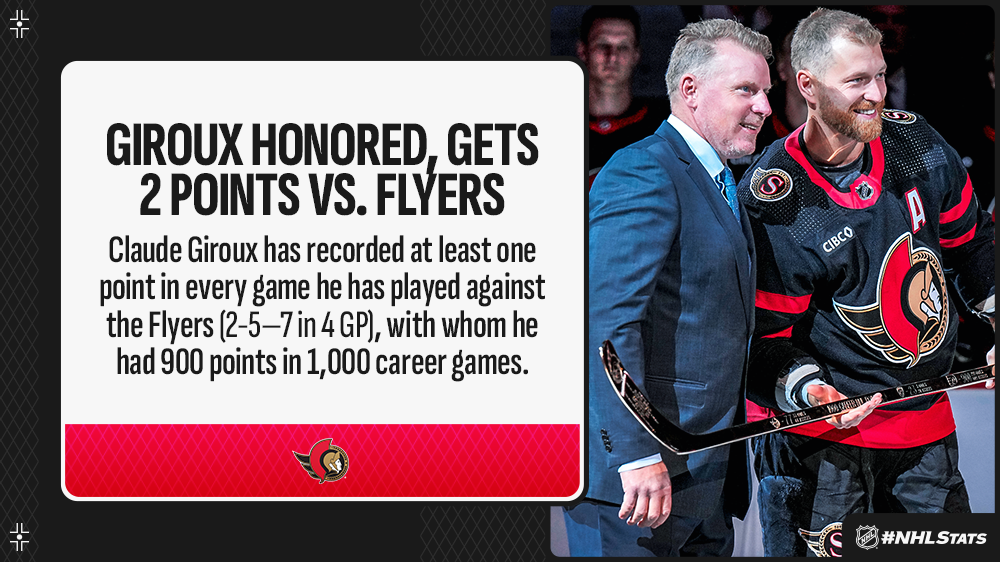 QUICK CLICKS
* #NHLStats: Live Updates – Oct. 14, 2023
* Blue Jackets 'welcome back' Jonathan Quick after one-day tenure last season
* Erik Karlsson's daughter finally meets Penguins mascot Iceburgh
* Henrik Lundqvist jokes about landing on moon on The Tonight Show Starring Jimmy Fallon
* Mackenzie Blackwood makes 51 saves during Los Tiburones Night presented by Milagro Tequila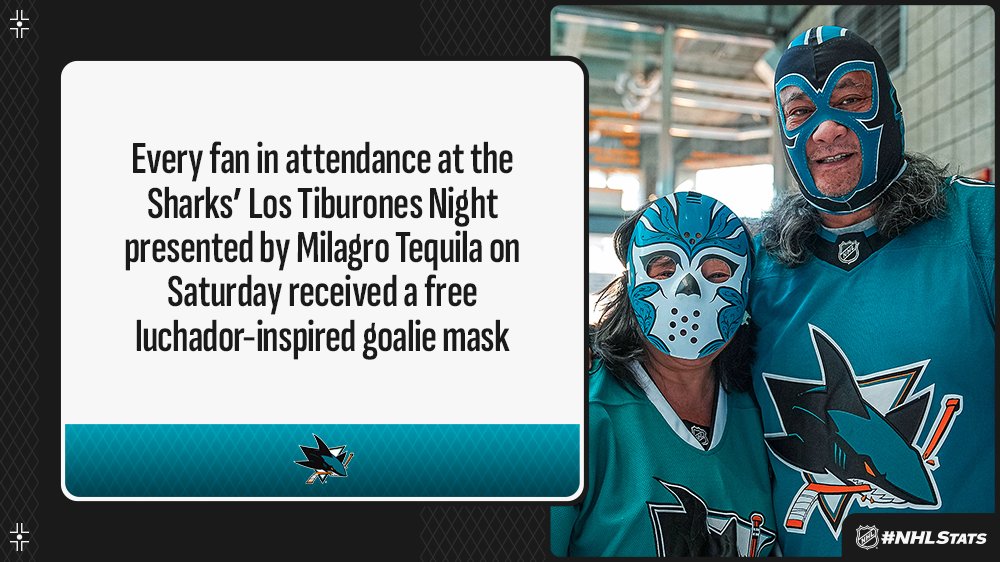 DUCKS TO HOST HURRICANES IN HOME OPENER ON SPORTSNET
NHL Network and Sportsnet will be the home for Sunday's two-game slate as the Senators continue a five-game homestand against the Lightning and the Hurricanes play the second of a six-game road trip against the Ducks, who will host their home opener. Anaheim is 19-9-1 in its 29 home openers to date, good for a .672 points percentage – which entering 2023-24 was the fifth highest in NHL history.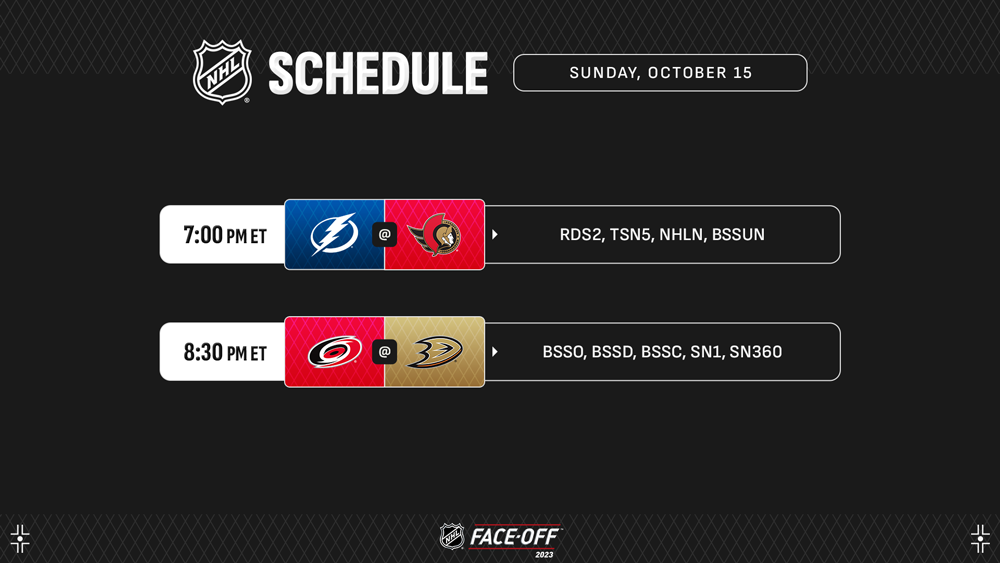 COURTESY NHLmedia.com