By StephanieLee Elliott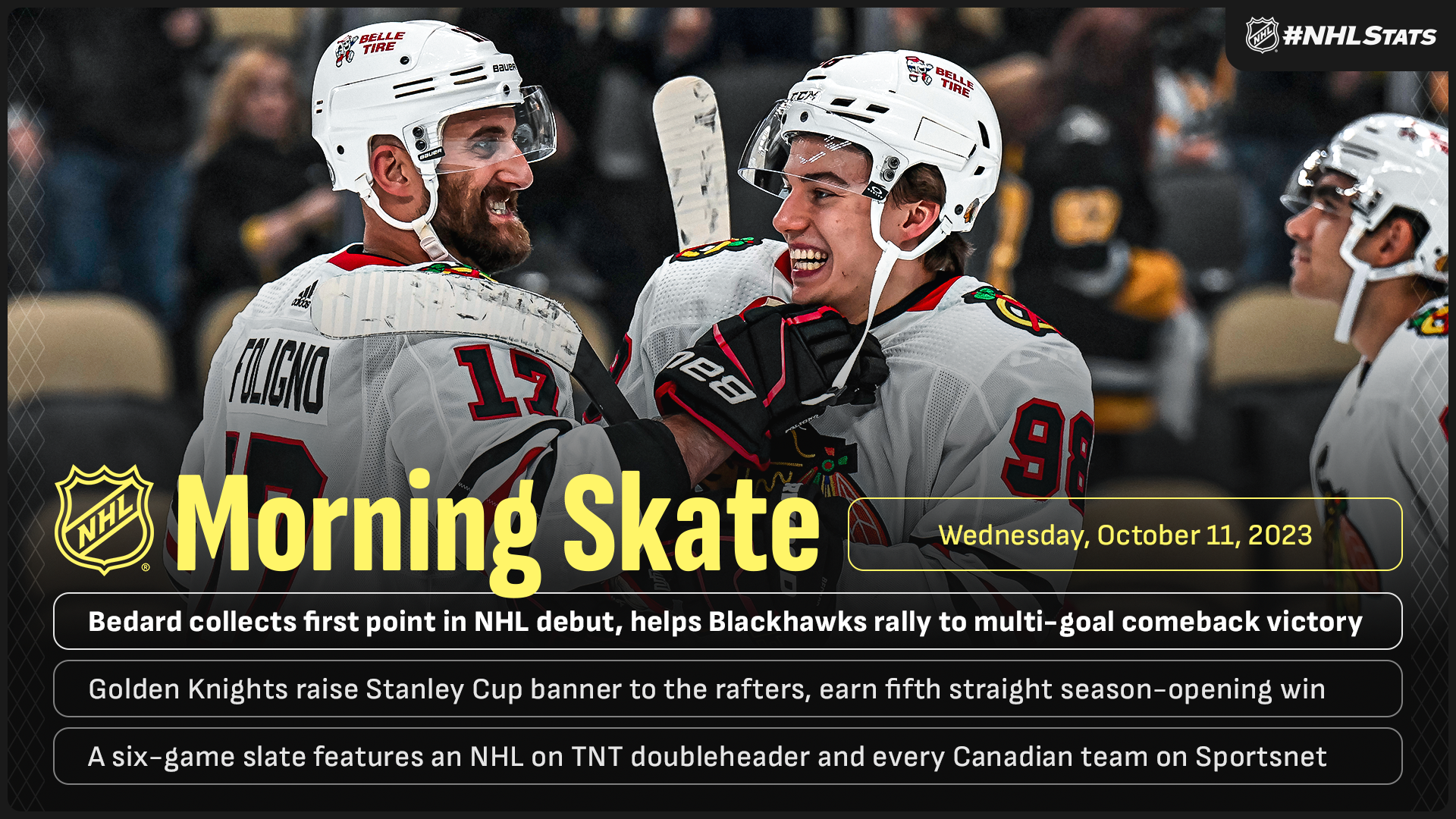 * Connor Bedard collected a point in his NHL debut against his childhood idol with an assist 35:37 into the game – nearly 10 minutes less than it took Sidney Crosby in his first contest – to help Chicago rally to a multi-goal comeback victory. Bedard will have another chance to collect his first NHL goal when the Blackhawks visit the Bruins on Wednesday – the club Crosby scored his first NHL goal against when Bedard was 83 days old.
* After raising their Stanley Cup banner to the rafters, the Golden Knights claimed victory in their fifth straight season-opening game with the help of Conn Smythe Trophy winner Jonathan Marchessault.
* Nikita Kucherov scored the first goal of 2023-24 and Brandon Hagel became the seventh player in NHL history to convert on a penalty shot in a season opener.
* Tonight's six-game slate features an NHL on TNT doubleheader and every Canadian team in action during Sportsnet's first Scotiabank Wednesday Night Hockey telecast of the season.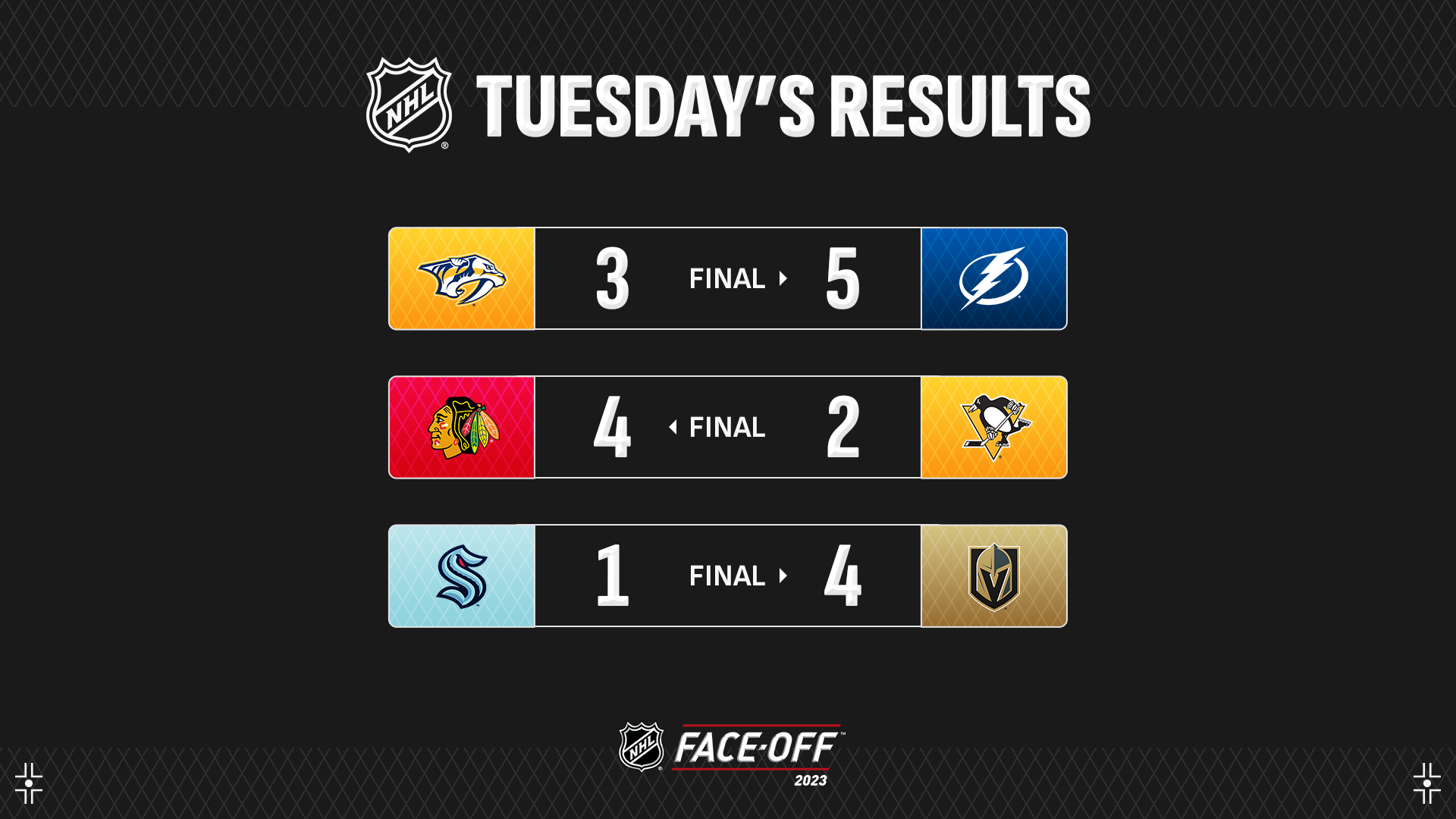 BEDARD RECORDS FIRST POINT IN NHL DEBUT
Connor Bedard made memories as he opened the 2023-24 season on ESPN, ESPN+, Sportsnet and TVA Sports, lining up across from his childhood hero Sidney Crosby to take the opening faceoff. It took Bedard 35:37 of playing time to record his first NHL point, slightly less than Crosby in his first contest (45:36), as he assisted on the first of four unanswered goals to help the Blackhawks rally from a 2-0 deficit to earn a win in their season opener.
* Bedard (18 years, 85 days) became the youngest player to record a point in his NHL debut since Aleksander Barkov (18 years, 31 days; Oct. 3, 2013) and Nathan MacKinnon (18 years, 31 days; Oct. 2, 2013) did so on consecutive days over a decade ago. Overall, Bedard is the fifth-youngest active player to record a point in his NHL debut, behind Barkov (18 years, 31 days; Oct. 3, 2013), MacKinnon (18 years, 31 days; Oct. 2, 2013), Crosby (18 years, 59 days; Oct. 5, 2005) and Evander Kane (18 years, 62 days; Oct. 3, 2009).
* Bedard became the fourth player to record a point in his Blackhawks debut at age 18 or younger, joining Eddie Olczyk (18 years, 56 days; Oct. 11, 1984), Steve McCarthy (18 years, 243 days; Oct. 4, 1999) and Dean McAmmond (18 years, 250 days; Feb. 20, 1992) – all three players also did so in what was their first career NHL game.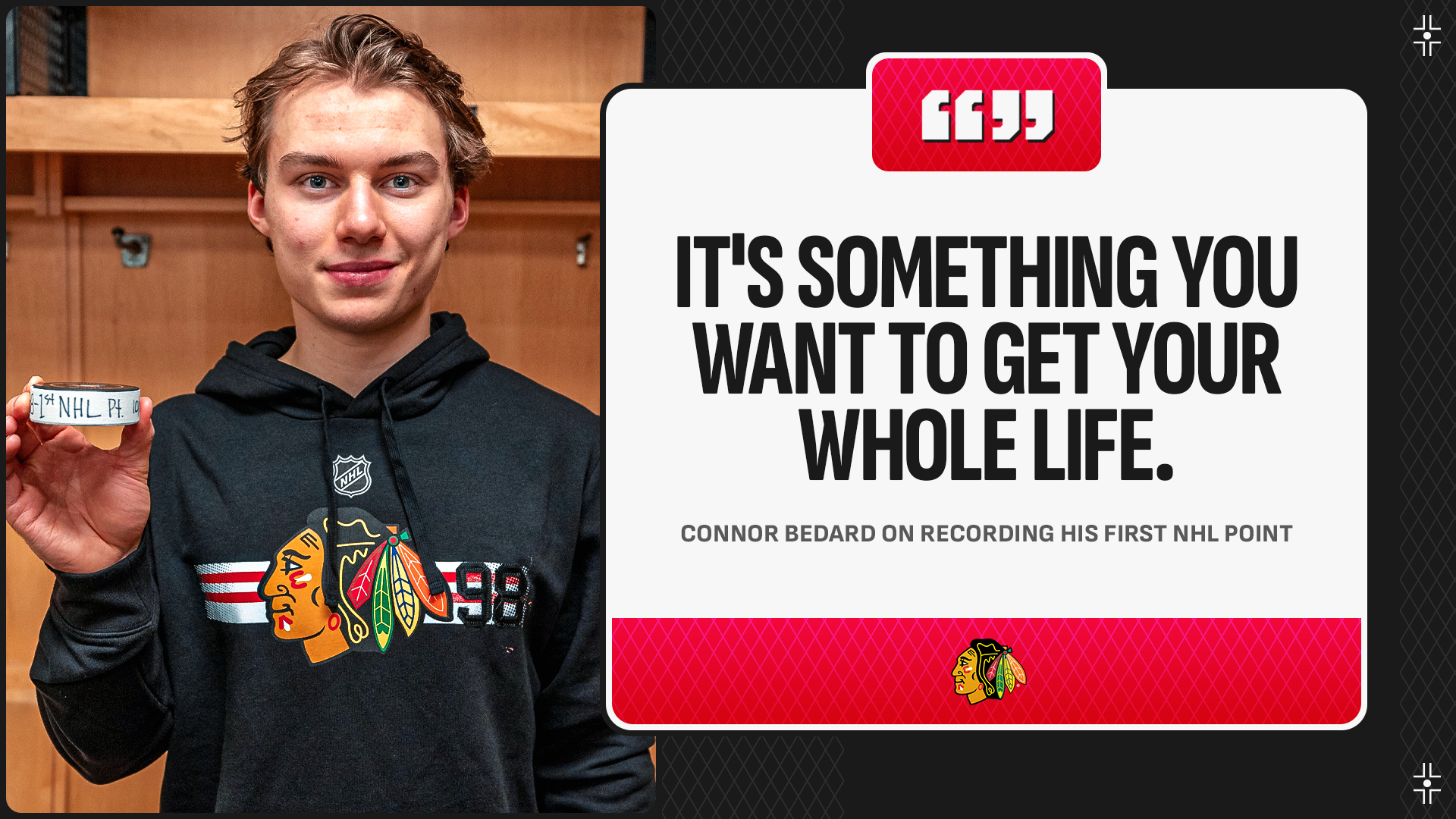 * Nick Foligno (1-1—2) and Corey Perry (0-2—2), two veterans with a combined 2,340 games of NHL experience and two of Chicago's offseason acquisitions, each collected two points in their Blackhawks debut to help their new team erase a multi-goal deficit. This marked the second time in franchise history the club overcame a multi-goal deficit to win a season-opening contest (also Oct. 5, 2006 at NSH).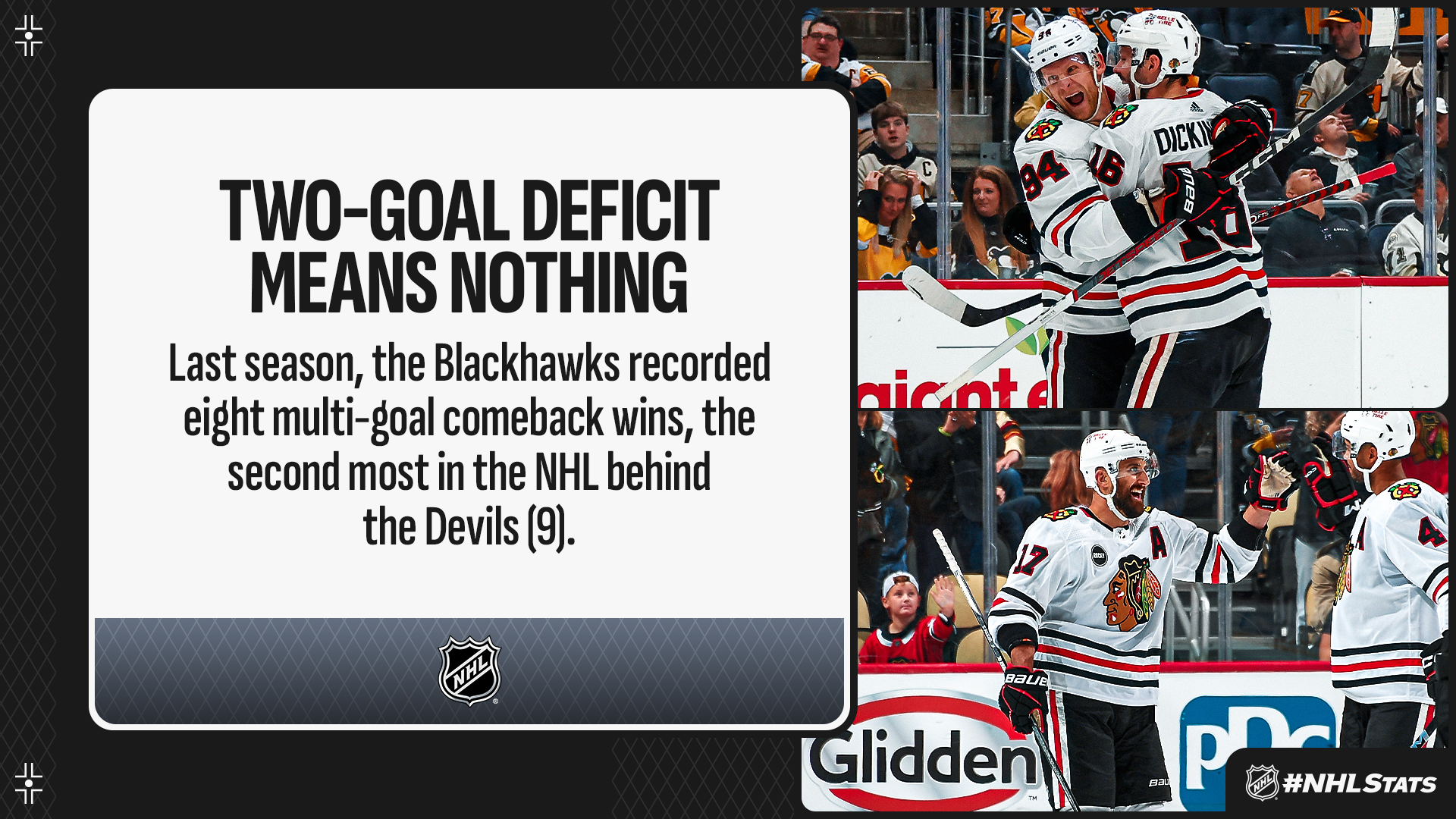 VEGAS CELEBRATES BANNER RAISING WITH ANOTHER SEASON-OPENING VICTORY
After a Stanley Cup banner-raising ceremony befitting of the city where it hangs, Conn Smythe Trophy winner Jonathan Marchessault scored the game-winning goal and Vegas captain Mark Stone collected two assists as the reigning champions earned another season-opening win.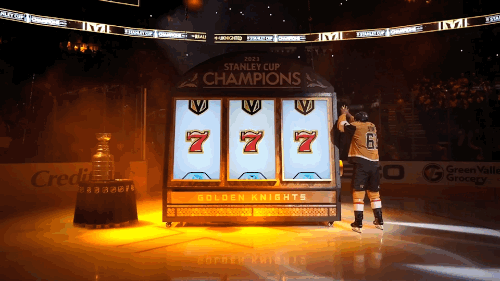 * Marchessault, who led the League in goals (tied) in the 2023 Stanley Cup Playoffs and ranked second in points (13-12—25 in 22 GP), has scored in four straight season-opening games. The only player with a longer active streak is Kyle Connor (5 from 2018-19 to 2022-23).
* Vegas, which holds the highest points percentage in season openers in NHL history (6-1-0; .857%), won its fifth consecutive season-opening game – the longest active run. The Hurricanes (4 GP) and Bruins (both w/ 4 GP) each have the opportunity to match the Golden Knights on Wednesday when they face off against the Senators and Blackhawks, respectively.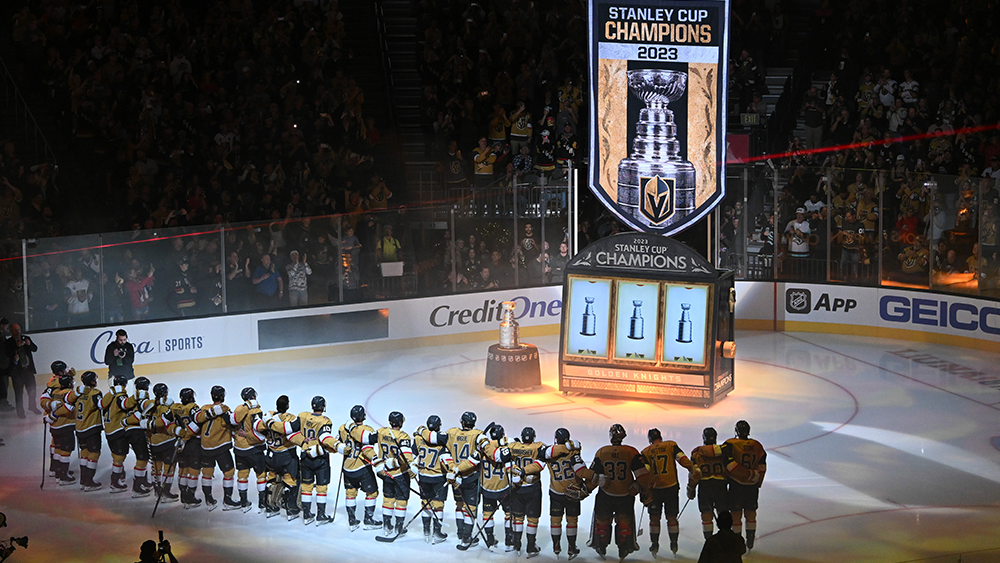 KUCHEROV, HAGEL HELP TAMPA BAY TRIUMPH IN SEASON OPENER
The 2023-24 campaign began with the puck dropping at Amalie Arena in a contest that saw Tampa Bay find the back of the net five times, with Nikita Kucherov spearheading the Lightning offense with two goals and Brandon Hagel scoring a penalty-shot marker.
* Kucherov scored the League's first goal of 2023-24, while Hagel found the back of the net in a season-opening contest for the first time in his career. It marked the 25th instance in NHL history of a penalty shot attempt in any club's first game of a campaign and just the seventh conversion.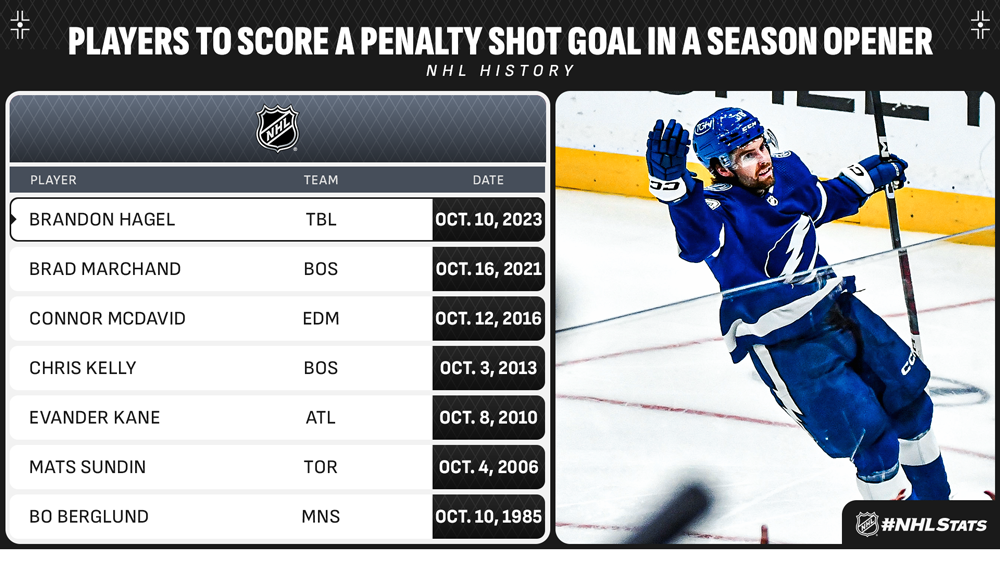 NHL PODCAST ROUNDUP
* NHL @TheRink (9/20): Jason Robertson & Clayton Keller join
* NHL Fantasy on Ice (9/21): Season preview – Sleepers, breakouts, bounce-backs
* NHL @TheRink (9/27): Tkachuk brothers join; Connor McDavid's point ceiling
* NHL Fantasy on Ice (9/28): 2023-24 season preview: Mock draft 2.0; bargains & fades
* The Chirp (9/28): Cole Caufield & Tom Wilson join; All or nothing teams
* NHL Fantasy on Ice (10/3): 2023-24 season preview: Bold fantasy predictions
* The Chirp (10/4): Kenny Albert joins; Tales from the broadcast booth
* NHL Fantasy on Ice (10/5): 2023-24 season preview: Betting preview, predictions
* La Tasse de Café LNH (10/5): Aperçu de la saison 2023-24 de la LNH
* NHL @TheRink (10/5): Leon Draisaitl joins; Division breakdowns and season predictions
* Many more podcasts available at NHL.com/podcasts
QUICK CLICKS
* #NHLStats: Live Updates – Tuesday, Oct. 10, 2023
* Barry Melrose has Parkinson's disease, retires from ESPN
* Bruins to begin centennial season with red-carpet arrival, home game against Blackhawks
* NHL announces multiyear Canadian partnership with Moosehead Breweries
* NHL Opens 2023-24 Season with New "The Next Golden Era Is Now" Campaign Spot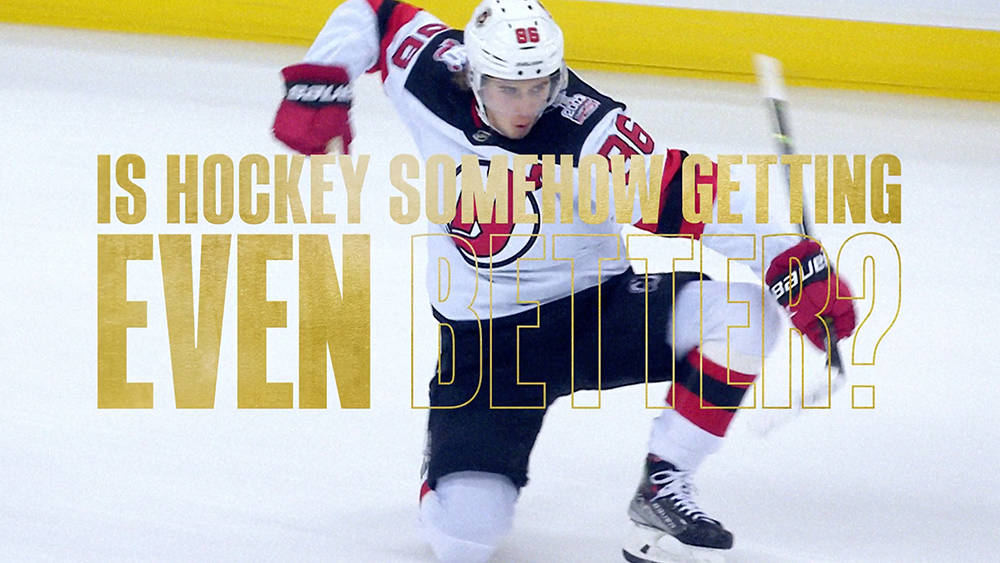 WEDNESDAY'S SLATE STACKED WITH NHL ON TNT, SPORTSNET BROADCASTS
The second day of the 2023-24 regular season features an NHL on TNT doubleheader and all seven Canadian teams in action during Sportsnet's first Scotiabank Wednesday Night Hockey telecast of the campaign. The Canadiens–Maple Leafs game will also be available on TVA Sports.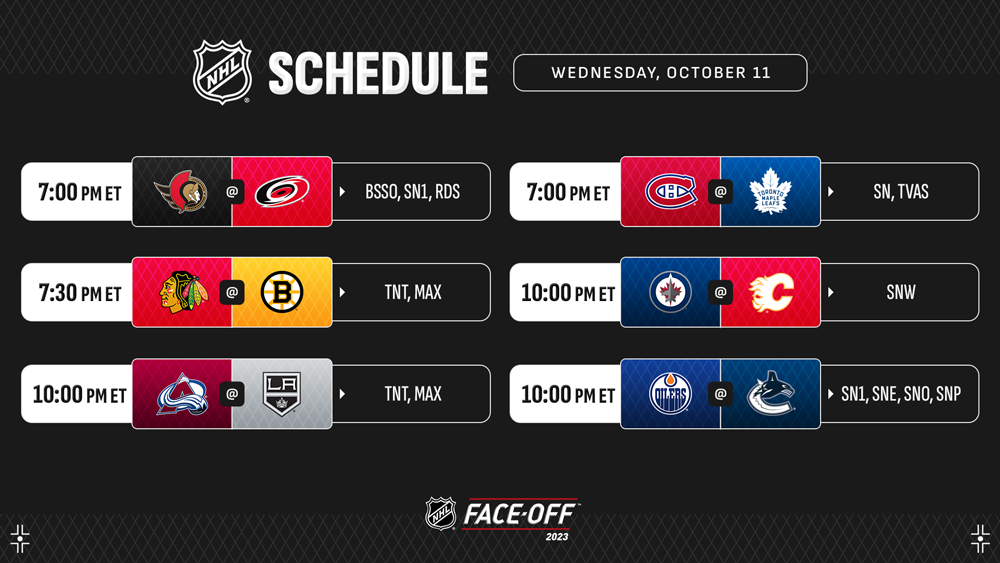 NHL ON TNT OPENS THIRD SEASON WITH BLACKHAWKS–BRUINS, AVALANCHE–KINGS
Wednesday's two-pack marks the start of a 62-game slate for NHL on TNT during the regular season, with their schedule highlighted by the 2024 Discover NHL Winter Classic and 2023 NHL Thanksgiving Showdown doubleheader. Click here for full details.
* Connor Bedard will take another crack at recording his first career NHL goal as the Blackhawks visit 61-goal scorer David Pastrnak and the Bruins, who open their Centennial campaign after winning a League-record 65 games in 2022-23 and naming Brad Marchand captain following the retirement of Patrice Bergeron. Bedard's great-great uncle, James, scored one goal in his 22-game NHL career, which was versus Boston on Feb. 18, 1951.
* Anze Kopitar and Quinton Byfield will embark on their 18th and fourth NHL season, respectively, as the Kings host Nathan MacKinnon, Cale Makar, Mikko Rantanen and the Avalanche. Kopitar and Byfield recently competed in the historic 2023 NHL Global Series – Melbourne alongside offseason addition Trevor Lewis (who won championships with franchise cornerstones Kopitar & Drew Doughty in 2014 & 2012), while MacKinnon, Makar and Rantanen are three of the 13 players from Colorado's 2022 Stanley Cup-winning team named to the Avalanche's season-opening roster.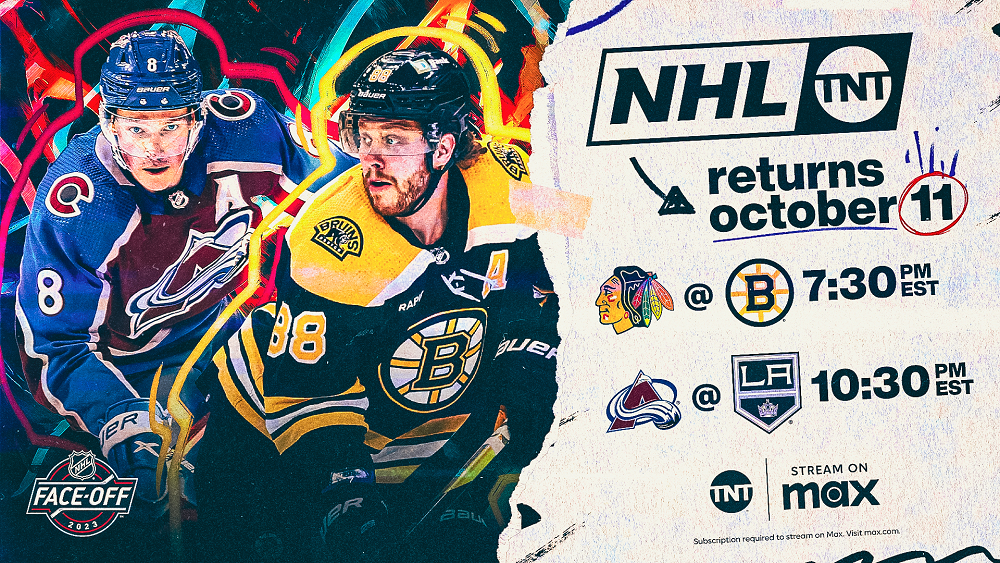 * REMINDER: The third and final episode of the all-access preseason docuseries Behind The Glass: Los Angeles Kings Training Camp debuts Monday, Oct. 16 at 9 p.m. ET (click here to watch Episode 1 on the NHL's YouTube channel).
SCOTIABANK WEDNESDAY NIGHT HOCKEY FEATURES ALL SEVEN CANADIAN TEAMS
The first Scotiabank Wednesday Night Hockey telecast of the season opens with the Senators–Hurricanes and Canadiens–Maple Leafs at 7 p.m. ET and closes with the Jets–Flames and Oilers–Canucks at 10 p.m. ET. Click here to view full details on Sportsnet's national broadcast schedule for the 2023-24 campaign.
* Tim Stützle and Brady Tkachuk will contest their first regular-season game with new teammates Joonas Korpisalo, Dominik Kubalik and Vladimir Tarasenko as Ottawa visits Sebastian Aho and Seth Jarvis in Carolina. The re-tooled Senators look to reach the Stanley Cup Playoffs for the first time since 2017, while the Hurricanes have advanced past the First Round in four of the last five years.
* Auston Matthews, Mitchell Marner and William Nylander – coming off starring "undercover" roles with Maple Leafs teammate Morgan Rielly in a Sobeys commercial – will host Cole Caufield and the Canadiens in the 21st mutual season-opening game between the Original Six franchises. Toronto made multiple offseason moves – including signing Max Domi, son of former Maple Leafs forward and fan favorite Tie Domi – after winning its first playoff series since 2004, while Montreal looks to march back to the postseason for the first time since reaching the 2021 Stanley Cup Final.
* Josh Morrissey and the Jets – who recently inked identical long-term deals with franchise staples Mark Scheifele and Connor Hellebuyck – will take on Nazem Kadri and the Flames, who will contest their first regular-season game since naming Don Maloney president of hockey operations, Craig Conroy general manager and Ryan Huska head coach. Wednesday will also mark the Winnipeg debut for forwards Alex Iafallo, Rasmus Kupari and Gabriel Vilardi, who were acquired from Los Angeles for Pierre-Luc Dubois on June 27.
* Connor McDavid and Leon Draisaitl embark on their ninth season as teammates after combining for 1,585 points, 607 goals and 16 NHL Awards since 2015-16 as the Oilers clash with Elias Pettersson and the Canucks. McDavid is coming off a historic 153-point season and enters the campaign 150 shy of 1,000 in his NHL career, while Pettersson posted his first 100-point season in 2022-23.
COURTESY NHLmedia.com