By StephanieLee Elliott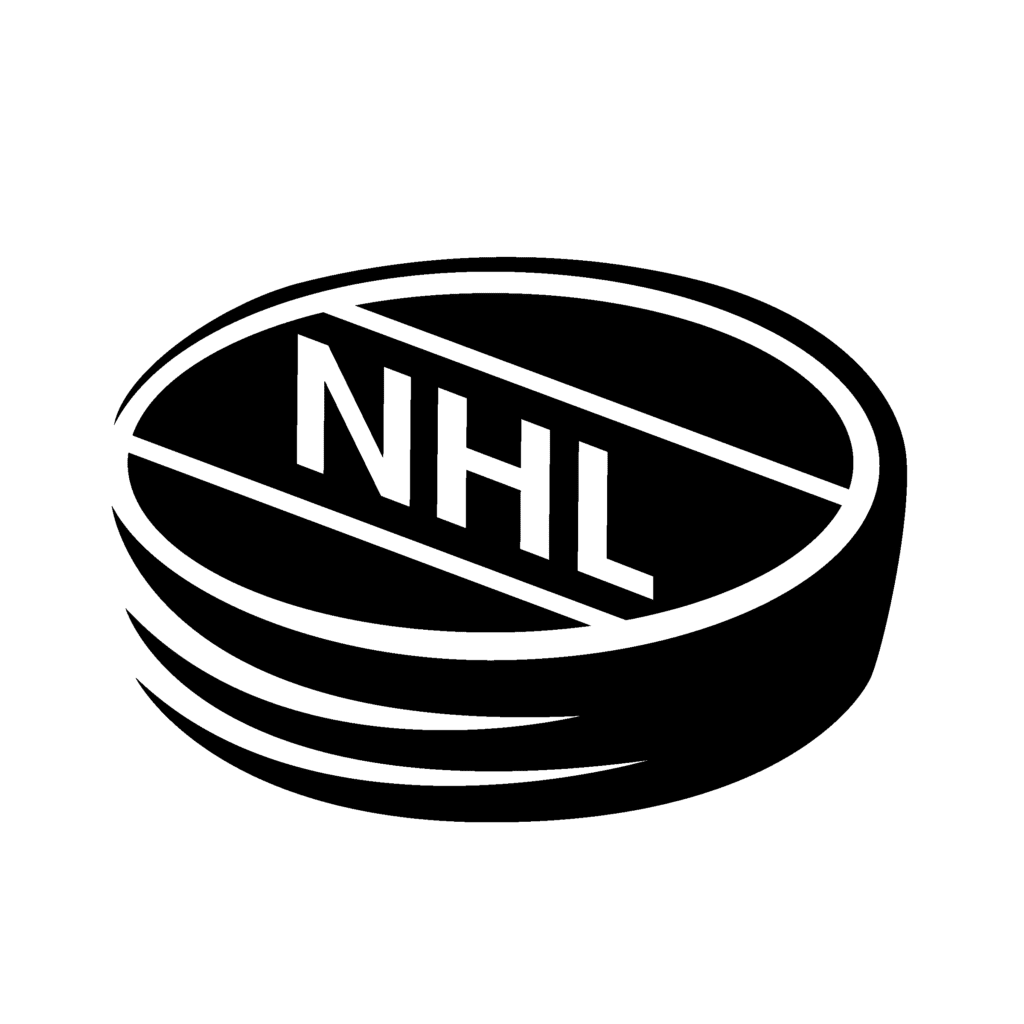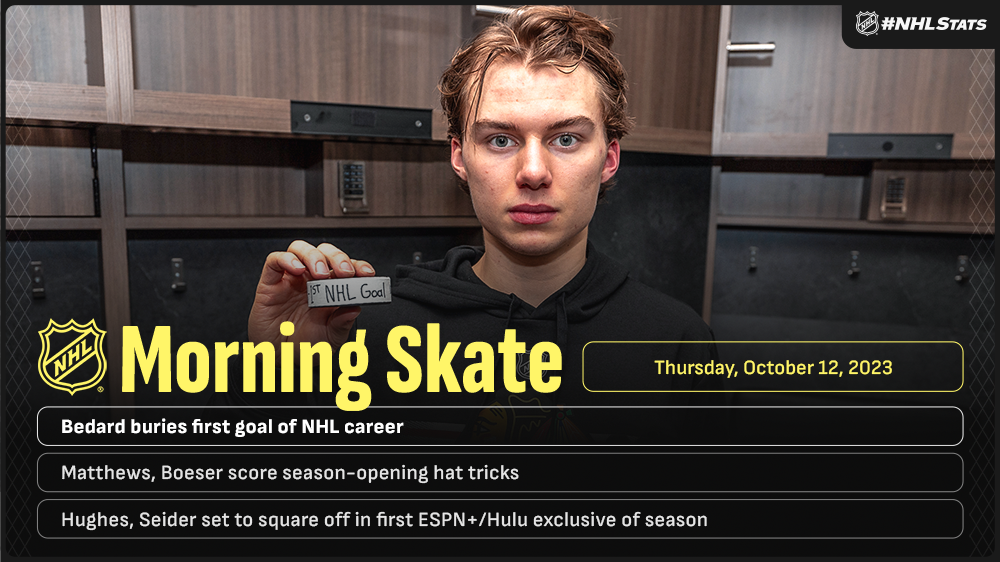 * Connor Bedard buried the first goal of his NHL career just one day after making his League debut and did so against the Bruins, the same franchise his great-great uncle also tallied against nearly 73 years ago.
* Auston Matthews, one of the few No. 1 picks that required fewer games than Bedard to score his first career marker, had another season-opening hat trick and became the fastest U.S.-born player in NHL history to reach the 300-goal milestone. Brock Boeser scored one more than Matthews did Wednesday as the Canucks matched their franchise mark for most goals in a season-opening game.
* Thursday's schedule is highlighted by Jack Hughes and the Devils looking to build off their perfect preseason when they open the campaign against Moritz Seider and the Red Wings, who acquired a pair of notable Michiganians during the offseason. The contest marks the first ESPN+/Hulu exclusive of the season and is also available on TVA Sports.
* The seven-game slate also features 109-point scorer Matthew Tkachuk contesting his first regular-season game since helping the Panthers reach the Stanley Cup Final as well as No. 3 pick in the 2023 NHL Draft Adam Fantilli making his League debut with the Blue Jackets while celebrating his 19th birthday.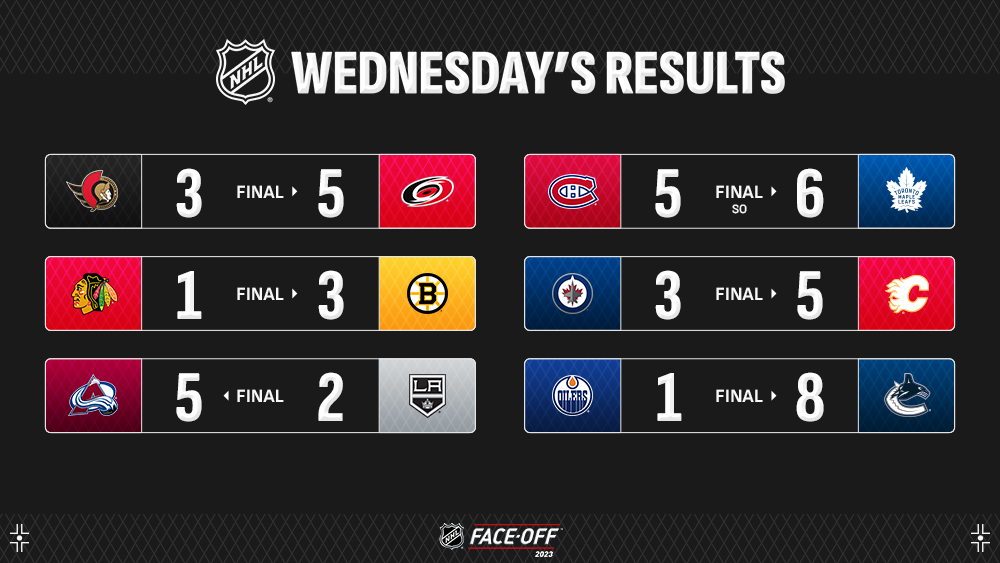 BEDARD BURIES FIRST GOAL OF NHL CAREER ONE DAY AFTER DEBUT
Connor Bedard (18 years, 86 days) beat Bruins goaltender and reigning Vezina Trophy winner Linus Ullmark at 5:37 of the first period and became the third-youngest player in Blackhawks history at the time of his first career NHL goal, behind Grant Mulvey (18 years, 32 days on Oct. 19, 1974) and Eddie Olczyk (18 years, 56 days on Oct. 11, 1984) – the latter of whom called Wednesday's game with NHL on TNT. Bedard also became the seventh-youngest active skater at the time of his first career goal.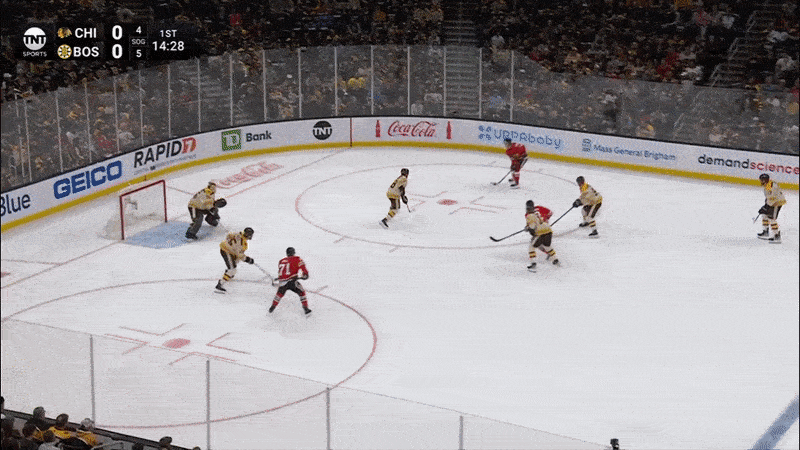 * Bedard scored the first goal of his NHL career in fewer games than fellow No. 1 picks Connor McDavid and Sidney Crosby, who did so in their third contest on Oct. 13, 2015 and Oct. 8, 2005, respectively. Bedard (1-1—2 in 2 GP) also became the fourth No. 1 pick to record at least one point in each of his first two career NHL games as an 18-year-old, joining Alexandre Daigle (7 GP in 1993-94), Crosby (6 GP in 2005-06) and Nathan MacKinnon (3 GP in 2013-14).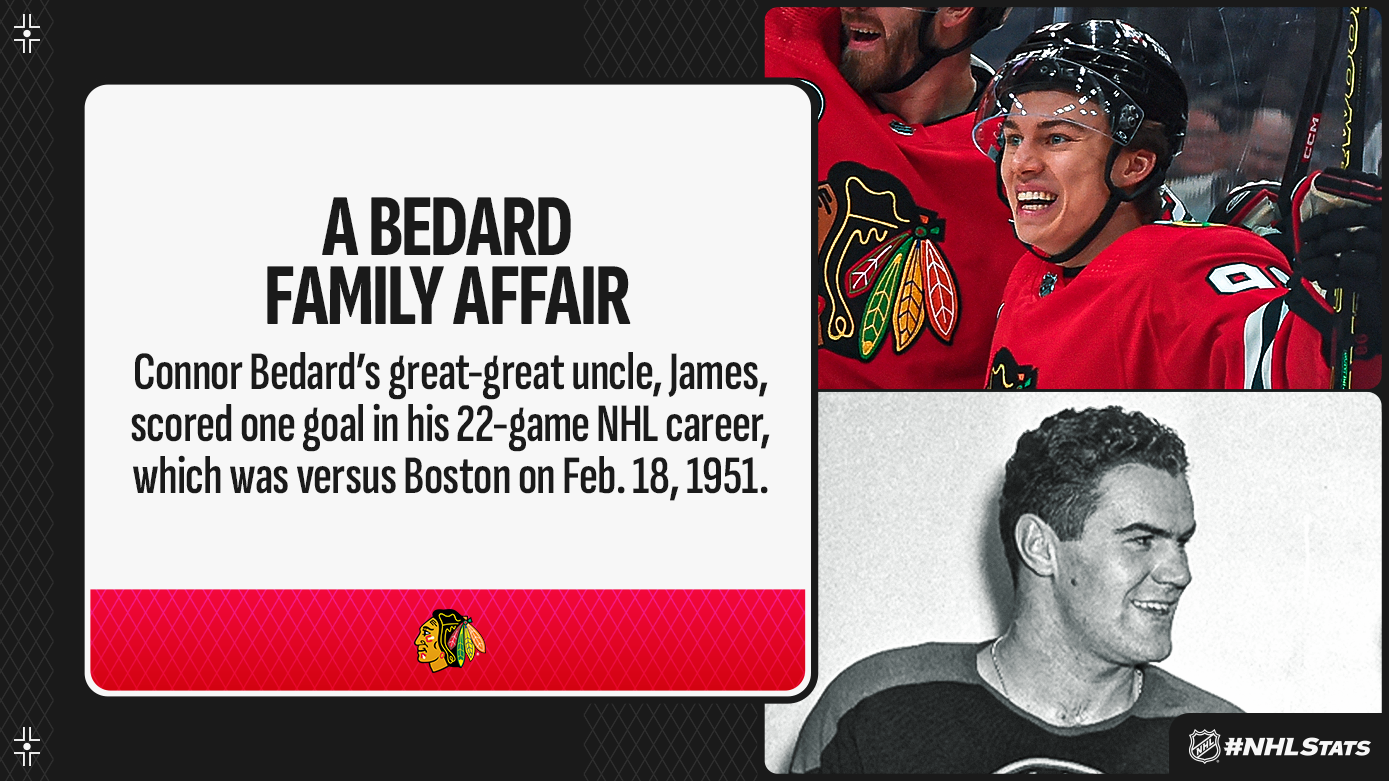 MATTHEWS' HAT TRICK HIGHLIGHTS MILESTONE NIGHT IN MAPLE LEAFS' COMEBACK WIN
Auston Matthews (302-243—545 in 482 GP) scored the 300th goal of his NHL career and tallied two more times in the final 5:00 of regulation to record another season-opening hat trick as Toronto overcame deficits of 2-0 and 5-3 en route to a shootout win.
* Matthews became the fifth player to score 300 goals with the Maple Leafs franchise and required the fewest games among that group to do so, besting Darryl Sittler (684 GP). Matthews was the 10th-fastest player in NHL history to reach the mark and second fastest among active skaters behind only Alex Ovechkin (473 GP).
* Matthews scored his second hat trick in a season-opening game following his historic four-goal League debut on Oct. 12, 2016, and the eighth hat trick of his NHL career to tie Wendel Clark for sixth place on the franchise's all-time list. Matthews (12-3—15 in 7 GP) has 12 career goals in season openers and passed Babe Dye (9-1—10 in 5 GP) for sole possession of the most in club history.
* Toronto became the third team in NHL history to win a season-opening game after overcoming two separate multi-goal deficits, following the Hartford Whalers on Oct. 11, 1986 and St. Louis on Oct. 11, 1978.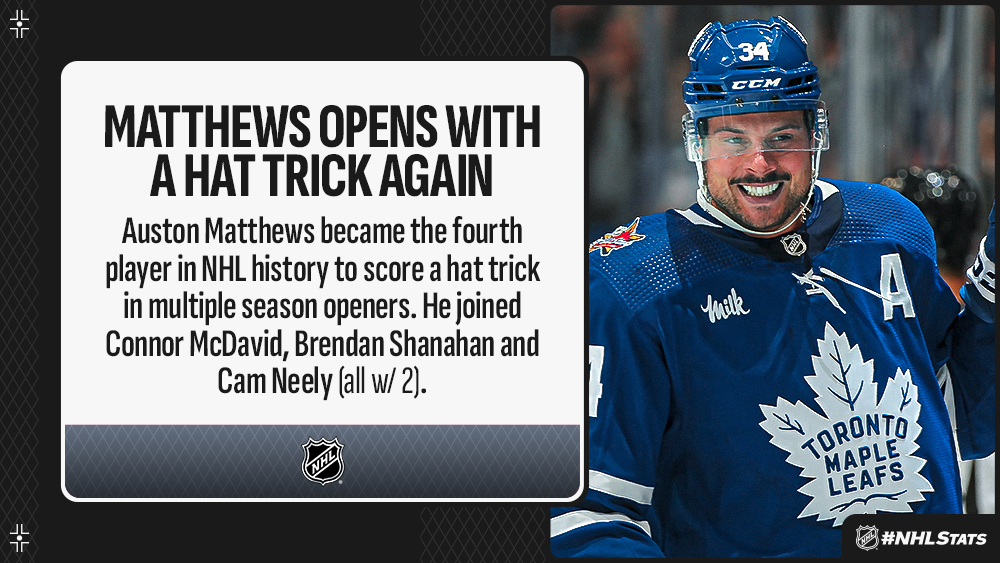 BOESER BRINGS THE HEAT WITH FOUR-GOAL SEASON OPENER
Brock Boeser scored four of Vancouver's eight goals to tie the franchise record for most in any game, while teammates J.T. Miller (1-3—4) and Elias Pettersson (1-3—4) also had four points as the Canucks matched the club benchmark for their highest-scoring season-opening contest (also Oct. 8, 1987 & Oct. 11, 1978).
* Boeser became the first Vancouver player with four goals in a game since Daniel Sedin on Feb. 24, 2004. Boeser became the third player in franchise history with four in a season opener, following Greg Adams on Oct. 8, 1987 and Rick Blight on Oct. 6, 1976.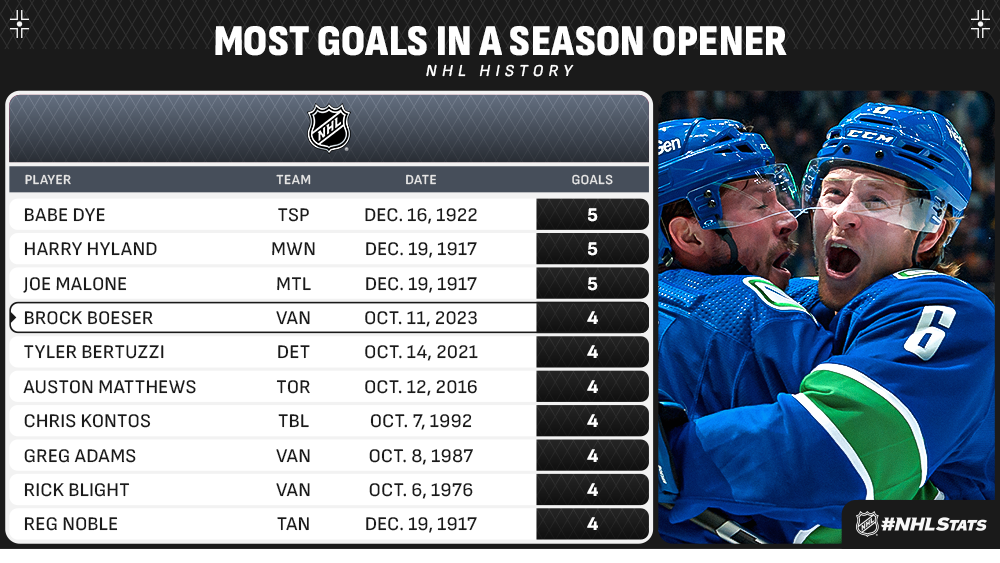 MORE FROM SECOND DAY OF REGULAR SEASON FEATURED IN LIVE UPDATES
Wednesday's edition of #NHLStats: Live Updates featured several more notes from the six-game slate. Some highlights include:
* Jets forward Kyle Connor (6-3—9 in 6 GP) tied the NHL benchmark for longest goal streak in season-opening games shared by Cam Atkinson (2014-15–2019-20), Yvan Cournoyer (1973-74–1978-79) and Mud Bruneteau (1940-41–1945-46), but Elias Lindholm (1-2—3) scored a go-ahead marker with 1:32 remaining in regulation to give the Flames a 1-0-0 record.
* Avalanche forward Mikko Rantanen (2-2—4) became the third player in NHL history to record four points in a season-opening game in consecutive campaigns, joining Peter Stastny (1987-88–1988-89) and Syd Howe (1943-44–1944-45). Stastny achieved the feat with the Quebec Nordiques before they became the Avalanche.
* Hurricanes forward Sebastian Aho assisted on Michael Bunting's first goal with the franchise as Carolina extended its winning streak in season openers to five games. The Hurricanes' streak is tied with the Bruins and Golden Knights for the longest active run in the NHL.
* Bruins forward David Pastrnak potted two goals in a season-opening game for the second time in his NHL career (also Oct. 13, 2016) as Boston opened its Centennial campaign in the win column. Pastrnak posted his 56th career game-winning goal and tied Cam Neely for sixth place on the franchise's all-time list.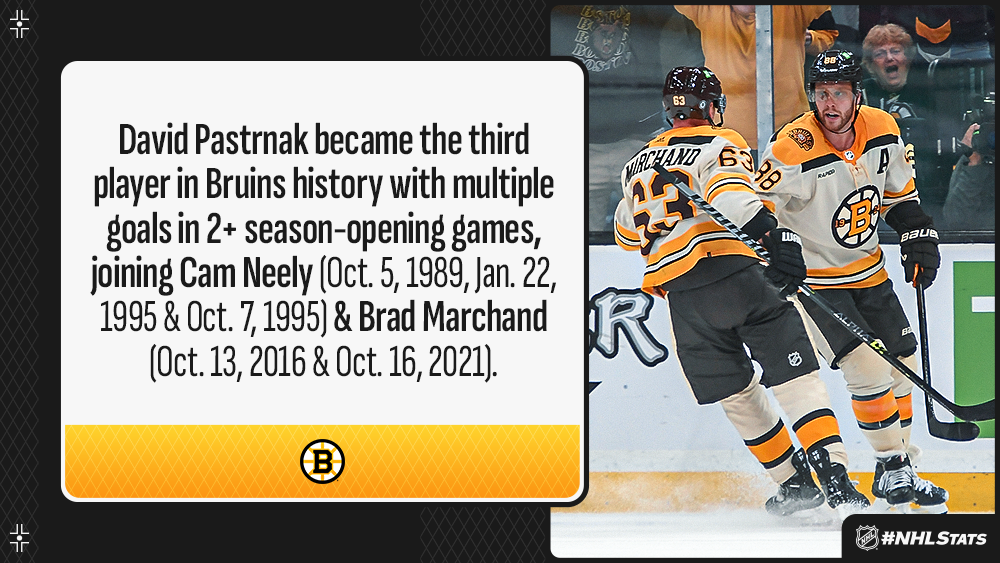 QUICK CLICKS
* Kelsie, Cohen and Willa Snow perform ceremonial puck drop before Flames opener
* Owen Power signs 7-year, $58.45 million contract with Sabres
* Alex Ovechkin chasing playoffs this season, will worry about Wayne Gretzky record later
* Brett Howden suspended two games for illegal check to the head
* NHL opening night delivers record viewership on ESPN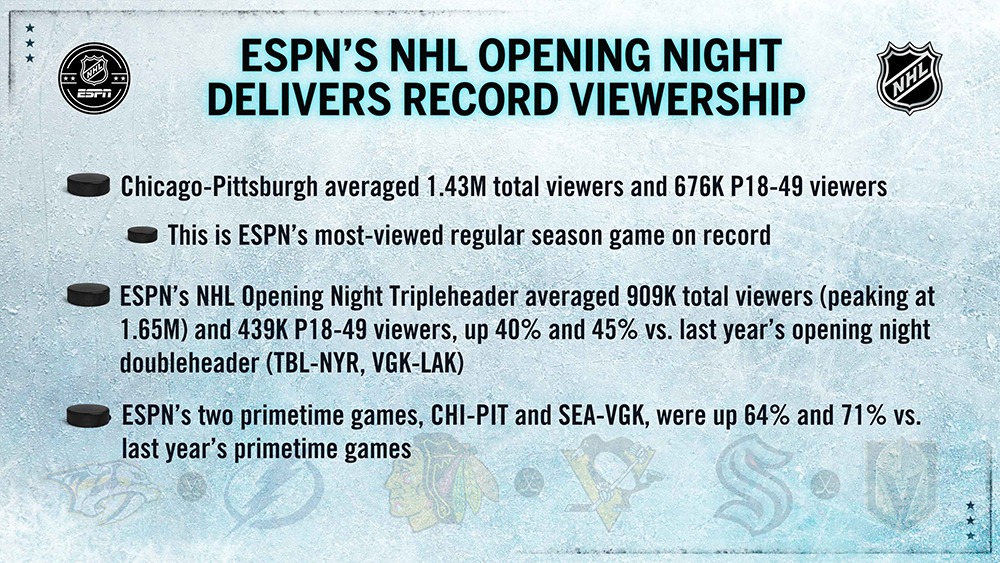 THURSDAY'S ACTION INCLUDES RED WINGS–DEVILS ON ESPN+, HULU AND TVA SPORTS
The third day of the 2023-24 regular season features a seven-game slate including the first ESPN+/Hulu exclusive of the season when Moritz Seider and the Red Wings visit Jack Hughes and the Devils.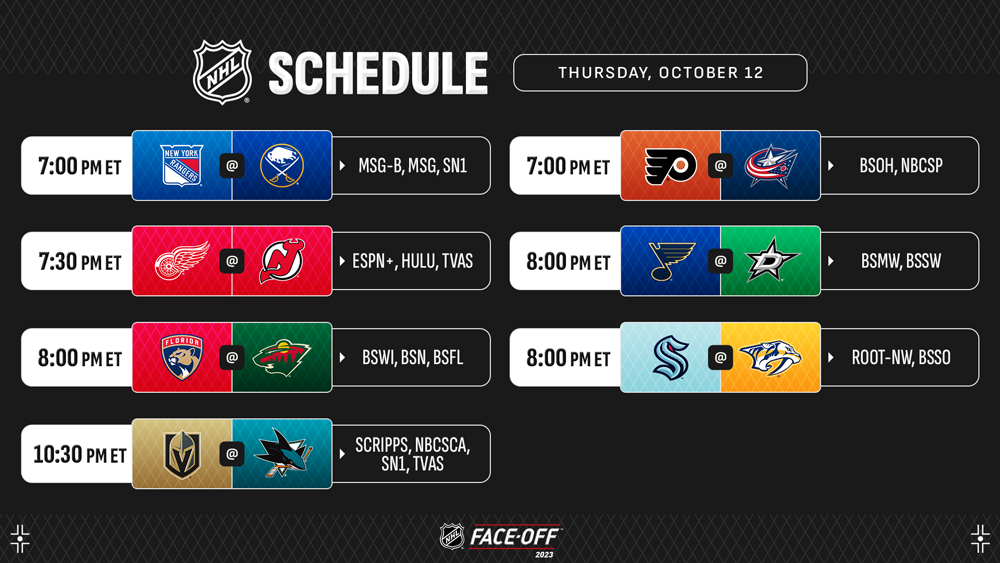 * Thursday is expected to mark the Red Wings debut of two-time 40-goal scorer and Farmington Hills native Alex DeBrincat as well as Ann Arbor native Jeff Petry, whose father, Dan, pitched 11 seasons with the MLB's Detroit Tigers. It has been 14 years since a Red Wings player scored 40 goals in a season, with the most-recent skater being Hockey Hall of Fame member Marian Hossa (40 in 2008-09).
* Lindy Ruff, fresh off of signing a multi-year contract extension with the Devils, guides Hughes into his fifth NHL campaign after the forward collected a franchise-record 99 points in 2022-23 (43-56—99 in 78 GP). Hughes, who produced the first 40-goal season by a Devils skater since Zach Parise (45 in 2008-09), looks to become just the second player in franchise history to hit the mark in back-to-back campaigns.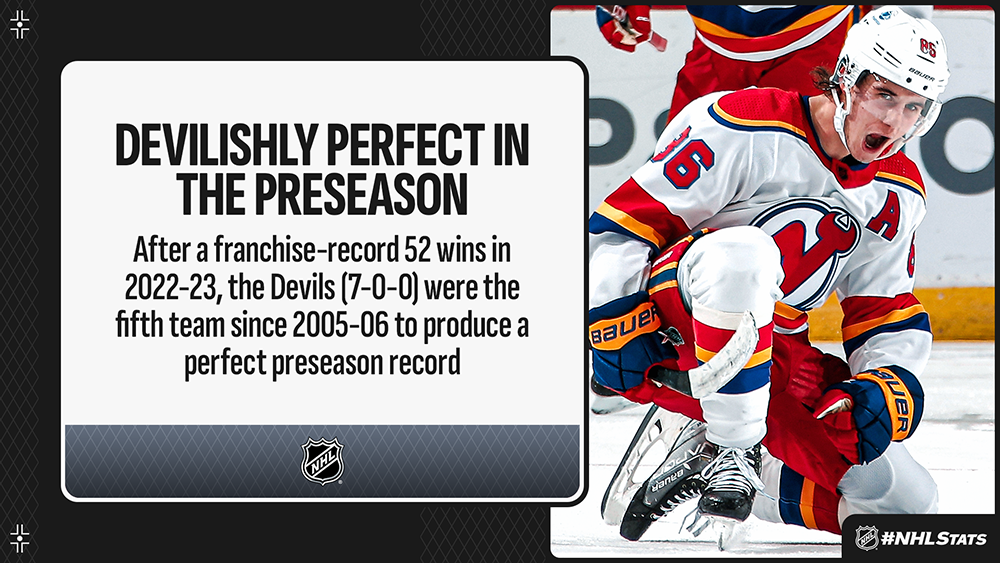 Other storylines to look out for Thursday:
* The Panthers are one of nine other teams contesting their first game of the season, following their trip to the 2023 Stanley Cup Final after entering the postseason occupying the second Wild Card spot in the Eastern Conference. Matthew Tkachuk played a pivotal role for Florida during its playoff run and now has his sights set on joining Jeremy Roenick as just the second U.S.-born player in NHL history to register three consecutive 100-point seasons.
* Adam Fantilli (No. 3) and Zach Benson (No. 13) are set to join Connor Bedard (No. 1) as the second and third players from the 2023 NHL Draft to appear in a season-opening game when they do so with the Blue Jackets and Sabres, respectively. Birthday-boy Fantilli will face the Flyers, who are contesting a season opener as the designated road team for the first time since 2018-19 and enter 2023-24 with the NHL's longest active point streak in season-opening contests (8 GP; 6-0-2 since 2015-16). Philadelphia would be the 10th team in NHL history with a point streak of at least nine games in season openers.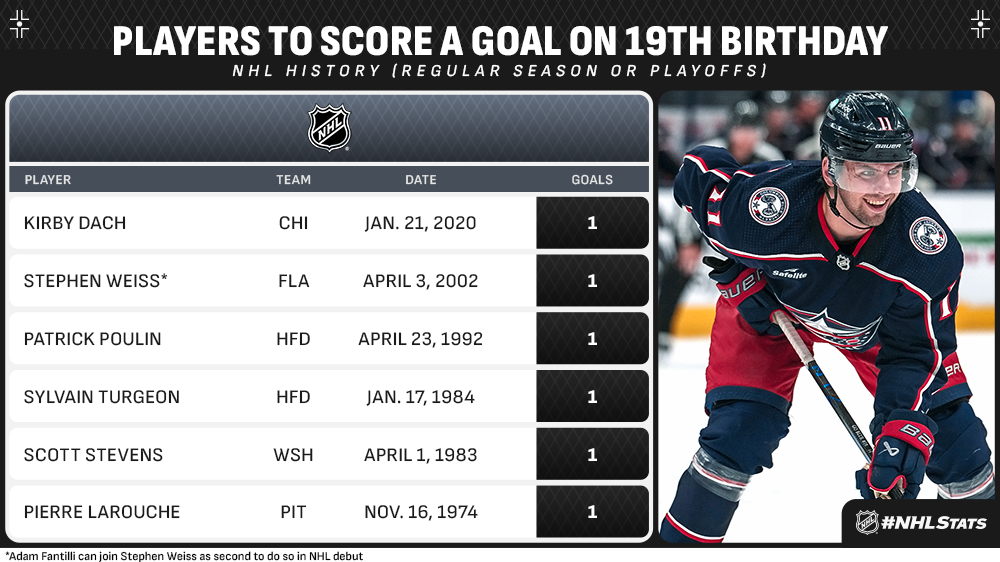 COURTESY NHLmedia.com