By Lydia Jane Allison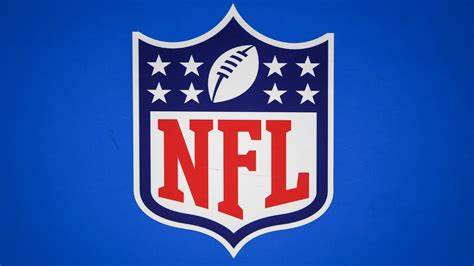 The NFL was made for overtime, and overtime was made for the NFL.
This season, in each of the first four weeks, at least one game has gone to overtime. That's happened only five other times in NFL history (also 1979, 1983, 2002, 2018 and 2021).
And if a game goes to overtime this week, 2023 will become only the third season in NFL history with extra-period games in each of the first five weeks. It also happened in 2018 and 2021.
Eleven teams have played OT this season, including the INDIANAPOLIS COLTS, who have two overtime games. Which teams will play a fifth quarter this week?
Well, here's some wise advice: Don't rule out overtime if your team gets a big first-half lead. Last week, three teams overcame deficits of 10-or-more points to win: DENVER (21 points), MINNESOTA (10) and PHILADELPHIA (10). With Denver's 21-point second-half comeback in Week 4 along with the New York Giants' 21-point second-half comeback in Week 2, this year is only the second season to feature multiple 21-point second-half comeback wins within the first four weeks of a season, joining 1999.
So, get your rest on Saturday night. The NFL is back in London this week for an early kickoff, and the Sunday night game has all the makings of an instant classic. And rest assured, big second-half comebacks, overtime games and plenty of other drama surely awaits.
The Starting 11 entering Week 5…
ALL EYES ON LEVI'S: The Bay Area is no stranger to classic screenplays, having served as the setting for dozens of blockbusters. This week's feature could be the best of them all. In one of the more anticipated matchups on the NFL schedule, theDALLAS COWBOYS (3-1) visit the SAN FRANCISCO 49ERS (4-0) on Sunday Night Football (8:20 PM ET, NBC).
The 49ers eliminated Dallas from the postseason in the 1981, 1994, 2021 and 2022 seasons. Dallas eliminated San Francisco in 1970, 1971, 1972, 1992 and 1993. Those nine playoff meetings are tied for the most all-time between two franchises (the 49ers also have met the Packers nine times while the Cowboys also have met the Rams nine times).
This season, Dallas and San Francisco are tied with Seattle for the NFL lead in fewest turnovers (each has one). The Cowboys lead the NFL through four weeks with a plus-nine turnover margin. MIKE MCCARTHY, who served as the 49ers' offensive coordinator in 2005, has a plus-37 turnover margin in road games over his 17 seasons as a head coach.
Dallas is just the third NFL team since 2014 with four non-offensive touchdowns over its first four games of a season, joining the Eagles in 2014 and Cardinals in 2015. Cornerback DARON BLAND has returned two interceptions for touchdowns this season, becoming one of just seven NFL players to do that over their teams' first four games since 2000.
San Francisco has won its last 14 regular-season games. Last week, the 49ers also became the first team to reach 30 points in seven consecutive games since the 2012-13 DENVER BRONCOS, who hit 30-or-more in 11 straight.
BROCK PURDY, the last selection in the 2022 NFL Draft, looks for his 10th consecutive regular-season win as San Francisco's starting quarterback. With a win on Sunday, Purdy can join his Dallas counterpart, DAK PRESCOTT (11 straight wins in 2016), as one of seven quarterbacks since the 1970 merger to author a double-digit winning streak prior to their third NFL seasons. The others are BEN ROETHLISBERGER (15 from 2004-05), LAMAR JACKSON (11 in 2019) and Pro Football Hall of Famers DAN MARINO (14 from 1983-84), PEYTON MANNING (11 in 1999) and JOHN ELWAY (10 in 1984). … In a Week 4 win, Purdy ran for a touchdown while completing 20 of 21 pass attempts (95.2 percent) for 283 yards and another touchdown. Purdy's 95.2 completion percentage was the fourth-highest single-game mark in NFL history (minimum 20 pass attempts).
Last week, running back CHRISTIAN MCCAFFREY joined Pro Football Hall of Famer EMMITT SMITH (14 consecutive games from 1995; 13 consecutive games from 1994-95) and ARIAN FOSTER (13 from 2011-12) as one of three players since 1990 with a touchdown in 13 straight games, including the postseason. McCaffrey also recorded his 12th career game with both a rushing touchdown and a receiving touchdown, tied with Pro Football Hall of Famer LENNY MOORE (12 games) and BRIAN WESTBROOK (12) for the second-most such games in NFL history. Only Pro Football Hall of Famer MARSHALL FAULK (15 games) has more.
NUMBER OF THE WEEK – 158.3: The highest-attainable passer rating, an accomplishment achieved by Buffalo quarterbackJOSH ALLEN last week. Allen completed 21 of 25 attempts (84.0 percent) for 320 yards and four touchdowns with no interceptions, in addition to a rushing touchdown. Allen became the second player in NFL history with 300 passing yards, four touchdown passes, one rushing touchdown and a 158.3 passer rating in a game, joining AARON RODGERS (Week 7, 2019).
This week, Allen and the BUFFALO BILLS (3-1) meet the JACKSONVILLE JAGUARS (2-2) at London's Tottenham Hotspur Stadium (9:30 AM ET, NFLN) in the league's second of five international games. The contest is available exclusively on NFL Network and streaming on all devices via NFL+.
The Jaguars have their own talented JOSH ALLEN. Each team selected its player seventh overall in the first round of an NFL Draft (the Bills took their quarterback in 2018 while the Jaguars drafted their linebacker in 2019). In their first meeting, Week 9 of the 2021 season, the Jaguars' Allen had one sack, two tackles for loss, an interception and fumble recovery in Jacksonville's 9-6 victory. This year, the Jaguars' linebacker has posted a career-high three sacks in two of his first four games and enters the week tied with KHALIL MACK and T.J. WATT for the NFL lead with six sacks. In last week's London win, Allen became the first player to record three sacks in a game played outside the United States.
NACUA LEADING SOLID CLASS OF ROOKIES: Rams wide receiverPUKA NACUA, who has 39 catches, is the first rookie since the 1970 merger to lead the NFL in receptions through four weeks. Last week, he registered nine receptions for 163 yards, including the game-winning 22-yard touchdown in overtime.
Nacua (39 receptions for 501 yards) also surpassed ANQUAN BOLDIN (30 for 464 in 2003) for the most receptions and receiving yards ever by a player in his first four career games. What's more, Nacua has already surpassed REGGIE BUSH (34 in 2006) for the most receptions ever by a player in his first five NFL games. Nacua, who had 119 receiving yards in Week 1 and 147 in Week 2, is the second player in NFL history with at least 100 in three of his first four career games, joining HARLON HILL (1954). On Sunday, Nacua and the LOS ANGELES RAMS (2-2) host the PHILADELPHIA EAGLES (4-0) at SoFi Stadium (4:05 PM ET, FOX). Since launching their 2017 Super Bowl championship season, the Eagles are 4-0 in the state of California (wins over San Francisco in 2020, the Rams in 2018, and the Chargers and Rams in 2017).
Dolphins rookie DE'VON ACHANE leads the NFL with 11.4 yards per carry, owns the league's longest run from scrimmage (67-yard touchdown) and ranks sixth in the league with 309 rushing yards. Achane, who has four rushing touchdowns and two receiving touchdowns this season, is the fourth player in NFL history with six touchdowns through his first three career games, joining KAREEM HUNT (2017), BILLY SIMS (1980) and DUTCH STERNAMAN (1920). MIAMI (3-1) hosts the NEW YORK GIANTS (1-3) on Sunday (1:00 PM ET, FOX). Achane has played a big role in Miami's 2,044 total yards of offense this year, eclipsing Dallas in 2020 (2,038) for the most by a team through its first four games of a season in NFL history.
SPOTLIGHT – INDIVIDUAL MATCHUP: Including the postseason, only Pro Football Hall of Fame coachesGEORGE HALAS and CURLY LAMBEAU (49 meetings) have met more often than the Ravens' JOHN HARBAUGH and the Steelers' MIKE TOMLIN. Harbaugh and Tomlin will meet in a 34th game, including the postseason, when BALTIMORE (3-1) visits PITTSBURGH (2-2) on Sunday (1:00 PM ET, CBS).
The head coaches with the most seasons leading one franchise, since 1970:
COACH
FRANCHISE
YEARS
Don ShulaHOF
Miami
26
Bill Belichick*
New England
24
Chuck NollHOF
Pittsburgh
22
Tom LandryHOF
Dallas
19
Jeff Fisher
Houston Oilers/Tennessee
17
Mike Tomlin*
Pittsburgh
17
Joe GibbsHOF
Washington
16
John Harbaugh*
Baltimore Ravens
16
Marvin Lewis
Cincinnati
16
*active
SPOTLIGHT – TEAM MATCHUP: Sunday's game betweenHOUSTON (2-2) and ATLANTA (2-2) at Mercedes-Benz Stadium (1:00 PM ET, FOX) features some of the most exciting players from each of the last two NFL Drafts. In fact, the Falcons and Texans, respectively, lead the league this season with regard to snaps played by first- or second-years players.
Last week, Houston rookie quarterback C.J. STROUD passed for 306 yards and two touchdowns with no interceptions for a 111.2 rating. Stroud has 1,212 passing yards this season and eclipsed ANDREW LUCK (1,208) for the second-most passing yards ever by a player in his first four career games. Only CAM NEWTON (1,386) had more. Stroud also is the second quarterback in NFL history with no interceptions in each of his first four career starts (minimum 30 attempts in each start), joining GARDNER MINSHEW (2019).
STREAK SPEAK: TheNEW YORK JETS (1-3) have not allowed a 300-yard passer over their last 22 games, a streak that began on Jan. 2, 2022. The list of quarterbacks they've limited in that stretch includes JOSH ALLEN, KIRK COUSINS, PATRICK MAHOMES, AARON RODGERS, TUA TAGOVAILOA and RUSSELL WILSON, their opponent on Sunday when New York squares off with DENVER (1-3) at Empower Field (4:25 PM ET, CBS).
Last week, Wilson led Denver on a 21-point comeback in a dramatic, 31-28 win. In recording three touchdown passes with no interceptions for a 133.5 rating, Wilson joined exclusive company. He became the seventh quarterback in NFL history with 30 career games with at least three touchdown passes and no interceptions, joining TOM BRADY (68 games), AARON RODGERS (63), DREW BREES (56), Pro Football Hall of Famers PEYTON MANNING (51) and BRETT FAVRE (36) as well as BEN ROETHLISBERGER (35).
DID YOU KNOW?: Since the beginning of the 2022 season,PATRICK MAHOMES leads the NFL with 49 touchdown passes, while Vikings quarterback KIRK COUSINS ranks third with 40. They'll go head-to-head when KANSAS CITY (3-1) travels to MINNESOTA (1-3) for a rematch of Super Bowl IV on Sunday (4:25 PM ET, CBS).
UNDER-THE-RADAR STORYLINE: WhenGREEN BAY (2-2) visits LAS VEGAS (1-3) on Monday Night Football (8:15 PM ET, ESPN/ABC), Packers quarterback JORDAN LOVE won't be playing his first game in the city. Love made his first collegiate start at Sam Boyd Stadium on Oct. 21, 2017, leading Utah State to a 52-28, come-from-behind win over UNLV. A redshirt freshman, Love threw for 316 yards and two touchdowns – scores of 70 and 75 yards – and had 42 yards on eight carries, including a go-ahead touchdown run in the third quarter that gave the Aggies a lead they would not relinquish. Love's Green Bay teammate DALLIN LEAVITT added eight tackles and an interception in that game for Utah State.
TREND TIME:DETROIT (3-1) this week eyes its best start since the Lions began 2011 by winning their first five games. The Lions are alone in first place in Week 5 or later for the first time since they woke up leading the NFC North on Dec. 19, 2016. That year, Detroit's head coach was JIM CALDWELL, who led the Lions to the playoffs. Caldwell is now a senior assistant on the Panthers' coaching staff. The Lions host CAROLINA (0-4) on Sunday (1:00 PM ET, FOX).
In last week's win, Detroit defensive lineman AIDAN HUTCHINSON had 1.5 sacks. He has five-or-more quarterback pressures in each game this season.
Also last week, Lions running back DAVID MONTGOMERY posted 121 yards and three touchdowns on 32 carries. He became the first Detroit player since Pro Football Hall of Famer BARRY SANDERS in 1998 with 120 rushing yards and three rushing touchdowns in a game.
Detroit rookie SAM LAPORTA has the most receptions (22) by a tight end in his first four career games in NFL history. His 242 receiving yards rank second all-time among tight ends over their first four games behind Pro Football Hall of Famer MIKE DITKA (315 in 1961).
NEXT GEN STATS NOTE OF THE WEEK: During Jacksonville's first game in London last week, quarterbackTREVOR LAWRENCE used his legs to extend a play on the Jaguars' opening touchdown drive. On that snap, Lawrence covered 50 overall yards, the most distance in a play by a Jacksonville offensive player in the game, and hit a top speed of 18.23 MPH, the second-fastest sprint by a Jaguars player that day.
AND LAST BUT NOT LEAST: Commanders head coachRON RIVERA has a well-documented history with his opponent this week. When WASHINGTON (2-2) hosts CHICAGO (0-4) on Thursday Night Football (8:15 PM ET, Prime Video), Rivera will face the franchise that selected him in the second round of the 1984 NFL Draft. He played all nine of his pro seasons with the Bears and appeared in 149 games with 62 starts. A member of six NFC Central division title teams and a Super Bowl XX championship team in 1985, he also covered the Bears and college football as a television analyst for WGN and SportsChannel Chicago for four years after retiring as an NFL player.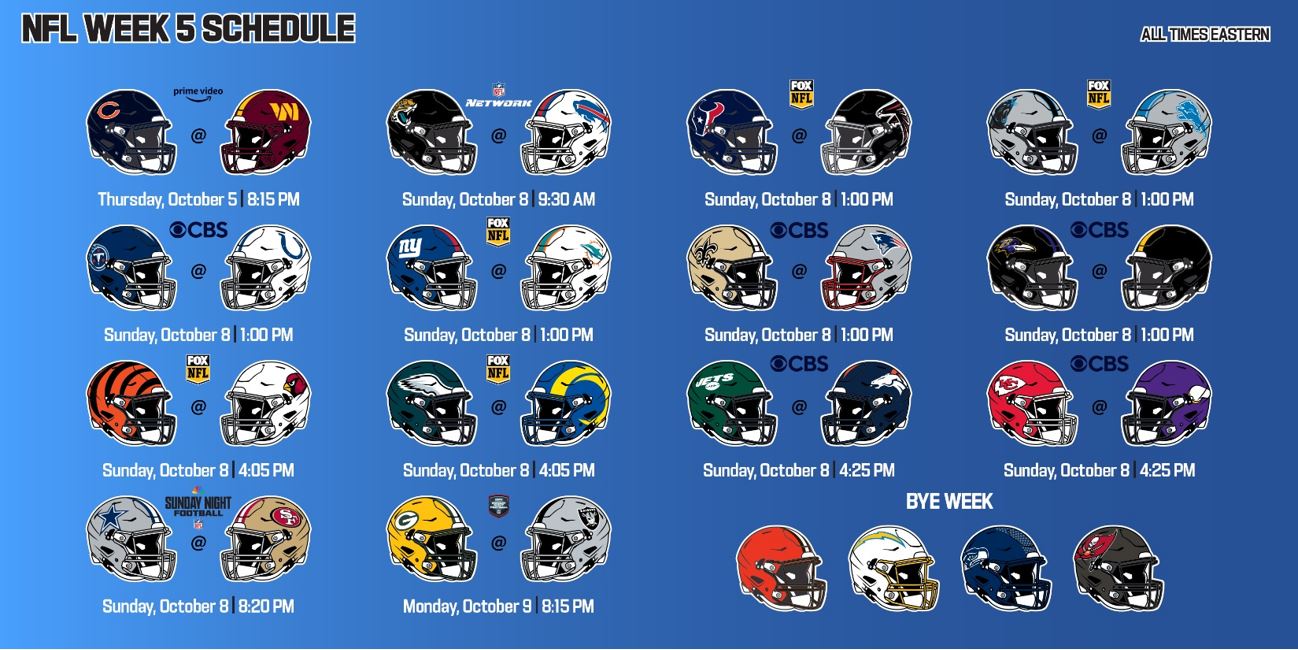 COURTESY NFLmedia.com