By Brenda June Temple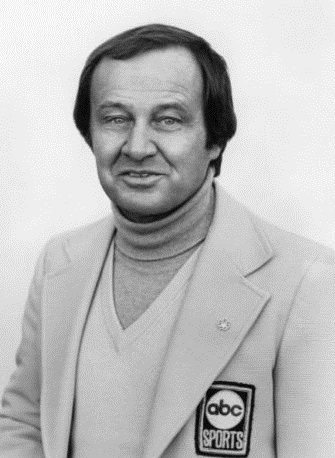 FROM WIKIPEDIA COMMONS
James Kenneth McManus (September 24, 1921 – June 7, 2008), better known professionally as Jim McKay, was an American television sports journalist.
McKay was best known for hosting ABC's Wide World of Sports (1961–1998). His introduction for that program has passed into American pop culture, in which viewers were reminded of the show's mission ("Spanning the globe to bring you the constant variety of sports") and what lay ahead ("the thrill of victory and the agony of defeat"). He is also known for television coverage of 12 Olympic Games, and is universally respected for his memorable reporting on the Munich massacre at the 1972 Summer Olympics.
McKay covered a wide variety of special events, including horse races such as the Kentucky Derby, golf events such as the British Open, and the Indianapolis 500. McKay's son, Sean McManus, a protégé of Roone Arledge, is the chairman of CBS Sports.
TODAY'S ALMANAC
Question of the Day
Is lemon balm good for treating migraines?
Lemon balm is an ingredient in many home remedies used to treat vertigo, migraines, indigestion, and lack of appetite.
Advice of the Day
A clean tie attracts the soup.
Home Hint of the Day
A bath of tomato juice is the traditional cure for a dog that's had a run-in with a skunk, but that's messy and expensive. Instead, give the dog a bath with a solution of equal parts of vinegar and water.
Word of the Day
Midsummer Day
June 24. Although it occurs near the summer solstice, to the farmer this day is the midpoint of the growing season, halfway between planting and harvest and an occasion for festivity. The English church considered it a "Quarter Day," one of the four major divisions of the liturgical year. It also marks the feast day of St. John the Baptist.
Puzzle of the Day
On three legs I stand, And when taken in hand, My nose often points to the light. Inside I'm as black as any coal sack, But my outside is polished and bright. (1897) (What is being described?)
Born
John Marshall

 

(justice)

 

– 

Marcus Alonzo Hanna

 

(politician)

 

– 

George Claude

 

(inventor of neon light)

 

– 

F. Scott Fitzgerald

 

(American writer)

 

– 

Severo Ochoa

 

(biochemist)

 

– 

Konstantin Chernenko

 

(Russian politician)

 

– 

Audra Lindley

 

(actress)

 

– 

Jim McKay

 

(sportscaster)

 

– 

John Young

 

(astronaut)

 

– 

Jim Henson

 

(TV producer, creator of Muppets)

 

– 

Linda McCartney

 

(photographer, singer, activist, & wife of Beatle Paul McCartney)

 

– 

Joe Greene

 

(American football player)

 

– 

Phil Hartman

 

(actor)

 

– 

Joseph Patrick Kennedy

 

(politician)

 

– 

Nia Vardalos

 

(actress)

 

– 

Kristin Talbot

 

(Olympic speed skater)

 

– 

Paul Spoljaric

 

(baseball player)

 

– 

Kevin Millar

 

(baseball player)

 

– 

Matt McKeon

 

(Olympic soccer player)

 

– 
Died
Theodor Geisel

 

(author known as Dr. Seuss)

 

– 

Jeffrey Moss

 

(television writer, created Cookie Monster on Sesame Street)

 

– 

Mike Webster

 

(football player)

 

– 
Events
Black Friday financial crisis

– 

Fire breaks out at the U.S. Patent Office, Wash., D.C.

– 

James Henry Fleming was the first to band a bird in Canada

– 

Ernst A. Couturier patented a trumpet design

– 

The world's first transatlantic telephone cable, from Clarenville, Newfoundland, to Oban, Scotland, began operation

– 

The Brooklyn Dodgers played their last game at Ebbets Field

– 

The USS Enterprise, the first U.S. atomic-powered aircraft carrier, was launched at Newport News, Virginia

– 

First TV newsmagazine, 60 Minutes, debuted

– 

Tennis player Vicki Nelson-Dunbar played Jean Hepner in a 29-minute, 643-shot rally in Richmond, Virginia. The rally remains the longest point played in a professional tennis match. Nelson-Dunbar says the two-set match lasted 61/2 hours. It was the longest rally in the history of professional tennis and probably in the history of any kind of competitive tennis.

– 

The first female Episcopal assistant bishop was elected

– 
Weather
Yellowstone Park recorded a temperature of -9 degrees F

– 

The Sun and Moon appeared blue/pink/purple over the northeastern U.S. due to smoke from forest fires in Alberta and British Columbia, Canada

– 
COURTESY www.almanac.com