Mona Hatfield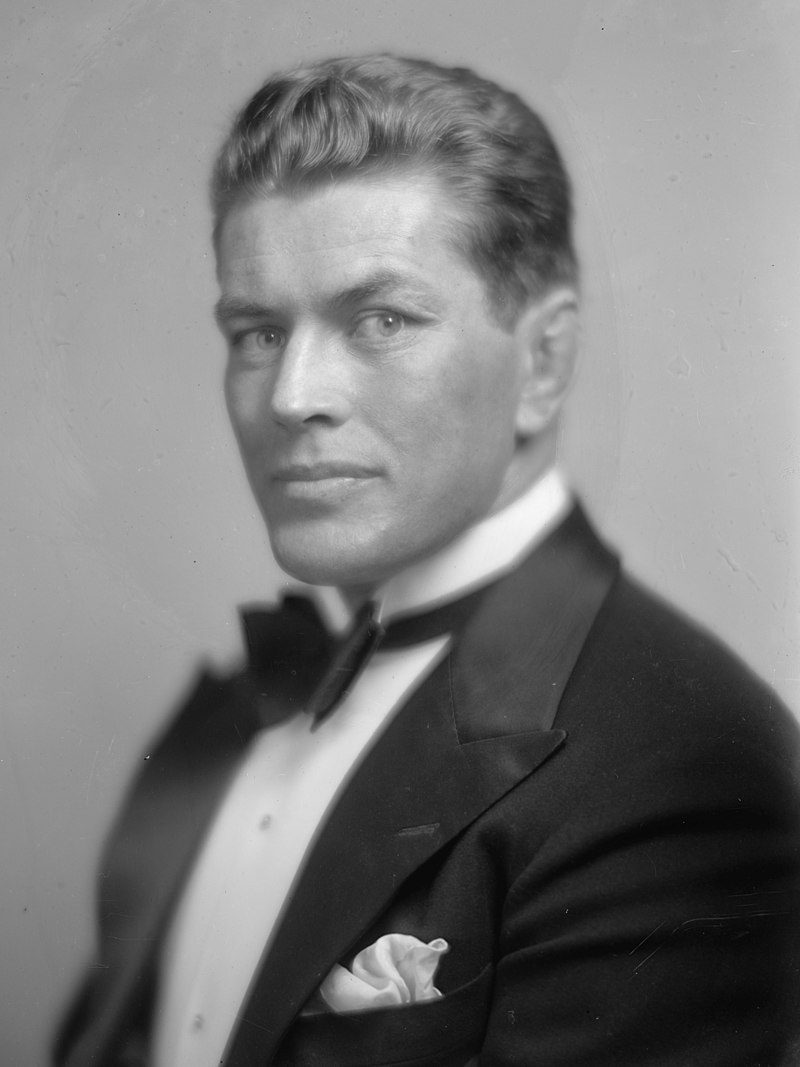 FROM WIKIPEDIA COMMONS
James Joseph Tunney (May 25, 1897 – November 7, 1978) was an American professional boxer who competed from 1915 to 1928. He held the world heavyweight title from 1926 to 1928, and the American light heavyweight title twice between 1922 and 1923. A highly technical boxer, Tunney had a five-fight light heavyweight rivalry with Harry Greb in which he won three, lost once, and drew once, though many ringside reporters believed Greb should have won the decision in their second meeting. Tunney also knocked out Georges Carpentier and defeated Jack Dempsey twice; first in 1926 and again in 1927. Tunney's successful title defense against Dempsey remains one of the most famous bouts in boxing history and is known as The Long Count Fight. He retired undefeated as a heavyweight after his victory over Tom Heeney in 1928, after which Tunney was named Fighter of the Year by The Ring magazine.
TODAY'S ALMANAC
Question of the Day
When was the fly swatter invented?
Although there are medieval woodcuts that show similar insect-swatting devices in use, the fly swatter as we know it today was invented in 1905 by a schoolteacher named Frank H. Rose. He was inspired to do so by Kansas State Board of Health member Dr. Samuel J. Crumbine, who was at the time on a campaign to rid Kansas of flies. Rose called his invention, made of wire screening attached to a yardstick, a fly bat. It was renamed a fly swatter by Dr. Crumbine.
Advice of the Day
For a happy marriage, never speak loudly to one another unless the house is on fire.
Home Hint of the Day
Rule of thumb, Part I: When you're working with softwood lumber, the penny of the nail you use should be the same, in eighths of an inch, as the board you're nailing. For a 1/2 inch (4/8 inch) board, a 4d nail is fine.
Word of the Day
Dog Days
These are the hottest and most unhealthy days of the year. Also known as Canicular Days, the name derives from the Dog Star, Sirius. The traditional timing of Dog Days is the 40 days beginning July 3 and ending August 11, coinciding with the heliacal (at sunrise) rising of Sirius.
Puzzle of the Day
A somber color I am found, And as to dirt I little show it; But if you fairly turn me round, Behold I am a poet. (What word fits the first clue, but when read backwards, fits the second?)
Born
Anne of Cleves

 

(fourth wife of King Henry VIII)

 

– 

George Gordon Lord Byron

 

(poet)

 

– 

Paul Muni

 

(actor)

 

– 

John Houseman

 

(actor)

 

– 

George Balanchine

 

(dancer/choreographer)

 

– 

Joseph M. Valachi

 

(criminal)

 

– 

Tommy Lasorda

 

(baseball player)

 

– 

Shari Belafonte-Harper

 

(actress)

 

– 

Joan Jett

 

(singer)

 

– 

Scott Baio

 

(actor)

 

– 

Bonnie Hunt

 

(actress)

 

– 
Died
Nathan Hale

 

(patriot)

 

– 

Dan Rowan

 

(comedian & actor)

 

– 

Irving Berlin

 

(songwriter)

 

– 

George C. Scott

 

(actor)

 

– 

Joseph Kane

 

(author of Famous First Facts, a collection of provable trivia)

 

– 

Gordon Jump

 

(actor)

 

– 

Marcel Marceau

 

(French mime )

 

– 

Eddie Fisher

 

(singer)

 

– 

Yogi Berra

 

(baseball player, exactly 69 years following his 1946 MLB debut.)

 

– 
Events
Position of U.S. Postmaster General established

– 

Lincoln issued preliminary Emancipation Proclamation

– 

Gene Tunney beat Jack Dempsey

– 

Fiddler on the Roof opened on Broadway

– 

The first Farm Aid concert took place

– 

Turner Broadcasting System announced plans to merge with Time Warner

– 

3.3 earthquake near Rathdrum, Idaho

– 
Weather
Hailstorm in Strawberry, Arizona. Five days after the storm, drifts of remaining hail were still 12 to 18 inches deep

– 

Hurricane Esther circled Cape Cod, Massachusetts, for four days, bringing heavy rains and widespread flooding to Maine

– 
COURTESY www.almanac.com