By Lady Wiliamson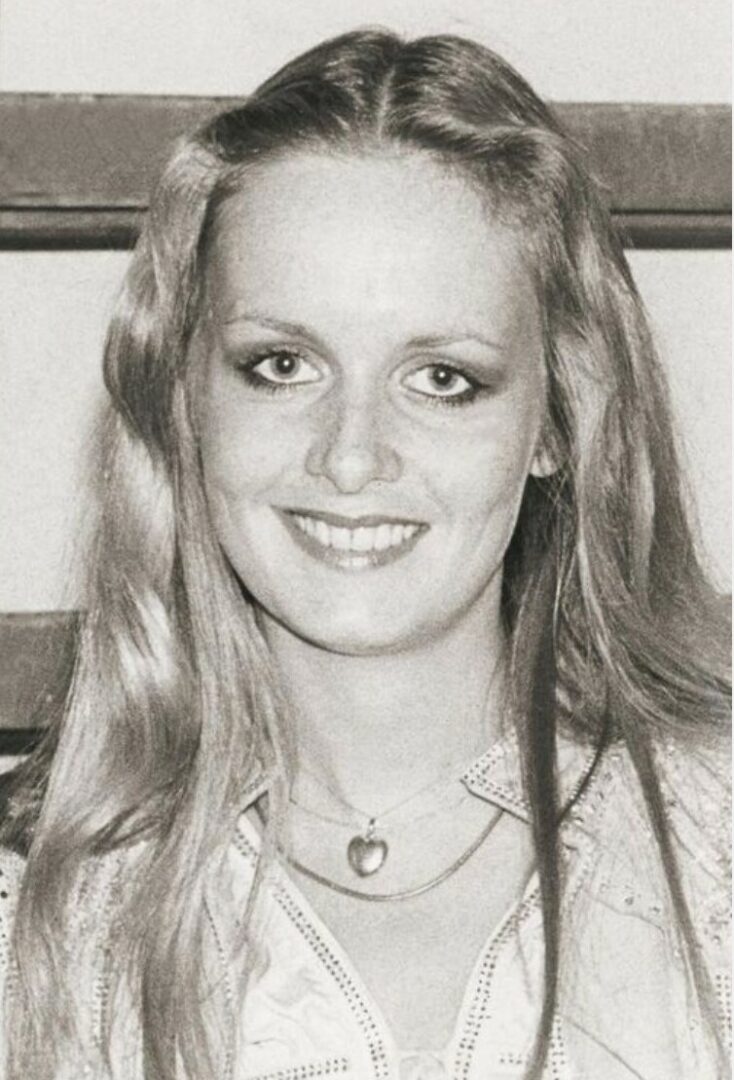 FROM WIKIPEDIA COMMONS
Dame Lesley Lawson DBE (née Hornby; widely known by the nickname Twiggy; born 19 September 1949) is an English model, actress, and singer. She was a British cultural icon and a prominent teenaged model during the swinging '60s in London.
Twiggy was initially known for her thin build and the androgynous appearance considered to result from her big eyes, long eyelashes, and short hair. She was named "The Face of 1966" by the Daily Express and voted British Woman of the Year. By 1967, she had modelled in France, Japan, and the US, and had landed on the covers of Vogue and The Tatler. Her fame had spread worldwide.
After modelling, Twiggy enjoyed a successful career as a screen, stage, and television actress. Her role in The Boy Friend (1971) brought her two Golden Globe Awards. In 1983, she made her Broadway debut in the musical My One and Only, for which she earned a Tony nomination for Best Actress in a Musical. She later hosted her own series, Twiggy's People, in which she interviewed celebrities; she also appeared as a judge on the reality show America's Next Top Model. Her 1998 autobiography Twiggy in Black and White entered the best-seller lists. Since 2005, she has modelled for Marks and Spencer, most recently to promote their recent rebranding, appearing in television advertisements and print media, alongside Myleene Klass, Erin O'Connor, Lily Cole, and others. In 2012, she worked alongside Marks & Spencer's designers to launch an exclusive clothing collection for the M&S Woman range.
TODAY'S ALMANAC
Question of the Day
How should I season my cast-iron pan?
Before using a cast-iron skillet for the first time, rub the inside and outside with cooking oil and heat it in the oven. Seasoning will prevent food from sticking and from tasting like cast iron.
Learn more about the proper way to clean and season your cast-iron cookware.
Advice of the Day
Reading, writing, and driving a car burn about 75 to 125 calories per hour.
Home Hint of the Day
Sometimes your fingers are the best tools for smoothing roofing cement or auto-body putty, but those materials are awful to get off your hands. Put on latex exam gloves (available at drugstores) before getting into the goo. Caution: Some thinners and solvents may eat right through the gloves.
Word of the Day
Apogean Tide
A monthly tide of decreased range that occurs when the Moon is at apogee (farthest from Earth).
Puzzle of the Day
If you transpose a term for low, what horses have will plainly show. Transpose these letters yet once more, what's said in churches you'll explore. (What word fits the first clue, and when rearranged, fits the others?)
Born
Jean Baptiste Joseph Delambre

 

(astronomer)

 

– 

George Cadbury

 

(chocolate manufacturer)

 

– 

Arthur Rackham

 

(artist)

 

– 

Rachel Field

 

(children's author)

 

– 

JB Rhine

 

(psychologist)

 

– 

Leon Jaworski

 

(lawyer)

 

– 

Ferdinand Porsche

 

(Austrian auto-manufacturer)

 

– 

William Golding

 

(author)

 

– 

Emil Zatopek

 

(distance runner)

 

– 

Adam West

 

(actor)

 

– 

Mike Royko

 

(journalist)

 

– 

Brian Epstein

 

(manager of The Beatles)

 

– 

Joe Morgan

 

(baseball player)

 

– 

Jeremy Irons

 

(actor)

 

– 

Leslie "Twiggy" Lawson

 

(model)

 

– 

Ernie Sabella

 

(actor)

 

– 

Joan Lunden

 

(journalist)

 

– 

Trisha Yearwood

 

(singer)

 

– 

Jimmy Fallon

 

(actor)

 

– 

Hermione Granger

 

(character in Harry Potter series)

 

– 

Danielle Panabaker

 

(actress)

 

– 
Died
James Garfield

 

(20th U.S. president)

 

– 

Jackie Collins

 

(author)

 

– 
Events
Bissell carpet sweeper patented

– 

Bruno R. Hauptmann charged with kidnap-murder of Lindbergh baby

– 

On a return trip from Canada, while in the White Mountains of New Hampshire, Betty and Barney Hill claimed to have been abducted for two hours by a UFO. After going public with their story, the two gained worldwide notoriety. The incident is the first fully documented case of alien abduction.

– 

Anti-AIDS drug AZT first became available, on a compassionate use basis

– 

7.1 earthquake occurred in Ayutla, Puebla, Mexico

– 
Weather
New York City had a record high temperature of 92 degrees F, while snow fell in the West

– 

92 degrees Fahrenheit, Harrisburg, Pennsylvania

– 

Frogs' eggs fell from the sky in Berlin, Connecticut

– 
COURTESY www.almanac.com