By Mona Hatfield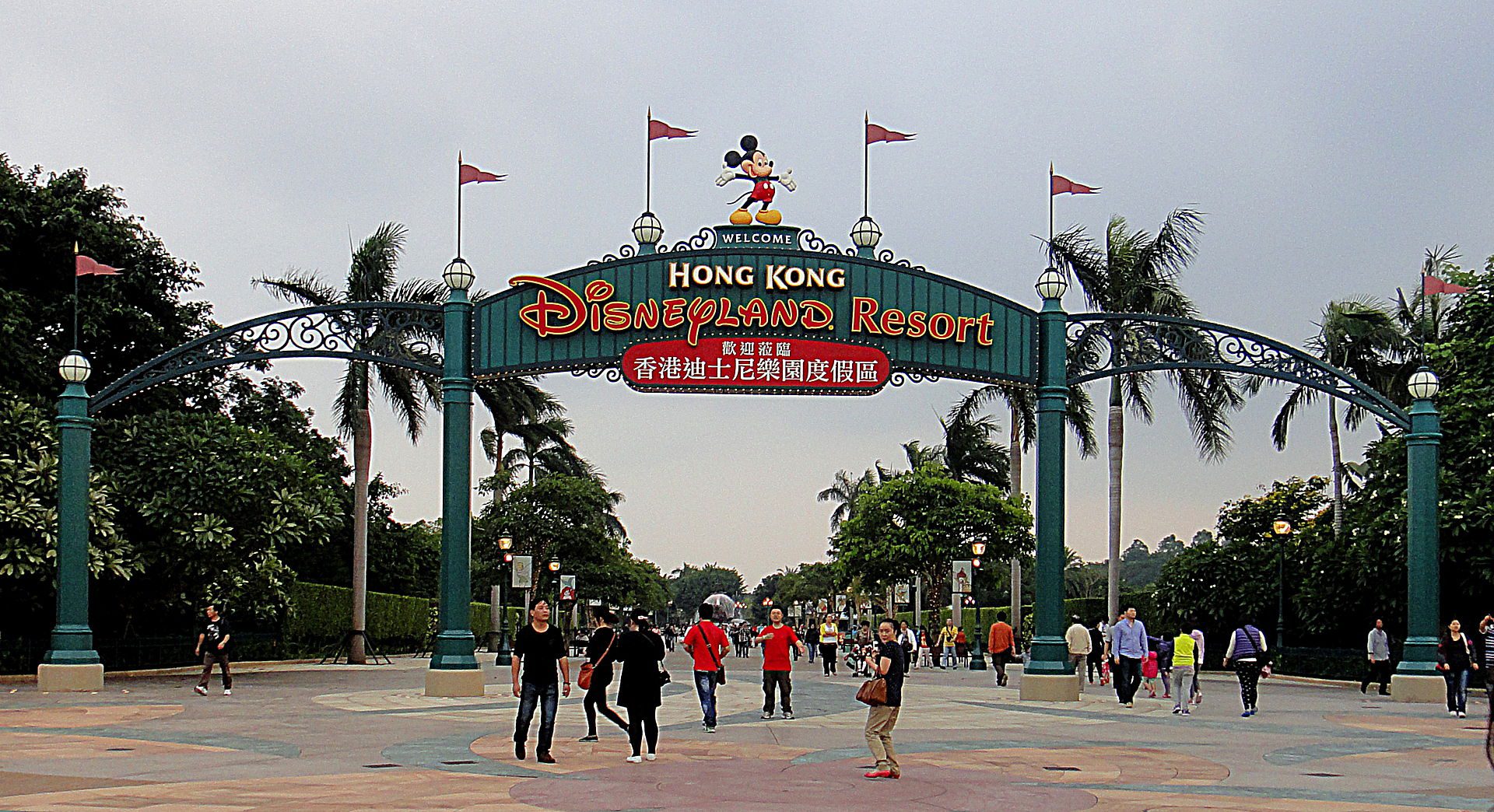 FROM WIKIPEDIA COMMONS
Hong Kong Disneyland (Chinese: 香港迪士尼樂園) (abbreviated HKDL; also known as HK Disneyland) is a theme park located on reclaimed land in Penny's Bay, Lantau Island, Hong Kong. It is the first Disneyland in China. The Hong Kong Disneyland is located inside the Hong Kong Disneyland Resort and it is owned and managed by Hong Kong International Theme Parks. It is the largest theme park in Hong Kong, followed by Ocean Park Hong Kong. Hong Kong Disneyland opened to visitors on Monday, 12 September 2005 at 13:00 HKT. Disney attempted to avoid problems of cultural backlash by incorporating Chinese culture, customs and traditions when designing and building the resort, including adherence to the rules of feng shui. Notably, a bend was put in a walkway near the Hong Kong Disneyland Resort entrance so good qi energy would not flow into the South China Sea.
The park consists of seven themed areas: Main Street, U.S.A., Fantasyland, Adventureland, Tomorrowland, Grizzly Gulch, Mystic Point, and Toy Story Land. A new themed area — World of Frozen, is currently being developed and will open in November 2023. Despite single tickets, there are annual passes, called Magic Access, that are available for tourists who visit Hong Kong Disneyland. The theme park's cast members speak Cantonese, English and Mandarin. Guide maps are printed in traditional and simplified Chinese as well as English. It is also available in the Hong Kong Disneyland mobile app with reserve park other related information for park visits.
The park has a daily capacity of 34,000 visitors — the lowest of all Disneyland parks. The park attracted 5.2 million visitors in its first year, below its target of 5.6 million. Visitor numbers fell 20% in the second year to 4 million, inciting criticisms from local legislators. However, the park attendance jumped by 8% in the third year, attracting a total of 4.5 million visitors in 2007. In 2009, the park attendance again increased by 2% to 4.8 million visitors. The attendance continued to surge and received 5.23 million guests in the 2009/2010 fiscal year. Since the opening of Hong Kong Disneyland, the theme park has hosted over 25 million guests. According to AECOM and TEA, Hong Kong Disneyland is the 13th most visited theme park in the world in 2013, with 7.4 million visitors.
Majority-owned (53%) by the Hong Kong Government but managed by Disney, the park first turned an annual net profit of HK$109 million (US$13.97 million) for the year ended 29 September 2012. However, it has operated at an increasing loss in 2015, 2016 and 2017. Hong Kong Disneyland currently occupies 27.5 hectares (68 acres) and hosts 6 million to 7 million visitors annually. The park capacity will increase to handle up to 10 million visitors annually over a 15-year expansion period.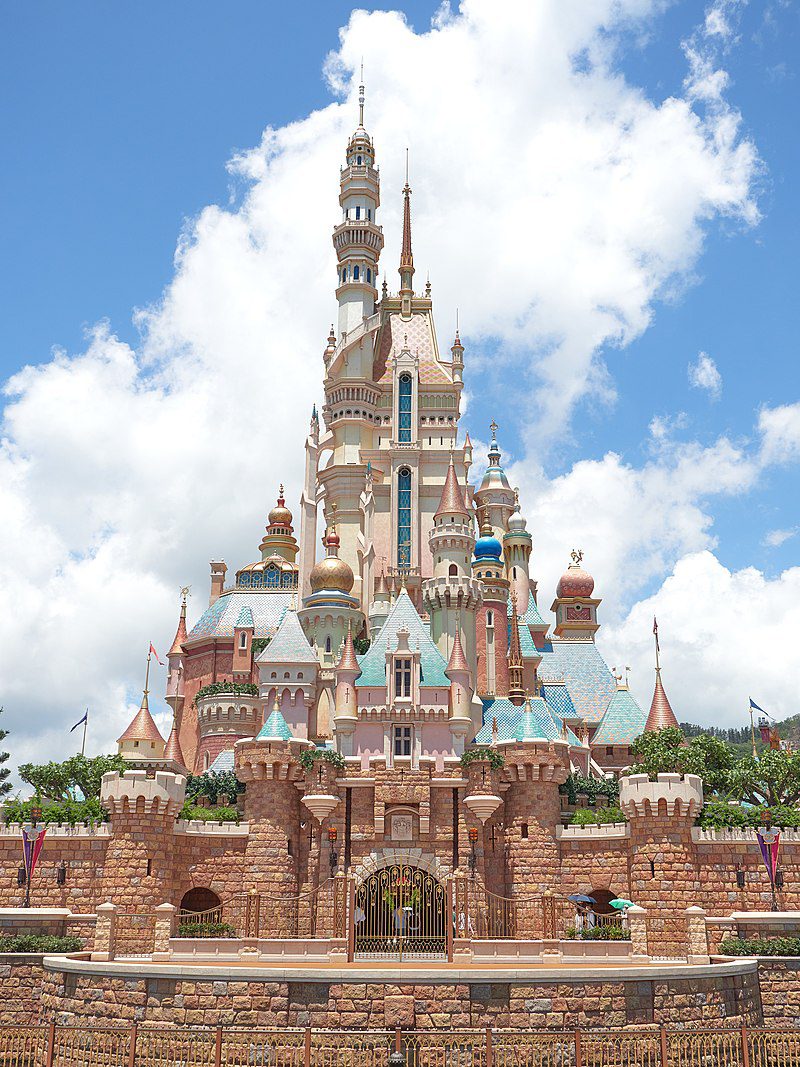 TODAY'S ALMANAC
Question of the Day
What is the hottest time of day? 3 P.M., or noon?
The hottest time is around 3 p.m. Heat continues building up after noon, when the sun is highest in the sky, as long as more heat is arriving at the earth than leaving. By 3 p.m. or so, the sun is low enough in the sky for outgoing heat to be greater than incoming. However, it is essential to note that sometimes the hottest time is earlier because a weather system moves in with cool air early in the day.
While the temperature is certainly an indicator of our comfort, it is also important to monitor the heat index (a measure of temperature and humidity). Learn more about the heat index and how it affects you.
Advice of the Day
The smoke from rue and bitter almonds will repel wild cats.
Home Hint of the Day
If you decide to paint your wood floor, choose an alkyd-resin paint. This is a good finish for floors that get a lot of traffic.
Word of the Day
Vanishing Tide
A mixed tide of considerable inequality in the two highs and two lows, so that the lower high (or higher low) may become indistinct or appear to vanish.
Puzzle of the Day
Emblem of majesty am I, which "shows force of temporal power," but twist me about and I become a thing which makes even monarchs cower. (What word fits the first clue, but when rearranged, fits the second?)
Born
Richard Jordan Gatling

 

(inventor)

 

– 

Charles Dudley Warner

 

(editor)

 

– 

The Viscount Willingdon

 

(Canadian Governor General 1926-1931)

 

– 

H.L. Mencken

 

(journalist)

 

– 

Alfred A. Knopf

 

(publisher)

 

– 

Ben Shahn

 

(painter)

 

– 

Barry White

 

(singer)

 

– 

Amy Yasbeck

 

(actress)

 

– 

Paul Walker

 

(actor)

 

– 

Benjamin McKenzie

 

(actor)

 

– 

Yao Ming

 

(basketball player)

 

– 

Jennifer Hudson

 

(actress and singer)

 

– 

Emmy Rossum

 

(actress)

 

– 
Died
William Boyd

 

(actor)

 

– 

Anthony Perkins

 

(actor)

 

– 

Raymond Burr

 

(actor)

 

– 

John Hollman

 

(CNN newscaster)

 

– 

Johnny Cash

 

(singer)

 

– 
Events
Henry Hudson began exploration of what is later to be named the Hudson River

– 

Astronomer Charles Messier cataloged the Crab Nebula

– 

A whale followed a boat to the Montreal harbor

– 

Elizabeth Barrett eloped with Robert Browning

– 

John F. Kennedy married Jacqueline Lee Bouvier in Newport, Rhode Island

– 

Lassie made its television debut

– 

Bonanza made its television debut

– 

Luna 2 spacecraft launched

– 

U.S. President Kennedy delivered Moon speech, Rice University, Houston, Texas

– 

The Monkees debuted on television

– 

Astronauts Jan Davis and Mark Lee became the first married couple in space during a shuttle mission

– 

Hong Kong Disneyland opened

– 
Weather
Hot, dry winds caused tree foliage to crumble in east Kansas

– 

Hurricane Donna made landfall on central Long Island, then tracked across New England, with winds reaching 140 mph at the Blue Hills Observatory in Milton, Massachusetts, and 130 mph on Block Island, Rhode Island

– 
COURTESY www.almanac.com