By Danielle Daniels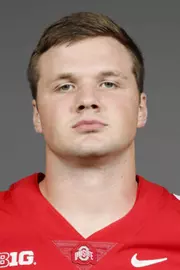 Buckeyes Head coach Ryan Day announced Tuesday that junior Kyle McCord won the battle over redshirt freshman Devin Brown to start at Indiana on Saturday afternoon.
McCord was widely viewed by media who follow the program on a regular basis as the frontrunner following spring practices, in part because Brown did not participate due to a broken finger. McCord was able to hold off his challenge.
McCord, a teammate of star WR Marvin Harrison Jr. at St. Joseph's Prep in Philadelphia, has completed 41 of 58 passes for 606 yards with three touchdowns and two interceptions in his Ohio State career. He started against Akron his freshman season when Stroud was injured and did well.
Day said Brown will play against the Hoosiers: "I'd like to get him meaningful snaps and let him go. We have confidence in both of them."