By Zola Elder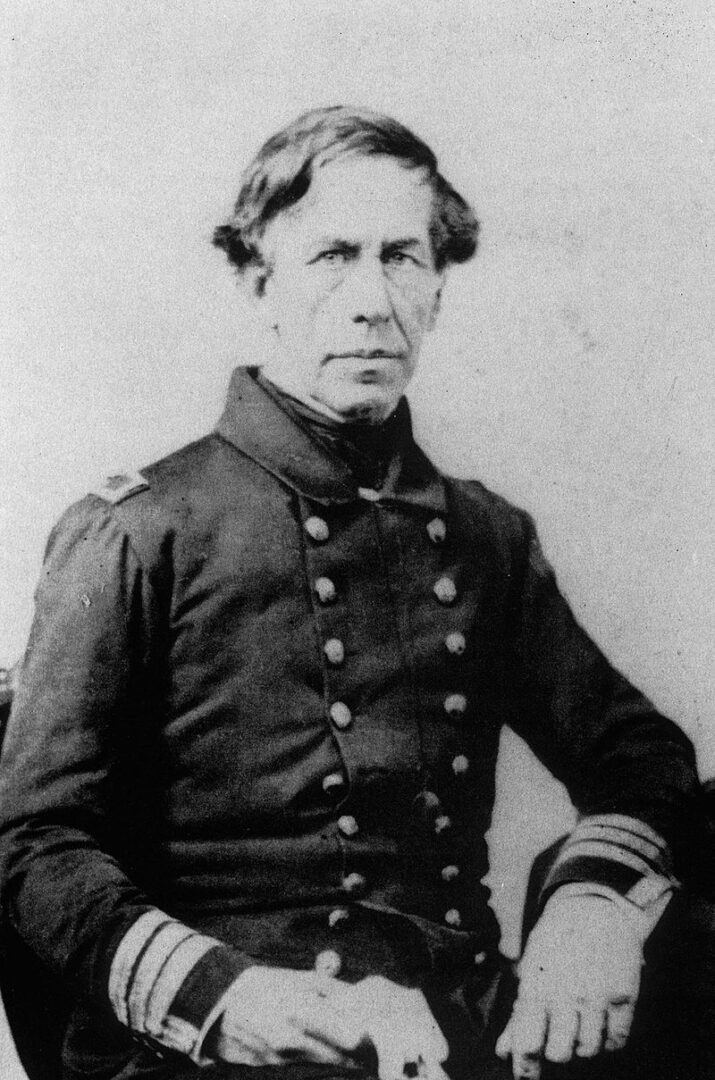 FROM WIKIPEDIA COMMONS
Charles Wilkes (April 3, 1798 – February 8, 1877) was an American naval officer, ship's captain, and explorer. He led the United States Exploring Expedition (1838–1842).
During the American Civil War between 1861 and 1865, he commanded USS San Jacinto during the Trent Affair in which he stopped a Royal Mail ship and removed two Confederate diplomats, which almost led to war between the United States and the United Kingdom.
South Seas expedition
In 1838, although not yet a seasoned naval line officer, Wilkes was experienced in nautical survey work, and was working with civilian scientists. Upon this background, he was given command of the government exploring expedition "… for the purpose of exploring and surveying the Southern Ocean,… as well to determine the existence of all doubtful islands and shoals, as to discover, and accurately fix, the position of those which [lay] in or near the track of our vessels in that quarter, and [might] have escaped the observation of scientific navigators." The US Exploring Squadron was authorized by act of the Congress on May 18, 1836.
Departing from Hampton Roads on August 18, 1838, the expedition stopped at the Madeira Islands and Rio de Janeiro; visited Tierra del Fuego, Chile, Peru, the Tuamotu Archipelago, Samoa, and New South Wales; from Sydney sailed into the Antarctic Ocean in December 1839 and reported the discovery "of an Antarctic continent west of the Balleny Islands" of which it sighted the coast on January 25, 1840. After charting 1500 miles of Antarctic coastline, the expedition visited Fiji and the Hawaiian Islands.
TODAY'S ALAMANAC
Question of the Day
How can I pick the perfect peaches at the supermarket?
Peaches should be only the slightest bit soft when you buy them. Too soft means they are too ripe. The skin should have no green, only yellow-orange with red smudges. Green peaches will not ripen properly. Any bruises on the surface are hiding larger bruises inside.
Advice of the Day
August's birthstone is the peridot, sometimes called the evening emerald for its light green color.
Home Hint of the Day
To eliminate the itch of insect bites, rub on meat tenderizer or lemon juice.
Word of the Day
Barometer
An instrument used to measure air pressure; there are two basic types, aneroid and mercury.
Puzzle of the Day
The Bluegrass State.(Name the 

U.S.

 state!)
Died
Genghis Kahn

 

(Mongol leader)

 

– 

Elmer Bernstein

 

(composer)

 

– 
Born
Meriwether Lewis

 

(of Lewis and Clark expedition)

 

– 

Rosalynn Smith Carter

 

(U.S. First Lady)

 

– 

Roberto Clemente

 

(baseball player)

 

– 

Robert Redford

 

(actor)

 

– 

Martin Mull

 

(actor)

 

– 

Patrick Swayze

 

(actor)

 

– 

Denis Leary

 

(actor)

 

– 

Edward Norton

 

(actor)

 

– 

Malcolm-Jamal Warner

 

(actor)

 

– 

Andy Samberg

 

(actor)

 

– 
Events
Virginia Dare, daughter of Ananias and Eleanor Dare, was born in Roanoke, becoming the first child to be born in America of English parents

– 

John White, the governor of the Colony of Roanoke, returned from a trip to England for supplies and found his settlement deserted

– 

Charles Wilkes began expedition to South Pole

– 

Begole, Johnson, and Lucas summited Mt. Whitney, Sierra Nevada, California

– 

Sir H. C. K. Petty-Fitzmaurice, Lord Lansdowne, named governor-general of Canada

– 

Plant patent #1 granted for climbing rose

– 

Ringo Starr joined The Beatles

– 

Woodstock Festival ended, Bethel, New York

– 

12-year old Samantha Druce swam the English Channel

– 

Boston Celtics player Larry Bird announced his retirement

– 

Lucy, a 4-year old dog from Peterborough, New Hampshire, became the first paralyzed dog to walk the entire 7.6-mile Auto Road up Mount Washington. (She was also the first handicapped canine to attempt the trek.) It took her six hours and two minutes.

– 

Lisette and Walter Kimmel, both 100, celebrated their 75th wedding anniversary

– 

Starman Tesla completed its first orbit around the Sun

– 
Weather
Hailstorms destroyed corn crops in southeastern Iowa

– 

Hurricane Alicia hit the Texas coast

– 

Between approximately 9:55 p.m. and 10:30 p.m., a strong thunderstorm in New York City brought wind gusts of up to an estimated 80 miles per hour and up to 3/4" of rain. Straight-line winds knocked over more than 100 trees in Central Park and damaged hundreds more. According to the city's Department of Parks and Recreation, and the Central Park Conservancy, it was the worst destruction of the park's trees in at least 30 years. Manhattan, the Bronx, and the northern part of Queens were especially hard hit. Penny-size hail was reported in the Bronx and in Hoboken, New Jersey.

– 
COURTESY www.almanac.com