By Mona Hatfield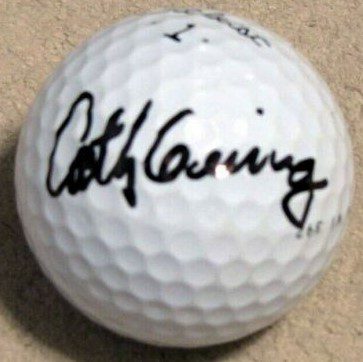 FROM WIKIPEDIA COMMONS
Cathy Kratzert Gerring (born April 28, 1961) is an American professional golfer who played on the LPGA Tour.
Born Cathy Kratzert, in Fort Wayne, Indiana, she played college golf at Ohio State University.
Gerring won three times on the LPGA Tour, all in 1990. She played on the 1990 Solheim Cup team.
In April 1992, Gerring was severely burned in a hospitality tent at the LPGA's Sara Lee Classic in Nashville, Tennessee. Due to her injuries, she did not play again on the LPGA Tour until 1996.
Gerring's brother, Billy Kratzert, won four times on the PGA Tour. They are one of only two brother/sister pairs to win on both tours (the other is Jim Gallagher Jr. and Jackie Gallagher-Smith).
TODAY'S ALMANAC
Question of the Day
I want to plant bulbs this fall, but rodents always manage to find them. How can I keep the critters away?
You can try using soup-size cans with both ends removed. Punch several holes in the cans for drainage, then push each one down into the ground so that it forms a cylinder around a bulb.
Advice of the Day
To avoid dying, never shave at night.
Home Hint of the Day
To clean leather, rub on a solution of equal parts white vinegar and boiled linseed oil. Wipe off any excess with a clean rag.
Word of the Day
Growing season
Period betweenthe last killing frost in spring and first killing frost in fall.
Puzzle of the Day
The Peach State.(Name the 

U.S.

 state!)
Died
William Blake

 

(poet)

 

– 

The Viscount Willingdon

 

(Canadian Governor General 1926-1931)

 

– 

Joseph P. Kennedy, Jr.

 

(oldest child of Rose and Joseph P. Kennedy; brother of President John F. Kennedy)

 

– 

Ian Fleming

 

(writer, creator of Agent 007 James Bond)

 

– 

Henry Fonda

 

(actor)

 

– 

Loretta Young

 

(actress)

 

– 

Enos "Country" Slaughter

 

(baseball player)

 

– 

Ed Headrick

 

(designed the frisbee)

 

– 

Merv Griffin

 

(entertainer)

 

– 

Lauren Bacall

 

(actress)

 

– 
Born
Christy Mathewson

 

(baseball hall-of-famer)

 

– 

Cecil B. DeMille

 

(director)

 

– 

Cantinflas

 

(aka Mario Moreno Reyes [actor])

 

– 

George Hamilton

 

(actor)

 

– 

Ann M. Martin

 

(author)

 

– 

Bruce Greenwood

 

(actor)

 

– 

Peter Krause

 

(actor)

 

– 

Michael Ian Black

 

(comedian & actor)

 

– 

Pete Sampras

 

(tennis player)

 

– 

Matt Clement

 

(baseball player)

 

– 

Casey Affleck

 

(actor)

 

– 

Cindy Klassen

 

(Olympic speed skater; only Canadian Olympian to win five medals in a single Olympic games)

 

– 
Events
Philip, chief of the Wampanog tribe, was killed by a renegade Indian of his own tribe, bringing to an end the first and bloodiest war between American Indians and white settlers of New England, a war that had raged for nearly two years and was known as King Philip's War

– 

Isaac Singer received a patent for the continuous-stitch sewing machine

– 

Thomas Edison received a patent for his phonograph

– 

Marjorie Gestring, at age 13, won an Olympic gold medal for springboard diving

– 

Actor William Shatner married Gloria Rand

– 

The first successful communications satellite, Echo I, was launched

– 

Space shuttle Enterprise completed its first free-flight test

– 

The IBM PC was introduced

– 

Patent issued for therapeutic horseshoe

– 

Cathy Gerring won the Stratton Mountain LPGA Golf Classic, in Vermont

– 

Fossil hunter Susan Hendrickson found Tyrannosaurus rex bones near Faith, South Dakota

– 

232-day baseball strike began, causing World Series to be canceled

– 
Weather
A Rhode Island hurricane prevented a major British-French sea battle

– 

1.8 inches of rain fell in San Diego, California

– 

Record temperature of 120 degrees F, Seymour, Texas

– 
COURTESY www.almanc.com